Zusammenfassung
Bei der lokalen Therapie des Peniskarzinoms standen in den letzten Jahrzehnten v. a. radikalchirurgische Eingriffe mit Entfernung des primären Tumors im Vordergrund. Aufgrund der erheblichen psychoonkologischen Auswirkungen der Therapie des Primärtumors findet sich nun in den Leitlinienempfehlungen zum Peniskarzinom eine klare Empfehlung zum anzustrebenden Organerhalt und es sollte vor jedem operativen Eingriff eine histologische Sicherung des Peniskarzinoms erfolgen. Auch für fortgeschrittenere Tumoren sollte die Überlegung eines plastisch-rekonstruktiven Vorgehens in Erwägung gezogen werden. Die Therapie des Primärtumors sollte sich an dem Stadium sowie der lokalen Ausdehnung und Größe des zu operierenden Tumors orientieren. Der Beitrag möchte aktuelle Standards in der Lokaltherapie des Peniskarzinoms aufzeigen.
Abstract
In recent decades, the local treatment of penile cancer has focused primary on the removal of the primary tumor. Due to the significant psycho-oncological effects of treating the primary tumor, the guidelines on penile cancer now contain a clear recommendation for preserving the target organ and prior to each surgical procedure histological examination should be performed to confirm the penile cancer. For more advanced tumors, reconstructive plastic surgery should also be considered. The treatment of the primary tumor should be based on the stage and the local extent and size of the tumor. The aim of this article is to highlight current standards in the local treatment of penile cancer.
This is a preview of subscription content, log in to check access.
Access options
Buy single article
Instant access to the full article PDF.
US$ 39.95
Price includes VAT for USA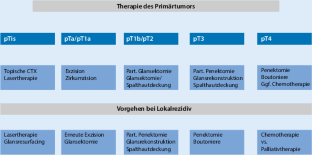 Literatur
1.

Hakenberg OW, Protzel C (2016) Focal therapy for penile cancer. Urologe A 55(5):616–620

2.

Drager DL, Protzel C, Hakenberg OW (2017) Identifying psychosocial distress and stressors using distress-screening instruments in patients with localized and advanced penile cancer. Clin Genitourin Cancer 15(5):605–609

3.

Maddineni SB, Lau MM, Sangar VK (2009) Identifying the needs of penile cancer sufferers: a systematic review of the quality of life, psychosexual and psychosocial literature in penile cancer. BMC Urol 9:8

4.

Hakenberg OW, Comperat EM, Minhas S, Necchi A, Protzel C, Watkin N, European Association of U (2015) EAU guidelines on penile cancer: 2014 update. Eur Urol 67(1):142–150

5.

Albersen M, Parnham A, Joniau S, Sahdev V, Christodoulidou M, Castiglione F, Nigam R, Malone P, Freeman A, Jameson C et al (2017) Predictive factors for local recurrence after glansectomy and neoglans reconstruction for penile squamous cell carcinoma. Urol Oncol. https://doi.org/10.1016/j.urolonc.2017.07.025

6.

Baumgarten A, Chipollini J, Yan S, Ottenhof SR, Tang DH, Draeger D, Protzel C, Zhu Y, Ye DW, Hakenberg OW et al (2017) Penile sparing surgery for penile cancer: a multicenter international retrospective cohort. J Urol. https://doi.org/10.1016/j.juro.2017.10.045

7.

Minhas S, Kayes O, Hegarty P, Kumar P, Freeman A, Ralph D (2005) What surgical resection margins are required to achieve oncological control in men with primary penile cancer? BJU Int 96(7):1040–1043

8.

Agrawal A, Pai D, Ananthakrishnan N, Smile SR, Ratnakar C (2000) The histological extent of the local spread of carcinoma of the penis and its therapeutic implications. BJU Int 85(3):299–301

9.

Alnajjar HM, Lam W, Bolgeri M, Rees RW, Perry MJ, Watkin NA (2012) Treatment of carcinoma in situ of the glans penis with topical chemotherapy agents. Eur Urol 62(5):923. https://doi.org/10.1016/j.eururo.2012.02.052

10.

Shabbir M, Muneer A, Kalsi J, Shukla CJ, Zacharakis E, Garaffa G, Ralph D, Minhas S (2011) Glans resurfacing for the treatment of carcinoma in situ of the penis: surgical technique and outcomes. Eur Urol 59(1):142–147

11.

Protzel C, Hakenberg OW (2013) Penile cancer – a challenge for modern uro-oncology. Aktuelle Urol 44(5):363–369

12.

Tang DH, Yan S, Ottenhof SR, Draeger D, Baumgarten AS, Chipollini J, Protzel C, Zhu Y, Ye DW, Hakenberg OW et al (2017) Glansectomy as Primary Management of Penile Squamous Cell Carcinoma: An International Study Collaboration. Urology 109:140–144

13.

Philippou P, Shabbir M, Malone P, Nigam R, Muneer A, Ralph DJ, Minhas S (2012) Conservative surgery for squamous cell carcinoma of the penis: resection margins and long-term oncological control. J Urol 188(3):803–808

14.

Crook J, Ma C, Grimard L (2009) Radiation therapy in the management of the primary penile tumor: an update. World J Urol 27(2):189–196

15.

de Crevoisier R, Slimane K, Sanfilippo N, Bossi A, Albano M, Dumas I, Wibault P, Fizazi K, Gerbaulet A, Haie-Meder C (2009) Long-term results of brachytherapy for carcinoma of the penis confined to the glans (N- or NX). Int J Radiat Oncol Biol Phys 74(4):1150–1156

16.

Crook J, Jezioranski J, Cygler JE (2010) Penile brachytherapy: technical aspects and postimplant issues. Brachytherapy 9(2):151–158

17.

Windahl T, Andersson SO (2003) Combined laser treatment for penile carcinoma: results after long-term followup. J Urol 169(6):2118–2121

18.

Meijer RP, Boon TA, van Venrooij GE, Wijburg CJ (2007) Long-term follow-up after laser therapy for penile carcinoma. Urology 69(4):759–762

19.

Smith Y, Hadway P, Biedrzycki O, Perry MJ, Corbishley C, Watkin NA (2007) Reconstructive surgery for invasive squamous carcinoma of the glans penis. Eur Urol 52(4):1179–1185

20.

Korets R, Koppie TM, Snyder ME, Russo P (2007) Partial penectomy for patients with squamous cell carcinoma of the penis: the Memorial Sloan-Kettering experience. Ann Surg Oncol 14(12):3614–3619

21.

Rempelakos A, Bastas E, Lymperakis CH, Thanos A (2004) Carcinoma of the penis: experience from 360 cases. J Buon 9(1):51–55
Ethics declarations
Interessenkonflikt
C. Protzel und O. W. Hakenberg. geben an, dass kein Interessenkonflikt besteht.
Dieser Beitrag beinhaltet keine von den Autoren durchgeführten Studien an Menschen oder Tieren.
About this article
Cite this article
Protzel, C., Hakenberg, O.W. Lokale Therapie beim Peniskarzinom. Urologe 57, 423–427 (2018). https://doi.org/10.1007/s00120-018-0609-3
Schlüsselwörter
Lokalrezidiv

Histologie

Carcinoma in situ

Chemotherapie

Strahlentherapie
Keywords
Local neoplasm recurrence

Histology

Carcinoma in situ

Chemotherapy

Radiotherapy