Zusammenfassung
Die Therapie der Urolithiasis stellt immer noch eine der häufigsten Aufgaben der täglichen urologischen Praxis dar. Getrieben durch die technischen Entwicklungen, Patientenwunsch aber auch persönliche Erfahrungen des Urologen haben sich vielfältige interventionelle Behandlungsmöglichkeiten etabliert. Zur Auswahl des geeigneten Therapieverfahrens gilt es, neben Steingröße und -lokalisation, die individuelle Patientensituation und die bekannte Evidenz zu berücksichtigen, welche trotz aller Bemühungen oftmals der technischen und klinischen Realität hinterherhinkt.
Abstract
The treatment of urolithiasis is still one of the most frequent tasks in the daily urological practice. Driven by the technological developments, patient demands and also personal experiences of urologists, many interventional treatment options have been established. To identify the most suitable treatment option, it is of utmost importance to consider not only stone size and localization but also the individual situation of the patient and the published evidence, which despite all efforts often lags behind the technical and clinical reality.
This is a preview of subscription content, log in to check access.
Access options
Buy single article
Instant access to the full article PDF.
US$ 39.95
Price includes VAT for USA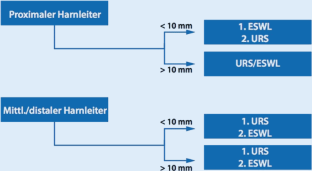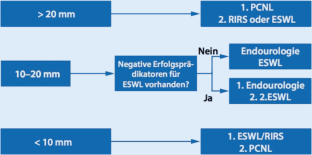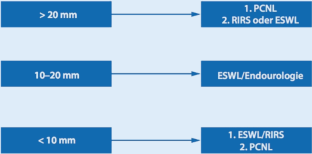 Literatur
1.

Oberlin DT, Flum AS, Bachrach L, Matulewicz RS, Flury SC (2015) Contemporary surgical trends in the management of upper tract calculi. J Urol 193(3):880–884

2.

Finch W, Rukin N, Kumar P, Wiseman O (2016) Flexible ureteroscopy durability in the hands of UK surgeons: a snapshot. Eur Urol Suppl 15(3):1–1167 (Abstract 1030)

3.

Knoll T, Bach T, Humke U, Neisius A, Stein R, Schönthaler M, Wendt-Nordahl G (2016) S2k-Leitlinie zur Diagnostik, Therapie und Metaphylaxe der Urolithiasis (AWMF 043/025). Urologe 55:904–922

4.

Miller OF, Kane CJ (1999) Time to stone passage for observed ureteral calculi: a guide for patient education. J Urol 162:688

5.

Preminger GM et al (2007) Guideline for the management of ureteral calculi. Eur Urol 52(6):1610–1631

6.

Osman MM et al (2005) 5‑year-follow-up of patients with clinically insignificant residual fragments after extracorporeal shockwave lithotripsy. Eur Urol 47(6):860–864

7.

Zhu Y et al (2010) Alpha-Blockers to assist stone clearance after extracorporeal shock wave lithotripsy: a meta-analysis. BJU Int 106(2):256–261

8.

Pickard R et al (2015) Medical expulsive therapy in adults with ureteric colic: a multicentre, randomised, placebo-controlled trial. Lancet 386(9991):341–349

9.

Staubli SE, Mordasini L, Engeler DS, Sauter R, Schmid HP, Abt D (2016) Economic aspects of morbidity caused by ureteral stents. Urol Int 97(1):91–97

10.

Jessen JP, Breda A, Brehmer M, Liatsikos EN, Millan Rodriguez F, Osther PJ, Scoffone CM, Knoll T (2016) International collaboration in endourology: Multicenter evaluation of prestenting for ureteroscopy. J Endourol 30(3):268–273

11.

Dropkin BM, Moses RA, Sharma D, Pais VM Jr. (2015) The natural history of nonobstructing asymptomatic renal stones managed with active surveillance. J Urol 193(4):1265–1269

12.

Tiselius HG (2008) How efficient is extracorporeal shockwave lithotripsy with modern lithotripters for removal of ureteral stones? J Endourol 22(2):249–255

13.

Tiselius HG (2006) Prospective, randomized trial comparing shock wave lithotripsy and ureteroscopy for lower pole caliceal calculi 1 cm or smaller. Eur Urol 49(3):586–587

14.

Grasso M, Ficazzola M (1999) Retrograde ureteropyeloscopy for lower pole caliceal calculi. J Urol 162(6):1904

15.

Skolarikus A, Gross AJ, Krebs A, Unal D, Bercowsky E, Eltahawy E, Somani B, de la Rosette J (2015) Outcomes of flexible ureteroscopy for solitary renal stones in the CROES URS global study. J Urol 194(1):137–143

16.

Aboumarzouk OM et al (2012) Flexible ureteroscopy and laser lithotripsy for stones > 2 cm: a systematic review and meta–analysis. J Endourol 26(10):1257–1263

17.

Ather MH, Shrestha B, Mehmood A (2009) Does ureteral stenting prior to shock wave lithotripsy influence the need for intervention in steinstrasse and related complications? Urol Int 83(2):222–225
Ethics declarations
Interessenkonflikt
T. Bach und T. Knoll geben an, dass kein Interessenkonflikt besteht.
Dieser Beitrag beinhaltet keine von den Autoren durchgeführten Studien an Menschen oder Tieren.
About this article
Cite this article
Bach, T., Knoll, T. Individualisierte evidenzbasierte interventionelle Steintherapie. Urologe 55, 1297–1301 (2016). https://doi.org/10.1007/s00120-016-0228-9
Schlüsselwörter
Ureterorenoskopie

Stoßwellenlithotripsie, extrakorporale

Nephrolitholapaxie, perkutane

Leitlinien

Nephrolithiasis
Keywords
Ureterorenoscopy

Shockwave lithotripsy, extracorporeal

Percutaneous nephrolithotomy

Guidelines

Nephrolithiasis