This is a preview of subscription content, log in to check access.
Access options
Buy single article
Instant access to the full article PDF.
US$ 39.95
Price includes VAT for USA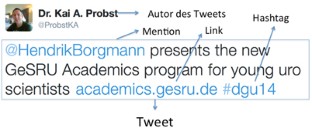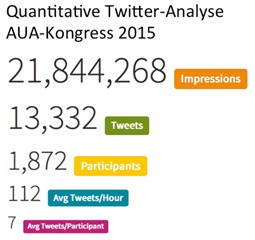 Literatur
1.

Wilkinson SE, Basto MY, Perovic G et al (2015) The social media revolution is changing the conference experience: analytics and trends from eight international meetings. BJU Int 115(5):839–846. doi:10.1111/bju.12910

2.

Canvasser NE, Ramo C, Morgan TM et al (2015) The use of social media in endourology: an analysis of the 2013 world congress of endourology meeting. J Endourol 29(5):615–620. doi:10.1089/end.2014.0329

3.

Loeb S (2015) Social media makes global urology meetings truly global.: The influence of Twitter. BJU Int 115(2):175. doi:10.1111/bju.13027

4.

Thangasamy IA, Leveridge M, Davies BJ et al (2014) International urology journal club via twitter: 12-month experience. Eur Urol 66(1):112–117. doi:10.1016/j.eururo.2014.01.034

5.

Thangasamy I, Woo HH, Twitter International Urology Journal C (2014) Re: Eija Laurikainen, Antti Valpas, Pauliina Aukee, et al. Five-year results of a randomized trial comparing retropubic and transobturator midurethral slings for stress incontinence. Eur Urol 2014;65:1109-14. Eur Urol 66(3):55. doi:10.1016/j.eururo.2014.04.025

6.

Linton KD, Woo HH, Twitter International Urology Journal C (2014) Complications of prostate cancer treatment. Lancet Oncol 15(4):150–151. doi:10.1016/S1470-2045(14)70092-0

7.

Roberts MJ, Perera M, Lawrentschuk N et al (2015) Globalization of continuing professional development by journal clubs via microblogging: a systematic review. J Med Internet Res 17(4):103. doi:10.2196/jmir.4194

8.

Nason GJ, O'Kelly F, Kelly ME et al (2015) The emerging use of Twitter by urological journals. BJU Int 115(3):486–490. doi:10.1111/bju.12840

9.

CBC (2015) Fake white house bomb report causes brief stock market panic. CBC News. http://www.cbc.ca. Abgerufen am 20.05.2015
Einhaltung ethischer Richtlinien
Interessenkonflikt. H. Borgmann, P. Paffenholz, T. Nestler und J. Salem geben an, dass kein Interessenkonflikt besteht. Dieser Beitrag beinhaltet keine Studien an Menschen oder Tieren.
About this article
Cite this article
Borgmann, H., Paffenholz, P., Nestler, T. et al. Benefits und Risiken der Twitter-Nutzung für Urologen. Urologe 54, 1023–1024 (2015). https://doi.org/10.1007/s00120-015-3881-5