Zusammenfassung
Als häufiger endourologischer Eingriff nimmt die transurethale Blasentumorresektion (TURB) einen wesentlichen Raum in der klinischen Routine operativ tätiger Urologen ein. Obwohl die TURB einen endoskopischen Ausbildungseingriff für in Weiterbildung befindliche Assistenten darstellt, sind klare Anforderungen an die Qualität der Operation formuliert. Die Kenntnis der möglichen Komplikationen und deren Management sind essentiell für jeden klinisch tätigen Urologen. Blutungskomplikationen, Harnblasenperforationen, Infektionen sowie Verletzungen der Harnleitermündung stellen Komplikationen mit der höchsten Inzidenz dar. Der vorliegende Artikel fasst die wesentlichen Risiken und Komplikationen sowie deren Prävention und Beherrschung zusammen.
Abstract
As a frequent endourological procedure, transurethral resection of bladder tumors (TURB) represents a major field of activity for urological surgeons. Although TURB represents an endoscopic training procedure for urology residents, there are clear requirements for the quality of the surgical procedure as such. The knowledge of possible complications and their management are essential for urologists active in the clinical field. Bleeding complications, bladder perforation, infections and injuries to the ureteral orifice are the most frequently observed complications. This article summarizes the essential risks and complications as well as the corresponding preventive and therapeutic measures.
This is a preview of subscription content, log in to check access.
Access options
Buy single article
Instant access to the full article PDF.
US$ 39.95
Price includes VAT for USA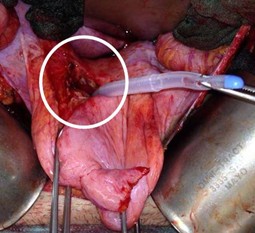 Literatur
1.

Mariappan P, Zachou A, Grigor KM (2010) Detrusor muscle in the first, apparently complete transurethral resection of bladder tumour specimen is a surrogate marker of resection quality, predicts risk of early recurrence, and is dependent on operator experience. Eur Urol 57:843–849. doi:10.1016/j.eururo.2009.05.047

2.

Gakis G, Efstathiou J, Lerner SP et al (2013) ICUD-EAU International Consultation on Bladder Cancer 2012: radical cystectomy and bladder preservation for muscle-invasive urothelialcarcinoma of the bladder. Eur Urol 63(1):45–57

3.

Babjuk M, Burger M, Zigeuner R et al (2013) EAU guidelines on non-muscle-invasive urothelial carcinoma of the bladder: Eur Urol 64(4):639–653. doi:10.1016/j.eururo.2013.06.003

4.

Palou J, Sylvester RJ, Faba OR et al (2012) Female gender and carcinoma in situ in the prostatic urethra are prognostic factors for recurrence, progression, and disease-specific mortality in T1G3 bladder cancer patients treated with bacillus Calmette-Guérin. Eur Urol 62:118–125. doi:10.1016/j.eururo.2011.10.029

5.

Stenzl A, Draxl H, Posch B et al (1995) The risk of urethral tumors in female bladder cancer: can the urethra be used for orthotopic reconstruction of the lower urinary tract? J Urol 153(3 Pt 2):950–955)

6.

Xishuang S, Deyong Y, Xiangyu C et al (2010) Comparing the safety and efficiency of conventional monopolar, plasmakinetic, and holmium laser transurethral resection of primary non-muscle invasive bladder cancer. J Endourol 24:69–73. doi:10.1089/end.2009.0171

7.

Nagele U, Kugler M, Nicklas A et al (2011) Waterjet hydrodissection: first experiences and short-term outcomes of a novel approach to bladder tumor resection. World J Urol 29:423–427. doi:10.1007/s00345-011-0653-8

8.

Collado A, Chéchile GE, Salvador J, Vicente J (2000) Early complications of endoscopic treatment for superficial bladder tumors. J Urol 164:1529–1532

9.

Leyh H (2012) Komplikationen bei endourologischen Eingriffen. Risiken und Komplikationen der Urol. Georg Thieme, Stuttgart, S 170–176

10.

Eberli D, Chassot P-G, Sulser T et al (2010) Urological surgery and antiplatelet drugs after cardiac and cerebrovascular accidents. J Urol 183:2128–2136. doi:10.1016/j.juro.2010.02.2391

11.

Gawaz M, Geisler T (2012) Update orale Plättchenhemmer. Kardiologe 195–209

12.

Fischer C, Lümmen G (2013) ASA and clopidogrel for urological operations. Perioperative management. Urologe A 52:1597–1605. doi:10.1007/s00120-013-3263-9

13.

Balbay MD, Cimentepe E, Unsal A et al (2005) The actual incidence of bladder perforation following transurethral bladder surgery. J Urol 174:2260–2263. doi:10.1097/01.ju.0000181811.61199.35

14.

El Hayek OR, Coelho RF, Dall'oglio MF et al (2009) Evaluation of the incidence of bladder perforation after transurethral bladder tumor resection in a residency setting. J Endourol 23:1183–1186. doi:10.1089/end.2008.0406

15.

Herkommer K, Hofer C, Gschwend JE et al (2012) Gender and body mass index as risk factors for bladder perforation during primary transurethral resection of bladder tumors. J Urol 187:1566–1570. doi:10.1016/j.juro.2011.12.114

16.

Summerton DJ, Kitrey ND, Lumen N et al (2012) EAU guidelines on iatrogenic trauma. Eur Urol 62:628–639. doi:10.1016/j.eururo.2012.05.058

17.

Manikandan R, Lynch N, Grills RJ (2003) Percutaneous peritoneal drainage for intraperitoneal bladder perforations during transurethral resection of bladder tumors. J Endourol 17:945–947. doi:10.1089/089277903772036343

18.

Gomez RG, Ceballos L, Coburn M et al (2004) Consensus statement on bladder injuries. BJU Int 94:27–32. doi:10.1111/j.1464-410X.2004.04896.x

19.

May F, Schlenker B, Hofer B et al (2013) Laparoscopic repair of iatrogenic bladder perforation during transurethral bladder tumor resection: case report and literature review. Indian J Urol 29:61–63. doi:10.4103/0970-1591.109988

20.

Gołab A, Słojewski M, Gliniewicz B, Sikorski A (2003) Laparoscopy as a treatment for intraperitoneal bladder injury. Scand J Urol Nephrol 37:339–341

21.

Skolarikos A, Chrisofos M, Ferakis N et al (2005) Does the management of bladder perforation during transurethral resection of superficial bladder tumors predispose to extravesical tumor recurrence? J Urol 173:1908–1911. doi:10.1097/01.ju.0000158450.71497.ae

22.

Gupta NP, Saini AK, Dogra PN et al (2011) Bipolar energy for transurethral resection of bladder tumours at low-power settings: initial experience. BJU Int 108:553–556. doi:10.1111/j.1464-410X.2010.09903.x

23.

Brunken C, Qiu H, Tauber R (2004) Transurethral resection of bladder tumours in sodium chloride solution. Urologe A 43:1101–1105. doi:10.1007/s00120-004-0653-z

24.

Pu X-Y, Wang H-P, Wu Y-L, Wang X-H (2008) Use of bipolar energy for transurethral resection of superficial bladder tumors: long-term results. J Endourol 22:545–549. doi:10.1089/end.2007.0467

25.

Dieckmann K-P, Gehrckens R, Biesewig A-K (2008) Intravesical explosion with rupture of the bladder wall during transurethral resection. Urologe A 47:860–862. doi:10.1007/s00120-008-1718-1

26.

Johansen TEB, Botto H, Cek M et al (2011) Critical review of current definitions of urinary tract infections and proposal of an EAU/ESIU classification system. Int J Antimicrob Agents 38(Suppl):64–70. doi:10.1016/j.ijantimicag.2011.09.009
Einhaltung ethischer Richtlinien
Interessenkonflikt. S. Rausch, G. Gakis und A. Stenzl geben an, dass kein Interessenkonflikt besteht. Dieser Beitrag beinhaltet keine Studien an Menschen oder Tieren.
About this article
Cite this article
Rausch, S., Gakis, G. & Stenzl, A. Transurethrale Resektion der Harnblase. Urologe 53, 695–698 (2014). https://doi.org/10.1007/s00120-014-3488-2
Schlüsselwörter
Komplikationen

Resektion

Perforation

Blutung

Infektion
Keywords
Complication

Resection

Perforation

Bleeding

Infection