Zusammenfassung
Mit der aktuell gültigen WHO-Klassifikation der Harnblasenkarzinome von 2004 wurden sowohl nicht-invasive als auch invasive Neoplasien anhand der Zellmorphologie und den zugrunde liegenden genetischen Veränderungen hinsichtlich prognostisch relevanter Gruppen neu kategorisiert. Obwohl weite Teile der Klassifikation unverändert blieben, führten in den letzten Jahren kleine wesentliche Änderungen jedoch häufig zu Unsicherheiten und primärer Skepsis gegenüber den Neuerungen bei Urologen und Pathologen. Der vorliegende Artikel bietet eine Übersicht über die aktuelle WHO-Klassifikation mit Schwerpunkt auf Herausforderungen in der uropathologischen Diagnostik, mit denen sich die Uropathologen, und daher auch die behandelnden Urologen, auseinandersetzen müssen. Diese Herausforderungen umfassen u. a. uneindeutige Befunde, schwierige Differentialdiagnosen und seltenere Differenzierungen mit entsprechenden Formulierungen/Ausdrücken im pathologischen Befund sowie deren Bedeutung bzw. Auswirkung für die Praxis (weitere Abklärung, Prognose, Therapie).
Abstract
The current 2004 WHO classification of bladder tumors categorizes non-invasive and invasive urothelial neoplasms into prognostically relevant groups according to the histopathological cell morphology and underlying genetic changes. Although many parts of the classification have not been changed dramatically, even small changes have caused uncertainty and scepticism among urologists and pathologists in recent years. The following review article is structured into various challenges for urologists and pathologists and provides an overview of rare but clinically relevant subgroups and diagnostics, interpretation of diagnoses and pathological findings with respect to consequences for the daily clinical routine (extended diagnosis, therapy and prognosis).
This is a preview of subscription content, log in to check access.
Access options
Buy single article
Instant access to the full article PDF.
US$ 39.95
Price includes VAT for USA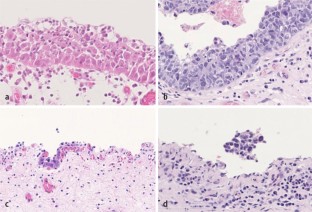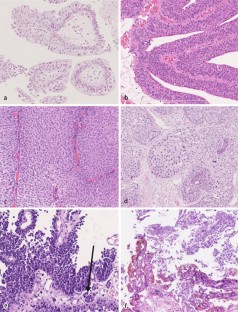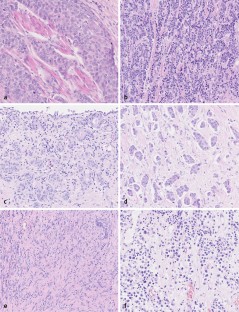 Literatur
1.

Amin MB (2009) Histological variants of urothelial carcinoma: diagnostic, therapeutic and prognostic implications. Mod Pathol 22(Suppl 2):96–118

2.

Babjuk M, Owsterlinck W, Sylvester R et al (2011) EAU guidelindes on non-muscle-invasive urothlial caracinoma of the bladder, the 2011 update. Eur Urol 59:997–1008

3.

Bertz S, Denzinger S, Otto W et al (2011) Substaging by estimating the size of invasive tumour can improve risk stratification in pT1 urothelial bladder cancer-evaluation of a large hospital-based single-centre series. Histopathology 59(4):722–732

4.

Black PC, Brown GA, Dinney CP (2007) Clinical and therapeutic significance of aberrant differentiation patterns in bladder cancer. Expert Rev Anticancer Ther 7:1015–1026

5.

Bubendorf L, Dalquen S, Savic S (2009) Zytologie der ableitenden Harnwege. Pathologe 30(Suppl 2):173–178

6.

Chalasani V, Chin JL, Izawa JI (2009) Histologic variants of urothelial bladder cancer and nonurothelial histology in bladder cancer. Can Urol Assoc J 3:193–199

7.

Chang W-C, Chang Y-H, Pan C-C (2012) Prognostic significance in substaging of T1 urinary bladder urothelial carcinoma on transurethral resection. Am J Surg Pathol 36:454–461

8.

Cheng L, MacLennan GT, Lopez-Beltran A (2012) Histologic grading of urothelial carcinoma: a reappraisal. Hum Pathol 43:2097–2108

9.

Cox R, Epstein JI (2011) Large nested variant of urothelial carcinoma: 23 cases mimicking von brunn nests and inverted growth pattern of noninvasive papillary urothelial carcinoma. Am J Surg Pathol 53(9):1337–1342

10.

Epstein JL, Amin MB, Reuter VE (Hrsg) (2004) Bladder Biopsie Interpretation. Lippincott Williams & Wilkins, Philadelphia (ISBN 0-7817-4276-5)

11.

Fairey AS, Daneshmand S, Wang L et al (2013) Impact of micropapillary urothelial carcinoma variant histology on survival after radical cystectomy. Urol Oncol (Epub ahead of print). doi:10.1016/j.urolonc.2012.04.020

12.

Gaisa NT, Braunschweig T, Reimer N et al (2011) Different immunohistochemical and ultrastructural phenotypes of squamous differentiation in bladder cancer. Virchows Arch 458(3):301–312

13.

Helpub B, Knüchel R, Hartmann A (2012) Anleitung zur pathologisch-anatomischen Diagnostik von Tumoren des Nierenbeckens, des Ureters und der Harnblase, 2. Aufl. Berufsverband Deutsher Pathologen und der Deutschen Gesellschaft für Pathologie, Berlin

14.

Knüchel, R, Hofstädter F, Lindemann-Docter K (2007) Morphologische und molekulare Charakteristika flacher Urothelveränderungen. In: Rathert P, Roth S (Hrsg) Urinzytologie, Praxis und Atlas, Kap. 5, 4. Aufl. Springer, Berlin Heidelberg New York, S 32–37 (ISBN 978-3-540-31038-9)

15.

Lindemann-Docter K, Knüchel R (2008) Aktuelles zur Histopathologie des Harnblasenkarzinoms. Pathologe 29(5):331–338

16.

Linder BJ, Frank I, Cheville JC et al (2013) Outcomes following radical cystectomy for nested variant of urothelial carcinoma: a matched cohort analysis. J Urol 189(5):1670–1675

17.

Logothesis CL, Johnson DE, Chong C et al (1988) Adjuvant cyclophosphamide, doxorubicin, and cisplatin chemotherapy for bladder cancer: an update. J Clin Oncol 6(10):1590–1596

18.

Lopez-Bertran A, Montrioni R (2004) Non-invasive urothelial neoplasms: according to the most recent WHO classification. Eur Urol 46:170–176

19.

Lopez-Beltran A, Requena MJ, Alvarez-Kindelan J et al (2007) Squamous differentiation in primary urothelial carcinoma of the urinary tract as seen by MAC387 immunohistochemistry. J Clin Pathol 60(3):332–335

20.

Miyamoto H, Brimo F, Schultz L et al (2010) Low-grade papillary urothelial carcinoma of the urinary bladder. Arch Pathol Lab Med 134:1160–1163

21.

Montrioni R, Lopez-Bertran A, Scarpelli M et al (2008) Morphological classification and definition of benign, preneoplastic and non-invasive neoplastic lesions of the urinary bladder. Histopathology 53:621–633

22.

Otto W, Denzinger S, Fritsche H-M et al (2010) The WHO classification of 1973 is more suitable than the WHO classification of 2004 for predicting survival in pT1 urothelial bladder cancer. BJU Int 107:404–408

23.

Pan CC, Chang YH, Chen KK et al (2010) Constructing prognostic model incorporating the 2004 WHO/ISUP classification for patients with non-muscle-invasive urothelial tumours of the urinary bladder. J Clin Pathol 63(10):910–915

24.

Shah RB, Montgomery JS, Montie JE, Kunju LP (2012) Variant (divergent) histologic differentiation in urothelial carcinoma is under-recognized in community practice: impact of mandatory central pathology review at a large referral hospital. Urol Oncol. (Epub ahead of print)

25.

Siefker-Radke AO, Dinney CP, Abrahams NA et al (2004) Evidence supporting preoperative chemotherapy for small cell carcinoma of the bladder: a retrospective review of the M. D. Anderson cancer experience. J Urol 172:481–484

26.

Sung MT, Wang M, MacLennan GT et al (2007) Histogenesis of sarcomatoid urothelial carcinoma of the urinary bladder: evidence for a common clonal origin with divergent differentiation. J Pathol 211:420–430

27.

WHO Classification of Tumours (o J) Pathology and genetics of tumours of the urinary system and male genital organs. In: Eble JN, Sauter G, Epstein JI, Sesterhenn IA (Hrsg). IARC Press, Lyon, S 89–158

28.

Williamson SR, Lopez-Beltran A, Montironi R, Cheng L (2011) Gandular lesions of the urinary bladder: clinical significance and differential diagnosis. Histopathology 58(6):811–834

29.

Wittekind C, Meyer H-J (Hrsg) (2010) TNM Klassifikation maligner Tumoren, 7. Aufl. Wiley-VCH Verlag, Weinheim

30.

Younes M, Sussman J, True LD (1990) The usefulness of the level of the muscularis mucosae in the staging of invasive transitional cell carcinoma of the urinary bladder. Cancer 66:543–548
Interessenkonflikt
Keine Angaben
About this article
Cite this article
Gaisa, N., Lindemann-Docter, K. Nicht-invasive und invasive Urothelneoplasien. Urologe 52, 949–957 (2013). https://doi.org/10.1007/s00120-013-3225-2
Schüsselwörter
Harnblasenkarzinome

Varianten

WHO-Klassifikation

Pathologischer Befund
Keywords
Bladder cancer

Variants

WHO classification

Pathology report