Zusammenfassung
Nach operativer Harnableitung über ein Ileumconduit stellen parastomale Hernien mit einer Inzidenz von 4–16% eine relativ häufige Komplikation dar. Eine operative Korrektur wird nach allgemeinen Angaben in etwa 30–35% der Fälle notwendig. Für die operative Korrektur einer parastomalen Hernie sind verschiedenste Verfahren beschrieben worden. Die primäre Fasziennaht hat eine hohe Rezidivrate von 46–100%, wohingegen die Stomaneuplatzierung mit Komplikationsraten von bis zu 88% assoziiert ist. Mit der Verwendung von alloplastischem Material (meist Polypropylennetze) kann die Rezidivrate deutlich von bis zu 100% für die primäre Fasziennaht und 71% für die Stomatranslokation auf 33% gesenkt werden.
Netze mit einer Doppelbeschichtung aus Polypropylen und ePTFE ("expanded polytetrafluorethylene"), kombinieren die Vorteile der ausgeprägten Bauchwandverstärkung durch einsprossendes Bindegewebe mit der einfachen, schonenden und gut kontrollierbaren intraperitonealen Platzierungsmöglichkeit. In der Arbeit werden unsere Erfahrungen mit doppelt beschichteten Zwei-Komponenten-Netzen zur Hernienversorgung nach Anlage eines Ileumconduits vorgestellt.
Abstract
The incidence of parastomal hernia in ileal conduit urinary diversion ranges from 4% to 16%. Surgical correction is necessary in about one third of cases and different techniques of surgical reconstruction have been described. Primary fascial repair has a high recurrence rate of 46-100% whereas stoma translocation is associated with complication rates of up to 88%. The use of alloplastic material (usually polypropylene meshes) has reduced the recurrence rate by up to 100% for primary fascial repair and 71% for stoma translocation down to 33%.
Composite meshes consist of two layers, a polypropylene layer and an expanded polytetrafluoroethylene (ePTFE) layer. The former is placed against the abdominal wall for permanent reinforcement by ingrowing connective tissue and the ePTFE layer is placed against the abdominal organs preventing adhesions with the bowel. The intraperitoneal placement of such composite meshes is a standardized, simplified, gentle and controllable surgical procedure. This article reports experiences with the surgical correction of parastomal hernias in ileal conduits using composite meshes.
This is a preview of subscription content, log in to check access.
Access options
Buy single article
Instant access to the full article PDF.
US$ 39.95
Price includes VAT for USA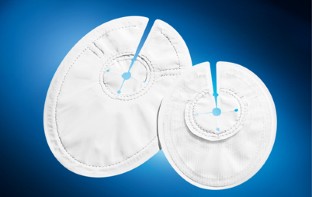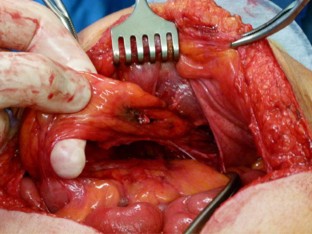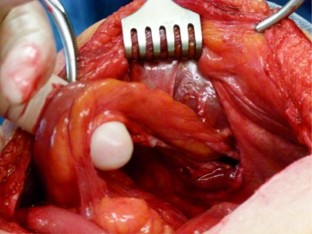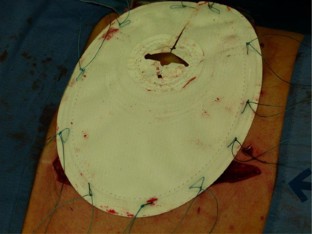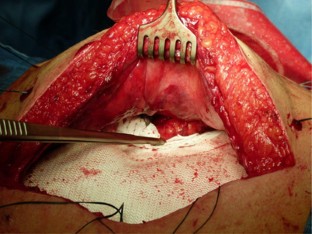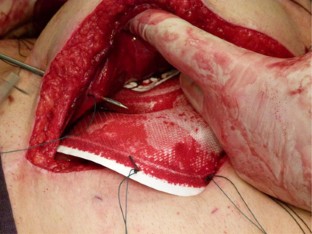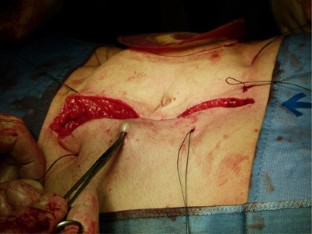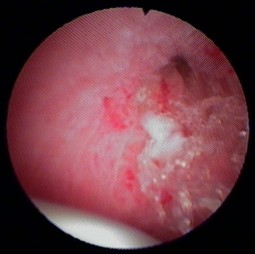 Literatur
1.

Schmidt JD, Hawtrey CE, Flocks RH, Culp DA (1973) Complications, results and problems of ileal conduit diversions. J Urol 109(2):210–216

2.

Singh G, Wilkinson JM, Thomas DG (1997) Supravesical diversion for incontinence: a long-term follow-up. Br J Urol 79(3):348–353

3.

Madersbacher S, Schmidt J, Eberle J et al (2003) Long-term outcome of ileal conduit diversion. J Urol 169(March):985–990

4.

Kouba E, Sands M, Lentz A et al (2007) Incidence and risk factors of stomal complications in patients undergoing cystectomy with ileal conduit urinary diversion for bladder cancer. J Urol 178(3 Pt 1):950–954

5.

Szymanski KM, St-Cyr D, Alam TKW (2010) External stoma and peristomal complications following radical cystectomy and ileal conduit diversion: a systematic review. Ostomy Wound Manage 56(1):28–35

6.

Faba OR, Rosales A, Breda A et al (2011) Simplified technique for parastomal hernia repair after radical Cystectomy and Ileal Conduit Creation. Urology 77(6):1491–1494

7.

Rubin MS, Schoetz DJ, Matthews J (1994) Parastomal hernia. Is stoma relocation superior to fascial repair? Arch Surg 129:413–418

8.

Carne PWG, Robertson GM, Frizelle FA (2003) Parastomal hernia. Br J Surg 90:784–793

9.

Reinpold W (2008) Aktuelle Entwicklungen der Hernienchirurgie. Hamb Arztebl 10:12–17

10.

Farnham SB, Cookson MS (2004) Surgical complications of urinary diversion. World J Urol 22(3):157–167

11.

Jänes A, Cengiz Y, Israelsson LA (2009) Preventing parastomal hernia with a prosthetic mesh: a 5-year follow-up of a randomized study. World J Surg 33:118–121

12.

Wood DN, Allen SE, Hussain M et al (2004) Stomal complications of Ileal conduits are significantly higher when formed in women with intractabele urinary incontinence. J Urol 172:2300–2303

13.

Israelsson LA Ph D (2005) Preventing and treating parastomal hernia. World J Surg 29:1086–1089

14.

Sjödahl R, Anderberg BBT (1988) Parastomal hernia in relation to site of the abdominal stoma. Br J Surg 75:339–341

15.

Abaza R, Perring P, Sferra JJ (2005) Novel parastomal hernia repair using a modified polypropylene and PTFE mesh. J Am Coll Surg 201(2):316–317

16.

Franks ME, Hrebinko RL (2001) Technique of parastomal hernia repair using synthetic mesh. Urology 57:551–553

17.

Dunet F, Pfister C, Denis R et al (2002) Laparoscopic management of parastomal hernia in transileal urinary diversion. J Urol 167(1):236–237

18.

Nomura T, Mimata H, Yamasaki M et al (2003) Skills and pitfalls Repair of ileal conduit parastomal hernia by translocation of the stoma. Int J Urol 10:680–682

19.

Ho KMT, Fawcett DP (2004) Parastomal hernia repair using the lateral approach. BJU Int 94:598–602

20.

Mirza B, Chand B (2008) Laparoscopic repair of Ileal conduit parastomal hernia using the sling technique. JSLS 12:173–179

21.

Lima MVA, Regadas RP, Tavares JM, Silva LFG (2010) Extraperitoneal surgical repair of parastomal hernia of Bricker's urinary diversion with polypropylene mesh: stoma reimplantation through the mesh. Urol Int 85:52–55

22.

Heo SC, Oh H-kwon, Song YS et al (2011) Surgical treatment of a parastomal hernia. J Korean Soc Coloproctol 27(4):174–179

23.

Cheung MT, Chia NH CW (2001) Surgical treatment of parastomal hernia complicating sigmoid colostomies. Dis Aquat Organ 44:266–270

24.

Usher FC (1963) Hernia repair with knitted polypropylene mesh. Surg Gynecol Obstet 117:239–240

25.

Schumpelick V, Klosterhalfen B, Müller M, Klinge U (1999) Minimized polypropylene mesh for preperitoneal net plasty (PNP) of incisional hernias. Der Chirurg 70(4):422–430

26.

Steele SR, Lee P, Martin MJ et al (2003) Is parastomal hernia repair with polypropylene mesh safe? Am J Surg 185(5):436–440

27.

Parker DM, Armstrong PJ, Frizzi JD, North JH (2006) Porcine dermal collagen (Permacol) for abdominal wall reconstruction. Curr Surg 63:255–258

28.

Mitchell CR, Cima RR (2011) A novel technique for using human acellular dermal matrix. Urology 77:746–750

29.

Bendavid R (1997) Composite mesh (polypropylene – e-PTFE) in the intraperitoneal position. A report of 30 cases. Hernia 1:5–8

30.

Craft RO, Huguet KL, McLemore EC, Harold KL (2008) Laparoscopic parastomal hernia repair. Hernia 12:137–140

31.

Safadi B (2004) Laparoscopic repair of parastomal hernias. Surg Endosc 18:1676–1680

32.

Mizrahi H, MB, Parker MC (2012) Laparoscopic slit mesh repair of parastomal hernia using a designated mesh: long-term results. Surg Endosc 26:267–270
Interessenkonflikt
Der korrespondierende Autor gibt für sich und seinen Koautor an, dass kein Interessenkonflikt besteht.
About this article
Cite this article
Lampel, A., Runkel, N. Korrektur der parastomalen Hernie mit Netz. Urologe 51, 965–970 (2012). https://doi.org/10.1007/s00120-012-2962-y
Schlüsselwörter
Hernie, parastomale

Komplikationen

Ileumconduit

Alloplastisches Material
Keywords
Hernia, parastomal

Complications

Ileal conduit

Alloplastic material