Zusammenfassung
Da Urin einfach und in großen Mengen gewonnen werden kann und sich in ihm viele Moleküle befinden, die Hinweise auf die Physiologie und Pathologie enthalten, ist er eine attraktive Quelle für klinische Proteom-/Peptidomanalyse in der Urologie und Nephrologie. In diesem Artikel geben wir einen Überblick über publizierte Ergebnisse einer gut reproduzierbaren Methode der Proteomanalyse mit hoher Auflösung, die natürliche, im Urin vorkommende Proteine und Peptide von 0,8–17,0 kDa identifizieren kann. Diese Methode verwendet eine Kapillarelektrophorese, die direkt an ein Massenspektrometer gekoppelt ist (CE-MS). CE-MS kann bei Kindern die Diagnose einer urodynamisch wirksamen Ureterabgangsstenose, eines hochgradigen vesikoureteralen Refluxes, einer Glomerulopathie, einer Tubulopathie und einer chronischen Nierenerkrankung stellen. Die Zusammenstellung der Ergebnisse zeigt, dass eine Einführung der Proteomanalyse des Urins in die urologische Initialdiagnostik bei Kindern zur Verringerung der Strahlenexposition und Kosten beitragen und die Lebensqualität erhöhen kann. CE-MS wird daher für prospektive Studien empfohlen, um in naher Zukunft das Vorliegen von Erkrankungen der Nieren und ableitenden Harnwege bei Kindern nichtinvasiv nachzuweisen oder ausschließen zu können.
Abstract
Due to its accessibility and availability, ease of collection, and correlation with physiology and pathology, urine is an attractive source for clinical proteomics/peptidomics in urology and nephrology. Here, we review the published findings of a reproducible, high-resolution method for peptidome analysis of naturally occurring human urinary peptides and proteins – ranging from 0.8 to 17.0 kDA – using samples from renal patients analyzed by capillary electrophoresis coupled to mass spectrometry (CE-MS). CE-MS identified children with urodynamically relevant ureteric junction obstruction, vesicoureteric reflux of grades IV and V, glomerulopathies, tubulopathies, and chronic kidney disease. Our analysis revealed that the incorporation of urinary proteome analysis in the initial evaluation of children with urinary tract abnormalities will avoid side effects of radiological imaging techniques, reduce costs, and increase the quality-adjusted life years in this patient population. CE-MS can be recommended for clinical prospective studies on the analysis of naturally occurring urinary peptides in children with urinary tract diseases.
This is a preview of subscription content, log in to check access.
Access options
Buy single article
Instant access to the full article PDF.
US$ 39.95
Price includes VAT for USA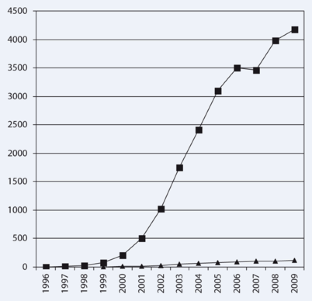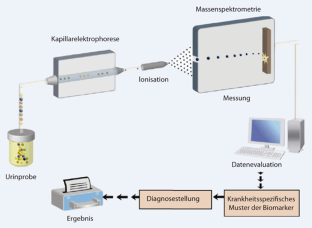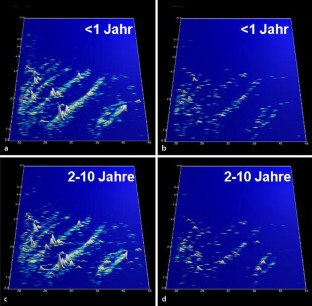 Literatur
1.

Ehrich JHH, Kirschstein M, Kehring N et al (1993) Proteinurie und Enzymurie als Leitsymptom renaler und extrarenaler Erkrankungen im Kindesalter. Mschr Kinderheilkd 141:59–69

2.

Lun A, Suslovych M, Drube J et al (2008) Reliability of different expert systems for profiling proteinuria in children with kidney diseases. Pediatr Nephrol 23:285–290

3.

Lun A, Ivandic M, Priem F et al (1999) Evaluation of pediatric nephropathies by a computerized Urine Protein Expert System (UPES). Pediatr Nephrol 13:900–906

4.

Sivert KD, Unteregger G, Nawroth R et al (2010) Ausbildungsinitiative der Deutschen Gesellschaft für Urologie für innovative Forschung. Urologe 49:91–94

5.

Good DM, Zürbig P, Argilés A et al (2010) Naturally occurring human urinary peptides for use in diagnosis of chronic kidney disease. Mol Cell Proteomics 9(11):2424–2437

6.

Caubet C, Lacroix C, Decramer S et al (2010) Advances in urinary proteome analysis and biomarker discovery in pediatric renal disease. Pediatr Nephrol 25:27–35

7.

Righetti PG, Boschetti E, Lomas L, Citterio A (2006) Protein Equalizer Technology: the quest for a "democratic proteome". Proteomics 6:3980–3992

8.

Decramer S, Peredo AG de, Breuil B et al (2008) Urine in Clinical Proteomics. Mol Cell Proteomics 7:1850–1862

9.

Wu J, Chen YD, Gu W (2010) Urinary proteomics as a novel tool for biomarker discovery in kidney diseases. J Zhejiang Univ Sci B 11:227–237

10.

Jantos-Siwy J, Schiffer E, Brand K et al (2009) Quantitative urinary proteome analysis for biomarker evaluation in chronic kidney disease. J Proteome Res 8:268–281

11.

Zürbig P, Renfrow MB, Schiffer E et al (2006) Biomarker discovery by CE-MS enables sequence analysis via MS/MS with platform-independent separation. Electrophoresis 27:2111–2125

12.

Syka JE, Coon JJ, Schroeder MJ et al (2004) Peptide and protein sequence analysis by electron transfer dissociation mass spectrometry. Proc Natl Acad Sci USA 101:9528–9533

13.

Mischak H, Allmaier G, Apweiler R et al (2010) Recommendations for biomarker identification and qualification in clinical proteomics.Sci Transl Med 25(2):46

14.

O'Flynn KJ, Gough DC, Gupta S et al (1993) Prediction of recovery in antenatally diagnosed hydronephrosis. Br J Urol 71:478–480

15.

Grasso M, Gitlin J (2001) Ureteropelvic junction obstruction. eMedicine (serial online). Available at http://www.emedicine.com/med/topic3074.htm

16.

Decramer S, Wittke S, Mischak H et al (2006) Predicting the clinical outcome of congenital unilateral ureteropelvic junction obstruction in newborn by urinary proteome analysis. Nat Med 12:398–400

17.

Vlajković M, Ilić S, Rajić M et al (2005) Diuresis renal scintigraphy "F-0" in diagnosing of upper urinary tract obstruction in children: the clinical significance. Nucl Med Rev Cent East Eur 8:21–27

18.

Mesrobian HG (2008) The value of newborn urinary proteome analysis in the evaluation and management of ureteropelvic junction obstruction: a cost-effectiveness study. World J Urol 27:379–383

19.

Drube J, Zürbig P, Schiffer E et al (2010) Urinary proteome analysis identifies infants but not older children requiring pyeloplasty. Pediatr Nephrol 25:1673–1678

20.

Drube J, Schiffer E, Lau E et al (2010) Diagnose eines höhergradigen vesikoureteralen Reflux mit nicht-invasiver Urin-Proteomanalyse. Nephrologe 5:53–54

21.

Hansson S, Dhamey M, Sigström O et al (2004) Dimercapto-succinic acid scintigraphy instead of voiding cystourethrography for infants with urinary tract infection. J Urol 172:1071–1074

22.

Haubitz M, Wittke S, Weissinger EM et al (2005) Urine protein patterns can serve as diagnostic tools in patients with IgA nephropathy. Kidney Int 67:2313–2320

23.

Weissinger EM, Wittke S, Kaiser T et al (2004) Proteomic patterns established with capillary electrophoresis and mass spectrometry for diagnostic purposes. Kidney Int 65:2426–2434

24.

Drube J, Schiffer E, Mischak H et al (2009) Urinary proteome pattern in children with renal Fanconi syndrome. Nephrol Dial Transplant 24:2161–2169

25.

Spitzer A (1996) The current approach to the assessment of fetal renal function: fact or fiction? Pediatr Nephrol 10:230

26.

Ehrich JHH (1997) Diagnostik der pränatalen Nierenfunktion: Grenzen und Fallstricke. Perinatal Med 9:8–11

27.

Choolani M, Narasimhan K, Kolla V, Hahn S (2009) Proteomic technologies for prenatal diagnostics: advances and challenges ahead. Expert Rev Proteomics 6:87–101
Interessenkonflikt
Der korrespondierende Autor weist auf folgende Beziehung hin: Dr. E. Schiffer ist Mitarbeiter von mosaiques diagnostics GmbH, Mellendorfer Str. 7–9, 30625 Hannover.
Additional information
Der Inhalt dieses Übersichtsartikels wurde als "State of the Art Lecture" auf der Jahrestagung des Arbeitskreises Kinderurologie am 22. und 23. Januar 2010 in Mainz von JHHE vorgetragen.
About this article
Cite this article
Ehrich, J., Schiffer, E. & Drube, J. Urinproteomanalytik. Urologe 50, 170–179 (2011). https://doi.org/10.1007/s00120-010-2467-5
Schlüsselwörter
Harntransportstörungen

Ureterabgangsstenose

Refluxnephropathie

Niereninsuffizienz

Proteomics
Keywords
Urinary tract obstruction

Ureteropelvic junction obstruction

Reflux nephropathy

Chronic kidney disease

Proteomics