Zusammenfassung
Hintergrund
Ziel dieser nichtinterventionellen Studie war die Erfassung der Wirksamkeit und Verträglichkeit von Propiverin ER unter Praxisbedingungen.
Patienten und Methoden
Die Behandlung von 5565 Patienten mit Dranginkontinenz, Drangsymptomatik oder Mischinkontinenz wurde in einem Zeitraum von 12 Wochen mit Propiverin ER dokumentiert. Inkontinenzepisoden, Miktionsfrequenz und Miktionsvolumen wurden zu allen 3 Visiten (Aufnahme, nach 4 und 12 Wochen) erfasst und zusätzlich zu den Visiten 2 und 3 Angaben zur Verträglichkeit erhoben.
Ergebnisse
Die Inkontinenzepisoden/24 h nahmen unter der Therapie von 4,23 um 2,89 ab. Die Miktionsfrequenz/24 h sank um 5,50. Das Volumen einer einzelnen Miktion stieg im Mittel um 69 ml. Die Wirksamkeit wurde von ca. 92% Ärzten und Patienten gleichermaßen mit "sehr gut" und "gut" beurteilt. Mundtrockenheit war die häufigste Nebenwirkung und nahm im Therapieverlauf von 16,5% nach 4 Wochen auf 13,6% nach 12 Wochen ab.
Schlussfolgerungen
Die Wirksamkeit und Verträglichkeit von Propiverin ER konnte in der täglichen Praxis bestätigt werden.
Abstract
Background
The aim of this non-interventional study was to evaluate the efficacy and tolerability of propiverine ER under real life conditions.
Patients and methods
The treatment of 5,565 patients with urge urinary incontinence, urgency or mixed urinary incontinence was documented over a 12-week period. Incontinence episodes, voiding frequency and voided volume were recorded at 3 visits (admission, after 4 and 12 weeks). Additionally the tolerability was evaluated at visits 2 and 3.
Results
The average incontinence episodes/24 h decreased during therapy from 4.23 to 2.89. The frequency of micturitions/24 h decreased by 5.50. The voided volume improved by 69 ml. Approximately 92 % of investigators and patients assessed the efficacy similarly with "very good" and "good". Dry mouth was the most frequent adverse drug reaction and decreased from 16.5 % after 4 weeks to 13.6 % after 12 weeks of treatment.
Conclusion
The efficacy and tolerability of propiverine ER were confirmed under real life conditions.
This is a preview of subscription content, log in to check access.
Access options
Buy single article
Instant access to the full article PDF.
US$ 39.95
Price includes VAT for USA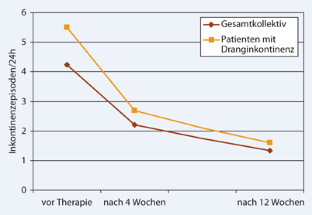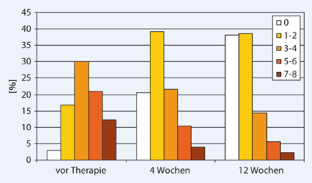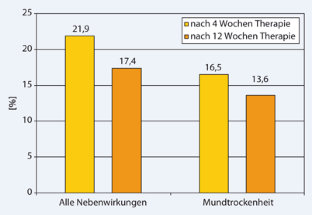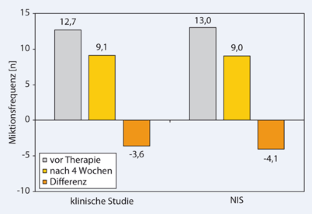 Notes
1.

Im Handel als Mictonorm Uno® 30 mg erhältlich.
Literatur
1.

Alloussi S, Goepel M, Richter AE et al (2005) Therapie der Detrusorhyperaktivität mit Propiverin. Urologe A 44:382–386

2.

Alloussi S, Schönberger B, Mürtz G et al (2000) Behandlung des Urge-Syndroms mit Propiverin in der therapeutischen Praxis. Urologe B 40:367–373

3.

Claxton AJ, Cramer J, Pierce C (2001) A systematic review of the associations between dose regimes and medication compliance. Clin Ther 23:1296–1310

4.

Gramatte T, Gruber P, Güldner P et al (2002) Oral dosage form for propiverine or its pharmaceutically acceptable salts with an extended release of the active ingredient. WO 03/030869 A1

5.

Höfner K, Burkart M, Jacob G, Jonas U (2007) Safety and efficacy of tolterodine extended release in men with overactive bladder symptoms and presumed non-obstructive benign prostatic hyperplasia. World J Urol 25:627–633

6.

Jünemann K-P, Halaska M, Rittstein T et al (2005) Propiverine versus tolterodine: efficacy and tolerability in patients with overactive bladder. Eur Urol 48:478–482

7.

Jünemann K-P, Hessdörfer E, Unamba-Oparah I et al (2006) Propiverine hydrochloride immediate and extended release: Comparison of efficacy and tolerability in patients with overactive bladder. Urol Int 77:334–339

8.

Lee K-S, Choo M-S, Kim D-Y et al (2005) Combination treatment with propiverine hydrochloride plus doxazosin controlled release gastrointestinal therapeutic system formulation for overactive bladder and coexisting benign prostatic obstruction: a prospective, randomized, controlled multicenter study. J Urol 174:1334–1338

9.

Madersbacher H, Halaska M, Voigt R et al (1999) Placebokontrollierte multizentrische Studie zum Vergleich der Verträglichkeit und Wirksamkeit von Propiverin und Oxybutynin bei Patienten mit Urge-Symptomatik und Urge-Inkontinenz. BJU Int 84:646–651

10.

Saito H, Yamada T, Oshima H et al (1999) A comparative study of the efficacy and safety of tamsulosin hydrochloride (Harnal capsules) alone and in combination with propiverine hydrochloride (BUP-4 tablets) in patients with prostatic hypertrophy associated with pollakiuria and/or urinary incontinence. Jpn J Urol Surg 12:525–536

11.

Stöhrer M, Mürtz G, Kramer G et al (2007) Propiverine compared to oxybutynin in neurogenic detrusor overactivity – results of a randomized, double-blind, multicenter clinical study. Eur Urol 51:235–242

12.

Wuest M, Braeter M, Schoeberl C, Ravens U (2005) Juvenile pig detrusor: Effects of propiverine and three of ist metabolites. Eur J Pharmacol 524:145–148
Interessenkonflikt
Der korrespondierende Autor weist auf folgende Beziehungen hin: Die Autorin Frau PD Dr. Petra Kessler-Zumpe ist als Referentin für folgende Firmen tätig: Apogepha, Astellas, Bayer vital. Trotz des möglichen Interessenkonflikts ist der Beitrag unabhängig und produktneutral.
About this article
Cite this article
Kessler-Zumpe, P., Murgas, S., Neumann, G. et al. Therapie der überaktiven Blase mit Propiverin ER. Urologe 48, 1346–1351 (2009). https://doi.org/10.1007/s00120-009-2086-1
Schlüsselwörter
Propiverin ER

Nichtinterventionelle Studie

Überaktive Blase

Dranginkontinenz
Keywords
Propiverine ER

Non-interventional study

Overactive bladder

Urge urinary incontinence