Zusammenfassung
Klinisches Problem
Der Somatostatinrezeptor(SSTR)-Besatz diverser Tumorentitäten ist mittels konventioneller Schnittbildgebung (Computertomographie [CT]) nicht visualisierbar.
Radiologische Standardverfahren
Bei der Bildgebung SSTR-exprimierender Tumoren werden u. a. strukturell bildgebende Verfahren wie CT oder Magnetresonanztomographie (MRT) eingesetzt.
Methodische Innovationen
Die molekulare Bildgebung des SSTR-Besatzes an der Tumorzelloberfläche unter Verwendung von (Ganzkörper‑)Single-Photon-Emissions-CT (SPECT) sowie Positronen-Emissions-Tomographie (PET) ist zu einem hochsensitiven Versorgungstandard geworden. Erst eine Koregistrierung mittels struktureller Bildgebung ermöglicht die exakte Lokalisierung möglicher Tumormanifestationen (Hybridbildgebung).
Leistungsfähigkeit
Die Hybridbildgebung leistet einen entscheidenden Beitrag in der initialen Ausbreitungsdiagnostik und beim Therapiemonitoring. Die SSTR-PET ist hierbei der SPECT überlegen; darüber hinaus ist der SSTR-PET-Tracer 68Ga-DOTATATE bereits in vielen Ländern zugelassen. Bei SSTR-Positivität im SPECT bzw. PET kann eine Peptidradiorezeptortherapie (PRRT) erwogen werden: Dieses theranostische Verfahren ermöglicht die systemische/lokoregionale Bestrahlung mit einem β‑Strahler, der an das identische Peptid wie das diagnostische SPECT-/PET-Äquivalent gekoppelt ist. Die prospektive, randomisierte Netter-1-Studie konnte einen signifikanten Outcome-Benefit für eine PRRT zeigen.
Bewertung
Eine Kombination aus funktioneller und struktureller Bildgebung ist den konventionellen, strukturellen Bildgebungsverfahren deutlich überlegen und kann in einem theranostischen Ansatz Therapiekandidaten für eine PRRT identifizieren.
Empfehlung für die Praxis
Nach histologischer Sicherung oder hinreichendem Verdacht auf eine SSTR-exprimierende Tumorentität sollte umgehend ein Hybridbildgebungsverfahren, vorzugsweise in einem spezialisierten Zentrum, erwogen werden.
Abstract
Clinical/methodical issue
Conventional imaging tests like computed tomography (CT) cannot visualize somatostatin receptor (SSTR) expression on the tumor cell surface.
Standard radiological methods
For imaging of SSTR-expressing tumors conventional morphological imaging tests such as CT or magnetic resonance imaging (MRI) are employed.
Methodical innovations
Molecular imaging of SSTR expression on the tumor cell surface, in particular by using (whole body) single photon emission computed tomography (SPECT) and positron emission tomography (PET), are considered the current standard of care. Only the use of CT enables for exact localization of putative sites of disease (hybrid imaging).
Performance
Hybrid SPECT/CT and PET/CT are of utmost importance for staging and monitoring of treatment efficacy. SSTR-PET is superior to SPECT and the PET radiotracer 68Ga-DOTATATE has been approved in multiple countries. In addition, SSTR positivity revealed by SPECT or PET pave the way for a peptide receptor radionuclide therapy (PRRT). Such a theranostic approach enables for systemic or locoregional radiation with β‑emitting radionuclides, which are linked to the identical amino acid peptide used for PET or SPECT imaging. The prospective, randomized Netter‑1 trial has shown significant benefit for patients receiving PRRT.
Achievements
A combined use of conventional and functional imaging tests is superior to conventional imaging alone and allows for identification of suitable candidates for a theranostic approach.
Practical recommendations
In case of clinical suspicion or after having obtained histological evidence, hybrid SSTR-SPECT/CT or -PET/CT should be performed, preferably in a dedicated molecular imaging center.
This is a preview of subscription content, log in to check access.
Access options
Buy single article
Instant access to the full article PDF.
US$ 39.95
Price includes VAT for USA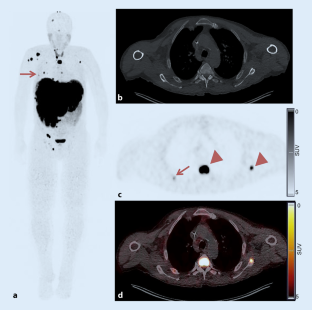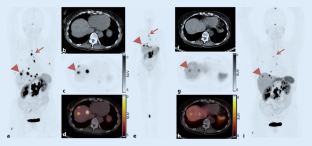 Literatur
1.

Amin MB, Edge S, Greene F et al (2017) AJCC cancer staging manual, 8. Aufl. Springer, Berlin

2.

Barrio M, Czernin J, Fanti S et al (2017) The impact of somatostatin receptor-directed PET/CT on the management of patients with neuroendocrine tumor: a systematic review and meta-analysis. J Nucl Med 58:756–761

3.

Bengel FM (2017) Issue "noninvasive molecular imaging and theranostic probes": new concepts in myocardial imaging. Methods 130:72–78

4.

Bodei L, Ambrosini V, Herrmann K et al (2017) Current concepts in (68)ga-DOTATATE imaging of neuroendocrine neoplasms: interpretation, biodistribution, dosimetry, and molecular strategies. J Nucl Med 58:1718–1726

5.

Bodei L, Mueller-Brand J, Baum RP et al (2013) The joint IAEA, EANM, and SNMMI practical guidance on peptide receptor radionuclide therapy (PRRNT) in neuroendocrine tumours. Eur J Nucl Med Mol Imaging 40:800–816

6.

Bombardieri E, Ambrosini V, Aktolun C et al (2010) 111In-pentetreotide scintigraphy: procedure guidelines for tumour imaging. Eur J Nucl Med Mol Imaging 37:1441–1448

7.

Bombardieri E, Coliva A, Maccauro M et al (2010) Imaging of neuroendocrine tumours with gamma-emitting radiopharmaceuticals. Q J Nucl Med Mol Imaging 54:3–15

8.

Boy C, Poeppel T, Kotzerke J et al (2018) Somatostatin receptor PET/CT (SSTR-PET/CT). Nuklearmedizin 57:4–17

9.

Chiti A, Fanti S, Savelli G et al (1998) Comparison of somatostatin receptor imaging, computed tomography and ultrasound in the clinical management of neuroendocrine gastro-entero-pancreatic tumours. Eur J Nucl Med 25:1396–1403

10.

Deppen SA, Blume J, Bobbey AJ et al (2016) 68 ga-DOTATATE compared with 111in-DTPA-octreotide and conventional imaging for pulmonary and gastroenteropancreatic neuroendocrine tumors: a systematic review and meta-analysis. J Nucl Med 57:872–878

11.

Derlin T, Grunwald V, Steinbach J et al (2018) Molecular imaging in oncology using positron emission tomography. Dtsch Arztebl Int 115:175–181

12.

Derlin T, Hueper K, Soudah B (2017) 68 ga-DOTA-TATE PET/CT for molecular imaging of somatostatin receptor expression in metastasizing epithelioid hemangioendothelioma: comparison with 18F-FDG. Clin Nucl Med 42:e478–e479

13.

Deutsche Gesellschaft für Gastroenterologie Verdauungs- und Stoffwechselkrankheiten, Netzwerk Neuroendokrine Tumoren e. V., Bundesorganisation Selbsthilfe Neuroendokrine Tumoren e. V. et al (2018) Practice guideline neuroendocrine tumors – AWMF-Reg. 021-27. Z Gastroenterol 56:583–681

14.

Deutsche Gesellschaft Für Nuklearmedizin (2019) Nuklearmedizinische Institution finden. https://www.nuklearmedizin.de/patienten/standorte/standort_search.php?navId=68. Zugegriffen: 30. Nov. 2019

15.

Hallet J, Law CH, Cukier M et al (2015) Exploring the rising incidence of neuroendocrine tumors: a population-based analysis of epidemiology, metastatic presentation, and outcomes. Cancer 121:589–597

16.

Hanscheid H, Lapa C, Buck AK et al (2018) Dose mapping after endoradiotherapy with (177)Lu-DOTATATE/DOTATOC by a single measurement after 4 days. J Nucl Med 59:75–81

17.

Hicks RJ (2010) Use of molecular targeted agents for the diagnosis, staging and therapy of neuroendocrine malignancy. Cancer Imaging 10(A):83–91

18.

Hope TA, Bergsland EK, Bozkurt MF et al (2018) Appropriate use criteria for somatostatin receptor PET imaging in neuroendocrine tumors. J Nucl Med 59:66–74

19.

Hope TA, Calais J, Zhang L et al (2019) (111)in-pentetreotide scintigraphy versus (68)ga-DOTATATE PET: impact on Krenning scores and effect of tumor burden. J Nucl Med 60:1266–1269

20.

Ilhan H, Todica A, Lindner S et al (2019) First-in-human (18)F-SiFAlin-TATE PET/CT for NET imaging and theranostics. Eur J Nucl Med Mol Imaging 46:2400–2401

21.

Lee I, Paeng JC, Lee SJ et al (2015) Comparison of diagnostic sensitivity and quantitative indices between (68)ga-DOTATOC PET/CT and (111)in-pentetreotide SPECT/CT in neuroendocrine tumors: a preliminary report. Nucl Med Mol Imaging 49:284–290

22.

Maccauro M, Follacchio GA, Spreafico C et al (2019) Safety and efficacy of combined peptide receptor radionuclide therapy and liver selective internal radiation therapy in a patient with metastatic neuroendocrine tumor. Clin Nucl Med 44:e286–e288

23.

Modlin IM, Kidd M, Latich I et al (2005) Current status of gastrointestinal carcinoids. Gastroenterology 128:1717–1751

24.

Modlin IM, Moss SF, Chung DC et al (2008) Priorities for improving the management of gastroenteropancreatic neuroendocrine tumors. J Natl Cancer Inst 100:1282–1289

25.

Nicolas GP, Schreiter N, Kaul F et al (2018) Sensitivity comparison of (68)ga-OPS202 and (68)ga-DOTATOC PET/CT in patients with gastroenteropancreatic neuroendocrine tumors: a prospective phase II imaging study. J Nucl Med 59:915–921

26.

Obendorfer S (1907) Karzinoide Tumoren des Dünndarms. Frankf Z Pathol 1:425–429

27.

Oronsky B, Ma PC, Morgensztern D et al (2017) Nothing but NET: a review of neuroendocrine tumors and carcinomas. Neoplasia 19:991–1002

28.

Perri M, Erba P, Volterrani D et al (2008) Octreo-SPECT/CT imaging for accurate detection and localization of suspected neuroendocrine tumors. Q J Nucl Med Mol Imaging 52:323–333

29.

Rowe SP, Pienta KJ, Pomper MG et al (2018) Proposal for a structured reporting system for prostate-specific membrane antigen-targeted PET imaging: PSMA-RADS version 1.0. J Nucl Med 59:479–485

30.

Sadowski SM, Neychev V, Millo C et al (2016) Prospective study of 68 ga-DOTATATE positron emission tomography/computed tomography for detecting gastro-entero-pancreatic neuroendocrine tumors and unknown primary sites. J Clin Oncol 34:588–596

31.

Sanchez-Crespo A (2013) Comparison of gallium-68 and fluorine-18 imaging characteristics in positron emission tomography. Appl Radiat Isot 76:55–62

32.

Strosberg J, El-Haddad G, Wolin E et al (2017) Phase 3 trial of (177)Lu-dotatate for midgut neuroendocrine tumors. N Engl J Med 376:125–135

33.

Strosberg J, Wolin E, Chasen B et al (2018) Health-related quality of life in patients with progressive midgut neuroendocrine tumors treated with (177)lu-dotatate in the phase III NETTER‑1 trial. J Clin Oncol 36:2578–2584

34.

Virgolini I, Ambrosini V, Bomanji JB et al (2010) Procedure guidelines for PET/CT tumour imaging with 68 Ga-DOTA-conjugated peptides: 68 Ga-DOTA-TOC, 68 Ga-DOTA-NOC, 68 Ga-DOTA-TATE. Eur J Nucl Med Mol Imaging 37:2004–2010

35.

Werner RA, Bundschuh RA, Bundschuh L et al (2019) Novel structured reporting systems for theranostic radiotracers. J Nucl Med 60:577–584

36.

Werner RA, Bundschuh RA, Bundschuh L et al (2018) MI-RADS: molecular imaging reporting and data systems—introduction of PSMA- and SSTR-RADS for radiotracers with potential theranostic implications. Ann Nucl Med 32:512–522

37.

Werner RA, Solnes LB, Javadi MS et al (2018) SSTR-RADS version 1.0 as a reporting system for SSTR PET imaging and selection of potential PRRT candidates: a proposed standardization framework. J Nucl Med 59:1085–1091

38.

Werner RA, Thackeray JT, Pomper MG et al (2019) Recent updates on molecular imaging reporting and data systems (MI-RADS) for theranostic radiotracers-navigating pitfalls of SSTR- and PSMA-targeted PET/CT. J Clin Med 8(7):E1060. https://doi.org/10.3390/jcm8071060

39.

Werner RA, Weich A, Kircher M et al (2018) The theranostic promise for neuroendocrine tumors in the late 2010s—where do we stand, where do we go? Theranostics 8:6088–6100

40.

Wong KK, Cahill JM, Frey KA et al (2010) Incremental value of 111-in pentetreotide SPECT/CT fusion imaging of neuroendocrine tumors. Acad Radiol 17:291–297

41.

Yao JC, Hassan M, Phan A et al (2008) One hundred years after "carcinoid": epidemiology of and prognostic factors for neuroendocrine tumors in 35,825 cases in the United States. J Clin Oncol 26:3063–3072
Ethics declarations
Interessenkonflikt
R.A. Werner, F.M. Bengel und T. Derlin geben an, dass kein Interessenkonflikt besteht.
Für diesen Beitrag wurden von den Autoren keine Studien an Menschen oder Tieren durchgeführt. Für die aufgeführten Studien gelten die jeweils dort angegebenen ethischen Richtlinien.
About this article
Cite this article
Werner, R.A., Bengel, F.M. & Derlin, T. Theranostics und Hybridbildgebung für somatostatinrezeptor-exprimierende Tumore. Radiologe (2020). https://doi.org/10.1007/s00117-020-00652-y
Schlüsselwörter
Hybridbildgebung

Single-Photon-Emissions-Computertomographie

Positronen-Emissions-Tomographie

Peptidradiorezeptortherapie

Netter-1-Studie
Keywords
Hybrid imaging

Single photon emission computed tomography

Positron emission tomography

Peptide receptor radionuclide therapy

Netter‑1 trial