Zusammenfassung
Hintergrund
Rückenschmerzen stehen auf Platz 4 der Liste mit den höchsten verursachten Krankheitskosten im Jahr. Die Zahl der betroffenen Patienten steigt stetig aufgrund des zunehmenden Chronifizierungscharakters bei unzureichender Ursachenerkennung.
Methoden
Die Diagnostik zur Abklärung von Schmerzen der Wirbelsäule stützt sich auf insgesamt drei wichtige Pfeiler. Zum einen sind eine detaillierte Anamnese und eine korrekte klinische Untersuchung durch den verantwortlichen Arzt enorm wichtig, gefolgt von einem versierten Radiologen, der für die bildmorphologische Ursachenforschung verantwortlich ist.
Ergebnisse und Schlussfolgerung
Die Anamnese und klinische Untersuchung spielen eine entscheidende Rolle, um Patienten mit einer tatsächlich zugrunde liegenden Pathologie der Beschwerdesymptomatik herauszufiltern und bei diesen eine Bildgebung zur weiteren Evaluation durchzuführen. Akute Rückenschmerzen zeigen in den meisten Fällen keine korrespondierende Pathologie. Hierbei stehen psychosoziale Faktoren ("yellow flags") im Vordergrund. Auf das Vorliegen von "red flags" und die Möglichkeit der extraspinalen Ursache sollte immer geachtet werden.
Abstract
Background
Back pain is ranked as the fourth highest medical expense per year. The number of affected patients is constantly increasing because of increasing chronification due to insufficient recognition of the cause.
Methods
The diagnosis of back pain is based on three important pillars. On the one hand, a detailed anamnesis and correct clinical examination by the responsible physician is extremely important, followed by an experienced radiologist who is responsible for determining the imaged-based ethiology of the symptoms.
Results/conclusion
Anamnesis and clinical examination play an important role in identifying patients with a real underlying pathology for the symptomatology in order to provide them with direct imaging for further evaluation. Corresponding pathology in most cases of acute back pain is generally not found but here psychosocial factors ("yellow flags") are in the foreground. Attention should always be paid to the presence of "red flags" and the possibility of extraspinal causes.
This is a preview of subscription content, log in to check access.
Access options
Buy single article
Instant unlimited access to the full article PDF.
US$ 39.95
Price includes VAT for USA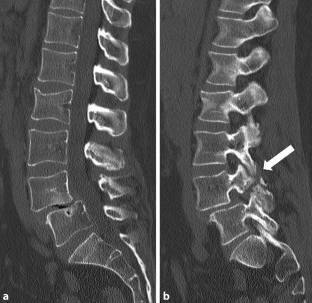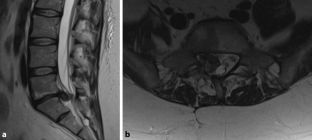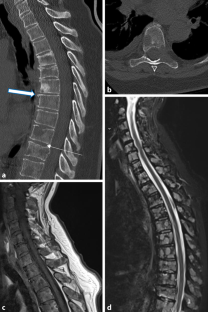 Literatur
1.

Nachemson AL (1992) Newest knowledge of low back pain. Clin Orthop 279:8–20

2.

Raspe H, Kohlmann T (1993) Rückenschmerzen – eine Epidemie unser Tage? Dtsch Arztebl 90:2920–2925

3.

Clinical Efficacy Assessment Subcommittee of the American College of Physicians, American College of Physicians, Chou R, Qaseem A, Snow V et al (2007) Diagnosis and treatment of low back pain: a joint clinical practice guideline from the American College of Physicians and the American Pain Society. Ann Intern Med 147(7):478–491

4.

Casser H‑J, Seddigh S, Rauschmann M (2016) Akuter lumbaler Rückenschmerz. Diagnostik, Differenzialdiagnostik und Therapie. Dtsch Arztebl Int 113:223–234

5.

Koes B, van Tulder MW, Thomas S (2006) Clinical review: diagnosis and treatment of low back pain. BMJ 332:1430–1434

6.

Deyo RA, Weinstein JN (2001) Low back pain. N Engl J Med 344:363–370

7.

Heymann W (2013) Differenzialdiagnostik und Therapie des akuten Kreuzschmerzes. Man Med 51:77–88

8.

Atlas S, Deyo R (2001) Evaluating and managing acute low back pain in the primary care setting. J Gen Intern Med 16(2):120–131

9.

Amboss Wirbelkörperfrakuturen (2016) Die 120 Top-Themen zum Hammerexamen-Band, Bd. 2, S 341

10.

Wong CC, McGirt M (2013) Vertebral compression fractures: a review of current management and multimodal therapy. J Multidiscip Healthc 6:205–214

11.

Alexandru D, So W (2012) Evaluation and management of vertebral compression fractures. Perm J 16(4):46–51

12.

Blake G, Fogelman I (2007) The role of DXA bone density scans in the diagnosis and treatment of osteoporosis. Postgrad Med J 83:509–517

13.

Bouras T, Korovessis P (2015) Management of spondylolysis and low-grade spondylolisthesis in fine athletes. A comprehensive review. Eur J Orthop Surg Traumatol 25(Suppl 1):S167–S175

14.

Eismont FJ, Norton RP, Hirsch BP (2014) Surgical management of lumbar degenerative spondylolisthesis. J Am Acad Orthop Surg 22(4):203–213

15.

Zarghooni K, Röllinghoff M, Sobottke R, Eysel P (2012) Treatment of spondylodiscitis. International Orthopaedics (SICOT) 36:405–411

16.

Sobottke R, Seifert H, Fätkenheuer G, Schmidt M, Goßmann A, Eysel P (2008) Aktuelle Diagnostik und Therapie der Spondylodiszitis. Dtsch Arztebl 105(10):181–187

17.

Ciftdemir M, Kaya M, Selcuk E, Yalniz EE (2016) Tumors of the spine. World J Orthop 7(2):109–116

18.

Shah LM, Salzman KL (2011) Imaging of spinal metastatic disease. Int J Surg Oncol. https://doi.org/10.1155/2011/769753

19.

Breitenseher Julia B et al (2017) Nomenklatur der (lumbalen) Bandscheiben. Radiol Up2date 17:63–77
Ethics declarations
Interessenkonflikt
A. Haußmann gibt an, dass kein Interessenkonflikt besteht.
Für diesen Beitrag wurden von den Autoren keine Studien an Menschen oder Tieren durchgeführt. Für die aufgeführten Studien gelten die jeweils dort angegebenen ethischen Richtlinien.
About this article
Cite this article
Haußmann, A. Diagnostik von akuten und chronischen Rückenschmerzen. Radiologe (2020). https://doi.org/10.1007/s00117-019-00638-5
Schlüsselwörter
Wirbelsäule

Schmerzen

Krankheitskosten

Anamnese

Bildmorphologische Diagnostik
Keywords
Spine

Pain

Medical expenses

Anamnesis

Diagnostic imaging