Zusammenfassung
Vor Diagnosestellung einer malignen Erkrankung können neurologische Krankheitsbilder auftreten, die durch eine fehlgeleitete Immunreaktion gegen intrazelluläre Antigene oder neuronale Oberflächenantigene ausgelöst werden. Zu den häufigsten paraneoplastischen Erkrankungen gehört die subakute Kleinhirndegeneration. Die häufigsten beschriebenen paraneoplastischen Antikörper sind Anti Hu, CRMP5/CV2, Amphiphysin, Ma/Ta bei kleinzelligen Lungenkarzinomen, Mammakarzinomen und Lymphomen. Wir berichten über einen 67jährigen Patienten mit einer cerebellären Symptomatik und ungewollter Gewichtsabnahme von 10 kg, bei dem im Verlauf der diagnostischen Aufarbeitung ein nichtkleinzelliges Bronchialkarzinom gefunden wurde. Serologisch gelang der Nachweis von erhöhten Anti-Tr3-Antikörpern, welche typischerweise bei der subakuten Kleinhirndegeneration assoziiert mit einem Morbus Hodgkin, seltener bei Non-Hodgkin Lymphomen gefunden werden. Unter tumoradaptierter Therapie und intravenöser Immunglobulingabe verbesserten sich die neurologischen Kleinhirnsymptome. Im klinischen Verlauf wird sich zeigen, ob die Anti-Tr3 Antikörper tatsächlich im Rahmen des nicht kleinzelligen Bronchialkarzinoms aufgetreten sind oder der Patient noch ein Lymphom entwickeln wird.
Abstract
Neurological disorders can occur before the diagnosis of a malignoma is set. These disorders are induced by a misguided immune response with antibodies against intracellular or cell surface antigens. One of the most common paraneoplastic diseases is the subacute degeneration of the cerebellum. In most of the cases antibodies against Anti Hu, CRMP5/CV2, Amphiphysin and Ma/Ta are found and small cell bronchial carcinoma, breast cancer and lymphoma are diagnosed. We report about a 67 years old man with cerebellar symptoms and a weight loss of 10 kg who was treated in our clinic. After our diagnostic work up we found a non small cell cancer and diagnosed a subacute degeneration of the cerebellum as a paraneoplastic disorder. We found a high positive titer for Anti-Tr3 antibodies while the rest of the paraneoplastic antibodies described as typically associated with the subacute degeneration of the cerebellum were negative. The Anti-Tr3 antibodies are usually found in patients with Hodgkin and less often Non-Hodgkin disease. After initiation of a tumor specific therapy and intravenous immunoglobulin therapy the cerebellar symptoms decreased. In future follow up examinations we will see if the anti-Tr3 antibodies were associated with the non small cell bronchial carcinoma or if a lymphoma will occur in our patient.
This is a preview of subscription content, log in to check access.
Access options
Buy single article
Instant access to the full article PDF.
US$ 39.95
Price includes VAT for USA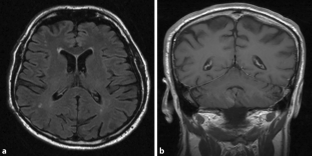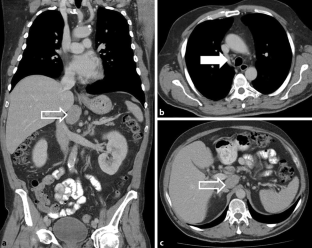 Literatur
1.

Giometto B, Grisold W, for the PNS Euronetwork et al (2010) Paraneoplastic neurological syndrome in the PNS Euronetwork database. Arch Neurol 67(3):330–335

2.

Stich O, Rauer S (2014) Paraneoplastische neurologische Syndrome und Autoimmunenzephalitiden. Nervenarzt 4:485–499

3.

Rosenfeld MR, Titulaer MJ, Dalmau J (2012) Paraneoplastic syndromes and autoimmune encephalitis: five new things. Neurol Clin Pract 2:215–223

4.

Bartos A, Stourac P et al (2002) Paraneoplastische Degeneration des Kleinhirns bei Ovarialkarzinom. Nervenarzt 73:995–998

5.

Pfeiffer G, Grupp C (1998) Reversible paraneoplastische Kleinhirnsymptomatik. Nervenarzt 69:516–518

6.

Briani C, Vitaliani R et al (2011) Spectrum of paraneoplastic disease associated with lymphoma. Neurology 76(8):705–710

7.

Bernal F, Shams' ili S et al (2003) Anti-Tr antibodies as markers of paraneoplastic cerebellar degeneration and Hodgkin's disease. Neurology 60(2):230–234

8.

Miret M, Horvath-Puho E et al (2017) Potential paraneoplastic syndromes and selected autoimmune conditions in patients with non-small cell lung cancer and small cell lung cancer: a population-based cohort study. PLoS ONE 12(8):e181564

9.

Hauber HP (2011) Paraneoplastische Syndrome beim Lungenkarzinom. Pneumologie 65(6):47–358

10.

Seute T, Leffers P et al (2004) Neurological disorders in 432 consecutive patients with small cell lung carcinoma. Cancer 100:801–806

11.

Scheid R, Voltz R (2006) Clinical insights into paraneoplastic cerebellar degeneration. J Neurol Neurosurg Psychiatry 77:529–530

12.

Diener H.-Ch, Gerloff C, Dieterich M (2018) Therapie und Verlauf neurologischer Erkrankungen, 7. Aufl. Kohlhammer, Stuttgart, S 1139–1140

13.

Probst C, Komorowski L et al (2015) Standarized test for anti-Tr/DNER in patients with paraneoplastic cerebellar degeneration. Neurol Neuroimmunol Neuroinflamm 2:e68

14.

Graus F, Maat P (1997) Immunological characterization of a neuronal antibody (Anti-Tr) associated with paraneoplastic cerebellar degeneration an Hodgkin's disease. J Neuroinnunol 74(1–2):55–61

15.

Trotter JL, Hendin BA et al (1976) Cerebellar degeneration with Hodgkin disease. An immunological study. Arch Neurol 33(9):660–661

16.

Titulaer MJ, Soffietti R et al (2010) Screening for tumours in paraneoplastic syndromes: report of an EFNS Task Force. Eur J Neurol 18(1):19–e3

17.

Souza M, Santos BO et al (2019) Paraneoplastic cerebellar degeneration as initial presentation of renal cell carcinoma. Cerebellum Ataxias 6:8

18.

Fayyaz B, Gunawan F et al (2019) 'A story unheard': anti-Ta associated paraneoplastic cerebellar degenartiob in a female. J Community Hosp Intern Med Perspect 9(2):162–164

19.

Renjen P, Chaudhari DM et al (2018) Paraneoplastic cerebellar degeneration associated with ovarian adenocarcinoma: a case report and review of literature. Ann Indian Acad Neurol 21(4):311–314
Ethics declarations
Interessenkonflikt
M. Frackowiak, M. Kowar, C. Sippel, K. Wilhelm, Y.-D. Ko und A.H. Jacobs geben an, dass kein Interessenkonflikt besteht.
About this article
Cite this article
Frackowiak, M., Kowar, M., Sippel, C. et al. Paraneoplastische subakute Degeneration des Kleinhirns bei nichtkleinzelligem Bronchialkarzinom und positiven Anti-Tr3-Antikörpern. Nervenarzt 91, 156–160 (2020). https://doi.org/10.1007/s00115-019-00859-y
Schlüsselwörter
Dysarthrie

Ataxie

Tumor

Diagnostik

Therapie
Keywords
Dysarthria

Ataxie

Cancer

Diagnostic

Therapy