Abstract
Aphids often form mutualistic associations with ants, in which the aphids provide the ants with honeydew and the ants defend the aphids from predators. In this paper, we report aphid egg protection by ants as a novel aspect of the deeply interdependent relationship between a tree-feeding aphid and its attendant ant. The ant Lasius productus harbours oviparous females, males, and eggs of the hinoki cypress-feeding aphid Stomaphis hirukawai in its nests in winter. We investigated the behaviour of ants kept with aphid eggs in petri dishes to examine whether the ants recognise the aphid eggs and tend them or only provide a refuge for the aphids. Workers carried almost all of the aphid eggs into the nest within 24 h. The ants indiscriminately tended aphid eggs collected from their own colonies and those from other ant colonies. The ants cleaned the eggs and piled them up in the nest, and egg tending by ants dramatically increased aphid egg survival rates. Starving the ants showed no significant effect on aphid egg survivorship. Without ants, aphid eggs were rapidly killed by fungi. These results suggested that grooming by the ants protected the aphid eggs, at least, against pathogenic fungi. This hygienic service afforded by the ants seems indispensable for egg survival of these aphids in an environment rich in potentially pathogenic microorganisms.
This is a preview of subscription content, log in to check access.
Access options
Buy single article
Instant unlimited access to the full article PDF.
US$ 39.95
Price includes VAT for USA
Subscribe to journal
Immediate online access to all issues from 2019. Subscription will auto renew annually.
US$ 99
This is the net price. Taxes to be calculated in checkout.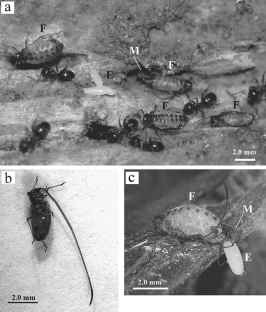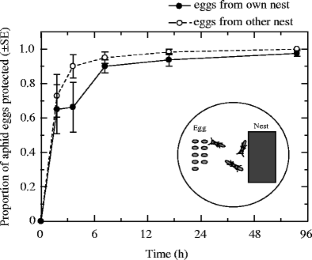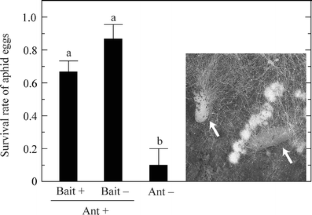 References
Forbes (1906) The corn root-aphis and its attendant ant. (Aphis maidi-radicis Forbes and Lasius niger L., var. americanus Emery). Bull USDA Div Entomol 60:29–39

Hölldobler B, Wilson EO (1990) The ants. Harvard University Press, Cambridge, MA

Hölldobler B, Wilson EO (1994) Journey to the ants: a story of scientific exploration. Harvard University Press, Cambridge, MA

Hopkins GW, Thacker JI (1999) Ants and habitat specificity in aphids. J Insect Conserv 3:25–31

Matsuura K (2003) Symbionts affecting termite behaviour. In: Miller TA, Bourtzis K (eds) Insect symbiosis. CRC Press, Boca Raton, FL, pp 131–143

Matsuura K (2006) Termite-egg mimicry by a sclerotium-forming fungus. Proc R Soc Lond B 273:1203–1209

Matsuura K, Tanaka C, Nishida T (2000) Symbiosis of a termite and a sclerotium-forming fungus: Sclerotia mimic termite eggs. Ecol Res 15:405–414

Park IK, Lee SG, Choi DH, Park JD, Ahn YJ (2003) Insecticidal activities of constituents identified in the essential oil from leaves of Chamaecyparis obtusa against Callosobruchus chinensis (L.) and Sitophilus oryzae (L.). J Stored Prod Res 39:375–384

Phillips ID, Willis CKR (2005) Defensive behavior of ants in a mutualistic relationship with aphids. Behav Ecol Sociobiol 59:321–325

Pierce NE, Braby MF, Heath A, Lohman DJ, Mathew J, Rand DB, Travassos MA (2002) The ecology and evolution of ant association in the Lycaenidae (Lepidoptera). Annu Rev Entomol 47:733–771

Pontin AJ (1960) Observations on the keeping of aphid eggs by ants of the genus Lasius (Hym., Formicidae). Entomol Mon Mag 96:198–199

Shingleton AW, Stern DL, Foster WA (2005) The origin of a mutualism: a trait promoting the evolution of ant–aphid mutualisms. Evolution 59:921–926

Sorin M (1995) Two new species and hitherto unknown sexual morphs of the genus Stomaphis Walker (Homoptera, Aphididae) from Japan. Bulletin of Kogakkan University 33:145–163

Stadler B, Dixon AFG (2005) Ecology and evolution of aphid–ant interactions. Ann Rev Ecolog Syst 36:345–372

Stadler B, Kindlmann P, Smilauer P, Fiedler K (2003) A comparative analysis of morphological and ecological characters of European aphids and lycaenids in relation to ant attendance. Oecologia 135:422–430
Acknowledgements
We thank Masato Sorin for providing helpful information about Stomaphis aphids and identifying the aphid species. We are also grateful to Sigeyuki Aoki for providing helpful information about aphids. This research complies with the current laws of Japan.
Electronic supplementary material
Below is the link to the electronic supplementary material.
Video file (WMV 2,453 kb)
About this article
Cite this article
Matsuura, K., Yashiro, T. Aphid egg protection by ants: a novel aspect of the mutualism between the tree-feeding aphid Stomaphis hirukawai and its attendant ant Lasius productus . Naturwissenschaften 93, 506–510 (2006). https://doi.org/10.1007/s00114-006-0136-8
Received:

Revised:

Accepted:

Published:

Issue Date:
Keywords
Ant–aphid mutualism

Symbiosis

Myrmecophiles

Egg protection