Zusammenfassung
Hintergrund
Vielen Patientengruppen ist es nicht möglich, ein Krafttraining mit hohen Intensitäten durchzuführen.
Fragestellung
Ist die Anwendung eines Blood flow restriction (BFR) Training eine sinnvolle Alternative zum intensiven Krafttraining für Patienten mit Gelenkbeschwerden?
Material und Methoden
Übersicht und Zusammenfassung von Anwendungsmöglichkeiten des BFR-Trainings bei Patienten mit Kniegelenkarthrose, nach einem operativen Eingriff und bei leistungsgeschwächten Patienten. Aufzeigen möglicher Kontraindikationen und Anwendungsempfehlungen für die Praxis auf Basis der vorliegenden Literatur.
Ergebnisse
Muskelhypertrophie und Kraftverbesserung konnten durch ein niederintensives Krafttraining mithilfe des BFR bei Patienten mit arthrotischen Gelenkbeschwerden belegt werden. In der postoperativen Behandlung nach Kniegelenkarthroskopie und vorderen Kreuzbandrekonstruktionen kann das BFR-Training zur Atrophieverringerung eingesetzt werden.
Schlussfolgerung
Zwar sind die Kraftzuwächse beim BFR-Training nicht so groß wie bei einem Training mit hohen Widerständen, jedoch handelt es sich um eine effektive zusätzliche Trainingsmethode.
Abstract
Background
For various reasons many patient groups are unable to perform high-intensity strength training.
Objective
Is the application of low-intensity strength training under blood flow restriction (BFR) an alternative to high-intensity training for patients?
Material and methods
Overview and summary of possible applications of BFR training in patients with osteoarthritis of the knee joint, after surgery and in patients with reduced performance. Possible contraindications and application recommendations for clinical practice based on the currently available literature are shown.
Results
In patients with arthritic joint complaints, muscular hypertrophy and strength improvement were achieved by low-intensity exercise with the aid of BFR. In the postoperative treatment after knee arthroscopy and anterior cruciate ligament reconstruction, BFR can be used to reduce atrophy.
Conclusion
The effectiveness of low-intensity BFR training is lower than for classical high-resistance training; however, it may be used as additional training method in rehabilitation programs.
This is a preview of subscription content, log in to check access.
Access options
Buy single article
Instant access to the full article PDF.
US$ 39.95
Price includes VAT for USA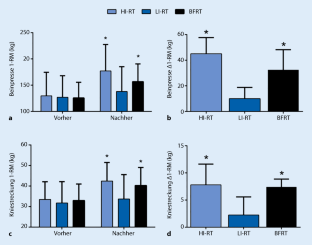 Literatur
1.

Anderson A, Leclere L (2017) Blood flow restriction therapy: theories, science, and current clinical results

2.

Cook SB, LaRoche DP, Villa MR, Barile H, Manini TM (2017) Blood flow restricted resistance training in older adults at risk of mobility limitations. Exp Gerontol 99:138–145

3.

DePhillipo NN, Kennedy MI, Aman ZS, Bernhardson AS, O'Brien L, LaPrade RF (2018) Blood flow restriction therapy after knee surgery: indications, safety considerations, and postoperative protocol. Arthrosc Tech 7:e1037–e1043

4.

Diemer F (2015) Krafttraining mit abgebundener Extremität – Okklusionstraining. physiopraxis 13:36–39

5.

Ferraz RB, Gualano B, Rodrigues R, Kurimori CO, Fuller R, Lima FR et al (2018) Benefits of resistance training with blood flow restriction. Med Sci Sports Exerc 50:897–905

6.

Hughes L, Paton B, Rosenblatt B, Gissane C, Patterson SD (2017) Blood flow restriction training in clinical musculoskeletal rehabilitation: a systematic review and meta-analysis. Br J Sports Med 51:1003–1011

7.

Iversen E, Røstad V, Larmo A (2016) Intermittent blood flow restriction does not reduce muscle atrophy following anterior cruciate ligament reconstruction. J Sport Health Sci 51:115–118

8.

Keller K, Engelhardt M (2013) Muskelatrophie durch Mobilisationseinschränkung. Sportverletz Sportschaden 27:91–95

9.

Ohta H, Kurosawa H, Ikeda H, Iwase Y, Satou N, Nakamura S (2009) Low-load resistance muscular training with moderate restriction of blood flow after anterior cruciate ligament reconstruction. Acta Orthop 74:62–68

10.

Segal NA, Torner JC, Felson D, Niu J, Sharma L, Lewis C et al (2009) Effect of thigh strength on incident radiographic and symptomatic knee osteoarthritis in a longitudinal cohort. Arthritis Care Res 61:1210–1217

11.

Segal N, Williams GN, Davis MC, Wallace RB, Mikesky AE (2015) Efficacy of blood flowerestricted, low-load resistance training in women with risk factors for symptomatic knee osteoarthritis. PM R 7:376–384

12.

Takarada Y, Sato Y, Ishii N (2002) Effects of resistance exercise combined with vascular occlusion on muscle function in athletes. Eur J Appl Physiol 86(4):308–314

13.

Takarada Y, Takazawa H, Ishii N (2000) Applications of vascular occlusion dimish disuse atrophy of knee extensor muscles. Med Sci Sports Exerc 32:2035–2039

14.

Tennent DJ, Hylden C, Johnson AE, Burns T, Wilken JM, Owens JG (2017) Blood flow restriction training after knee arthroscopy: a randomized controlled pilot study. Clin J Sport Med 27:245–252

15.

Tomatsis J, Haber P (2016) Leistungsphysiologie – Lehrbuch für Sport- und Physiotherapeuten und Trainer. Springer, Berlin, Heidelberg
Ethics declarations
Interessenkonflikt
S. Rolff, C. Korallus und A.A. Hanke geben an, dass kein Interessenkonflikt besteht.
Für diesen Beitrag wurden von den Autoren keine Studien an Menschen oder Tieren durchgeführt. Für die aufgeführten Studien gelten die jeweils dort angegebenen ethischen Richtlinien.
Additional information
Redaktion
U. Tegtbur, Hannover
About this article
Cite this article
Rolff, S., Korallus, C. & Hanke, A.A. Rehabilitation mithilfe des "blood flow restriction training". Unfallchirurg 123, 180–186 (2020). https://doi.org/10.1007/s00113-020-00770-1
Schlüsselwörter
Krafttraining

Vaskuläre Okklusion

Kniegelenkarthrose

Muskelatrophie

Rehabilitationsübung
Keywords
Resistance training

Vascular occlusion

Osteoarthritis, knee

Muscular atrophy

Rehabilitation exercise