Zusammenfassung
Hintergrund
Seit einigen Jahren gibt es an zunehmend mehr Kliniken in Deutschland sog. Hybridoperationssäle. In diesen Operationssälen ist es möglich, während der Operation eine dreidimensionale Bildgebung anzufertigen. Ursprünglich für die Herz- und Gefäßchirurgie entwickelt, werden diese Säle zunehmend interdisziplinär genutzt. Bisherige Erfahrungen in der unfallchirurgischen und orthopädischen Anwendung machen deutlich, dass dreidimensionale Bildgebung sich positiv auf Operationserfolg auswirken kann.
Fragestellung
Können minimalinvasive Operationen an der Wirbelsäule von der dreidimensionalen Bildgebung intraoperativ in Bezug auf Operationszeiten und -ergebnis profitieren?
Methoden
Betrachtet wurden minimalinvasive Operationen an der Wirbelsäule, die am Universitästklinikum Schleswig-Hostein (UKSH) Campus Kiel in den Jahren 2015–2018 im Hybrid-OP durchgeführt wurden; diese wurden mit minimalinvasiven Wirbelsäulenoperationen aus dem konventionellen OP verglichen.
Ergebnisse
Wie bei Etablierung eines neuen Verfahrens üblich, kommt es anfangs zu längeren Operationszeiten. Bei regelmäßiger Nutzung und entsprechender Schulung und Erfahrung des Personals kann es zur einer Optimierung der Prozesse kommen.
Diskussion
Durch die Genauigkeit der dreidimensionalen Bildgebung lassen sich frühzeitig Fehler noch während der Operation erkennen und beheben. Revisionen sind seltener. Erhöhte Strahlenbelastung und mitunter längere Operations- und Narkosezeiten stehen dem gegenüber.
Abstract
Background
For some years now, more and more hospitals in Germany have acquired so-called hybrid operating rooms. In these operating rooms it is possible to produce three-dimensional imaging during the operation. Originally developed for cardiovascular surgery, these rooms are increasingly being used for interdisciplinary purposes. Previous experiences in the use for trauma surgery and orthopedics has shown that three-dimensional imaging can have a positive effect on the success of surgery.
Objective
Can minimally invasive operations on the spine benefit intraoperatively from three-dimensional imaging with respect to operating times and results?
Methods
Minimally invasive operations on the spine performed at the UKSH Campus Kiel between 2015 and 2018 in the hybrid operating room were considered. These were compared to minimally invasive spinal surgery performed in conventional operating rooms.
Results
As is usual with the establishment of a new procedure, there are initially longer operating times. With regular use and appropriate training and experience of the personnel, the processes can be optimized.
Conclusion
Due to the accuracy of the three-dimensional imaging, errors can be detected and eliminated at an early stage during the operation. Revisions are less frequent. In contrast, there is increased radiation exposure and sometimes longer operation and anesthesia times.
This is a preview of subscription content, log in to check access.
Access options
Buy single article
Instant access to the full article PDF.
US$ 39.95
Price includes VAT for USA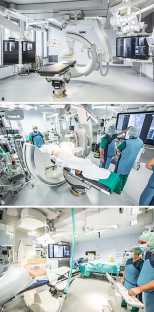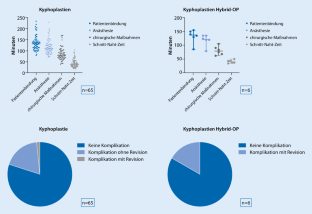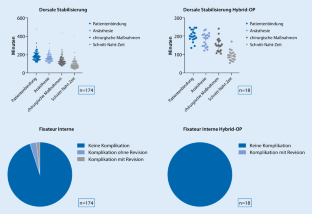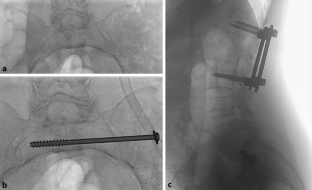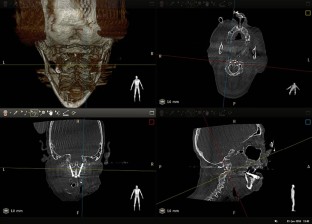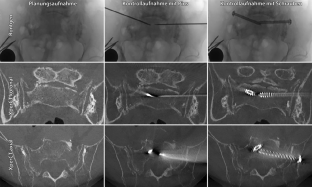 Literatur
1.

Borggrefe J, Bolte H, Worms W et al (2015) Comparison of intraoperative flat panel imagin and postoperative plain radiology for the detection of intraarticular screw displacement in volar distal radius plate ostheosynthesis. Othop Traumatol Surg Res 101:913–917

2.

Cribier A et al (2002) Percutaneous transcatheter implantation of an aortic valve prosthesis for calcific aortic stenosis. Circulation 106:3006–3008

3.

Franke J, Vetter SY, Beisemann N, Swartmann B et al (2016) 3‑D-Sicherheit bei gelenknahen Osteosynthesen. Unfallchirurg 119:803–810

4.

Gebhard F, Riepl C, Richter P et al (2012) Der Hybridoperationssaal. Unfallchirurg 115:107–120

5.

Gonschorek O, Hauck S, Bühren V (2016) Intraoperative 3‑D-Bildgebung in der Wirbelsäulenchirurgie. Unfallchirurg 119:817–824

6.

Gwak HC, Kim JG, Kim JH, Roh SM (2015) Intraoperative three-dimensional imaging in calcaneal fracture treatment. Clin Orthop Surg 7:483–489

7.

Hüfner T, Stübing T, Gösling T et al (2007) Kosten- und Nutzenanalyse der intraoperativen 3D-Bildgebung. Unfallchirurg 110:14–21

8.

Li B, Chen B, Zhang Y et al (2016) Comparative use of the computer-aided angiography and rapid prototyping technology versus conventional imaging in the management oft he Tile C pelvic fractures. Int Orthop 40:161–166

9.

Recum J, Wendl K, Vock B, Grützner PA, Franke J (2012) Die intraoperative 3D-C-Bogen-Anwendung. Unfallchirurg 115:196–201

10.

Richter P, Gebhard F (2013) Der interdisziplinäre Hybridoperationssaal. Chirurg 84:1036–1040

11.

Richter PH, Gebhard F, Dehner C, Scola A (2016) Accuracy of computer-assisted iliosacral screw placement using a hybrid operating room. Injury 47:402–407

12.

Richter P, Gebhard F, Eickhoff A, Schütze K (2018) New advances in intra-operative imaging in trauma. EFORT Open Rev 3(5):168–172

13.

Richter P, Yarboro S, Kraus M, Gebhard F (2015) One year orthopaedic trauma experience using an advanced interdisciplinary hybrid operating room. Injury 46:S129–S134

14.

Rock C, Linsenmeier U, Brandl R et al (2001) Vorstellung eines neuen mobilen C‑Bogens/CT-Kombinationsgerät (ISO-C-3D). Unfallchirurg 104:827–833

15.

Seibert JA (2006) Flat-panel detectors: how much better are they? Pediatr Radiol 36(Suppl 2):173–181

16.

Stengel D, Wich M, Ekkernkamp A, Spranger N (2016) Intraoperative 3‑D-Bildgebung. Unfallchirurg 119:835–842

17.

Weil YA, Liebergall M, Mosheiff R et al (2011) Assessment of two 3‑D fluoroscopic systems for articular fracture reduction: a cadaver study. Int J CARS 6:685–692

18.

Yarboro SR, Richter PH, Kahler DM (2016) Entwicklung der 3‑D-Bildgebung in der Versorgung orthopädischer Verletzungen. Unfallchirurg 119:811–816
Ethics declarations
Interessenkonflikt
F. Braun, S. Peh, M. Weuster, T. Klueter, A. Seekamp und S. Lippross geben an, dass kein Interessenkonflikt besteht. Der Seniorautor ist einmalig als Referent für die Fa. Philips tätig gewesen.
Für diesen Beitrag wurden von den Autoren keine Studien an Menschen oder Tieren durchgeführt. Für die aufgeführten Studien gelten die jeweils dort angegebenen ethischen Richtlinien.
Additional information
Redaktion
W. Mutschler, München
H. Polzer, München
B. Ockert, München
About this article
Cite this article
Braun, F., Peh, S., Weuster, M. et al. Der Hybridoperationssaal. Unfallchirurg 123, 134–142 (2020). https://doi.org/10.1007/s00113-019-0657-1
Schlüsselwörter
Hybrid-OP

Intraoperative 3D-Bildgebung

Minimalinvasive Wirbelsäulenchirurgie

Kyphoplastie

Interne Fixierung
Keywords
Hybrid surgery

Intraoperative 3D imaging

Minimally invasive spinal surgery

Kyphoplasty

Internal fixation