Zusammenfassung
Hintergrund
Nach einer Beugesehnennaht werden heutzutage unterschiedliche Weiterbehandlungsschemata angewandt. Die Patienten dieser Studie erhielten neben der dynamischen Nachbehandlung nach Kleinert zwei unterschiedlichen Anwendungen. Beide Gruppen sollen untereinander aber auch mit Studien über anderen Weiterbehandlungsschemata verglichen werden.
Methodik
Für 6 Wochen erhielten 62 erwachsene Patienten mit glatter Durchtrennung beider Beugesehnen in Zone 2 eine modifizierte dynamische Nachbehandlung nach Kleinert. Zusätzlich wurden sie prospektiv randomisiert entweder Gruppe I (Physiotherapie) oder Gruppe II (Nachbehandlung mit einem Exoskelett) zugeteilt. Nach 6, 12 und 18 Wochen wurde die Beweglichkeit untersucht, nach 18 Wochen der Strickland-Score bestimmt und zusätzlich die Kraft gemessen. Der DASH-Scores wurde nach 12 und 18 Wochen erfasst.
Ergebnisse
Die Beweglichkeit war unabhängig von der Therapiegruppe insbesondere im Mittel- und Endgelenk nach 6 Wochen noch eingeschränkt. Das Defizit nahm jedoch stetig ab, bis nach 18 Wochen eine annähernd freie Beweglichkeit erreicht wurde. Die Kraft betrug 75 % (Gruppe I) bzw. 78 % (Gruppe II) des Kraftniveaus der Gegenseite. Bereits nach 12 Wochen zeigte der DASH-Score eine gute Funktionalität, was sich in beiden Gruppen nach 18 Wochen mit 7,5 (Gruppe I) bzw. 6,8 (Gruppe II) weiter verbessert. Klinisch relevante Unterschiede zwischen beiden Gruppen fanden sich nicht.
Schlussfolgerung
Hinsichtlich möglicher Rerupturen ist die Kleinert-Nachbehandlung ein sicheres Verfahren. Ein wesentlicher Kritikpunkt an der Kleinert-Therapie, das erhöhte Risiko von Beugekontrakturen, bestätigte sich bei unseren Untersuchungen nicht. Durch ergänzende Bewegungsübungen mit einem Exoskelett ließen sich vergleichbare Ergebnisse zur physiotherapeutischen Nachbehandlung erzielen.
Abstract
Background
These days there are different types of aftercare following flexor tendon injury. Patients in this study received a dynamic Kleinert protocol and additionally two different postoperative treatments. Both treatment groups were compared to each other and results were put into perspective when compared to other treatment options.
Methods
Sixty-two patients presenting with clean lesions of the two flexor tendons in zone 2 received postoperative treatment with a dynamic Kleinert protocol. Patients were randomly divided into either Group I (physical therapy) or Group II (exoskeleton). Range of motion was assessed after 6, 12 and 18 weeks. In addition, we measured the Strickland score and grip strength at the 18-week follow-up. DASH scores were obtained at weeks 12 and 18.
Results
Regardless of the received postoperative treatment, range of motion was predominantly limited in the proximal interphalangeal and distal interphalangeal joints after 6 weeks. This deficit decreased with time and almost full range of motion was achieved after 18 weeks. Grip strength measured 75% (Group I) and 78% (Group II) of the healthy hand's level. Good functional outcome was observed in the DASH scores after 12 weeks, which improved further, measuring 7.5 (Group I) and 6.8 (Group II) at the 18-week follow-up. We did not see any clinically relevant differences between the two patient groups.
Conclusion
Regarding possible reruptures, the Kleinert protocol delivers a safe treatment regime. The possible disadvantage of flexion contractures with the Kleinert protocol was not seen in our measurements. Additional motion exercises using an exoskeleton delivered comparable results to classic physical therapy.
This is a preview of subscription content, log in to check access.
Access options
Buy single article
Instant unlimited access to the full article PDF.
US$ 39.95
Price includes VAT for USA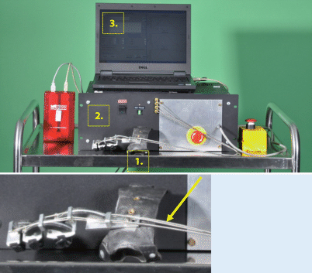 Literatur
1.

Amadio P, An KN, Ejeskär A et al (2005) IFSSH Flexor Tendon Committee report. J Hand Surg Br 30:100–116

2.

Chan TK, Ho CO, Lee WK et al (2006) Functional outcome of the hand following flexor tendon repair at the 'no man's land. J Orthop Surg (Hong Kong) 14:178–183

3.

Chesney A, Chauhan A, Kattan A et al (2011) Systematic review of flexor tendon rehabilitation protocols in zone II of the hand. Plast Reconstr Surg 127:1583–1592

4.

Chow JA, Thomes LJ, Dovelle S et al (1988) Controlled motion rehabilitation after flexor tendon repair and grafting. A multi-centre study. J Bone Joint Surg Br 70:591–595

5.

Farzad M, Layeghi F, Asgari A et al (2014) A prospective randomized controlled trial of controlled passive mobilization vs. place and active hold exercises after zone 2 flexor tendon repair. Hand Surg 19:53–59

6.

Frueh FS, Kunz VS, Gravestock IJ et al (2014) Primary flexor tendon repair in zones 1 and 2: early passive mobilization versus controlled active motion. J Hand Surg Am 39:1344–1350

7.

Groth GN (2005) Current practice patterns of flexor tendon rehabilitation. J Hand Ther 18:169–174

8.

Khor WS, Langer MF, Wong R et al (2016) Improving outcomes in tendon repair: a critical look at the evidence for flexor tendon repair and rehabilitation. Plast Reconstr Surg 138:1045e

9.

Kleinert HE, Kutz JE, Ashbell TS et al (1967) Primary repair of lacerated flexor tendons in "no man's land". J Bone Joint Surg Am 49:577–584

10.

Kitis PTA, Buker N, Kara IG (2009) Comparison of two methods of controlled mobilisation of repaired flexor tendons in zone 2. Scand J Plast Reconstr Surg Hand Surg 43:160–165

11.

Lee H, Hou Z, Liu P et al (2013) An experimental study comparing active mobilization to passive flexion-active extension-active flexion after flexor tendon repair in zone 2. J Hand Surg Am 38:672–676

12.

Lotter O, Vogel D, Stahl S et al (2011) Primärversorgung komplizierter Beugesehnenverletzungen an der Hand. Unfallchirurg 114:517–527

13.

Lutsky KF, Giang EL, Matzon JL (2015) Flexor tendon injury, repair and rehabilitation. Orthop Clin North Am 46:67–76

14.

Moriya K, Yoshizu T, Maki Y et al (2015) Clinical outcomes of early active mobilization following flexor tendon repair using the six-strand technique: short- and long-term evaluations. J Hand Surg Eur Vol 40:250–258

15.

Rajappa S, Menon PG, Kumar MM et al (2014) Early active motion protocol following triple Kessler repair for flexor tendon injury. J Orthop Surg (Hong Kong) 22:96–99

16.

Saldana MJ, Chow JA, Gerbino P et al (1991) Further experience in rehabilitation of zone II flexor tendon repair with dynamic traction splinting. Plast Reconstr Surg 87:543–546

17.

Schabowsky CN, Godfrey SB, Holley RJ et al (2010) Development and pilot testing of HEXORR: hand EXOskeleton rehabilitation robot. J Neuroeng Rehabil 7:36

18.

Strickland JW (2005) The scientific basis for advances in flexor tendon surgery. J Hand Ther 18:94–110

20.

Tang JB, Chang J, Elliot D et al (2014) IFSSH Flexor Tendon Committee report 2014: from the IFSSH Flexor Tendon Committee (Chairman: Jin Bo Tang). J Hand Surg Eur Vol 39:107–115

21.

Skirven TM, Osterman AL, Fedorczyk J et al (2011) Rehabilitation of the hand and upper extremity. Mosby, Maryland Heights. ISBN 978-0323056021

22.

Toker S, Oak N, Williams A et al (2014) Adherence to therapy after flexor tendon surgery at a level 1 trauma center. Hand (N Y) 9:175–178

23.

Tolerton SK, Lawson RD, Tonkin MA (2014) Management of flexor tendon injuries – Part 2: current practice in Australia and guidelines for training young surgeons. Hand Surg 19:305–310

24.

Trumble TE, Vedder NB, Seiler JG et al (2010) Zone-II flexor tendon repair: a randomized prospective trial of active place-and-hold therapy compared with passive motion therapy. J Bone Joint Surg Am 92:1381–1389

25.

Werdin F, Schaller HE (2008) Kombinierte Beugesehnen- und Nervenverletzungen der Hand. Orthopäde 37:1202–1209
Ethics declarations
Interessenkonflikt
J. Gülke, M. Mentzel, G. Krischak, D. Gulkin, D. Dornacher und N. Wachter geben an, dass kein Interessenkonflikt besteht.
Alle beschriebenen Untersuchungen am Menschen wurden mit Zustimmung der zuständigen Ethik-Kommission, im Einklang mit nationalem Recht sowie gemäß der Deklaration von Helsinki von 1975 (in der aktuellen, überarbeiteten Fassung) durchgeführt. Von allen beteiligten Patienten liegt eine Einverständniserklärung vor.
Additional information
Redaktion
W. Mutschler, München
H. Polzer, München
B. Ockert, München
Caption Electronic Supplementary Material
Illustration der Bewegung des Exoskeletts bei mittlerer Geschwindigkeit
About this article
Cite this article
Gülke, J., Mentzel, M., Krischak, G. et al. Die frühfunktionelle passive Mobilisation nach Beugesehnenverletzung (Zone 2) an der Hand. Unfallchirurg 121, 560–568 (2018) doi:10.1007/s00113-017-0387-1
Schlüsselwörter
Hand

Beugesehne

Postoperative Nachbehandlung

Exoskelett

Kleinert-Protokoll
Keywords
Hand

Flexor tendon

Postoperative treatment

Exoskeleton

Kleinert protocol