Ausbildungsqualität und Belastung im Arbeitsalltag von Assistenzärzt*innen in der Pädiatrie
Bundesweite Befragung der Jungen DGKJ unter den Weiterzubildenden des Fachbereichs Kinder- und Jugendmedizin
Liebe junge und junggebliebene Pädiater,
aus aktuellem Anlass gibt es heute im "Jungen Forum Pädiatrie" keine Vorstellung einer Arbeitsgruppe, sondern die ersten Basisdaten aus der kürzlich durchgeführten Umfrage der Jungen DGKJ. Klasse – erfreulich viele von Ihnen und Euch haben sich an der Umfrage beteiligt. Vielen Dank dafür! Und herzlichen Dank an Frau Dr. Iris Eckhardt, der wir die Umfrage maßgeblich verdanken. Einen schönen Sommer – und: Sehen wir uns beim DGKJ-Kongress im September? Es wird viel geboten, gerade für die Jungen. Also: Sprecht mit Chef und Dienstplanbeauftragten, schnappt Euch noch ein paar Kollegen und kommt nach München – wir sehen uns dort; ich freu mich drauf!
Ulrike Gaiser
Die Aus- und Weiterbildung junger Ärzt*innen ist ein großes Thema, nicht nur unter den Weiterbildungsassistent*innen selbst. Sie rückt auch zunehmend in den Fokus der Politik.
Aber was ist eigentlich gute Aus- und Weiterbildung? Und v. a. wie kann sie erreicht und gewährleistet werden?...
Training quality and workload in the daily routine of residents in paediatrics
Nationwide survey of young members of the German Society of Paediatrics and Adolescent Medicine among the trainees in the discipline of paediatrics and adolescent medicine
Notes
Danksagung
Unser besonderer Dank geht an die DGKJ für die Bereitstellung der Preise, die unter den Teilnehmer*innen der Umfrage verlost wurden, an die Geschäftsstelle, maßgeblich an Frau Dr. Noleppa und Frau Marter, für die Durchführung und Hilfe bei der Auswertung der Weiterbildungsbefragung und an alle Teilnehmer*innen für die Beantwortung der Fragen. Außerdem danken wir Herrn Dr. Matthias Raspe, Junger Sprecher der DGIM, und Frau Dr. Diane Bitzinger, ehemalige Sprecherin der DGAI, für die Bereitstellung der Fragebögen.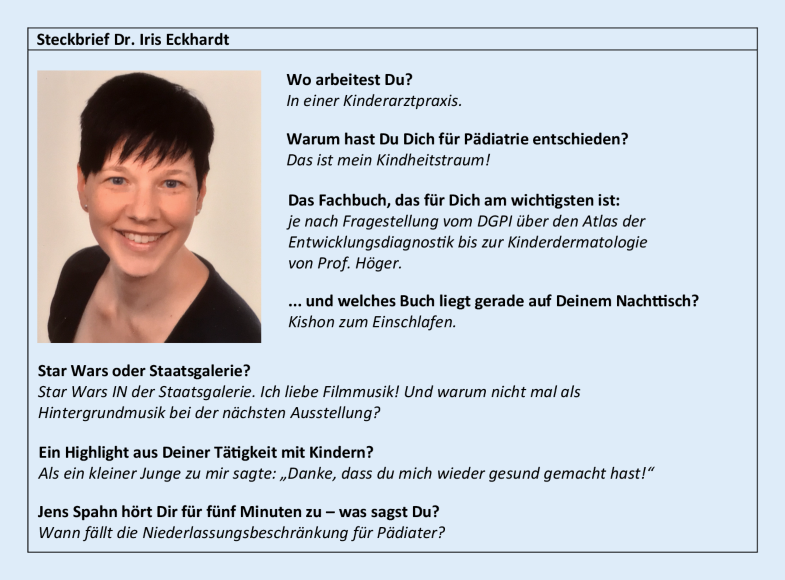 Interessenkonflikt
U. Gaiser und I. Eckhardt geben an, dass kein Interessenkonflikt besteht.
Copyright information
© Springer Medizin Verlag GmbH, ein Teil von Springer Nature 2019