Dehydroepiandrosterone on metabolism and the cardiovascular system in the postmenopausal period
Abstract
Dehydroepiandrosterone (DHEA), mostly present as its sulfated ester (DHEA-S), is an anabolic hormone that naturally declines with age. Furthermore, it is the most abundant androgen and estrogen precursor in humans. Low plasma levels of DHEA have been strongly associated with obesity, insulin resistance, dyslipidemia, and high blood pressure, increasing the risk of cardiovascular disease. In this respect, DHEA could be regarded as a promising agent against metabolic syndrome (MetS) in postmenopausal women, since several age-related metabolic diseases are reported during aging. There are plenty of experimental evidences showing beneficial effects after DHEA therapy on carbohydrate and lipid metabolism, as well as cardiovascular health. However, its potential as a therapeutic agent appears to attract controversy, due to the lack of effects on some symptoms related to MetS. In this review, we examine the available literature regarding the impact of DHEA therapy on adiposity, glucose metabolism, and the cardiovascular system in the postmenopausal period. Both clinical studies and in vitro and in vivo experimental models were selected, and where possible, the main cellular mechanisms involved in DHEA therapy were discussed.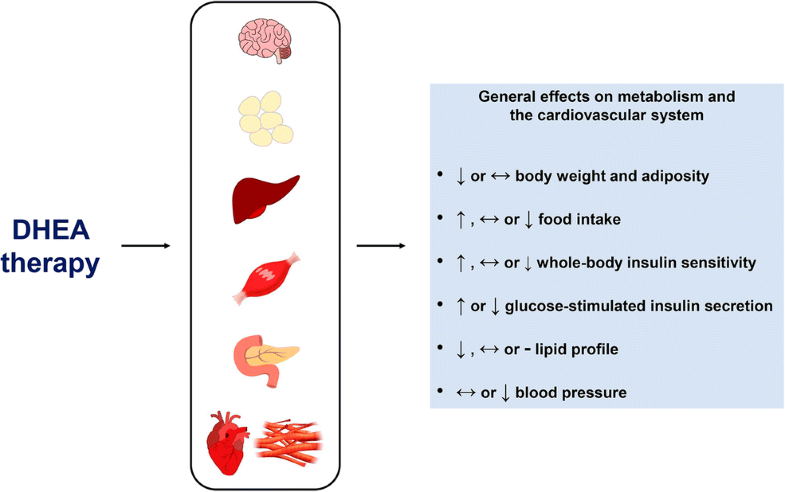 Keywords
Dehydroepiandrosterone 
Menopause 
Adiposity 
Insulin resistance 
Metabolic syndrome 
Cardiovascular disease 
Notes
Acknowledgments
The authors acknowledge Charles Serpellone Nash for his language revision.
Author contribution
CJT and KV wrote the main text, CROC suggested the idea and helped with the text, and CJT designed the figures. All authors have edited and approved the final version of the manuscript.
Funding information
This study was supported by grants from the Brazilian research agencies: Coordenação de Aperfeiçoamento de Pessoal de Nível Superior (CAPES-Finance Code 001), Fundação de Amparo à Pesquisa do Estado de São Paulo (FAPESP-2012/14183-7), and Conselho Nacional de Desenvolvimento Científico e Tecnológico (CNPq-303543/2014-0).
Compliance with Ethical Standards
Conflicts of interest
The authors declare that there is no conflict of interest.
Copyright information
© Springer-Verlag GmbH Germany, part of Springer Nature 2019