Abstract
The aryl hydrocarbon receptor (AhR) agonists may upregulate matrix metalloproteinases (MMPs) and contribute to many airway diseases, such as asthma and chronic obstructive pulmonary disease. Elucidation of the detailed molecular mechanisms regulating MMPs may provide the scientific basis for diagnostic and therapeutic opportunities to improve the care of various pulmonary diseases, especially those related to xenobiotic agents. In this study, we investigated the detailed mechanisms of how AhR agonists modulated the expressions and activities of MMPs in bronchial epithelial cells. Treating the cells (Beas-2B or HBE135-E6E7) with 2-(1′H-indole-3′-carbonyl)-thiazole-4-carboxylic acid methyl ester or 2,3,7,8-tetrachlorodibenzo-p-dioxin, we found these AhR agonists increased the expression and activity of MMP-1 via a noncanonical AhR pathway and increased the activity of MMP-2 and MMP-9 in an MMP-1-dependent manner. AhR agonists increased the expression of MMP-1 via the activation of mitogen-activated protein kinase (MAPK) pathways by increased cytosolic calcium level and activated calcium/calmodulin-dependent protein kinase II (CaMKII). The activated MAPK pathways phosphorylated c-Jun, c-Fos, and ATF-2, resulting in their nuclear translocation and binding to the activator protein-1 (AP-1) elements of the MMP-1 promoter region. These findings correlated clinically to the significantly higher plasma/serum MMP-1 level in asthmatic patients. In conclusion, the present study demonstrated a novel signaling pathway by which AhR agonists elevated intracellular calcium levels, which activated CaMKII, leading to increased MMP-1 expression through MAPK pathways in bronchial epithelial cell lines. This novel regulatory pathway may serve as a potential target for the treatment of airway remodeling of many pulmonary diseases, such as asthma.
Key message
AhR agonists increase MMP-1 expression in bronchial epithelial cells.

The underlying AhR pathway involves CaMKII, MAPKs, and AP-1 elements.

The upregulated MMP-1 further activated MMP-2 and MMP-9.

Asthmatic patients have higher serum MMP-1 level.

This novel regulatory pathway is a potential target for treating asthma.
This is a preview of subscription content, log in to check access.
Access options
Buy single article
Instant unlimited access to the full article PDF.
US$ 39.95
Price includes VAT for USA
Subscribe to journal
Immediate online access to all issues from 2019. Subscription will auto renew annually.
US$ 199
This is the net price. Taxes to be calculated in checkout.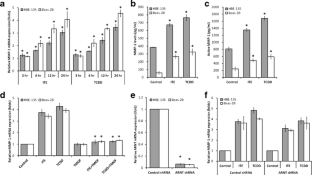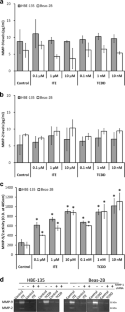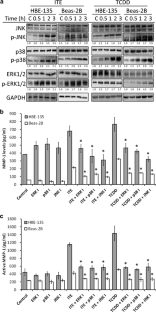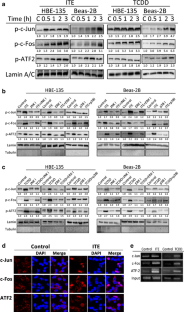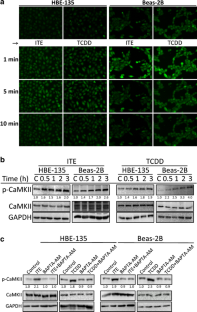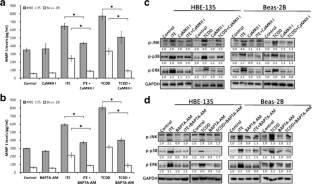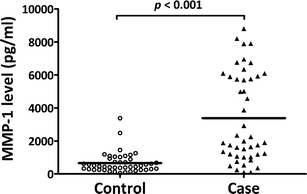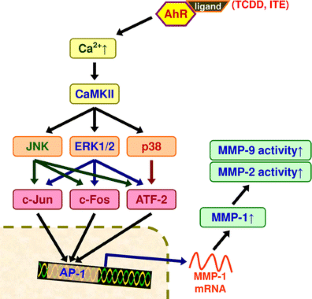 References
1.

Kung T, Murphy KA, White LA (2009) The aryl hydrocarbon receptor (AhR) pathway as a regulatory pathway for cell adhesion and matrix metabolism. Biochem Pharmacol 77:536–546

2.

Dietrich C, Kaina B (2010) The aryl hydrocarbon receptor (AhR) in the regulation of cell-cell contact and tumor growth. Carcinogenesis 31:1319–1328

3.

Song J, Clagett-Dame M, Peterson RE, Hahn ME, Westler WM, Sicinski RR, DeLuca HF (2002) A ligand for the aryl hydrocarbon receptor isolated from lung. Proc Natl Acad Sci U S A 99:14694–14699

4.

Henry EC, Bemis JC, Henry O, Kende AS, Gasiewicz TA (2006) A potential endogenous ligand for the aryl hydrocarbon receptor has potent agonist activity in vitro and in vivo. Arch Biochem Biophys 450:67–77

5.

Tan Z, Chang X, Puga A, Xia Y (2002) Activation of mitogen-activated protein kinases (MAPKs) by aromatic hydrocarbons: role in the regulation of aryl hydrocarbon receptor (AHR) function. Biochem Pharmacol 64:771–780

6.

Wong PS, Vogel CF, Kokosinski K, Matsumura F (2010) Arylhydrocarbon receptor activation in NCI-H441 cells and C57BL/6 mice: possible mechanisms for lung dysfunction. Am J Respir Cell Mol Biol 42:210–217

7.

Carver LA, Hogenesch JB, Bradfield CA (1994) Tissue specific expression of the rat Ah-receptor and ARNT mRNAs. Nucleic Acids Res 22:3038–3044

8.

Turner MC, Krewski D, Pope CA 3rd, Chen Y, Gapstur SM, Thun MJ (2011) Long-term ambient fine particulate matter air pollution and lung cancer in a large cohort of never-smokers. Am J Respir Crit Care Med 184:1374–1381

9.

Chiba T, Uchi H, Yasukawa F, Furue M (2011) Role of the arylhydrocarbon receptor in lung disease. Int Arch Allergy Immunol 155(Suppl 1):129–134

10.

Vignola AM, Riccobono L, Mirabella A, Profita M, Chanez P, Bellia V, Mautino G, D'Accardi P, Bousquet J, Bonsignore G (1998) Sputum metalloproteinase-9/tissue inhibitor of metalloproteinase-1 ratio correlates with airflow obstruction in asthma and chronic bronchitis. Am J Respir Crit Care Med 158:1945–1950

11.

Prikk K, Maisi P, Pirila E, Reintam MA, Salo T, Sorsa T, Sepper R (2002) Airway obstruction correlates with collagenase-2 (MMP-8) expression and activation in bronchial asthma. Lab Invest 82:1535–1545

12.

Huang CD, Lin SM, Chang PJ, Liu WT, Wang CH, Liu CY, Lin HC, Hsieh LL, Kuo HP (2009) Matrix metalloproteinase-1 polymorphism is associated with persistent airway obstruction in asthma in the Taiwanese population. J Asthma 46:41–46

13.

Crosby LM, Waters CM (2010) Epithelial repair mechanisms in the lung. Am J Physiol Lung Cell Mol Physiol 298:L715–L731

14.

Ohbayashi H (2002) Matrix metalloproteinases in lung diseases. Curr Protein Pept Sci 3:409–421

15.

Segura-Valdez L, Pardo A, Gaxiola M, Uhal BD, Becerril C, Selman M (2000) Upregulation of gelatinases A and B, collagenases 1 and 2, and increased parenchymal cell death in COPD. Chest 117:684–694

16.

Mercer BA, Wallace AM, Brinckerhoff CE, D'Armiento JM (2009) Identification of a cigarette smoke-responsive region in the distal MMP-1 promoter. Am J Respir Cell Mol Biol 40:4–12

17.

Imai K, Dalal SS, Chen ES, Downey R, Schulman LL, Ginsburg M, D'Armiento J (2001) Human collagenase (matrix metalloproteinase-1) expression in the lungs of patients with emphysema. Am J Respir Crit Care Med 163:786–791

18.

Wygrecka M, Wilhelm J, Jablonska E, Zakrzewicz D, Preissner KT, Seeger W, Guenther A, Markart P (2011) Shedding of low-density lipoprotein receptor-related protein-1 in acute respiratory distress syndrome. Am J Respir Crit Care Med 184:438–448

19.

Torii K, Iida K, Miyazaki Y, Saga S, Kondoh Y, Taniguchi H, Taki F, Takagi K, Matsuyama M, Suzuki R (1997) Higher concentrations of matrix metalloproteinases in bronchoalveolar lavage fluid of patients with adult respiratory distress syndrome. Am J Respir Crit Care Med 155:43–46

20.

Martinez JM, Afshari CA, Bushel PR, Masuda A, Takahashi T, Walker NJ (2002) Differential toxicogenomic responses to 2,3,7,8-tetrachlorodibenzo-p-dioxin in malignant and nonmalignant human airway epithelial cells. Toxicol Sci 69:409–423

21.

Wang TN, Lin MC, Wu CC, Leung SY, Huang MS, Chuang HY, Lee CH, Wu DC, Ho PS, Ko AM et al (2010) Risks of exposure to occupational asthmogens in atopic and nonatopic asthma: a case–control study in Taiwan. Am J Respir Crit Care Med 182:1369–1376

22.

Cataldo D, Munaut C, Noel A, Frankenne F, Bartsch P, Foidart JM, Louis R (2000) MMP-2- and MMP-9-linked gelatinolytic activity in the sputum from patients with asthma and chronic obstructive pulmonary disease. Int Arch Allergy Immunol 123:259–267

23.

Chakraborti S, Mandal M, Das S, Mandal A, Chakraborti T (2003) Regulation of matrix metalloproteinases: an overview. Mol Cell Biochem 253:269–285

24.

Volman TJ, Goris RJ, Lomme RM, DeGroot J, Verhofstad AA, Hendriks T (2004) Increased expression of matrix metalloproteinases in the murine zymosan-induced multiple organ dysfunction syndrome. J Pathol 203:968–975

25.

Puga A, Ma C, Marlowe JL (2009) The aryl hydrocarbon receptor cross-talks with multiple signal transduction pathways. Biochem Pharmacol 77:713–722

26.

Puga A, Hoffer A, Zhou S, Bohm JM, Leikauf GD, Shertzer HG (1997) Sustained increase in intracellular free calcium and activation of cyclooxygenase-2 expression in mouse hepatoma cells treated with dioxin. Biochem Pharmacol 54:1287–1296

27.

Monteiro P, Gilot D, Le Ferrec E, Rauch C, Lagadic-Gossmann D, Fardel O (2008) Dioxin-mediated up-regulation of aryl hydrocarbon receptor target genes is dependent on the calcium/calmodulin/CaMKIalpha pathway. Mol Pharmacol 73:769–777

28.

Chen S, Xu Y, Xu B, Guo M, Zhang Z, Liu L, Ma H, Chen Z, Luo Y, Huang S et al (2011) CaMKII is involved in cadmium activation of MAPK and mTOR pathways leading to neuronal cell death. J Neurochem 119:1108–1118

29.

Cataldo DD, Gueders M, Munaut C, Rocks N, Bartsch P, Foidart JM, Noel A, Louis R (2004) Matrix metalloproteinases and tissue inhibitors of matrix metalloproteinases mRNA transcripts in the bronchial secretions of asthmatics. Lab Invest 84:418–424

30.

Villano CM, Murphy KA, Akintobi A, White LA (2006) 2,3,7,8-tetrachlorodibenzo-p-dioxin (TCDD) induces matrix metalloproteinase (MMP) expression and invasion in A2058 melanoma cells. Toxicol Appl Pharmacol 210:212–224

31.

Murphy KA, Villano CM, Dorn R, White LA (2004) Interaction between the aryl hydrocarbon receptor and retinoic acid pathways increases matrix metalloproteinase-1 expression in keratinocytes. J Biol Chem 279:25284–25293

32.

Suzuki R, Kato T, Miyazaki Y, Iwata M, Noda Y, Takagi K, Nakashima N, Torii K (2001) Matrix metalloproteinases and tissue inhibitors of matrix metalloproteinases in sputum from patients with bronchial asthma. J Asthma 38:477–484

33.

Kelly EA, Busse WW, Jarjour NN (2000) Increased matrix metalloproteinase-9 in the airway after allergen challenge. Am J Respir Crit Care Med 162:1157–1161

34.

Tanaka H, Miyazaki N, Oashi K, Tanaka S, Ohmichi M, Abe S (2000) Sputum matrix metalloproteinase-9: tissue inhibitor of metalloproteinase-1 ratio in acute asthma. J Allergy Clin Immunol 105:900–905

35.

Mattos W, Lim S, Russell R, Jatakanon A, Chung KF, Barnes PJ (2002) Matrix metalloproteinase-9 expression in asthma: effect of asthma severity, allergen challenge, and inhaled corticosteroids. Chest 122:1543–1552
Acknowledgments
The authors thank the Center for Research Resources and Development at Kaohsiung Medical University for the instrumental support of confocal microscope. The authors also appreciate the careful review and precious comments from the editors and reviewers.
This study was supported by grants from the Kaohsiung Medical University Hospital (KMUH99-9I08, KMUH101-1M12 and KMUH102-2T06), National Science Council (NSC 101-2320-B-037-043-MY3) and National Health Research Institutes (NHRI-100A1-PDCO-03000001 and NHRI-101A1-PDCO-03010201).
Conflict of interest
The authors declare no conflicts of interest.
About this article
Cite this article
Tsai, M., Hsu, Y., Wang, T. et al. Aryl hydrocarbon receptor (AhR) agonists increase airway epithelial matrix metalloproteinase activity. J Mol Med 92, 615–628 (2014). https://doi.org/10.1007/s00109-014-1121-x
Received:

Revised:

Accepted:

Published:

Issue Date:
Keywords
Airway remodeling

Aryl hydrocarbon receptor

Asthma

Chronic obstructive pulmonary disease

Matrix metalloproteinase