Abstract
Tissue injury is inevitably accompanied by disruption of the endothelium and exposure of the subendothelial matrix. To generate a guidance molecule directing progenitor cells to sites of vascular lesions, we designed a bifunctional protein. The protein consists of the soluble platelet collagen receptor glycoprotein VI and an antibody to CD133 (hereafter called GPVI-CD133). In vitro and in vivo, this construct substantially mediates endothelial progenitor cell (EPC) homing to vascular lesions. Exposure of EPCs to GPVI-CD133 did not impair their capability to differentiate toward mature endothelial cells as verified by the formation of colony-forming units, the upregulation of endothelial markers CD31 and CD146 analyzed by flow cytometry or von Willebrand factor and endoglin assessed by immunofluorescence microscopy, as well as the presence of Weibel–Palade bodies using transmission electron microscopy. In vivo, GPVI-CD133 augments reendothelialization of vascular lesions. Thus, this bifunctional protein could be a potential new therapeutic option for cardiovascular diseases.
This is a preview of subscription content, log in to check access.
Access options
Buy single article
Instant unlimited access to the full article PDF.
US$ 39.95
Price includes VAT for USA
Subscribe to journal
Immediate online access to all issues from 2019. Subscription will auto renew annually.
US$ 199
This is the net price. Taxes to be calculated in checkout.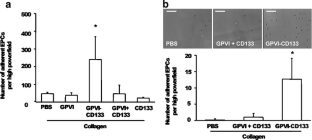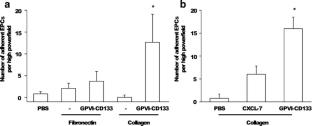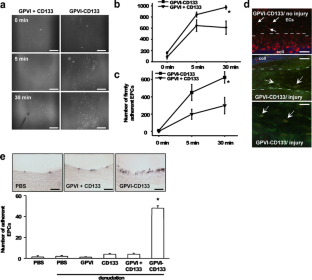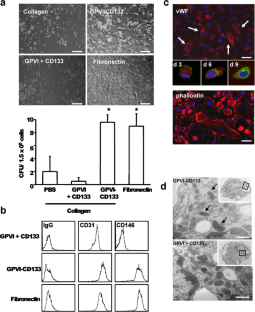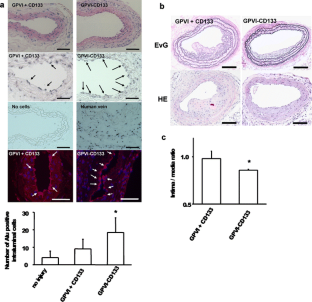 References
1.

Asahara T, Murohara T, Sullivan A, Silver M, van der ZR, Li T, Witzenbichler B, Schatteman G, Isner JM (1997) Isolation of putative progenitor endothelial cells for angiogenesis. Science 275:964–967

2.

Rafii S, Lyden D (2003) Therapeutic stem and progenitor cell transplantation for organ vascularization and regeneration. Nat Med 9:702–712

3.

Werner N, Kosiol S, Schiegl T, Ahlers P, Walenta K, Link A, Bohm M, Nickenig G (2005) Circulating endothelial progenitor cells and cardiovascular outcomes. N Engl J Med 353:999–1007

4.

Conrad S, Renninger M, Hennenlotter J, Wiesner T, Just L, Bonin M, Aicher W, Buhring HJ, Mattheus U, Mack A, Wagner HJ, Minger S, Matzkies M, Reppel M, Hescheler J, Sievert KD, Stenzl A, Skutella T (2008) Generation of pluripotent stem cells from adult human testis. Nature 456:344–349

5.

Cowan CA, Klimanskaya I, McMahon J, Atienza J, Witmyer J, Zucker JP, Wang S, Morton CC, McMahon AP, Powers D, Melton DA (2004) Derivation of embryonic stem-cell lines from human blastocysts. N Engl J Med 350:1353–1356

6.

Moretti A, Caron L, Nakano A, Lam JT, Bernshausen A, Chen Y, Qyang Y, Bu L, Sasaki M, Martin-Puig S, Sun Y, Evans SM, Laugwitz KL, Chien KR (2006) Multipotent embryonic isl1+ progenitor cells lead to cardiac, smooth muscle, and endothelial cell diversification. Cell 127:1151–1165

7.

Takahashi K, Tanabe K, Ohnuki M, Narita M, Ichisaka T, Tomoda K, Yamanaka S (2007) Induction of pluripotent stem cells from adult human fibroblasts by defined factors. Cell 131:861–872

8.

Yu J, Vodyanik MA, Smuga-Otto K, ntosiewicz-Bourget J, Frane JL, Tian S, Nie J, Jonsdottir GA, Ruotti V, Stewart R, Slukvin II, Thomson JA (2007) Induced pluripotent stem cell lines derived from human somatic cells. Science 318:1917–1920

9.

Chien KR (2008) Regenerative medicine and human models of human disease. Nature 453:302–305

10.

Ruggeri ZM (2002) Platelets in atherothrombosis. Nat Med 8:1227–1234

11.

Massberg S, Konrad I, Bultmann A, Schulz C, Munch G, Peluso M, Lorenz M, Schneider S, Besta F, Muller I, Hu B, Langer H, Kremmer E, Rudelius M, Heinzmann U, Ungerer M, Gawaz M (2004) Soluble glycoprotein VI dimer inhibits platelet adhesion and aggregation to the injured vessel wall in vivo. FASEB J 18:397–399

12.

Stamm C, Westphal B, Kleine HD, Petzsch M, Kittner C, Klinge H, Schumichen C, Nienaber CA, Freund M, Steinhoff G (2003) Autologous bone-marrow stem-cell transplantation for myocardial regeneration. Lancet 361:45–46

13.

Urbich C, Dimmeler S (2004) Endothelial progenitor cells: characterization and role in vascular biology. Circ Res 95:343–353

14.

Lang P, Bader P, Schumm M, Feuchtinger T, Einsele H, Fuhrer M, Weinstock C, Handgretinger R, Kuci S, Martin D, Niethammer D, Greil J (2004) Transplantation of a combination of CD133+ and CD34+ selected progenitor cells from alternative donors. Br J Haematol 124:72–79

15.

Bühring H, Marxer A, Lammers R, Wissinger B (2002) CD133 cluster report. In: Mason D, André P, Bensussan A, Buckley C, Civin C, Clark E, de Haas M, Goyert S, Hadam M, Hart D, Hoøejší V, Jones Y, Meuer S, Morrissey J, Schwartz-Albiez R, Shaw S, Simmons D, Turni L, Uguccioni M, van der Schoot E, Vivier E, Zola H (eds) Leucocyte Typing VII. White Cell Differentiation Antigens. Oxford University Press, Oxford, pp 622–623

16.

Jung G, Honsik CJ, Reisfeld RA, Muller-Eberhard HJ (1986) Activation of human peripheral blood mononuclear cells by anti-T3: killing of tumor target cells coated with anti-target-anti-T3 conjugates. Proc Natl Acad Sci U S A 83:4479–4483

17.

Langer H, May AE, Bultmann A, Gawaz M (2005) ADAM 15 is an adhesion receptor for platelet GPIIb–IIIa and induces platelet activation. Thromb Haemost 94:555–561

18.

Choi EY, Chavakis E, Czabanka MA, Langer HF, Fraemohs L, Economopoulou M, Kundu RK, Orlandi A, Zheng YY, Prieto DA, Ballantyne CM, Constant SL, Aird WC, Papayannopoulou T, Gahmberg CG, Udey MC, Vajkoczy P, Quertermous T, Dimmeler S, Weber C, Chavakis T (2008) Del-1, an endogenous leukocyte-endothelial adhesion inhibitor, limits inflammatory cell recruitment. Science 322:1101–1104

19.

Schafer A, Schulz C, Eigenthaler M, Fraccarollo D, Kobsar A, Gawaz M, Ertl G, Walter U, Bauersachs J (2004) Novel role of the membrane-bound chemokine fractalkine in platelet activation and adhesion. Blood 103:407–412

20.

Langer H, May AE, Daub K, Heinzmann U, Lang P, Schumm M, Vestweber D, Massberg S, Schonberger T, Pfisterer I, Hatzopoulos AK, Gawaz M (2006) Adherent platelets recruit and induce differentiation of murine embryonic endothelial progenitor cells to mature endothelial cells in vitro. Circ Res 98:e2–e10

21.

Massberg S, Brand K, Gruner S, Page S, Muller E, Muller I, Bergmeier W, Richter T, Lorenz M, Konrad I, Nieswandt B, Gawaz M (2002) A critical role of platelet adhesion in the initiation of atherosclerotic lesion formation. J Exp Med 196:887–896

22.

van Zandvoort M, Engels W, Douma K, Beckers L, Oude EM, Daemen M, Slaaf DW (2004) Two-photon microscopy for imaging of the (atherosclerotic) vascular wall: a proof of concept study. J Vasc Res 41:54–63

23.

Just L, Timmer M, Tinius J, Stahl F, Deiwick A, Nikkhah G, Bader A (2003) Identification of human cells in brain xenografts and in neural co-cultures of rat by in situ hybridisation with Alu probe. J Neurosci Methods 126:69–77

24.

De Falco E, Porcelli D, Torella AR, Straino S, Iachininoto MG, Orlandi A, Truffa S, Biglioli P, Napolitano M, Capogrossi MC, Pesce M (2004) SDF-1 involvement in endothelial phenotype and ischemia-induced recruitment of bone marrow progenitor cells. Blood 104:3472–3482

25.

Hristov M, Zernecke A, Bidzhekov K, Liehn EA, Shagdarsuren E, Ludwig A, Weber C (2007) Importance of CXC chemokine receptor 2 in the homing of human peripheral blood endothelial progenitor cells to sites of arterial injury. Circ Res 100:590–597

26.

Gawaz M, Langer H, May AE (2005) Platelets in inflammation and atherogenesis. J Clin Invest 115:3378–3384

27.

Massberg S, Konrad I, Schurzinger K, Lorenz M, Schneider S, Zohlnhoefer D, Hoppe K, Schiemann M, Kennerknecht E, Sauer S, Schulz C, Kerstan S, Rudelius M, Seidl S, Sorge F, Langer H, Peluso M, Goyal P, Vestweber D, Emambokus NR, Busch DH, Frampton J, Gawaz M (2006) Platelets secrete stromal cell-derived factor 1α and recruit bone marrow-derived progenitor cells to arterial thrombi in vivo. J Exp Med 203:1221–1233

28.

Massberg S, Gawaz M, Gruner S, Schulte V, Konrad I, Zohlnhofer D, Heinzmann U, Nieswandt B (2003) A crucial role of glycoprotein VI for platelet recruitment to the injured arterial wall in vivo. J Exp Med 197:41–49

29.

Muller I, Kordowich S, Holzwarth C, Spano C, Isensee G, Staiber A, Viebahn S, Gieseke F, Langer H, Gawaz M, Horwitz E, Conte P, Handgretinger R, Dominici M (2006) Animal serum-free culture conditions for isolation and expansion of multipotent mesenchymal stromal cells from human BM. Cytotherapy 8:437–444

30.

Langer HF, Stellos K, Steingen C, Froihofer A, Schonberger T, Kramer B, Bigalke B, May AE, Seizer P, Muller I, Gieseke F, Siegel-Axel D, Meuth SG, Schmidt A, Wendel HP, Muller I, Bloch W, Gawaz M (2009) Platelet derived bFGF mediates vascular integrative mechanisms of mesenchymal stem cells in vitro. J Mol Cell Cardiol 47:315–325

31.

Ingram DA, Mead LE, Tanaka H, Meade V, Fenoglio A, Mortell K, Pollok K, Ferkowicz MJ, Gilley D, Yoder MC (2004) Identification of a novel hierarchy of endothelial progenitor cells using human peripheral and umbilical cord blood. Blood 104:2752–2760

32.

Yoder MC, Mead LE, Prater D, Krier TR, Mroueh KN, Li F, Krasich R, Temm CJ, Prchal JT, Ingram DA (2007) Redefining endothelial progenitor cells via clonal analysis and hematopoietic stem/progenitor cell principals. Blood 109:1801–1809

33.

Prater DN, Case J, Ingram DA, Yoder MC (2007) Working hypothesis to redefine endothelial progenitor cells. Leukemia 21:1141–1149

34.

Peichev M, Naiyer AJ, Pereira D, Zhu Z, Lane WJ, Williams M, Oz MC, Hicklin DJ, Witte L, Moore MA, Rafii S (2000) Expression of VEGFR-2 and AC133 by circulating human CD34(+) cells identifies a population of functional endothelial precursors. Blood 95:952–958

35.

Chavakis E, Urbich C, Dimmeler S (2008) Homing and engraftment of progenitor cells: a prerequisite for cell therapy. J Mol Cell Cardiol 45:514–522

36.

Seeger FH, Zeiher AM, Dimmeler S (2007) Cell-enhancement strategies for the treatment of ischemic heart disease. Nat Clin Pract Cardiovasc Med 4(Suppl 1):S110–S113

37.

Shao H, Tan Y, Eton D, Yang Z, Uberti MG, Li S, Schulick A, Yu H (2008) Statin and stromal cell-derived factor-1 additively promote angiogenesis by enhancement of progenitor cells incorporation into new vessels. Stem Cells 26:1376–1384

38.

Sasaki K, Heeschen C, Aicher A, Ziebart T, Honold J, Urbich C, Rossig L, Koehl U, Koyanagi M, Mohamed A, Brandes RP, Martin H, Zeiher AM, Dimmeler S (2006) Ex vivo pretreatment of bone marrow mononuclear cells with endothelial NO synthase enhancer AVE9488 enhances their functional activity for cell therapy. Proc Natl Acad Sci U S A 103:14537–14541

39.

Oh IY, Yoon CH, Hur J, Kim JH, Kim TY, Lee CS, Park KW, Chae IH, Oh BH, Park YB, Kim HS (2007) Involvement of E-selectin in recruitment of endothelial progenitor cells and angiogenesis in ischemic muscle. Blood 110:3891–3899

40.

Hill JM, Zalos G, Halcox JP, Schenke WH, Waclawiw MA, Quyyumi AA, Finkel T (2003) Circulating endothelial progenitor cells, vascular function, and cardiovascular risk. N Engl J Med 348:593–600
Acknowledgment
We acknowledge the excellent technical assistance of Sarah Gehring, Jadwiga Kwiatkowska, Heike Runge, Sandra Bundschuh, and Birgit Fehrenbacher. We thank Rupert Handgretinger for critical revision and supply of stem cells.
Funding
The study was supported by grants from the Deutsche Forschungsgemeinschaft (Graduiertenkolleg "Zellbiologische Mechanismen immunasoziierter Prozesse," GK 794 and "Vaskuläre Medizin" [GRK 438 and MA 2186/3-1] to MG), SFB-TR19, and the Novartis Foundation and the fortüne research program of the UKT to HFL and MG. The Bio-Rad TPLSM was obtained via a grant (no. 902-16-276) from the Medical Section of the Dutch Scientific Organization. Experiments carried out by JW v.d. R, SC, and TS were financed by the Center for Regeneration Biology and Regenerative Medicine by the Carl Baresel Stiftung and Stiftung Landesbank Baden Württemberg.
Potential conflict of interest
None.
Additional information
Harald F. Langer, Jürgen W. von der Ruhr, Thomas Skutella, and Meinrad Gawaz contributed equally, and T.S. and M.G. share senior authorship.
Electronic supplementary material
Below is the link to the electronic supplementary material.
Dynamic adhesion of EPCs to GPVI-CD133 in vitro (a). Under arterial shear conditions (2,000 s−1), adhesion of EPCs to collagen additionally covered with the individual components of the construct (10 μg/mL each) is shown from minute 08:30 to minute 09:00 of perfusion. Virtually no firm adhesion of EPCs could be observed (MOV 264 kb)
Dynamic adhesion of EPCs to GPVI-CD133 in vitro (b). This sequence from minute 06:00 to minute 09:00 is representative for flow chamber experiments, in which the bispecific construct (10 μg/mL) was applied. Adherent EPCs are distributed over the complete frame (MOV 3252 kb)
Recruitment of EPCs to vascular lesions by GPVI-CD133 in vivo (a). In C57BL/6J mice, the common carotid artery was injured by ligation and DCF (green)-stained EPCs were injected intravenously. When the cells were incubated with both individual components of the construct, significantly less EPCs adhered to the injured vessel wall than in (MOV 1429 kb)
Recruitment of EPCs to vascular lesions by GPVI-CD133 in vivo (b) experiments with EPCs treated with the GPVI-CD133 construct. Both films are recorded 30 min after the induction of vascular injury (MOV 2292 kb)
Z-stack movie (see also supplemental figure 1) as imaged by TPLSM of an intact, nonvital carotid artery mounted in a flow chamber (obtained from intravital microscopy experiments) (a) (MOV 3660 kb)
EPCs were incubated with the GPVI-CD133 construct, but the carotid artery is intact. Screening starts from the luminal side of the vessel. First, the endothelial monolayer (red nuclei), then the media and the adventitia become visible. The media shows smooth muscle cell nuclei (red), the adventitia fibroblasts (red nuclei) embedded in collagen (blue, SHG). No DCF stained EPCs can be observed on the luminal side of the vessel (b) (MOV 1667 kb)
Dynamic adhesion of EPCs to GPVI-CD133 in vitro (a). Under arterial shear conditions (2,000 s−1), adhesion of EPCs to collagen additionally covered with the individual components of the construct (10 μg/mL each) is shown from minute 08:30 to minute 09:00 of perfusion. Virtually no firm adhesion of EPCs could be observed (MOV 264 kb)
Dynamic adhesion of EPCs to GPVI-CD133 in vitro (b). This sequence from minute 06:00 to minute 09:00 is representative for flow chamber experiments, in which the bispecific construct (10 μg/mL) was applied. Adherent EPCs are distributed over the complete frame (MOV 3252 kb)
Recruitment of EPCs to vascular lesions by GPVI-CD133 in vivo (a). In C57BL/6J mice, the common carotid artery was injured by ligation and DCF (green)-stained EPCs were injected intravenously. When the cells were incubated with both individual components of the construct, significantly less EPCs adhered to the injured vessel wall than in (MOV 1429 kb)
Recruitment of EPCs to vascular lesions by GPVI-CD133 in vivo (b) experiments with EPCs treated with the GPVI-CD133 construct. Both films are recorded 30 min after the induction of vascular injury (MOV 2292 kb)
Z-stack movie (see also supplemental figure 1) as imaged by TPLSM of an intact, nonvital carotid artery mounted in a flow chamber (obtained from intravital microscopy experiments) (a) (MOV 3660 kb)
EPCs were incubated with the GPVI-CD133 construct, but the carotid artery is intact. Screening starts from the luminal side of the vessel. First, the endothelial monolayer (red nuclei), then the media and the adventitia become visible. The media shows smooth muscle cell nuclei (red), the adventitia fibroblasts (red nuclei) embedded in collagen (blue, SHG). No DCF stained EPCs can be observed on the luminal side of the vessel (b) (MOV 1667 kb)
Instead, an obvious enrichment of green (DCF) cells with red nuclei can be observed in the area of denudation on the luminal side of the elastica interna, where denudation was carried out and cells treated with GPVI-CD133 were applied. A zoomed z-stack of this experiment is shown in film (c) (MOV 737 kb)
About this article
Cite this article
Langer, H.F., von der Ruhr, J.W., Daub, K. et al. Capture of endothelial progenitor cells by a bispecific protein/monoclonal antibody molecule induces reendothelialization of vascular lesions. J Mol Med 88, 687–699 (2010). https://doi.org/10.1007/s00109-010-0614-5
Received:

Revised:

Accepted:

Published:

Issue Date:
Keywords
Regenerative medicine

Endothelialization

Progenitor cells

Stem cells

Vascular injury

Guidance molecule

Vascular disease

Therapy