Zusammenfassung
Vor dem Hintergrund der deutlich erhöhten kardiovaskulären Komorbidität bei Patienten mit chronischer Niereninsuffizienz ("chronic kidney disease" [CKD]) erscheint eine gründliche und engmaschige kardiovaskuläre Diagnostik essenziell. Allerdings liegt bei Patienten mit CKD häufig eine Unterdiagnostik vor. Prospektive, randomisierte Studien, die belegen, dass eine kardiovaskuläre Diagnostik bei diesen Patienten eine Prognoseverbesserung bewirkt, sind limitiert. Eine besondere Herausforderung stellt die Ischämiediagnostik bei höhergradiger Niereninsuffizienz dar. Leitlinien empfehlen eine kardiovaskuläre Diagnostik vor Aufnahme auf die Transplantationswarteliste.
Abstract
Against the background of drastically increased cardiovascular comorbidity in patients with chronic kidney disease (CKD), an effective cardiovascular diagnostic approach appears essential. However, patients with CKD are often underdiagnosed. Prospective randomized studies showing an improved outcome for cardiovascular diagnostic in patients with CKD are limited. Special attention is paid to stress diagnostics in CKD patients. Guidelines recommend cardiovascular diagnostic evaluation prior to inclusion on the transplantation waiting list.
This is a preview of subscription content, log in to check access.
Access options
Buy single article
Instant unlimited access to the full article PDF.
US$ 39.95
Price includes VAT for USA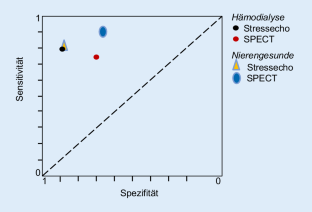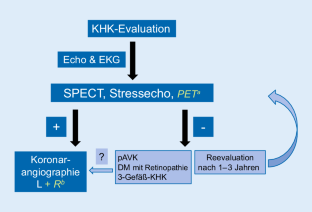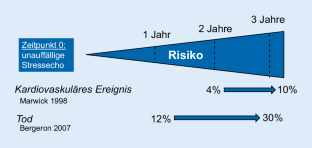 Literatur
1.

Ravani P, Fiocco M, Liu P, Quinn RR, Hemmelgarn B, James M et al (2019) Influence of mortality on estimating the risk of kidney failure in people with stage 4 CKD. J Am Soc Nephrol 30(11):2219–2227

2.

Go AS, Bansal N, Chandra M, Lathon PV, Fortmann SP, Iribarren C et al (2011) Chronic kidney disease and risk for presenting with acute myocardial infarction versus stable exertional angina in adults with coronary heart disease. J Am Coll Cardiol 58(15):1600–1607

3.

Herzog CA, Littrell K, Arko C, Frederick PD, Blaney M (2007) Clinical characteristics of dialysis patients with acute myocardial infarction in the United States: a collaborative project of the United States Renal Data System and the National Registry of Myocardial Infarction. Circulation 116(13):1465–1472

4.

Gunsolus I, Sandoval Y, Smith SW, Sexter A, Schulz K, Herzog CA et al (2018) Renal dysfunction influences the diagnostic and prognostic performance of high-sensitivity cardiac troponin I. J Am Soc Nephrol 29(2):636–643

5.

Sarnak MJ, Amann K, Bangalore S, Cavalcante JL, Charytan DM, Craig JC et al (2019) Chronic kidney disease and coronary artery disease: JACC state-of-the-art review. J Am Coll Cardiol 74(14):1823–1838

6.

Colbert G, Jain N, de Lemos JA, Hedayati SS (2015) Utility of traditional circulating and imaging-based cardiac biomarkers in patients with predialysis CKD. Clin J Am Soc Nephrol 10(3):515–529

7.

Bhatti NK, Karimi Galougahi K, Paz Y, Nazif T, Moses JW, Leon MB et al (2016) Diagnosis and management of cardiovascular disease in advanced and end-stage renal disease. JAHA. https://doi.org/10.1161/jaha.116.003648

8.

Rajagopalan N, Miller TD, Hodge DO, Frye RL, Gibbons RJ (2005) Identifying high-risk asymptomatic diabetic patients who are candidates for screening stress single-photon emission computed tomography imaging. J Am Coll Cardiol 45(1):43–49

9.

Buerschaper L, Floege J, Muhlfeld A, Schlieper G (2019) Evaluation of electrocardiographic parameters predicting cardiovascular events in patients with end-stage renal disease before and after transplantation. Kidney Blood Press Res 44(4):615–627

10.

Wang LW, Fahim MA, Hayen A, Mitchell RL, Baines L, Lord S et al (2011) Cardiac testing for coronary artery disease in potential kidney transplant recipients. Cochrane Database Syst Rev. https://doi.org/10.1002/14651858.CD008691.pub2

11.

Wang LW, Masson P, Turner RM, Lord SW, Baines LA, Craig JC et al (2015) Prognostic value of cardiac tests in potential kidney transplant recipients: a systematic review. Transplantation 99(4):731–745

12.

Weir MR (2015) Is there an optimal strategy for pretransplant cardiovascular screening? Transplantation 99(4):656–657

13.

Almendarez M, Gurm HS, Mariani J Jr., Montorfano M, Brilakis ES, Mehran R et al (2019) Procedural strategies to reduce the incidence of contrast-induced acute kidney injury during percutaneous coronary intervention. JACC Cardiovasc Interv 12(19):1877–1888

14.

Weisbord SD, Gallagher M, Jneid H, Garcia S, Cass A, Thwin SS et al (2018) Outcomes after angiography with sodium bicarbonate and acetylcysteine. N Engl J Med 378(7):603–614

15.

Poldermans D, Bax JJ, Schouten O, Neskovic AN, Paelinck B, Rocci G et al (2006) Should major vascular surgery be delayed because of preoperative cardiac testing in intermediate-risk patients receiving beta-blocker therapy with tight heart rate control? J Am Coll Cardiol 48(5):964–969

16.

Young LH, Wackers FJ, Chyun DA, Davey JA, Barrett EJ, Taillefer R et al (2009) Cardiac outcomes after screening for asymptomatic coronary artery disease in patients with type 2 diabetes: the DIAD study: a randomized controlled trial. JAMA 301(15):1547–1555

17.

Association AH (2019) ISCHEMIA international study of comparative health effectiveness with medical and invasive approaches (ISCHEMIA). https://professional.heart.org/professional/ScienceNews/UCM_505226_ISCHEMIA-Clinical-Trial-Details.jsp. Zugegriffen: 19. Dez. 2019

18.

Association AH (2019) ISCHEMIA-CKD international study of comparative health effectiveness with medical and invasive approaches—chronic kidney disease trial. https://professional.heart.org/professional/ScienceNews/UCM_505227_ISCHEMIA-CKD-Clinical-Trial-Details.jsp. Zugegriffen: 19. Dez. 2019

19.

Lentine KL, Brennan DC, Schnitzler MA (2005) Incidence and predictors of myocardial infarction after kidney transplantation. J Am Soc Nephrol 16(2):496–506

20.

Friedman SE, Palac RT, Zlotnick DM, Chobanian MC, Costa SP (2011) A call to action: variability in guidelines for cardiac evaluation before renal transplantation. Clin J Am Soc Nephrol 6(5):1185–1191

21.

Aachen/Bochum/Bonn/Düsseldorf/Essen/Homburg-Saar/KdAdN, Kiel/Köln-Lindenthal/Köln-Merheim/Lübeck/Mainz/Mannheim/Marburg/Münster (2018) MANUAL zur Vereinheitlichung der Evaluation vor Nierentransplantation und Nierenlebendspende, der Wartelistenführung vor Nierentransplantation und zur Nachsorge nach Nierentransplantation und Nierenlebendspende. http://www.d-t-g-online.de/images/Downloads/Manual_Nierentransplantation_10-2018.pdf. Zugegriffen: 19. Dez. 2019

22.

Ying T, Gill J, Webster A, Kim SJ, Morton R, Klarenbach SW et al (2019) Canadian-Australasian Randomised trial of screening kidney transplant candidates for coronary artery disease‑A trial protocol for the CARSK study. Am Heart J 214:175–183

23.

Marwick TH, Lauer MS, Lobo A, Nally J, Braun W (1998) Use of dobutamine echocardiography for cardiac risk stratification of patients with chronic renal failure. J Intern Med 244(2):155–161

24.

Bergeron S, Hillis GS, Haugen EN, Oh JK, Bailey KR, Pellikka PA (2007) Prognostic value of dobutamine stress echocardiography in patients with chronic kidney disease. Am Heart J 153(3):385–391

25.

De Vriese AS, Vandecasteele SJ, Van den Bergh B, De Geeter FW (2012) Should we screen for coronary artery disease in asymptomatic chronic dialysis patients? Kidney Int 81(2):143–151

26.

Bajaj NS, Singh A, Zhou W, Gupta A, Fujikura K, Byrne C et al (2020) Coronary microvascular dysfunction, left ventricular remodeling and clinical outcomes in patients with chronic kidney impairment. Circulation 141(1):21–33. https://doi.org/10.1161/CIRCULATIONAHA.119.043916. Epub 2019 Nov 29

27.

Mangion K, McDowell K, Mark PB, Rutherford E (2018) Characterizing cardiac involvement in chronic kidney disease using CMR‑a systematic review. Curr Cardiovasc Imaging Rep 11(1):2

28.

Kramann R, Erpenbeck J, Schneider RK, Rohl AB, Hein M, Brandenburg VM et al (2014) Speckle tracking echocardiography detects uremic cardiomyopathy early and predicts cardiovascular mortality in ESRD. J Am Soc Nephrol 25(10):2351–2365

29.

Wizemann V, Tong L, Satayathum S, Disney A, Akiba T, Fissell RB et al (2010) Atrial fibrillation in hemodialysis patients: clinical features and associations with anticoagulant therapy. Kidney Int 77(12):1098–1106

30.

Schlieper G, Schwenger V, Remppis A, Keller T, Dechend R, Massberg S et al (2017) Antikoagulation bei Patienten mit chronischer NiereninsuffizienzEmpfehlungen der Arbeitsgemeinschaft "Herz – Niere" der Deutschen Gesellschaft für Kardiologie – Herz- und Kreislaufforschung und der Deutschen Gesellschaft für Nephrologie. Internist (Berl) 58(5):512–521. https://doi.org/10.1007/s00108-017-0220-5

31.

Wong MCG, Kalman JM, Pedagogos E, Toussaint N, Vohra JK, Sparks PB et al (2015) Bradycardia and asystole is the predominant mechanism of sudden cardiac death in patients with chronic kidney disease. J Am Coll Cardiol 65(12):1263–1265

32.

Roy-Chaudhury P, Tumlin JA, Koplan BA, Costea AI, Kher V, Williamson D et al (2018) Primary outcomes of the monitoring in dialysis study indicate that clinically significant arrhythmias are common in hemodialysis patients and related to dialytic cycle. Kidney Int 93(4):941–951
Ethics declarations
Interessenkonflikt
G. Schlieper gibt an, dass kein Interessenkonflikt besteht.
Für diesen Beitrag wurden vom Autor keine Studien an Menschen oder Tieren durchgeführt. Für die aufgeführten Studien gelten die jeweils dort angegebenen ethischen Richtlinien.
Additional information
Redaktion
J. Floege, Aachen
About this article
Cite this article
Schlieper, G. Kardiovaskuläre Diagnostik bei höhergradiger Niereninsuffizienz – welche Verfahren sind sinnvoll?. Internist (2020) doi:10.1007/s00108-019-00737-4
Schlüsselwörter
Dialyse

Koronare Herzkrankheit

Nierentransplantation

Myokardszintigraphie

Stressechokardiographie
Keywords
Dialysis

Coronary heart disease

Kidney transplantation

Myocardial scintigraphy

Stress echocardiography