Abstract
Cancer stem cell (CSC)-related therapy resistance has become a new obstacle to the successful application of cancer treatment and head and neck squamous cell carcinoma (HNSCC) is no exception to this finding. Head and neck squamous cell carcinoma is highly immune-suppressive, and recently the immune suppression and invasion of HNSCC-CSCs have been characterized. These characteristics have received research and clinical attention because they would enable the stratification of patients into specific cancer subtypes and, consequently, the establishment of new therapeutic approaches with improved efficacy. This review discusses the feasibility of CSC-targeted strategies and their incorporation with nanotechnology to improve the efficacy of cancer immunotherapy.
Zusammenfassung
Eine mit Krebsstammzellen ("cancer stem cells", CSC) verbundene Therapieresistenz wurde als neues Hindernis für die erfolgreiche Krebsbehandlung erkannt, und Plattenepithelkarzinome im Kopf-Hals-Bereich (KH-PECA) bilden hierbei keine Ausnahme. KH-PECA sind sehr immunsuppressiv, und in letzter Zeit wurde in diesem Zusammenhang die Immunsuppression und -invasion von KH-PECA-CSC näher charakterisiert. Diese Eigenschaften haben ein besonderes wissenschaftliches und klinisches Interesse auf sich gezogen, weil sie es ermöglichen würden, Patienten in bestimmte Krebssubtypen zu unterteilen und damit neue Therapieansätze mit besserer Wirksamkeit zu etablieren. In der vorliegenden Arbeit wird die Praktikabilität von Therapiestrategien erörtert, die auf CSC abzielen, sowie die Integration von Nanotechnologie, um die Wirksamkeit der Krebsimmuntherapie zu verbessern.
This is a preview of subscription content, log in to check access.
Access options
Buy single article
Instant access to the full article PDF.
US$ 39.95
Price includes VAT for USA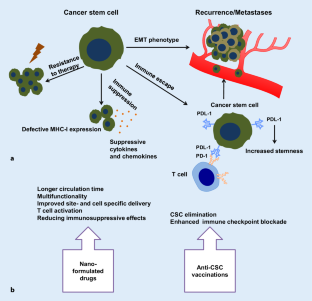 References
1.

Abdelaziz MO, Ossmann S, Kaufmann AM et al (2019) Development of a human cytomegalovirus (HCMV)-based therapeutic cancer vaccine uncovers a previously unsuspected viral block of MHC class I antigen presentation. Front Immunol 10:1776

2.

Adelstein D, Gillison ML, Pfister DG et al (2017) NCCN guidelines insights: head and neck cancers, version 2.2017. J Natl Compr Canc Netw 15:761–770

3.

Albers A, Abe K, Hunt J et al (2005) Antitumor activity of human papillomavirus type 16 E7-specific T cells against virally infected squamous cell carcinoma of the head and neck. Cancer Res 65:11146–11155

4.

Albers AE, Ferris RL, Kim GG et al (2005) Immune responses to p53 in patients with cancer: enrichment in tetramer+ p53 peptide-specific T cells and regulatory T cells at tumor sites. Cancer Immunol Immunother 54:1072–1081

5.

Albers AE, Visus C, Tsukishiro T et al (2006) Alterations in the T‑cell receptor variable beta gene-restricted profile of CD8+ T lymphocytes in the peripheral circulation of patients with squamous cell carcinoma of the head and neck. Clin Cancer Res 12:2394–2403

6.

Azuma K, Shichijo S, Maeda Y et al (2003) Mutated p53 gene encodes a nonmutated epitope recognized by HLA-B*4601-restricted and tumor cell-reactive CTLs at tumor site. Cancer Res 63:854–858

7.

Brown CE, Starr R, Martinez C et al (2009) Recognition and killing of brain tumor stem-like initiating cells by CD8+ cytolytic T cells. Cancer Res 69:8886–8893

8.

Busse A, Letsch A, Fusi A et al (2013) Characterization of small spheres derived from various solid tumor cell lines: are they suitable targets for T cells? Clin Exp Metastasis 30:781–791

9.

Chikamatsu K, Albers A, Stanson J et al (2003) P53(110-124)-specific human CD4+ T‑helper cells enhance in vitro generation and antitumor function of tumor-reactive CD8+ T cells. Cancer Res 63:3675–3681

10.

Chow LQ, Haddad R, Gupta S et al (2016) Antitumor activity of pembrolizumab in biomarker-unselected patients with recurrent and/or metastatic head and neck squamous cell carcinoma: results from the phase Ib KEYNOTE-012 expansion cohort. J Clin Oncol 34(32):3838–3845. https://doi.org/10.1200/JCO.2016.68.1478

11.

Di Tomaso T, Mazzoleni S, Wang E et al (2010) Immunobiological characterization of cancer stem cells isolated from glioblastoma patients. Clin Cancer Res 16:800–813

12.

Dong P, Xiong Y, Yue J et al (2018) Tumor-intrinsic PD-L1 signaling in cancer initiation, development and treatment: beyond immune evasion. Front Oncol 8:386

13.

Faivre S, Alsabe H, Djafari L et al (2004) Locoregional effects of pegylated liposomal doxorubicin (caelyx) in irradiated area: a phase I–II study in patients with recurrent squamous cell carcinoma of the head and neck. Eur J Cancer 40:1517–1521

14.

Ferris RL, Blumenschein G Jr., Fayette J et al (2016) Nivolumab for recurrent squamous-cell carcinoma of the head and neck. N Engl J Med 375:1856–1867

15.

de la Luz Garcia-Hernandez M, Gray A, Hubby B et al (2008) Prostate stem cell antigen vaccination induces a long-term protective immune response against prostate cancer in the absence of autoimmunity. Cancer Res 68:861–869

16.

Goldberg MS (2019) Improving cancer immunotherapy through nanotechnology. Nat Rev Cancer 19(10):587–602. https://doi.org/10.1038/s41568-019-0186-9

17.

Harrington KJ, Ferris RL, Blumenschein G Jr. et al (2017) Nivolumab versus standard, single-agent therapy of investigator's choice in recurrent or metastatic squamous cell carcinoma of the head and neck (CheckMate 141): health-related quality-of-life results from a randomised, phase 3 trial. Lancet Oncol 18(8):1104–1115. https://doi.org/10.1016/S1470-2045(17)30421-7

18.

Hoffmann TK, Nakano K, Elder EM et al (2000) Generation of T cells specific for the wild-type sequence p53(264-272) peptide in cancer patients: implications for immunoselection of epitope loss variants. J Immunol 165:5938–5944

19.

Hsu JM, Xia W, Hsu YH et al (2018) STT3-dependent PD-L1 accumulation on cancer stem cells promotes immune evasion. Nat Commun 9:1908

20.

Hu Y, Lu L, Xia Y et al (2016) Therapeutic efficacy of cancer stem cell vaccines in the adjuvant setting. Cancer Res 76:4661–4672

21.

Huang B, Abraham WD, Zheng Y et al (2015) Active targeting of chemotherapy to disseminated tumors using nanoparticle-carrying T cells. Sci Transl Med 7:291ra294

22.

Inoda S, Hirohashi Y, Torigoe T et al (2011) Cytotoxic T lymphocytes efficiently recognize human colon cancer stem-like cells. Am J Pathol 178:1805–1813

23.

Kiessling A, Schmitz M, Stevanovic S et al (2002) Prostate stem cell antigen: identification of immunogenic peptides and assessment of reactive CD8+ T cells in prostate cancer patients. Int J Cancer 102:390–397

24.

Kranz LM, Diken M, Haas H et al (2016) Systemic RNA delivery to dendritic cells exploits antiviral defence for cancer immunotherapy. Nature 534:396–401

25.

Lee Y, Shin JH, Longmire M et al (2016) CD44+ cells in head and neck squamous cell carcinoma suppress T‑cell-mediated immunity by selective constitutive and inducible expression of PD-L1. Clin Cancer Res 22:3571–3581

26.

Leemans CR, Snijders PJF, Brakenhoff RH (2018) The molecular landscape of head and neck cancer. Nat Rev Cancer 18:269–282

27.

Li J, Shayan G, Avery L et al (2016) Tumor-infiltrating Tim-3+ T cells proliferate avidly except when PD‑1 is co-expressed: evidence for intracellular cross talk. OncoImmunology 5:e1200778

28.

Liao T, Kaufmann AM, Qian X et al (2013) Susceptibility to cytotoxic T cell lysis of cancer stem cells derived from cervical and head and neck tumor cell lines. J Cancer Res Clin Oncol 139:159–170

29.

Lopez-Albaitero A, Nayak JV, Ogino T et al (2006) Role of antigen-processing machinery in the in vitro resistance of squamous cell carcinoma of the head and neck cells to recognition by CTL. J Immunol 176:3402–3409

30.

Maccalli C, Rasul KI, Elawad M et al (2018) The role of cancer stem cells in the modulation of anti-tumor immune responses. Semin Cancer Biol 53:189–200

31.

Meir R, Shamalov K, Betzer O et al (2015) Nanomedicine for cancer immunotherapy: tracking cancer-specific T‑cells in vivo with gold nanoparticles and CT imaging. ACS Nano 9:6363–6372

32.

Mi Y, Smith CC, Yang F et al (2018) A dual immunotherapy nanoparticle improves T‑cell activation and cancer immunotherapy. Adv Mater 30:e1706098

33.

Moskovitz JM, Ferris RL (2018) Tumor immunology and immunotherapy for head and neck squamous cell carcinoma. J Dent Res 97:622–626

34.

Nikitina EY, Clark JI, Van Beynen J et al (2001) Dendritic cells transduced with full-length wild-type p53 generate antitumor cytotoxic T lymphocytes from peripheral blood of cancer patients. Clin Cancer Res 7:127–135

35.

Ning N, Pan Q, Zheng F et al (2012) Cancer stem cell vaccination confers significant antitumor immunity. Cancer Res 72:1853–1864

36.

O'Donnell JS, Long GV, Scolyer RA et al (2017) Resistance to PD1/PDL1 checkpoint inhibition. Cancer Treat Rev 52:71–81

37.

Ordikhani F, Uehara M, Kasinath V et al (2018) Targeting antigen-presenting cells by anti-PD‑1 nanoparticles augments antitumor immunity. JCI Insight 3(20):122700. https://doi.org/10.1172/jci.insight.122700

38.

Ou W, Thapa RK, Jiang L et al (2018) Regulatory T cell-targeted hybrid nanoparticles combined with immuno-checkpoint blockage for cancer immunotherapy. J Control Release 281:84–96

39.

Pellegatta S, Poliani PL, Corno D et al (2006) Neurospheres enriched in cancer stem-like cells are highly effective in eliciting a dendritic cell-mediated immune response against malignant gliomas. Cancer Res 66:10247–10252

40.

Qian X, Ma C, Nie X et al (2015) Biology and immunology of cancer stem(-like) cells in head and neck cancer. Crit Rev Oncol Hematol 95:337–345

41.

Qian X, Nie X, Wollenberg B et al (2019) Heterogeneity of head and neck squamous cell carcinoma stem cells. Adv Exp Med Biol 1139:23–40

42.

Qian X, Nie X, Yao W et al (2018) Reactive oxygen species in cancer stem cells of head and neck squamous cancer. Semin Cancer Biol 53:248–257. https://doi.org/10.1016/j.semcancer.2018.06.001

43.

Qureshi-Baig K, Ullmann P, Haan S et al (2017) Tumor-initiating cells: a criTIcal review of isolation approaches and new challenges in targeting strategies. Mol Cancer 16:40

44.

Schmid D, Park CG, Hartl CA et al (2017) T cell-targeting nanoparticles focus delivery of immunotherapy to improve antitumor immunity. Nat Commun 8:1747

45.

Schuler PJ, Harasymczuk M, Visus C et al (2014) Phase I dendritic cell p53 peptide vaccine for head and neck cancer. Clin Cancer Res 20:2433–2444

46.

Seiwert TY, Burtness B, Mehra R et al (2016) Safety and clinical activity of pembrolizumab for treatment of recurrent or metastatic squamous cell carcinoma of the head and neck (KEYNOTE-012): an open-label, multicentre, phase 1b trial. Lancet Oncol 17:956–965

47.

Shayan G, Srivastava R, Li J et al (2017) Adaptive resistance to anti-PD1 therapy by Tim‑3 upregulation is mediated by the PI3K-Akt pathway in head and neck cancer. Oncoimmunology 6:e1261779

48.

Siegler EL, Kim YJ, Chen X et al (2017) Combination cancer therapy using chimeric antigen receptor-engineered natural killer cells as drug carriers. Mol Ther 25:2607–2619

49.

Stephan MT, Moon JJ, Um SH et al (2010) Therapeutic cell engineering with surface-conjugated synthetic nanoparticles. Nat Med 16:1035–1041

50.

Swanson MS, Sinha UK (2015) Rationale for combined blockade of PD‑1 and CTLA‑4 in advanced head and neck squamous cell cancer-review of current data. Oral Oncol 51:12–15

51.

Visus C, Ito D, Amoscato A et al (2007) Identification of human aldehyde dehydrogenase 1 family member A1 as a novel CD8+ T‑cell-defined tumor antigen in squamous cell carcinoma of the head and neck. Cancer Res 67:10538–10545

52.

Visus C, Wang Y, Lozano-Leon A et al (2011) Targeting ALDH(bright) human carcinoma-initiating cells with ALDH1A1-specific CD8(+) T cells. Clin Cancer Res 17:6174–6184

53.

Xu Q, Liu G, Yuan X et al (2009) Antigen-specific T‑cell response from dendritic cell vaccination using cancer stem-like cell-associated antigens. Stem Cells 27:1734–1740

54.

Zandberg DP, Rollins S, Goloubeva O et al (2015) A phase I dose escalation trial of MAGE-A3- and HPV16-specific peptide immunomodulatory vaccines in patients with recurrent/metastatic (RM) squamous cell carcinoma of the head and neck (SCCHN). Cancer Immunol Immunother 64:367–379

55.

Zhang F, Stephan SB, Ene CI et al (2018) Nanoparticles that reshape the tumor milieu create a therapeutic window for effective T‑cell therapy in solid malignancies. Cancer Res 78:3718–3730

56.

Zheng F, Dang J, Zhang H et al (2018) Cancer stem cell vaccination with PD-L1 and CTLA‑4 blockades enhances the eradication of melanoma stem cells in a mouse tumor model. J Immunother 41:361–368

57.

Zhu M, Ding X, Zhao R et al (2018) Co-delivery of tumor antigen and dual toll-like receptor ligands into dendritic cell by silicon microparticle enables efficient immunotherapy against melanoma. J Control Release 272:72–82
Funding
This work was partially supported by the Medical and the Health Science Project of Zhejiang Province (2019KY327) and the National Natural Science Foundation of China (81702091) and Guangji Talents Foundation Award (E) of Zhejiang Cancer Hospital.
Ethics declarations
Conflict of interest
X. Qian, F. Leonard, Y. Wenhao, H. Sudhoff, T.K. Hoffmann, S. Ferrone, A.M. Kaufmann and A.E. Albers declare that they have no competing interests.
For this article no studies with human participants or animals were performed by any of the authors. All studies performed were in accordance with the ethical standards indicated in each case.
About this article
Cite this article
Qian, X., Leonard, F., Wenhao, Y. et al. Immunotherapeutics for head and neck squamous cell carcinoma stem cells. HNO 68, 94–99 (2020). https://doi.org/10.1007/s00106-020-00819-y
Keywords
Immunotherapy

Cancer stem cell

Cancer vaccine

Cancer nanomedicine

Nanotechnology
Schlüsselwörter
Immuntherapie

Krebsstammzelle

Tumorvakzine

Tumornanomedizin

Nanotechnologie