25/m mit erythematösen, verkrusteten, schmerzhaften Knoten im Bartbereich
Vorbereitung auf die Facharztprüfung: Folge 49
Fallschilderung für den Prüfungskandidaten
Ein 25-jähriger Patient leidet seit 2 Tagen an sich allmählich vergrößernden schmerzhaften Knoten an der rechten Wange. Er habe in der Vergangenheit bereits mehrfach ähnliche Beschwerden gehabt.
Klinik
Klinisch zeigen sich 3 follikulär gebundene, überwärmte, gerötete und druckempfindliche Knoten im Bartbereich an beiden Wangen sowie eine zervikale und submandibuläre Lymphadenopathie (Abb.
1
a, b). Die Körpertemperatur beträgt 37,8 °C. Der Allgemeinzustand ist gut.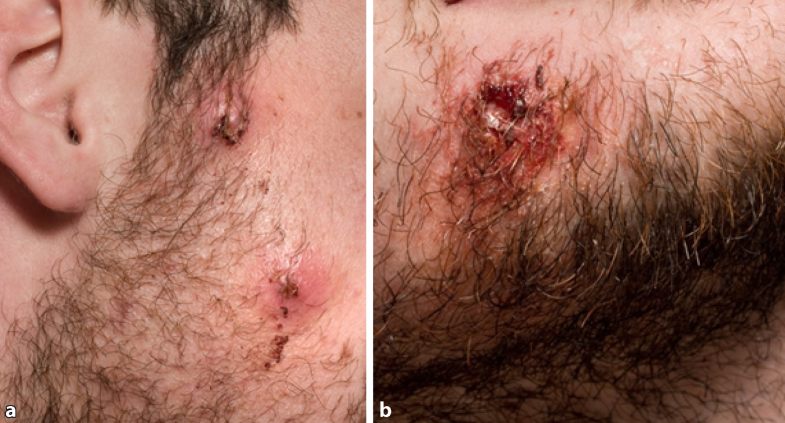 Schlüsselwörter
Staphylococcus aureus
Furunkel 
Abszess 
Pyodermie 
Multiresistente Erreger 
25-year-old male with erythematous, encrusted, painful nodules in the beard area
Preparation for the specialist examination: part 49
Notes
Einhaltung ethischer Richtlinien
Interessenkonflikt
L. Hellmich und M. Fabri geben an, dass kein Interessenkonflikt besteht.
Dieser Beitrag beinhaltet keine vom Autor durchgeführten Studien an Menschen oder Tieren. Für Bildmaterial oder anderweitige Angaben innerhalb des Manuskripts, über die Patienten zu identifizieren sind, liegt von ihnen und/oder ihren gesetzlichen Vertretern eine schriftliche Einwilligung vor.
The supplement containing this article is not sponsored by industry.
Copyright information
© Springer Medizin Verlag GmbH, ein Teil von Springer Nature 2019