58/m mit Blasen an den Handrücken und dunkel verfärbtem Urin
Vorbereitung auf die Facharztprüfung: Folge 37
Fallbeschreibung für den Prüfungskandidaten
Ein 58-jähriger Mann stellt sich mit Bläschen, Blasen und schlecht heilenden Wunden an den Handrücken vor.
Anamnese
Familienanamnese negativ

Steatosis hepatis

Hämochromatose

Hobbygärtner; verbringt viel Zeit im Freien

Drei bis 4 Flaschen Bier pro Tag
Klinische Untersuchung
An den Dorsalseiten der Hände Bläschen, pralle Bullae mit klarem bis hämorrhagischem Inhalt, Erosionen, Exkoriationen, hyper- und hypopigmentierte Narben sowie Milien (Abb.
1
). An der Stirn ebenfalls Erosionen, Exkoriationen und hyperpigmentierte Narben. Am Hals dorsal Pachydermie und ausgesprochene Faltenbildung der Haut im Sinne einer Cutis rhomboidalis nuchae (Abb.
2
). Aufgefallen sei ihm auch ein ungewöhnlich dunkler Urin.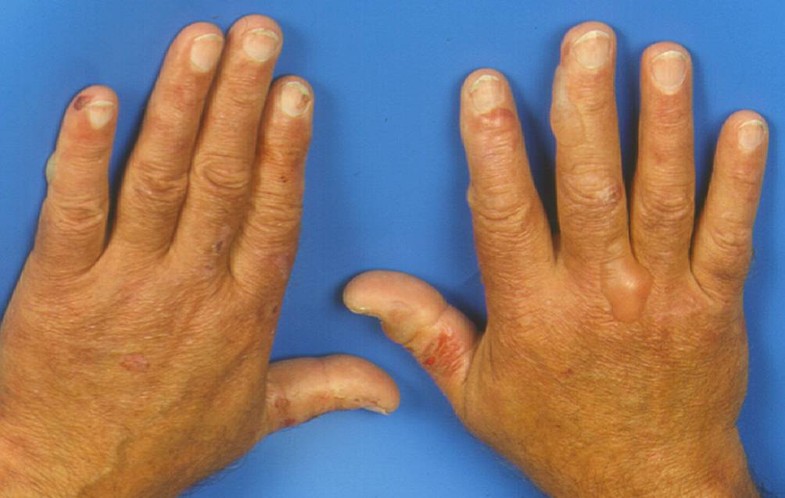 Schlüsselwörter
Häm-Biosynthese 
Photosensitivität 
Porphyria cutanea tarda 
Porphyrien 
Uroporphyrinogen-Decarboxylase 
58-year-old male with blistering on the back of the hands and dark urine
Preparation for the specialist examination: Part 37
Notes
Einhaltung ethischer Richtlinien
Interessenkonflikt
A.A. Albert und J. Frank geben an, dass kein Interessenkonflikt besteht.
Dieser Beitrag beinhaltet keine von den Autoren durchgeführten Studien an Menschen oder Tieren. Für Bildmaterial oder anderweitige Angaben innerhalb des Manuskripts, über die Patienten zu identifizieren sind, liegt von ihnen und/oder ihren gesetzlichen Vertretern eine schriftliche Einwilligung vor.
The supplement containing this article is not sponsored by industry.
Copyright information
© Springer Medizin Verlag GmbH, ein Teil von Springer Nature 2019