22/m mit rezidivierenden Schwellungen
Vorbereitung auf die Facharztprüfung: Folge 43
Fallschilderung für den Prüfungskandidaten
Ein 22-jähriger Mann stellt sich mit einer Lippenschwellung (Abb.
1
) vor und berichtet über seit einigen Jahren immer wieder auftretende Schwellungen im Gesichtsbereich und an den Extremitäten (Abb.
2
). Die Schwellungen träten etwa alle 2 Monate auf und entstünden in aller Regel spontan, gelegentlich wurde eine Triggerung durch Traumen oder mechanische Belastung beobachtet. In der Vergangenheit habe er wegen akut aufgetretener Schwellungen schon mehrfach Antihistaminika und Kortikosteroide in der Rettungsstelle erhalten, er habe aber nicht den Eindruck, dass diese Behandlung besonders wirksam wäre.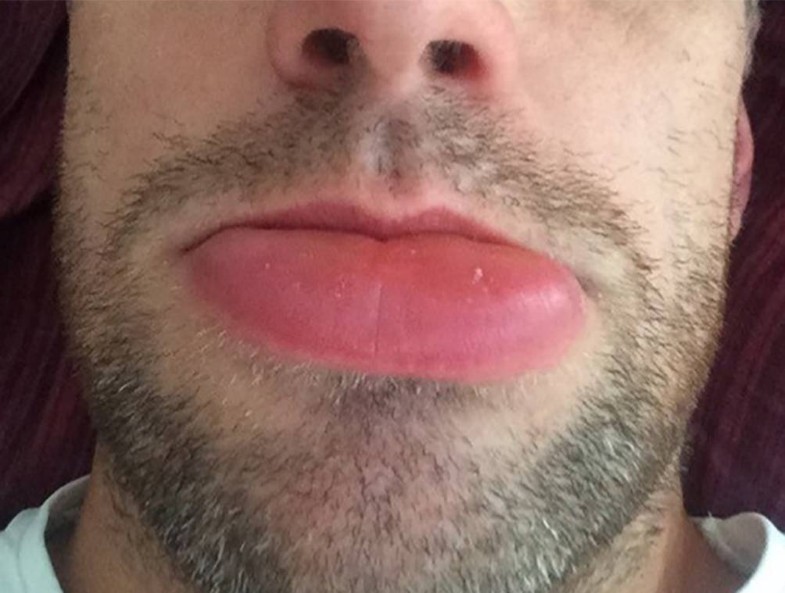 Schlüsselwörter
Angioödem 
Hereditär 
Urtikaria 
Bradykinin 
C1-Inhibitor 
22-year-old male with recurrent swellings
Preparation for the specialist examination: part 43
Notes
Einhaltung ethischer Richtlinien
Interessenkonflikt
T. Buttgereit gibt an, dass kein Interessenkonflikt besteht. M. Magerl gibt an, von Biocryst, CSL Behring, KalVista, Novartis, Pharming und Shire finanzielle und nichtfinanzielle Unterstützung erhalten zu haben.
Dieser Beitrag beinhaltet keine von den Autoren durchgeführten Studien an Menschen oder Tieren. Für Bildmaterial oder anderweitige Angaben innerhalb des Manuskripts, über die Patienten zu identifizieren sind, liegt von ihnen und/oder ihren gesetzlichen Vertretern eine schriftliche Einwilligung vor.
The supplement containing this article is not sponsored by industry.
Copyright information
© Springer Medizin Verlag GmbH, ein Teil von Springer Nature 2018