66/m mit lividem Gesichtserythem, Nagelfalzhyperkeratosen und Abgeschlagenheit
Vorbereitung auf die Facharztprüfung: Folge 40
Fallschilderung für den Prüfungskandidaten
Ein 66-jähriger Patient stellt sich mit seit ca. 2 Monaten bestehendem lividem Erythem des Gesichtes und der Oberschenkel (Abb.
1
) sowie der Brust vor. Zudem bestehen im Bereich der oberen Extremität mit Betonung beider Handrücken multiple erythematöse Papeln, die teilweise zu Plaques konfluieren. Ferner finden sich an beiden Händen periungual lokalisierte Erytheme sowie ausgeprägte Nagelfalzhyperkeratosen mit Hämorrhagien (Abb.
2
). Der Patient fühle sich seit einigen Wochen abgeschlagen und berichtet von einer körperlichen Leistungsminderung und Verschlechterung des Hautbefundes nach Sonnenlichtexposition.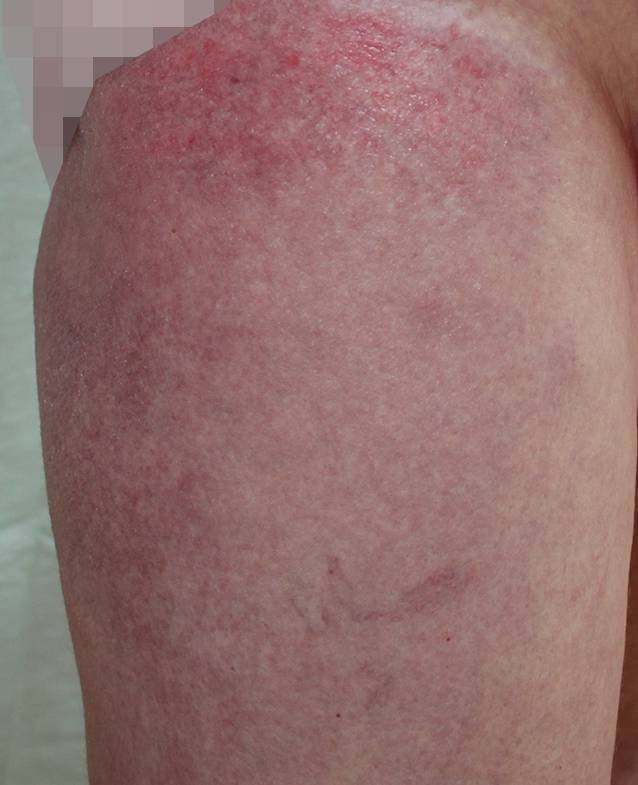 Schlüsselwörter
Dermatomyositis 
Lilakrankheit 
Gottron-Papeln 
Keinig-Zeichen 
Plaques 
66- year-old male with livid facial erythema, nail fold hyperkeratosis and fatigue
Preparation for the specialist examination: part 40
Notes
Einhaltung ethischer Richtlinien
Interessenkonflikt
M. Göbel gibt an, dass kein Interessenkonflikt besteht.
Dieser Beitrag beinhaltet keine vom Autor durchgeführten Studien an Menschen oder Tieren. Für Bildmaterial oder anderweitige Angaben innerhalb des Manuskripts, über die Patienten zu identifizieren sind, liegt von ihnen und/oder ihren gesetzlichen Vertretern eine schriftliche Einwilligung vor.
The supplement containing this article is not sponsored by industry.
Copyright information
© Springer Medizin Verlag GmbH, ein Teil von Springer Nature 2018