38/w mit rezidivierenden Kokardenläsionen an den Händen
Vorbereitung auf die Facharztprüfung: Folge 42
Fallschilderung für den Prüfungskandidaten
Eine 38-jährige Patienten stellt sich mit plötzlich aufgetretenen Erosionen der Unterlippe (Abb.
1
a) und der Mundschleimhaut sowie schmerzhaften Plaques an Handrücken (Abb.
1
b) und Handflächen vor. Der Allgemeinzustand ist reduziert.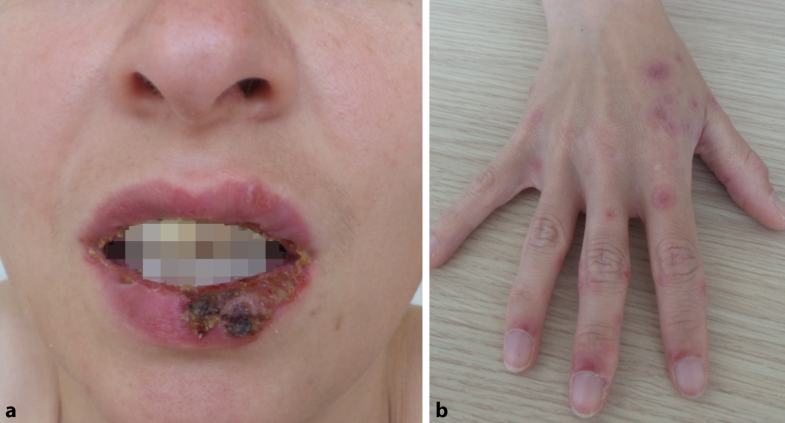 Schlüsselwörter
Erythema exsudativum multiforme 
Herpes 
Mykoplasma 
Stevens-Johnson-Syndrom 
Erosionen 
38-year-old female with recurrent target lesions on the hands
Preparation for the specialist examination: part 42
Notes
Einhaltung ethischer Richtlinien
Interessenkonflikt
M. Grosber gibt an, dass kein Interessenkonflikt besteht.
Dieser Beitrag beinhaltet keine vom Autor durchgeführten Studien an Menschen oder Tieren. Für Bildmaterial oder anderweitige Angaben innerhalb des Manuskripts, über die Patienten zu identifizieren sind, liegt von ihnen und/oder ihren gesetzlichen Vertretern eine schriftliche Einwilligung vor.
The supplement containing this article is not sponsored by industry.
Copyright information
© Springer Medizin Verlag GmbH, ein Teil von Springer Nature 2018