5/w mit bandförmigem okzipitalem Haarausfall ohne sichtbare Entzündungszeichen
Vorbereitung auf die Facharztprüfung: Folge 36
Fallschilderung für den Prüfungskandidaten
Ein 5‑jähriges Mädchen stellt sich in Begleitung der Mutter mit haarlosen Arealen okzipital vor, die sich beidseits temporal langsam bandförmig ausbreiten (Abb.
1
a). Die Herde bestünden wenige Wochen und seien größenprogredient. Das Mädchen hat ein Kaninchen und leidet an einer milden atopischen Dermatitis.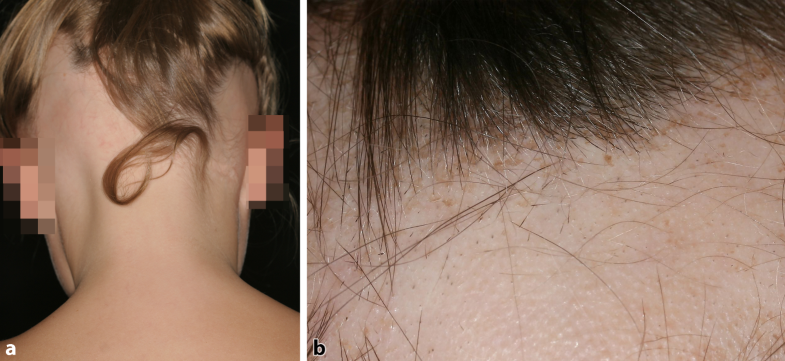 Schlüsselwörter
Alopecia areata 
Alopezie 
Trichotillomanie 
Loses Anagenhaar 
Autoimmunerkrankung 
5-year-old girl with band-like occipital hair loss without visible inflammation signs
Preparation for the specialist examination: part 36
Notes
Einhaltung ethischer Richtlinien
Interessenkonflikt
K. Hillmann und U. Blume-Peytavi geben an, dass kein Interessenkonflikt besteht.
Dieser Beitrag beinhaltet keine von den Autoren durchgeführten Studien an Menschen oder Tieren. Für Bildmaterial oder anderweitige Angaben innerhalb des Manuskripts, über die Patienten zu identifizieren sind, liegt von ihnen und/oder ihren gesetzlichen Vertretern eine schriftliche Einwilligung vor.
The supplement containing this article is not sponsored by industry.
Copyright information
© Springer Medizin Verlag GmbH, ein Teil von Springer Nature 2018