Rötlicher Knoten am Kapillitium eines jungen Mannes
Dermatoskopie – Fall des Monats
Anamnese
Ein 36-jähriger Patient stellte sich mit einem erstmals vor etwa 5 Jahren aufgefallenen Nodus an der Kopfhaut vor (Abb.
1
a). Er berichtete über eine geringe Größenprogredienz der Läsion innerhalb des letzten Jahres. Im Rahmen eines Friseurbesuches sei es zu einer leichten Blutung gekommen. Eine extern erfolgte Probebiopsie zeigte histologisch eine melanozytär differenzierte Spindelzellpopulation deren vollständige Exzision angeraten wurde. Es wurden keine relevanten Nebenerkrankungen angegeben, und die Medikamentenanamnese war leer.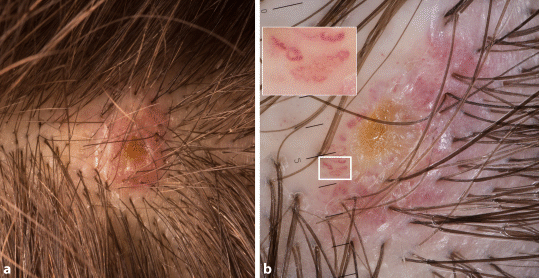 Reddish node on the scalp of a young man
Notes
Einhaltung ethischer Richtlinien
Interessenkonflikt
F. Toberer, H. Jaschinski, A. Enk und H.A. Haenssle geben an, dass kein Interessenkonflikt besteht.
Dieser Beitrag beinhaltet keine von den Autoren durchgeführten Studien an Menschen oder Tieren. Alle Patienten, die über Bildmaterial oder anderweitige Angaben innerhalb des Manuskripts zu identifizieren sind, haben hierzu ihre schriftliche Einwilligung gegeben.
Copyright information
© Springer Medizin Verlag GmbH, ein Teil von Springer Nature 2018