Zusammenfassung
Im Jahr 2019 fand in gewohnter Weise die Jahrestagung des wissenschaftlichen Arbeitskreises Geburtshilfliche Anästhesie der Deutschen Gesellschaft für Anästhesiologie und Intensivmedizin (DGAI) statt. Diskutiert wurden Notfallsituationen, wie die Herausforderung einer präklinischen Geburt oder das Erkennen und die Behandlung einer Fruchtwasserembolie. Daneben fanden Themen zur richtigen Behandlung einer Patientin mit bekannter Suchterkrankung großes Interesse sowie die Diskussion über die Frage, ab wann bei einer postpartalen Anämie transfundiert werden soll, und welche Risiken die zunehmende Prävalenz der Adipositas gerade in der Schwangerschaft mit sich bringt. Ein weiteres Hot topic stellten die Ausführungen zu Prävalenz und der differenzialdiagnostischen Abklärung neurologischer Komplikationen nach rückenmarknaher Anästhesie dar. Rund um das Thema Geburt wurden für jeden mit diesem Gebiet konfrontierten Anästhesisten spannende und praxisrelevante Themen referiert und diskutiert; die wesentlichen Aspekte werden im vorliegenden Beitrag zusammengefasst.
Abstract
In 2019 the annual conference of the scientific working group on obstetric anesthesiology of the German Society of Anesthesiology and Intensive Care Medicine (DGAI) took place in the usual manner. Emergency situations, such as the challenge of a preclinical birth or the recognition and treatment of an amniotic fluid embolism were discussed. In addition, topics on the correct treatment of a female patient with a known addictive disorder were of great interest as well as the discussion on the question when a transfusion should be performed in postpartum anemia and which risks accompany the increasing prevalence of obesity, especially during pregnancy. A further hot topic was the deliberation on the prevalence and differential diagnostic clarification of neurological complications after epidural anesthesia. In connection with the topic of birth, exciting and practice relevant topics for all anesthetists confronted with this field were presented and discussed. The essential aspects are summarized in this article.
This is a preview of subscription content, log in to check access.
Access options
Buy single article
Instant unlimited access to the full article PDF.
US$ 39.95
Price includes VAT for USA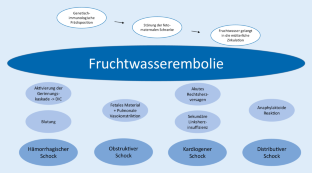 Literatur
1.

Annecke T, Geisenberger T, Kürzl R et al (2010) Algorithm-based coagulation management of catastrophic amniotic fluid embolism. Blood Coagul Fibrinolysis 21:95–100

2.

Aviram A, Hod M, Yogev Y (2011) Maternal obesity: implications for pregnancy outcome and long-term risks‑a link to maternal nutrition. Int J Gynaecol Obstet 115(Suppl 1):S6–S10

3.

Baer ET (2006) Post-dural puncture bacterial meningitis. Anesthesiology 105:381–393

4.

Bein B, Höcker J, Fudickar A, Scholz J (2009) Anaesthesia management of the obese patient. Anasthesiol Intensivmed Notfallmed Schmerzther 44:600–608 (quiz 610)

5.

Clark SL, Romero R, Dildy GA et al (2016) Proposed diagnostic criteria for the case definition of amniotic fluid embolism in research studies. Am J Obstet Gynecol 215:408–412

6.

Committee on Obstetric Practice (2017) Committee opinion no. 711: opioid use and opioid use disorder in pregnancy. Obstet Gynecol 130:e81–e94

7.

Dağ ZÖ, Dilbaz B (2015) Impact of obesity on infertility in women. J Turk Ger Gynecol Assoc 16:111–117

8.

Davies JM, Posner KL, Lee LA et al (2009) Liability associated with obstetric anesthesia: a closed claims analysis. Anesthesiology 110:131–139

9.

Eberhart LH, Morin AM, Kranke P et al (2002) Transient neurologic symptoms after spinal anesthesia. A quantitative systematic overview (meta-analysis) of randomized controlled studies. Anaesthesist 51:539–546

10.

Eckerdal P, Kollia N, Löfblad J et al (2016) Delineating the association between heavy postpartum haemorrhage and postpartum depression. PLoS ONE 11:e144274

11.

Gerbershagen HJ, Aduckathil S, van Wijck AJM et al (2013) Pain intensity on the first day after surgery: a prospective cohort study comparing 179 surgical procedures. Anesthesiology 118:934–944

12.

Horie S, Nomura K, Takenoshita S et al (2017) A relationship between a level of hemoglobin after delivery and exclusive breastfeeding initiation at a baby friendly hospital in Japan. Environ Health Prev Med 22:40

13.

Jenkins K, Baker AB (2003) Consent and anaesthetic risk. Anaesthesia 58:962–984

14.

Jones HE, Kaltenbach K, Heil SH et al (2010) Neonatal abstinence syndrome after methadone or buprenorphine exposure. N Engl J Med 363:2320–2331

15.

Jose A, Mahey R, Sharma JB et al (2019) Comparison of ferric Carboxymaltose and iron sucrose complex for treatment of iron deficiency anemia in pregnancy—randomised controlled trial. BMC Pregnancy Childbirth 19:54

16.

Kaufner L, Von Heymann C, Pistner H et al (2018) S3 Leitlinie Präoperative Anämie. https://www.awmf.org/uploads/tx_szleitlinien/001-024l_S3_Praeoperative-Anaemie_2018-04.pdf. Zugegriffen: 5. Sept. 2019

17.

Kerwat K, Schulz-Stübner S, Steinfeldt T et al (2014) S1-Leitlinie Hygieneempfehlungen für die Regionalanästhesie – Überarbeitete Handlungsempfehlung des AK Regionalanästhesie der Deutschen Gesellschaft für Anästhesiologie (DGAI) ("Die 10 Gebote"). https://www.awmf.org/uploads/tx_szleitlinien/001-014l_S1_Hygieneempfehlungen__RegionalAn%C3%A4sthesie_2014-11.pdf. Zugegriffen: 5. Sept. 2019

18.

Lee AJ, Ranasinghe JS, Chehade JM et al (2011) Ultrasound assessment of the vertebral level of the intercristal line in pregnancy. Anesth Analg 113:559–564

19.

LifeCycle Project-Maternal Obesity and Childhood Outcomes Study Group, Voerman E, Santos S et al (2019) Association of gestational weight gain with adverse maternal and infant outcomes. JAMA 321:1702–1715

20.

Loo CC, Dahlgren G, Irestedt L (2000) Neurological complications in obstetric regional anaesthesia. Int J Obstet Anesth 9:99–124

21.

Maeda A, Bateman BT, Clancy CR et al (2014) Opioid abuse and dependence during pregnancy: temporal trends and obstetrical outcomes. Anesthesiology 121:1158–1165

22.

Meyer M, Wagner K, Benvenuto A, Plante D, Howard D (2007) Intrapartum and postpartum analgesia for women maintained on methadone during pregnancy. Obstet Gynecol 110:261–266

23.

Milman N (2011) Postpartum anemia I: definition, prevalence, causes, and consequences. Ann Hematol 90:1247–1253

24.

Mitra S, Sinatra RS (2004) Perioperative management of acute pain in the opioid-dependent patient. Anesthesiology 101:212–227

25.

Muñoz M, Peña-Rosas JP, Robinson S et al (2018) Patient blood management in obstetrics: management of anaemia and haematinic deficiencies in pregnancy and in the post-partum period: NATA consensus statement. Transfus Med 28:22–39

26.

Patel S, Loveridge R (2015) Obstetric neuraxial drug administration errors: a quantitative and qualitative analytical review. Anesth Analg 121:1570–1577

27.

Pöpping DM, Zahn PK, Van Aken HK et al (2008) Effectiveness and safety of postoperative pain management: a survey of 18 925 consecutive patients between 1998 and 2006 (2nd revision): a database analysis of prospectively raised data. Br J Anaesth 101:832–840

28.

Poston L, Caleyachetty R, Cnattingius S et al (2016) Preconceptional and maternal obesity: epidemiology and health consequences. Lancet Diabetes Endocrinol 4:1025–1036

29.

Prick BW, Jansen AJG, Steegers EA et al (2014) Transfusion policy after severe postpartum haemorrhage: a randomised non-inferiority trial. BJOG 121:1005–1014

30.

Ross VH, Moore CH, Pan PH et al (2003) Reduced duration of intrathecal sufentanil analgesia in laboring cocaine users. Anesth Analg 97:1504–1508

31.

Ruppen W, Derry S, McQuay H, Moore RA (2006) Incidence of epidural hematoma, infection, and neurologic injury in obstetric patients with epidural analgesia/anesthesia. Anesthesiology 105:394–399

32.

Seaton S, Reeves M, McLean S (2007) Oxycodone as a component of multimodal analgesia for lactating mothers after Caesarean section: relationships between maternal plasma, breast milk. Aust N Z J Obstet Gynaecol 47:181–185

33.

Siddiq F, Chowfin A, Tight R et al (2004) Medical vs surgical management of spinal epidural abscess. Arch Intern Med 164:2409–2412

34.

Society for Maternal-Fetal Medicine (SMFM), Pacheco LD, Saade G et al (2016) Amniotic fluid embolism: diagnosis and management. Am J Obstet Gynecol 215:B16–24

35.

Standl T, Annecke T, Cascorbi I et al (2018) The nomenclature, definition and distinction of types of shock. Dtsch Arztebl Int 115:757–768

36.

Sultan P, Seligman K, Carvalho B (2016) Amniotic fluid embolism: update and review. Curr Opin Anaesthesiol 29:288–296

37.

Wasem S, Smith A, Roewer N, Kranke P (2009) Risk communication in anaesthesia consultations. Anasthesiol Intensivmed Notfallmed Schmerzther 44:216–220

38.

Waurick K, Riess H, Van Aken H et al (2014) S1-Leitlinie 001/005 Rückenmarksnahe Regionalanästhesien und Thrombembolieprophylaxe/antithrombotische Medikation. AWMF online 001/005. Stand 07/2014. https://www.awmf.org/uploads/tx_szleitlinien/001-005l_S1_R%C3%BCckenmarksnahe_Regionalan%C3%A4sthesie_Thromboembolieprophylaxe_2015-01-abgelaufen.pdf. Zugegriffen: 5. Sept. 2019

39.

Wong CA (2010) Nerve injuries after neuraxial anaesthesia and their medicolegal implications. Best Pract Res Clin Obstet Gynaecol 24:367–381

40.

Wong CA, Scavone BM, Dugan S et al (2003) Incidence of postpartum lumbosacral spine and lower extremity nerve injuries. Obstet Gynecol 101:279–288

41.

https://www.npeu.ox.ac.uk/mbrrace-uk/reports/confidential-enquiry-into-maternal-deaths. last access 3. Sept. 2019

42.

http://quag.de/quag/geburtenzahlen.htm. Download 5. Sept. 2019

43.

3rd National Audit Project (NAP3) (2009) National audit of major complications of central neuraxial block in the united kingdom. Report and findings
Ethics declarations
Interessenkonflikt
S. Brück, T. Annecke, D. Bremerich, C. Byhahn, D. Chappell, L. Kaufner, L. Schlösser und P. Kranke geben an, dass in Bezug auf die jeweils bearbeiteten Themen kein Interessenkonflikt besteht.
Für diesen Beitrag wurden von den Autoren keine Studien an Menschen oder Tieren durchgeführt. Für die aufgeführten Studien gelten die jeweils dort angegebenen ethischen Richtlinien.
About this article
Cite this article
Brück, S., Annecke, T., Bremerich, D. et al. "Hot topics" aus der geburtshilflichen Anästhesie. Anaesthesist 69, 11–19 (2020). https://doi.org/10.1007/s00101-019-00718-0
Schlüsselwörter
Komplikationen nach neuraxialer Anästhesie

Außerklinische Geburt

Fruchtwasserembolie

Substanzabhängigkeit

Anämie

Neurologische Störungen

Adipositas
Keywords
Complication of neuraxial anaesthesia

Birth out-of-hospital

Amniotic fluid embolism

Substance addiction

Anemia

Neurological disorders

Obesity