Abstract
Background
Preoperative radiotherapy (PRT) or radiochemotherapy (PRCT) is used in different tumor sites. The aim of the study was to examine the long-term quality of life (QoL) of localized / locally advanced breast cancer patients treated with PRT/PRCT followed by breast-conserving surgery (BCS) or mastectomy (ME).
Methods
Assessment of QoL was done using EORTC QLQ-C30 questionnaires for overall QoL and EORTC QLQ-BR23 for breast-specific QoL. The summary scores were categorized into 4 distinct groups to classify the results. Furthermore, a comparative analysis was performed between the study cohort and a previously published reference cohort of healthy adults. We assessed the impact of different clinical, prognostic, and treatment-related factors on selected items from C30 and BR23 using a dependence analysis.
Results
Out of 315 patients treated with PRT/PCRT in the years 1991 to 1999, 203 patients were alive at long-term follow-up after a mean of 17.7 years (range 14–21). 37 patients were lost to follow-up and 61 patients refused to be contacted, leading to 105 patients (64 patients after BCS and 41 after ME) being willing to undergo further clinical assessment regarding QoL outcome. Overall, QoL (QLQ-C30) was rated "excellent" or "good" in 85% (mean value) of all patients (BCS 83%, ME 88%). Comparative analysis between the study cohort and a published healthy control group revealed significantly better global health status and physical and role functioning scores in the PRT/PRCT group. The analysis demonstrates no differences in nausea/vomiting, dyspnea, insomnia, constipation, or financial difficulties. According to the dependence analysis, global QoL was associated with age, operation type and ME reconstruction.
Conclusion
We did not detect any inferiority of PRT/PRCT compared to a healthy reference group with no hints of a detrimental long-term effect on general and breast-specific quality of life.
This is a preview of subscription content, log in to check access.
Access options
Buy single article
Instant unlimited access to the full article PDF.
US$ 39.95
Price includes VAT for USA
Subscribe to journal
Immediate online access to all issues from 2019. Subscription will auto renew annually.
US$ 199
This is the net price. Taxes to be calculated in checkout.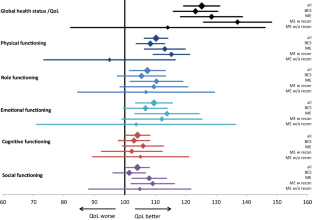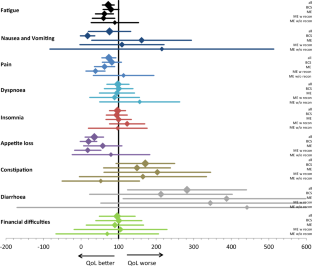 Abbreviations
BCS:

Breast-conserving surgery

BCT:

Breast-conserving treatment

BMI:

Body mass index

CI:

Confidence interval

DFS:

Disease-free survival

FU:

Follow-up

HR:

Hazard ratio

ME:

Mastectomy

n.v.:

No value

n:

Number

OS:

Overall survival

pCR:

Pathological complete response

PCRT:

Preoperative radiochemotherapy

QLQ:

Quality of life questionnaire

QoL:

Quality of life

RR:

Risk ratio

RT:

Radiotherapy

SAS:

Statistical analysis system

w:

With

w/o:

Without
References
1.

Budach W, Bolke E, Kammers K, Gerber PA, Nestle-Kramling C, Matuschek C (2015) Adjuvant radiation therapy of regional lymph nodes in breast cancer—a meta-analysis of randomized trials—an update. Radiat Oncol 10:258

2.

Budach W, Kammers K, Boelke E, Matuschek C (2013) Adjuvant radiotherapy of regional lymph nodes in breast cancer—A meta-analysis of randomized trials. Radiat Oncol 8:267

3.

Budach W, Bolke E, Matuschek C (2015) Hypofractionated radiotherapy as adjuvant treatment in early breast cancer. A review and meta-analysis of randomized controlled trials. Breast Care 10:240–245

4.

Fokas E, Conradi L, Weiss C et al (2013) Preoperative chemoradiation therapy with capecitabine/oxaliplatin and cetuximab in rectal cancer: long-term results of a prospective phase 1/2 study. Int J Radiat Oncol Biol Phys 87:992–999

5.

Nestle-Kramling C, Bolke E, Budach W, Andree C (2016) Breast reconstruction after neoadjuvant radio chemotherapy: Review and personal technique IDEAL concept REV-EJMR-D-15-00268. Eur J Med Res 21:24

6.

Cocquyt VF, Blondeel PN, Depypere HT et al (2003) Better cosmetic results and comparable quality of life after skin-sparing mastectomy and immediate autologous breast reconstruction compared to breast conservative treatment. Br J Plast Surg 56:462–470

7.

Skinner KA, Dunnington G, Silberman H, Florentine B, Spicer D, Formenti SC (1997) Preoperative 5‑fluorouracil and radiation therapy for locally advanced breast cancer. Am J Surg 174:705–707 (discussion 7–8)

8.

Bollet MA, Belin L, Reyal F et al (2012) Preoperative radio-chemotherapy in early breast cancer patients: long-term results of a phase II trial. Radiother Oncol 102:82–88

9.

Calitchi E, Kirova YM, Otmezguine Y, Feuilhade F, Piedbois Y, Le Bourgeois JP (2001) Long-term results of neoadjuvant radiation therapy for breast cancer. Int J Cancer 96:253–259

10.

Riet FG, Fayard F, Arriagada R et al (2017) Preoperative radiotherapy in breast cancer patients: 32 years of follow-up. Eur J Cancer 76:45–51

11.

Woodward WA, Fang P, Arriaga L et al (2017) A phase 2 study of capecitabine and concomitant radiation in women with advanced breast cancer. Int J Radiat Oncol Biol Phys 99:777–783

12.

Brackstone M, Palma D, Tuck AB et al (2017) Concurrent neoadjuvant chemotherapy and radiation therapy in locally advanced breast cancer. Int J Radiat Oncol Biol Phys 99:769–776

13.

Coelho RC, Da Silva FML, Do Carmo IML, Bonaccorsi BV, Hahn SM, Faroni LD (2017) Is there a role for salvage radiotherapy in locally advanced breast cancer refractory to neoadjuvant chemotherapy? Breast 31:192–196

14.

Rutqvist LE, Pettersson D, Johansson H (1993) Adjuvant radiation therapy versus surgery alone in operable breast cancer: long-term follow-up of a randomized clinical trial. Radiother Oncol 26:104–110

15.

Wallgren A, Arner O, Bergström J et al (1986) Radiation therapy in operable breast cancer: results from the Stockholm trial on adjuvant radiotherapy. Int J Radiat Oncol Biol Phys 12:533–537

16.

Masuda N, Lee SJ, Ohtani S et al (2017) Adjuvant capecitabine for breast cancer after preoperative chemotherapy. N Engl J Med 376:2147–2159

17.

von Minckwitz G, Huang CS, Mano MS et al (2019) Trastuzumab emtansine for residual invasive HER2-positive breast cancer. N Engl J Med 380:617–628

18.

Krug D, Baumann R, Budach W et al (2018) Individualization of post-mastectomy radiotherapy and regional nodal irradiation based on treatment response after neoadjuvant chemotherapy for breast cancer. Strahlenther Onkol 194:607–618

19.

Krug D, Baumann R, Budach W et al (2018) Neoadjuvant chemotherapy for breast cancer—background for the indication of locoregional treatment. Strahlenther Onkol 194:797–805

20.

Corradini S, Krug D, Meattini I et al (2019) Preoperative radiotherapy: a paradigm shift in the treatment of breast cancer? A review of literature. Crit Rev Oncol Hematol 141:102–111

21.

Pazos M, Corradini S, Dian D et al (2017) Neoadjuvant radiotherapy followed by mastectomy and immediate breast reconstruction: an alternative treatment option for locally advanced breast cancer. Strahlenther Onkol 193:324–331

22.

Jagsi R, Li Y, Morrow M et al (2015) Patient-reported quality of life and satisfaction with cosmetic outcomes after breast conservation and mastectomy with and without reconstruction: results of a survey of breast cancer survivors. Ann Surg 261:1198–1206

23.

Ruvalcaba-Limon E, Robles-Vidal C, Poitevin-Chacon A, Chavez-Macgregor M, Gamboa-Vignolle C, Vilar-Compte D (2006) Complications after breast cancer surgery in patients treated with concomitant preoperative chemoradiation: a case-control analysis. Breast Cancer Res Treat 95:147–152

24.

Matuschek C, Nestle-Kraemling C, Haussmann J, Bölke E, Wollandt S, Speer V, Djiepmo Njanang FJ, Tamaskovics B, Gerber PA, Orth K, Ruckhaeberle E, Fehm T, Corradini S, Lammering G, Mohrmann S, Audretsch W, Roth S, Kammers K, Budach W (2019) Long-term cosmetic outcome after preoperative radio-/chemotherapy in locally advanced breast cancer patients. Strahlenther Onkol 195(7):615–628. https://doi.org/10.1007/s00066-019-01473-2

25.

Musoro ZJ, Hamel JF, Ediebah DE et al (2018) Establishing anchor-based minimally important differences (MID) with the EORTC quality-of-life measures: a meta-analysis protocol. Bmj Open 8:e19117

26.

Roth SL, Audretsch W, Bojar H, Lang I, Willers R, Budach W (2010) Retrospective study of neoadjuvant versus adjuvant radiochemotherapy in locally advanced noninflammatory breast cancer: survival advantage in cT2 category by neoadjuvant radiochemotherapy. Strahlenther Onkol 186:299–306

27.

Matuschek C, Bolke E, Roth SL et al (2012) Long-term outcome after neoadjuvant radiochemotherapy in locally advanced noninflammatory breast cancer and predictive factors for a pathologic complete remission: results of a multivariate analysis. Strahlenther Onkol 188:777–781

28.

Schwarz R, Hinz A (2001) Reference data for the quality of life questionnaire EORTC QLQ-C30 in the general German population. Eur J Cancer 37:1345–1351

29.

Early Breast Cancer Trialists' Collaborative G. (2015) Aromatase inhibitors versus tamoxifen in early breast cancer: patient-level meta-analysis of the randomised trials. Lancet 386:1341–1352

30.

Poortmans PM, Struikmans H, Bartelink H (2015) Regional Nodal Irradiation in Early-Stage Breast Cancer. N Engl J Med 373:1879–1880

31.

Whelan TJ, Olivotto IA, Levine MN (2015) Regional Nodal Irradiation in Early-Stage Breast Cancer. N Engl J Med 373:1878–1879

32.

Engel J, Kerr J, Schlesinger-Raab A, Sauer H, Holzel D (2004) Quality of life following breast-conserving therapy or mastectomy: results of a 5-year prospective study. Breast J 10:223–231

33.

Munshi A, Dutta D, Budrukkar A et al (2012) Impact of adjuvant radiation therapy photon energy on quality of life after breast conservation therapy: linear accelerator versus the cobalt machine. J Cancer Res Ther 8:361–366

34.

Dujmovic A, Marcinko D, Bulic K, Kisic H, Dudukovic M, Mijatovic D (2017) Quality of life and depression among female patients undergoing surgical treatment for breast cancer: A prospective study. Psychiatr Danub 29:345–350

35.

Vartanian JG, Kowalski LP (2009) Acceptance of major surgical procedures and quality of life among long-term survivors of advanced head and neck cancer. Arch Otolaryngol Head Neck Surg 135:376–379

36.

Balk EM, Gazula A, Markozannes G et al (2019) Psychometric Properties of Functional, Ambulatory, and Quality of Life Instruments in Lower Limb Amputees: a Systematic Review. Arch Phys Med Rehabil 100(12):2354–2370

37.

Bantema-Joppe EJ, de Bock GH, Woltman-van Iersel M et al (2015) The impact of age on changes in quality of life among breast cancer survivors treated with breast-conserving surgery and radiotherapy. Br J Cancer 112:636–643

38.

Hsu T, Ennis M, Hood N, Graham M, Goodwin PJ (2013) Quality of life in long-term breast cancer survivors. J Clin Oncol 31:3540–3548
Ethics declarations
Conflict of interest
J. Haussmann, C. Nestle-Kraemling, E. Bölke, S. Wollandt, V. Speer, F.‑J. Djiepmo Njanang, B. Tamaskovics, P.A. Gerber, K. Orth, E. Ruckhaeberle, T. Fehm, S. Corradini, G. Lammering, S. Mohrmann, W. Audretsch, K. Maas, S. Roth, K. Kammers, W. Budach, and C. Matuschek declare that they have no competing interests.
Ethical standards
There was no ethics approval necessary, because in this meta-analysis, we were pulling numbers from the published manuscripts and pooling results. The study was approved by the local ethics committee (no.: 4049 and 4070).
Additional information
The authors Jan Haussmann and Carolin Nestle-Kraemling contributed equally to the manuscript.
The work is a part of the thesis of SW and VS.
Caption Electronic Supplementary Material
About this article
Cite this article
Haussmann, J., Nestle-Kraemling, C., Bölke, E. et al. Long-term quality of life after preoperative radiochemotherapy in patients with localized and locally advanced breast cancer. Strahlenther Onkol (2020) doi:10.1007/s00066-019-01557-z
Received:

Accepted:

Published:
Keywords
Neoadjuvant radiochemotherapy

Cosmetic outcome

Questionnaire

Restrospective study

Evaluation