Abstract
Background and purpose
Radiation necrosis is a possible adverse event after cranial radiation therapy and can cause severe symptoms, such as an increased intracranial pressure or neurological deterioration. The vascular endothelial growth factor (VEGF) inhibitor bevacizumab (BEV) has been shown to be a feasible therapeutic option for symptomatic radiation necrosis, either when traditional antiedematous steroid treatment fails, or as an alternative to steroid treatment. However, to the best of our knowledge, only one randomized study with a rather small cohort exists to prove a beneficial effect in this setting. Therefore, further real-life data are needed. This retrospective monocentric case study evaluates patients who received BEV due to radiation necrosis, with a specific focus on the respective clinical course.
Methods
Using the internal database for pharmaceutical products, all patients who received BEV in our department were identified. Only patients who received BEV as symptomatic treatment for radiation necrosis were included. Patient characteristics, symptoms before, during, and after treatment, and the use of dexamethasone were evaluated using medical reports and systematic internal documentation. The symptoms were graded using CTCAE version 5.0 for general neurological symptoms. Symptoms were graded directly before each cycle and after the treatment (approximately 6 weeks). Additionally, the daily steroid dose was collected at these timepoints. Patients who either improved in symptoms, received less dexamethasone after treatment, or both were considered to have a benefit from the treatment.
Results
Twenty-one patients who received BEV due to radiation necrosis were identified. For 10 patients (47.6%) symptoms improved and 11 patients (52.4%) remained clinically stable during the treatment. In 14 patients (66.7%) the dexamethasone dose could be reduced during therapy, 5 patients (23.8%) received the same dose of dexamethasone before and after the treatment, and 2 patients (9.5%) received a higher dose at the end of the treatment. According to this analysis, overall, 19 patients (90.5%) benefited from the treatment with BEV. No severe adverse effects were reported.
Conclusion
BEV might be an effective and safe therapeutic option for patients with radiation necrosis as a complication after cranial radiation therapy. Patients seem to benefit from this treatment by improving symptomatically or through reduction of dexamethasone.
This is a preview of subscription content, log in to check access.
Access options
Buy single article
Instant unlimited access to the full article PDF.
US$ 39.95
Price includes VAT for USA
Subscribe to journal
Immediate online access to all issues from 2019. Subscription will auto renew annually.
US$ 199
This is the net price. Taxes to be calculated in checkout.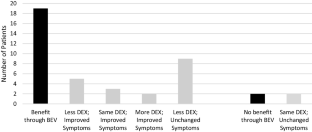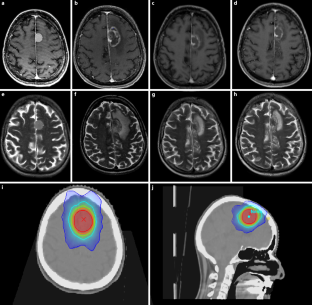 References
1.

Marks JF, Baglan RJ, Prassad SC, Blank WF (1981) Cerebral radionecrosis: incidence and risk in relation to dose, time, fractionation and volume. Int J Radiat Oncol Biol Phys. 7(2):243–252. https://doi.org/10.1016/0360-3016(81)90443-0

2.

Ruben JD, Dally M, Bailey M, Smith R, McLean CA, Fedele P (2006) Cerebral radiation necrosis: incidence, outcomes, and risk factors with emphasis on radiation parameters and chemotherapy. Int J Radiat Oncol Biol Phys. 65(2):499-508. https://doi.org/10.1016/j.ijrobp.2005.12.002

3.

Delishaj D, Ursino S, Pasqualetti F, Cristaudo A, Cosottini M, Fabrini MG, Paiar F (2017) Bevacizumab for the treatment of radiation-induced cerebral necrosis: a systematic review of the literature. J Clin Med Res 9(4):273–280. https://doi.org/10.14740/jocmr2936e

4.

Giglio P, Gilbert MR (2003) Cerebral radiation necrosis. Neurologist 9(4):180-188. https://doi.org/10.1097/01.nrl.0000080951.78533.c4

5.

Gonzalez J, Kumar AJ, Conrad CA, Levin VA (2007) Effect of bevacizumab on radiation necrosis of the brain. Int J Radiat Oncol Biol Phys 67(2):323–326. https://doi.org/10.1016/j.ijrobp.2006.10.010

6.

Kim JH, Chung YG, Kim CY, Kim HK, Lee HK (2004) Upregulation of VEGF and FGF2 in normal rat brain after experimental intraoperative radiation therapy. J Korean Med Sci 19(6):879–886. https://doi.org/10.3346/jkms.2004.19.6.879

7.

Sarin R, Murthy V (2003) Medical decompressive therapy for primary and metastatic intracranial tumours. Lancet Neurol 2(6):357–365. https://doi.org/10.1016/S1474-4422(03)00410-1

8.

McPherson CM, Warnick RE (2004) Results of contemporary surgical management of radiation necrosis using frameless stereotaxis and intraoperative magnetic resonance imaging. J Neurooncol 68(1):41–47. https://doi.org/10.1023/b:neon.0000024744.16031.e9

9.

Levin VA, Bidaut L, Hou P, Kumar AJ, Wefel JS, Bekele BN, Grewal J, Prabhu S, Loghin M, Gilbert MR, Jackson EF (2011) Randomized double-blind placebo-controlled trial of bevacizumab therapy for radiation necrosis of the central nervous system. Int J Radiat Oncol Biol Phys 79(5):1487–1495. https://doi.org/10.1016/j.ijrobp.2009.12.061

10.

Zhuang H, Yuan X, Yuan Z, Wang P (2017) Indication of Bevacizumab for cerebral radiation necrosis. Recent Pat Anticancer Drug Discov 12(3):272–277. https://doi.org/10.2174/1574892812666170425124430

11.

Galldiks N, Langen KJ, Albert NL, Chamberlain M, Soffietti R, Kim MM, Law I, Le Rhun E, Chang S, Schwarting J, Combs SE, Preusser M, Forsyth P, Pope W, Weller M, Tonn JC (2019) PET imaging in patients with brain metastasis – report of the RANO/PET group. Neuro-Oncology 21(5):585–595. https://doi.org/10.1093/neuonc/noz003

12.

de Wit MC, Eijkenboom W, Sillevis Smitt PAE, van den Bent MJ (2004) Immediate post-radiotherapy changes in malignant glioma can mimic tumor progression. Neurology 63(3):535–537. https://doi.org/10.1212/01.wnl.0000133398.11870.9a

13.

Kohutek ZA, Yamada Y, Chan TA, Brennan CW, Tabar V, Gutin PH, Yang TJ, Rosenblum MK, Ballangrud A, Young RJ, Zhang Z, Beal K (2015) Long-term risk of radionecrosis and imaging changes after stereotactic radiosurgery for brain metastases. J Neurooncol 125(1):149–156. https://doi.org/10.1007/s11060-015-1881-3

14.

Sadraei NH, Dahiya S, Chao ST, Murphy ES, Osei-Boateng K, Xie H, Suh JH, Peereboom DM, Stevens GHJ, Ahluwalia MS (2015) Treatment of cerebral radiation necrosis with bevacizumab: the Cleveland clinic experience. Am J Clin Oncol 38(3):304–310. https://doi.org/10.1097/COC.0b013e31829c3139

15.

Liu AK, Macy ME, Foreman NK (2009) Bevacizumab as therapy for radiation necrosis in four children with pontine gliomas. Int J Radiat Oncol Biol Phys 75(4):1148–1154. https://doi.org/10.1016/j.ijrobp.2008.12.032

16.

Matuschek C, Bolke E, Nawatny J, Hoffmann TK, Peiper M, Orth K, Gerber PA, Rusnak E, Lammering G, Budach W (2011) Bevacizumab as a treatment option for radiation-induced cerebral necrosis. Strahlenther Onkol 187(2):135–139. https://doi.org/10.1007/s00066-010-2184-4

17.

Furuse M, Nonoguchi N, Kuroiwa T, Miyamoto S, Arakawa Y, Shinoda J, Miwa K, Iuchi T, Tsuboi K, Houkin K, Terasaka S, Tabei Y, Nakamura H, Nagane M, Sugiyama K, Terasaki M, Abe T, Narita Y, Saito N, Mukasa A, Ogasawara K, Beppu T, Kumabe T, Nariai T, Tsuyuguchi N, Nakatani E, Kurisu S, Nakagawa Y, Miyatake SI (2016) A prospective, multicentre, single-arm clinical trial of bevacizumab for patients with surgically untreatable, symptomatic brain radiation necrosis. Neurooncol Pract. 3(4):272–280. https://doi.org/10.1093/nop/npv064

18.

Duan C, Perez-Torres CJ, Yuan L, Engelbach JA, Beeman SC, Tsien CI, Rich KM, Schmidt RE, Ackerman JJH, Garbow JR (2017) Can anti-vascular endothelial growth factor antibody reverse radiation necrosis? A preclinical investigation. J Neurooncol 133(1):9–16. https://doi.org/10.1007/s11060-017-2410-3

19.

Zhuang H, Yuan X, Zheng Y, Li X, Chang JY, Wang J, Wang X, Yuan Z, Wang P (2016) A study on the evaluation method and recent clinical efficacy of bevacizumab on the treatment of radiation cerebral necrosis. Sci Rep. https://doi.org/10.1038/srep24364

20.

Flieger M, Ganswindt U, Schwarz SB, Kreth FW, Tonn JC, la Fougere C, Ertl L, Linn J, Herrlinger U, Belka C, Niyazi M (2014) Re-irradiation and bevacizumab in recurrent high-grade glioma: an effective treatment option. J Neurooncol 117(2):337–345. https://doi.org/10.1007/s11060-014-1394-5

21.

Schnell O, Thorsteinsdottir J, Fleischmann DF, Lenski M, Abenhardt W, Giese A, Tonn JC, Belka C, Kreth FW, Niyazi M (2016) Re-irradiation strategies in combination with bevacizumab for recurrent malignant glioma. J Neurooncol 130(3):591–599. https://doi.org/10.1007/s11060-016-2267-x

22.

Gutin PH, Iwamoto FM, Beal K, Mohile NA, Karimi S, Hou BL, Lymberis S, Yamada Y, Chang J, Abrey LE (2009) Safety and efficacy of bevacizumab with hypofractionated stereotactic irradiation for recurrent malignant gliomas. Int J Radiat Oncol Biol Phys 75(1):156–163. https://doi.org/10.1016/j.ijrobp.2008.10.043

23.

Kozin SV, Boucher Y, Hicklin DJ, Bohlen P, Jain RK, Suit HD (2001) Vascular endothelial growth factor receptor-2-blocking antibody potentiates radiation-induced long-term control of human tumor xenografts. Cancer Res 61(1):39–44

24.

Chinot OL, Wick W, Mason W, Henriksson R, Saran F, Nishikawa R, Carpentier AF, Hoang-Xuan K, Kavan P, Cernea D, Brandes AA, Hilton M, Abrey L, Cloughesy T (2014) Bevacizumab plus radiotherapy-temozolomide for newly diagnosed glioblastoma. N Engl J Med 370(8):709–722. https://doi.org/10.1056/NEJMoa1308345

25.

Pitter KL, Tamagno I, Alikhanyan K, Hosni-Ahmed A, Pattwell SS, Donnola S, Dai C, Ozawa T, Chang M, Chan TA, Beal K, Bishop AJ, Barker CA, Jones TS, Hentschel B, Gorlia T, Schlegel U, Stupp R, Weller M, Holland EC, Hambardzumyan D (2016) Corticosteroids compromise survival in glioblastoma. Brain 139(Pt 5):1458–1471. https://doi.org/10.1093/brain/aww046
Ethics declarations
Conflict of interest
R. Bodensohn, I. Hadi, D.F. Fleischmann, S. Corradini, N. Thon, J. Rauch, C. Belka, and M. Niyazi declare that they have no competing interests.
Ethical standards
All procedures performed in studies involving human participants or on human tissue were in accordance with the ethical standards of the institutional and/or national research committee and with the 1975 Helsinki declaration and its later amendments or comparable ethical standards. Informed consent was obtained from all individual participants included in the study.
About this article
Cite this article
Bodensohn, R., Hadi, I., Fleischmann, D.F. et al. Bevacizumab as a treatment option for radiation necrosis after cranial radiation therapy: a retrospective monocentric analysis. Strahlenther Onkol 196, 70–76 (2020) doi:10.1007/s00066-019-01521-x
Received:

Accepted:

Published:

Issue Date:
Keywords
Stereotactic radiosurgery

High-grade glioma

Antiedematous treatment

Vascular endothelial growth factor

Brain metastases