Zusammenfassung
Operationsziel
Anatomische Reposition und osteosynthetische Rekonstruktion von komplexen Talusfrakturen (Hawkins Typ III und IV; Marti Typ III und IV) über einen medialen Zugang.
Indikationen
Dislozierte Talusfrakturen (Hawkins Typ III und IV; Marti Typ III und IV) mit der Notwendigkeit einer Innenknöchelosteotomie oder der gleichzeitigen Versorgung einer Innenknöchelfraktur.
Kontraindikationen
Fehlende Operationsfähigkeit, schwere Weichteilverletzungen im medialen Zugangsgebiet, infizierte Weichteile.
Operationstechnik
Medialer bogenförmiger ("arch-shaped") Zugang von ca. 12 cm Länge über dem Innenknöchel unter Ausnutzung einer gleichzeitig vorliegenden Innenknöchelfraktur oder über eine zusätzliche Innenknöchelosteotomie. Darstellung und Schonung der Endäste der V. saphena magna und des N. saphenus. Schonung der Blutversorgung im Bereich des medialen Talus und im Sinus tarsi. Reposition der Talusgelenkflächen und der anatomischen Achsen entsprechend der präoperativen Planung anhand von nativradiologischer und computertomographischer Bildgebung. Osteosynthese frakturangepasst mittels Kirschner-Drähten, konventionellen Schrauben, Lochschrauben, Doppelgewindeschrauben, resorbierbaren Stiften, Magnesiumschrauben, Kleinfragmentplatten.
Weiterbehandlung
Bei stabiler Osteosynthese sofortige Übungsstabilität des oberen und unteren Sprunggelenks mit maximaler Teilbelastung von 20 kg für 10–12 Wochen. Unterschenkelcast oder Orthese für 6 Wochen.
Ergebnisse
In den letzten 5 Jahren wurden 11 Patienten mit entweder Typ III und IV nach der Hawkins-Klassifikation oder Typ III und IV nach der Marti-Klassifikation mit dem "arch-shaped" Zugang operativ versorgt. In keinem Fall kam es zu Weichteilproblemen im Zugangsgebiet. Klinisch und radiologisch wurden 7 Patienten nach durchschnittlich 2 Jahren nachuntersucht. Zur Nachuntersuchung betrug der mittlere AOFAS (American Orthopaedic Foot & Ankle Society) Ankle/Hindfoot-Score 73. Eine avaskuläre Nekrose (AVN) trat in 3 Fällen auf (43 %). Hier handelte es sich um partielle Nekrosen von weniger als einem Drittel des Taluskörpers mit zum Untersuchungszeitpunkt asymptomatischen Verlauf. Bei 4 Patienten (57 %) kam es innerhalb von 2 Jahren zu radiologischen Zeichen einer Arthrose, wobei hier in 2 Fällen (29 %) eine Arthrodese des oberen Sprunggelenks durchgeführt wurde.
Abstract
Objective
Anatomical reduction and fixation of complex talar fractures (Hawkins type III and IV, Marti type III and IV) using a medial approach.
Indications
Displaced talar fractures (Hawkins type III and IV, Marti type III and IV) with the need for a medial malleolar osteotomy or the simultaneous treatment of a medial malleolus fracture.
Contraindications
High perioperative risk, severe soft tissue injuries in the medial approach area, infected soft tissues.
Surgical technique
Medial arch-shaped approach about 12 cm in length over the medial malleolus using a simultaneous medial malleolus fracture or via an additional medial malleolar osteotomy. Dissection and retraction of the terminal branches of the saphenous vein and the saphenous nerve. Protection of the blood supply in the area of the medial talus and in the sinus tarsi. Reduction of the talar joint surfaces and reconstruction of the anatomical axes according to the preoperative planning by means of native radiological and computed tomographic imaging. Osteosynthesis adapted to the fracture type using Kirschner wires, conventional screws, cannulated screws, double-threaded screws, resorbable pins, magnesium screws, small fragment plates.
Postoperative management
Lower leg splint or orthesis for 6 weeks, partial weight-bearing with 20 kg for 10–12 weeks. Early range of motion exercise of the ankle, subtalar and mid-tarsal joints.
Results
In the past 5 years, 11 patients with either Hawkins type III and IV or Marti type III and IV fractures were treated operatively using the arch-shaped approach. No soft tissue problems were seen related to the arch-shaped approach. Of the 7 patients who could be followed up after an average of 2 years, the mean American Orthopedic Foot and Ankle Score was 73. Avascular necrosis occurred in 3 cases (43%). These were partial necroses of less than one third of the talar body with asymptomatic course at the time of examination. In 4 patients (57%) radiographic signs of osteoarthritis occurred within 2 years, whereby in two of those cases (29%) an arthrodesis of the upper ankle was performed.
This is a preview of subscription content, log in to check access.
Access options
Buy single article
Instant access to the full article PDF.
US$ 39.95
Price includes VAT for USA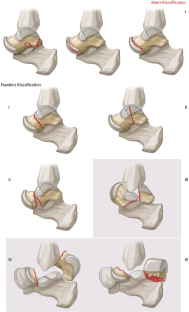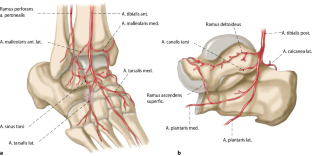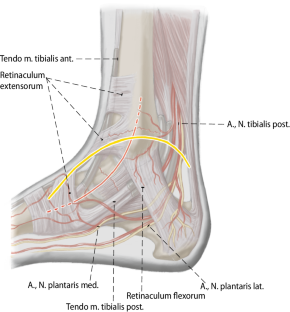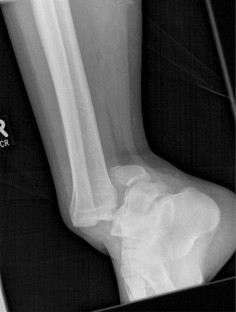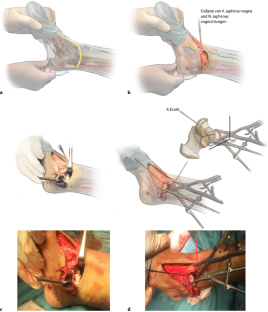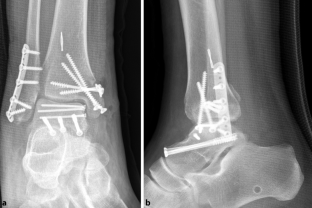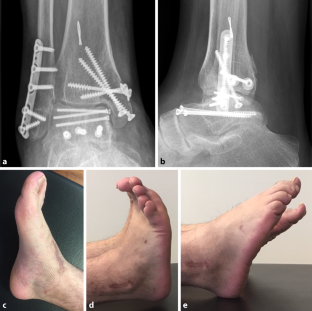 Literatur
1.

Adelaar RS, Madrian JR (2004) Avascular necrosis of the talus. Orthop Clin North Am 35:383–395

2.

American Orthopedic Foot and Ankle Society http://www.aofas.org

3.

Canale ST, Kelly FB Jr (1978) Fractures of the neck of the talus. J Bone Joint Surg 60:143–156

4.

Dodd A, Lefaivre KA (2015) Outcomes of talar neck fractures: a systematic review and meta-analysis. J Orthop Trauma 29(5):210–215

5.

Ducroquet-Ollier DC, Launay P (1909) Arthrodèse du pied Bd. 17, No.52. Presse Médicale, Paris

6.

Hawkins LG (1970) Fractures of the neck of the talus. J Bone Joint Surg Am 52:991–1002

7.

Halvorson JJ, Winter SB, Teasdall RD, Scott AT (2013) Talar neck fractures: a systematic review of the literature. J Foot Ankle Surg 52:56–61

8.

Kuner EH, Lindenmaier HL (1983) Zur Behandlung der Talusfraktur. Kontrollstudie von 262 Behandlungsfällen. Unfallchirurgie 9:35–40

9.

Lindvall E, Haidukewych G, DiPasquale T et al (2004) Open reduction and stable fixation of isolated, displaced talar neck and body fractures. J Bone Joint Surg Am 86-A:2229–2234

10.

Marti R (1974) Talus und Calcaneusfrakturen. In: Weber BG, Brunner C, Freuler F (Hrsg) Die Frakturenbehandlung bei Kindern und Jugendlichen. Springer, Berlin

11.

Miller AN, Prasarn ML, Dyke JP, Helfet DL, Lorich DG (2011) Quantitative assessment of the vascularity of the talus with gadolinium-enhanced magnetic resonance imaging. J Bone Joint Surg Am 93:1116–1121

12.

Peterson L, Goldie IF (1975) The arterial supply of the talus. A study on the relationship to experimental talar fractures. Acta Orthop Scand 46:1026–1034

13.

Rammelt S, Winkler J, Zwipp H (2013) Osteosynthese zentraler Talusfrakturen. Oper Orthop Traumatol 25:525–541

14.

Rammelt S, Zwipp H (2009) Talar neck and body fractures. Injury 40:120–135

15.

Stake IK, Madsen JE, Hvaal K, Johnsen E, Husebye EE (2016) Surgically treated talar fractures. A retrospective study of 50 patients. Foot Ankle Surg 22:85–90

16.

Tezval M, Dumont C, Stürmer KM (2007) Prognostic reliability of the Hawkins sign in fractures of the talus. J Orthop Trauma 21:538–543

17.

Vallier HA, Nork SE, Barei DP, Benirschke SK, Sangeorzan BJ (2004) Talar neck fractures: results and outcomes. J Bone Joint Surg Am 86-A:1616–1624

18.

Vallier HA, Nork SE, Benirschke SK, Sangeorzan BJ (2003) Surgical treatment of talar body fractures. J Bone Joint Surg Am 85-A:1716–1724

19.

Vallier HA, Reichard SG, Boyd AJ, Moore TA (2014) A new look at the Hawkins classification for talar neck fractures: which features of injury and treatment are predictive of osteonecrosis? J Bone Joint Surg Am 96(3):192–197

20.

Ziran BH, Abidi NA, Scheel MJ (2001) Medial malleolar osteotomy for exposure of complex talar body fractures. J Orthop Trauma 15:513–518

21.

Zwipp H (1993) Severe foot trauma in combination with talar injuries. In: Tscherne H, Schatzker J (Hrsg) Major fractures of the pilon, the talus and the calcaneus. Springer, Berlin, S 123–135

22.

Zwipp H, Rammelt S (2014) Knochen: Frakturen, Stressreaktionen und Fehlverheilungen. In: Zwipp H, Rammelt S (Hrsg) Tscherne Unfallchirurgie Fuß. Springer, Berlin Heidelberg, S 323–605
Ethics declarations
Interessenkonflikt
A. Zylinski und L. Grossterlinden geben an, dass kein Interessenkonflikt besteht.
Dieser Beitrag beinhaltet keine Studien an Menschen oder Tieren. Für Bildmaterial oder anderweitige Angaben innerhalb des Manuskripts, über die Patienten zu identifizieren sind, liegt von ihnen und/oder ihren gesetzlichen Vertretern eine schriftliche Einwilligung vor.
Additional information
Redaktion
S. Rammelt, Dresden
Zeichnungen
R. Himmelhan, Mannheim
About this article
Cite this article
Zylinski, A., Grossterlinden, L. Bogenförmiger Zugang. Oper Orthop Traumatol 32, 73–81 (2020). https://doi.org/10.1007/s00064-019-0617-5
Received:

Revised:

Accepted:

Published:

Issue Date:
Schlüsselwörter
Sprungbein

Osteosynthetische Rekonstruktion

Anatomische Reposition

Hawkins-Klassifikation

Marti-Klassifikation
Keywords
Talus

Osteosynthetic reconstruction

Anatomic reduction

Hawkins classification

Marti classification