Zusammenfassung
Ziel
Distale Nervenblockade in der Handchirurgie.
Indikationen
Kurz dauernde Eingriffe der Hand.
Kontraindikationen
Länger dauernde Eingriffe, Polyneuropathien, Allergien gegen Lokalanästhetika.
Technik
Identifikation der Leitstrukturen, Desinfektion der Haut, Injektion von Lokalanästhetikum, Eingriff.
Weiterbehandlung
Überwachung der Patienten nach Beendigung der Anästhesie.
Ergebnisse
Über einen Zeitraum von 3 Jahren (08.2015 bis 08.2018) wurden in unserer Klinik 75 Handoperationen in einer Handblockleitungsanästhesie durchgeführt. Etwa 60 % (n = 45) davon waren Operationen im Versorgungsgebiet des N. medianus, 28 % (n = 21) betrafen das Innervationsgebiet des N. radialis und ca. 5 % (n = 4) das des N. ulnaris. In 7 % (n = 5) der Fälle war eine Anästhesie von 2 benachbarten Innervationsgebieten notwendig (z. B. N. medianus und N. ulnaris). Der distale Handblock stellt eine zuverlässige und komplikationsarme Anästhesiemethode für Operationen an der Hand dar.
Abstract
Objective
Peripheral nerve blocks in hand surgery.
Indications
Short operations on the hand.
Contraindications
Long operations, polyneuropathy, local anesthesia allergy.
Technique
Identification of landmarks, skin disinfection, local anesthesia injection, surgery.
Postoperative management
Postoperative monitoring.
Results
We performed 75 hand surgeries using distal nerve blocks over 3 years (between 2015 and 2018) in our department. In all, 60% (n = 45) of cases belong to the innervation region of the median nerve, 28% of cases (n = 21) belong to the innervation area of the radial nerve and about 5% (n = 4) to the innervation area of the ulnar nerve. In 7% (n = 5) of cases, anesthesia of two neighboring innervation areas was necessary. The distal nerve block provides a reliable form of anesthesia in hand surgery with low complication rates.
This is a preview of subscription content, log in to check access.
Access options
Buy single article
Instant access to the full article PDF.
US$ 39.95
Price includes VAT for USA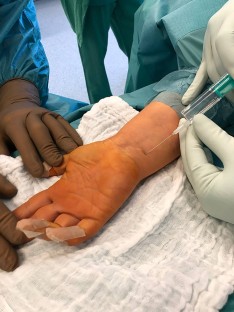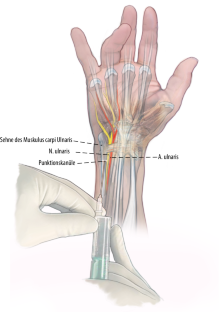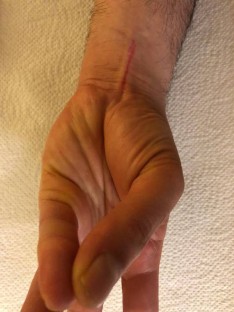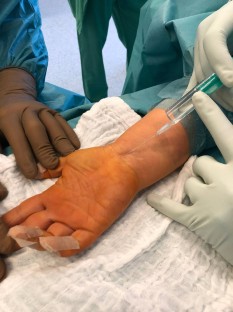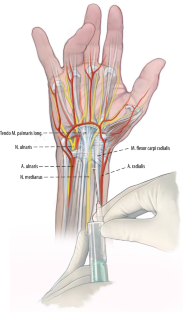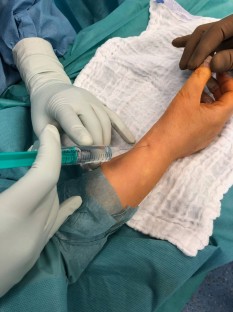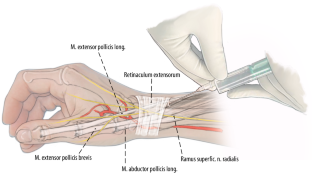 Ethics declarations
Interessenkonflikt
M. Tezval und C. Spering geben an, dass kein Interessenkonflikt besteht.
Für diesen Beitrag wurden von den Autoren keine Studien an Menschen oder Tieren durchgeführt. Für die aufgeführten Studien gelten die jeweils dort angegebenen ethischen Richtlinien.
Additional information
Redaktion
K. Dresing, Göttingen
Zeichnungen
R. Himmelhan, Mannheim
About this article
Cite this article
Tezval, M., Spering, C. Distaler Handblock. Oper Orthop Traumatol 32, 23–28 (2020). https://doi.org/10.1007/s00064-019-00639-6
Received:

Revised:

Accepted:

Published:

Issue Date:
Schlüsselwörter
Lokalanästhesie

Nervenblockade

Handverletzungen

Anästhetika

Chirurgische Verfahren
Keywords
Local anesthesia

Nerve blockade

Hand injuries

Anesthetic agents

Surgical procedures