Zusammenfassung
Operationsziel
Wiederherstellung der Sehnenintegrität mit dem Ziel der glenohumeralen Zentrierung des Humeruskopfs und dadurch Verbesserung sowohl des Schmerzzustands als auch der Funktionalität der betroffenen Schulter.
Indikationen
Isolierte oder kombinierte Läsionen der Subskapularissehne (SSC) mit einer vertikalen Rupturgröße von über zwei Drittel der humeralen Insertion ohne signifikante Weichteildegeneration und Dezentrierung des Humeruskopfs.
Kontraindikationen
Chronische Verletzung der SSC mit hochgradiger Atrophie bzw. fettiger Infiltration der Muskulatur und statischer glenohumeraler Dezentrierung.
Operationstechnik
Im Rahmen der arthroskopischen Versorgung erfolgt im ersten Schritt eine 270°-Tenolyse der SSC mit anschließender Insertion und Verknotung der medialen Fadenankerreihe und Abspannen der Fäden nach lateral im Sinne einer transossär-äquivalenten Doppelreihenrekonstruktion.
Weiterbehandlung
Anlage einer Schultergelenkorthese mit ca. 20°-Abduktions- und Innenrotationslagerung 24 h nach Operation. Diese wird für insgesamt 6 Wochen getragen. Regelmäßige Physiotherapie mit funktioneller Behandlung progredienter Intensität. Überkopfsportarten nach 6 Monaten.
Ergebnisse
In biomechanischen Arbeiten zeigt sich die Doppelreihenrekonstruktion der Versorgung mittels Einzelreihen- oder transossärer Nahttechnik überlegen. Erste klinische Untersuchungen bestätigen diesen Trend, wenngleich mittel- bis langfristige Ergebnisse noch abzuwarten sind.
Abstract
Objective
Reconstruction of tendon integrity to maintain glenohumeral joint centration and hence to restore shoulder functional range of motion and to reduce pain.
Indications
Isolated or combined full-thickness subscapularis tendon tears (≥upper two-thirds of the tendon) without both substantial soft tissue degeneration and cranialization of the humeral head.
Contraindications
Chronic tears of the subscapularis tendon with higher grade muscle atrophy, fatty infiltration, and static decentration of the humeral head.
Surgical technique
After arthroscopic three-sided subscapularis tendon release, two double-loaded suture anchors are placed medially to the humeral footprint. Next to the suture passage, the suture limbs are tied and secured laterally with up to two knotless anchors creating a transosseous-equivalent repair.
Postoperative management
The affected arm is placed in a shoulder brace with 20° of abduction and slight internal rotation for 6 weeks postoperatively. Rehabilitation protocol including progressive physical therapy from a maximum protection phase to a minimum protection phase is required. Overhead activities are permitted after 6 months.
Results
While previous studies have demonstrated superior biomechanical properties and clinical results after double-row compared to single-row and transosseous fixation techniques, further mid- to long-term clinical investigations are needed to confirm these findings.
This is a preview of subscription content, log in to check access.
Access options
Buy single article
Instant unlimited access to the full article PDF.
US$ 39.95
Price includes VAT for USA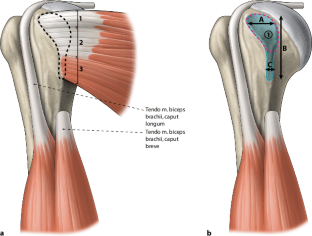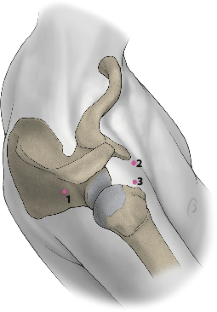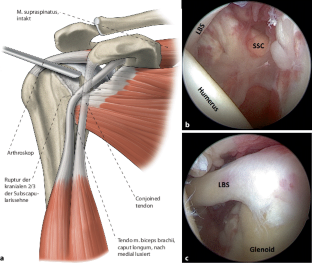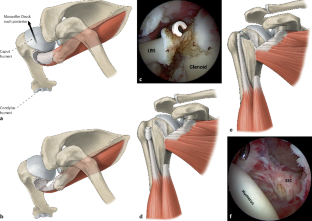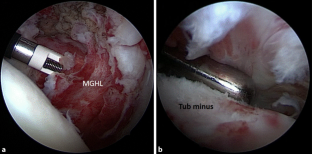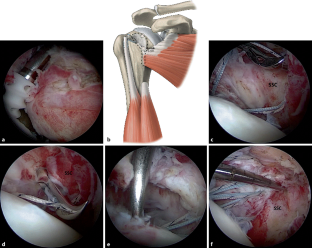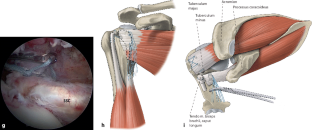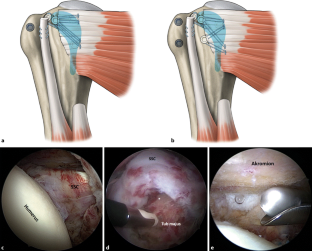 Literatur
1.

Burkhart SS (1992) Fluoroscopic comparison of kinematic patterns in massive rotator cuff tears. A suspension bridge model. Clin Orthop Relat Res 284:144–152

2.

Bartl C, Scheibel M, Magosch P, Lichtenberg S, Habermeyer P (2011) Open repair of isolated traumatic subscapularis tendon tears. Am J Sports Med 39:490–496

3.

Deutsch A, Altchek DW, Veltri DM, Potter HG, Warren RF (1997) Traumatic tears of the subscapularis tendon. Clinical diagnosis, magnetic resonance imaging findings, and operative treatment. Am J Sports Med 25:13–22

4.

Walch G, Dejour H, Trillat AG (1987) Recurrent anterior luxation of the shoulder occurring after the age of 40. Rev Chir Orthop Reparatrice Appar Mot 73:609–616

5.

Bennett WF (2003) Arthroscopic repair of isolated subscapularis tears: A prospective cohort with 2‑ to 4‑year follow-up. Arthroscopy 19:131–143

6.

Lafosse L, Jost B, Reiland Y, Audebert S, Toussaint B, Gobezie R (2007) Structural integrity and clinical outcomes after arthroscopic repair of isolated subscapularis tears. J Bone Joint Surg Am 89:1184–1193

7.

Nove-Josserand L, Hardy MB, Nunes Ogassawara LR, Carrillon Y, Godeneche A (2012) Clinical and structural results of arthroscopic repair of isolated subscapularis tear. J Bone Joint Surg Am 94:e125

8.

Ide J, Tokiyoshi A, Hirose J, Mizuta H (2008) An anatomic study of the subscapularis insertion to the humerus: the subscapularis footprint. Arthroscopy 24:749–753

9.

Richards DP, Burkhart SS, Tehrany AM, Wirth MA (2007) The subscapularis footprint: an anatomic description of its insertion site. Arthroscopy 23:251–254

10.

Kreuz PC, Remiger A, Erggelet C, Hinterwimmer S, Niemeyer P, Gachter A (2005) Isolated and combined tears of the subscapularis tendon. Am J Sports Med 33:1831–1837

11.

Warner JJ, Higgins L, Parsons IMT, Dowdy P (2001) Diagnosis and treatment of anterosuperior rotator cuff tears. J Shoulder Elbow Surg 10:37–46

12.

Bartl C, Salzmann GM, Seppel G, Eichhorn S, Holzapfel K, Wortler K, Imhoff AB (2011) Subscapularis function and structural integrity after arthroscopic repair of isolated subscapularis tears. Am J Sports Med 39:1255–1262

13.

Lanz U, Fullick R, Bongiorno V, Saintmard B, Campens C, Lafosse L (2013) Arthroscopic repair of large subscapularis tendon tears: 2‑ to 4‑year clinical and radiographic outcomes. Arthroscopy 29:1471–1478

14.

Saltzman BM, Collins MJ, Leroux T, Arns TA, Griffin JW, Romeo AA, Verma NN, Forsythe B (2017) Arthroscopic repair of isolated subscapularis tears: a systematic review of technique-specific outcomes. Arthroscopy 33:849–860

15.

Wellmann M, Wiebringhaus P, Lodde I, Waizy H, Becher C, Raschke MJ, Petersen W (2009) Biomechanical evaluation of a single-row versus double-row repair for complete subscapularis tears. Knee Surg Sports Traumatol Arthrosc 17:1477–1484

16.

Park MC, Elattrache NS, Ahmad CS, Tibone JE (2006) "Transosseous-equivalent" rotator cuff repair technique. Arthroscopy 22:1360 e1361–1360.e1365

17.

Patte D (1990) Classification of rotator cuff lesions. Clin Orthop Relat Res 254:81–86

18.

Goutallier D, Postel JM, Bernageau J, Lavau L, Voisin MC (1994) Fatty muscle degeneration in cuff ruptures. Pre- and postoperative evaluation by CT scan. Clin Orthop Relat Res 304:78–83

19.

Hamada K, Fukuda H, Mikasa M, Kobayashi Y (1990) Roentgenographic findings in massive rotator cuff tears. A long-term observation. Clin Orthop Relat Res 254:92–96

20.

Burkhart SS, Brady PC (2006) Arthroscopic subscapularis repair: surgical tips and pearls A to Z. Arthroscopy 22:1014–1027

21.

Wheeler DJ, Garabekyan T, Lugo R, Buckley JM, Jones C, Lotz M, Lotz JC, Ma CB (2010) Biomechanical comparison of transosseous versus suture anchor repair of the subscapularis tendon. Arthroscopy 26:444–450

22.

Ji JH, Shafi M, Kim WY, Kim YY (2010) Clinical outcomes of arthroscopic single and double row repair in full thickness rotator cuff tears. Indian J Orthop 44:308–313

23.

Pauly S, Gerhardt C, Chen J, Scheibel M (2010) Single versus double-row repair of the rotator cuff: does double-row repair with improved anatomical and biomechanical characteristics lead to better clinical outcome? Knee Surg Sports Traumatol Arthrosc 18:1718–1729

24.

Aydin N, Kocaoglu B, Guven O (2010) Single-row versus double-row arthroscopic rotator cuff repair in small- to medium-sized tears. J Shoulder Elbow Surg 19:722–725

25.

Saridakis P, Jones G (2010) Outcomes of single-row and double-row arthroscopic rotator cuff repair: a systematic review. J Bone Joint Surg Am 92:732–742

26.

Grueninger P, Nikolic N, Schneider J, Lattmann T, Platz A, Chmiel C, Meier C (2014) Arthroscopic repair of traumatic isolated subscapularis tendon lesions (Lafosse Type III or IV): a prospective magnetic resonance imaging-controlled case series with 1 year of follow-up. Arthroscopy 30:665–672

27.

Ide J, Karasugi T, Okamoto N, Taniwaki T, Oka K, Mizuta H (2015) Functional and structural comparisons of the arthroscopic knotless double-row suture bridge and single-row repair for anterosuperior rotator cuff tears. J Shoulder Elbow Surg 24:1544–1554
Ethics declarations
Interessenkonflikt
P. Moroder und M. Scheibel sind Berater der Fa. Arthrex. F. Plachel und S. Pauly geben an, dass kein Interessenkonflikt besteht.
Dieser Beitrag beinhaltet keine von den Autoren durchgeführten Studien an Menschen oder Tieren. Alle Patienten, die über Bildmaterial oder anderweitige Angaben innerhalb des Manuskripts zu identifizieren sind, haben hierzu ihre schriftliche Einwilligung gegeben. Im Fall von nichtmündigen Patienten liegt die Einwilligung eines Erziehungsberechtigten oder des gesetzlich bestellten Betreuers vor.
Additional information
Redaktion
T. Mittlmeier, Rostock
Zeichner
H.J. Schütze, Köln
Caption Electronic Supplementary Material
Video 1: 57-jährige Patientin 6 Wochen nach traumatischer anteriorer Primärluxation der linken Schulter. Strukturierte klinische Überprüfung der betroffenen Seite mittels Lift-Off-Test bzw. IRO Lag-Zeichen, Belly-Press-Test, Belly-Off-Zeichen, Bear-Hug-Test zur ganzheitlichen Diagnostik der Subskapularissehne. Veröffentlichung mit freundlicher Genehmigung von Patientin und Autoren.
Video 2: Linke Schulter einer 57-jährigen Patientin. Zustand nach primärer anteriorer Schulterluxation mit Ruptur der Subskapularis- (Grad 3 nach Lafosse) und Supraspinatussehne (Grad 2 nach Bateman). Arthroskopische Versorgung mittels triangulärer Doppelreihenrekonstruktion der Subskapularis- und Supraspinatussehne bzw. Tenotomie der langen Bizepssehne.
CME-Fragebogen
CME-Fragebogen
Der Musculus subscapularis gilt als kräftigster Muskel der Rotatorenmanschette. Welche sind seine Hauptfunktionen?
Innenrotation und glenohumerale Stabilisierung als ventraler Anteil des transversalen Kräftepaares.
Außenrotation und glenohumerale Stabilisierung als dorsaler Anteil des transversalen Kräftepaares.
Abduktion und glenohumerale Stabilisierung als superiorer Anteil des vertikalen Kräftepaares.
Kombinierte Innenrotation und Abduktion ohne stabilisierende Funktion.
Elevation und kraniale Translation des Humeruskopfs.
Die Ruptur der Subskapularissehne wird anhand welcher Klassifikation in 5 Grade unterteilt?
Klassifikation nach Lafosse
Klassifikation nach Patte
Klassifikation nach Goutallier
Klassifikation nach Fox und Romeo
Klassifikation nach Bateman
Verschiedene Pathomechanismen wurden als Genese einer traumatischen Ruptur der Subskapularissehne beschrieben. Welches Trauma ist anamnestisch hinweisend für diese Art an Verletzung?
Rezidivierende anteriore Schulterinstabilität
Primär traumatische posteriore Schulterluxation
Direkter Sturz auf das Schultergelenk mit Arm in Adduktion und Innenrotation
Gewalteinwirkung auf den abduzierten und außenrotierten Arm
Sturz auf den Arm mit flektiertem Ellenbogen
Die Pulley-Läsion ist eine typische Begleitpathologie zur Ruptur der Subskapularissehne. Als Pulley-Läsion bezeichnet man …
eine statische mediale Luxation der langen Bizepssehne.
eine traumatische Läsion der Supraspinatussehne.
eine Schädigung am Rotatorenintervall.
eine Läsion der die Rotatorenintervallschlinge formenden Strukturen.
eine Verletzung am superioren Ansatz der langen Bizepssehne.
Ein 45-jähriger Mann stellt sich mit Schmerzen im Bereich der ventralen rechten Schulter vor. Sie erfahren, dass er vor wenigen Tagen auf der Stiege zu Sturz gekommen ist und sich noch vor Aufprall an dem Geländer festhalten konnte. In der klinischen Untersuchung zeigt sich vor allem ein Druckschmerz über dem Tuberculum minus und eine abgeschwächte Innenrotation. Welche Kombination an spezifischen Testungen benötigen Sie zur weiteren Abklärung einer Läsion der Subskapularissehne?
Painful-Arc- und Hawkins-Test
Bear-Hug- und Lift-Off-Test
Apprehension-Test und Relokationstest
Jobe- und Drop-Arm-Test
Cross-Body-Zeichen und Klaviertastenphänomen
Welche radiologische Untersuchung stellt den Goldstandard in der Diagnostik von Rupturen der Subskapularissehne dar?
Szintigraphie
Computertomographie
Konventionelles Röntgenbild in 3 Ebenen
Magnetresonanztomographie
Dynamischer Ultraschall
Eine 48-jährige Patientin stellt sich in Ihrer Schulter-Sprechstunde vor. Nach ausführlicher klinischer Untersuchung und in Zusammenschau der radiologischen Befunde stellen Sie die Diagnose einer symptomatischen akuten höhergradigen Ruptur der Subskapularissehne. Welches therapeutische Vorgehen ist indiziert?
Konservative Therapie mit konsequenter Ruhigstellung der betroffenen Extremität
Sofortige physiotherapeutische Behandlung zur Kräftigung der restlichen Rotatorenmanschette
Rasche operative Versorgung zur Wiederherstellung der Sehnenintegrität
Temporäre Ruhigstellung und bei Beschwerdepersistenz operative Versorgung
Frühfunktionelle Belastung ohne therapeutische Anleitung
Im Rahmen der diagnostischen Arthroskopie zeigt sich eine komplette Ruptur der Subskapularissehne mit geringer Retraktion in Kombination mit einer anterioren Läsion der Supraspinatussehne und eine mediale Luxation der langen Bizepssehne. Sie führen primär eine Tenotomie der langen Bizepssehne durch. Welcher ist Ihr nächster Schritt im Rahmen der Rekonstruktion der Rotatorenmanschette?
Subakromiale Dekompression
Präparation der humeralen Insertion
Tenolyse der Subskapularissehne
Insertion der medialen Ankerreihe am Tuberculum minus
Korakoidplastik
Welche neurovaskuläre Struktur liegt in enger struktureller Beziehung zur Subskapularissehne und sollte im Rahmen der operativen Rekonstruktion berücksichtigt bzw. dargestellt werden?
N. axillaris
N. musculocutaneus
N. suprascapularis
A. circumflexa humeri anterior
A. axillaris
Die Nachbehandlung nach operativer Rekonstruktion der Subskapularissehne mit simultaner Tenodese der langen Bizepssehne inkludiert …
das Tragen einer Schulterorthese in Adduktion und 90°-Innenrotation für 12 Wochen.
die aktive Muskelkräftigung der Rotatorenmanschette ab der 4. Woche.
die Ruhigstellung der Schulter für 6 Wochen ohne Einschränkung der Bizepsaktivität.
die freie passive Beweglichkeit der Schulter nach Fadenzug.
die progrediente aktiv-assistierte Beübung der Schulter ab der 4. Woche.
About this article
Cite this article
Plachel, F., Pauly, S., Moroder, P. et al. Arthroskopische Doppelreihenrekonstruktion hochgradiger Rupturen der Subskapularissehne. Oper Orthop Traumatol 30, 111–129 (2018) doi:10.1007/s00064-018-0539-7
Received:

Revised:

Accepted:

Published:

Issue Date:
Schlüsselwörter
Schultergelenk

Rotatorenmanschettenruptur

Hochgradige Läsion

Arthroskopie

Rekonstruktives Operationsverfahren
Keywords
Shoulder joint

Rotator cuff injuries

High-grade lesion

Arthroscopy

Reconstructive surgical procedure