Zusammenfassung
Operationsziel
Verbesserung des Gangbilds durch Wiederherstellung der Dorsalextension mittels Implantation einer Neuroprothese.
Indikationen
Fallfuß mit Schädigung des 1. Motoneurons; passive Beweglichkeit im oberen Sprunggelenk möglich; ausgewachsene Patienten.
Kontraindikationen
Fallfuß mit peripherem Schaden und Beschädigung des N. peroneus; bereits implantierte Stimulatoren (wie Defibrillator, Herzschrittmacher, Schmerzstimulatoren); schwere Narkoserisiken bei multimorbiden Patienten.
Operationstechnik
Operation in Seitenlage. Aufsuchen des N. peroneus nach dorsaler Inzision in der Kniekehle mit der medialen Kante des M. biceps femoris als Leitstruktur. Nach Identifikation des motorischen Anteils des N. peroneus bei positiver Dorsalextension des Fußes durch Elektrostimulation Anbringen der Elektrodenmanschette am Nerv. Epifasziale Implantation des Stimulationskörpers lateral im mittleren Oberschenkeldrittel auf Höhe des Tractus iliotibialis.
Weiterbehandlung
Sofortige schmerzadaptierte Vollbelastung, keine Knieflexion über 90° für 4–6 Wochen, Aktivierung der Neuroprothese 3 Wochen postoperativ, Physiotherapie mit Gangschulung.
Ergebnisse
Zwischen 2013 und 2015 wurde 21 Patienten (13 männlich/8 weiblich) mit chronischem Fallfuß aufgrund einer zentralen Läsion die Neuroprothese implantiert. Es wurde eine signifikante Verbesserung der Ganggeschwindigkeit im 10-Meter-Gehtest (von 11,8 ± 5,4 s auf 7,9 ± 3,4 s; p = 0,007) und eine Verbesserung der Gangausdauer im 6‑Minuten-Gehtest (212,2 ± 75,5 m auf 306,4 ± 96,4 m; p ≤ 0,001) sowie der Gangperformance im Emory Functional Ambulation Profile (von 105,9 ± 49,7 s auf 63,2 ± 31,3 s; p ≤ 0,001) verzeichnet. Kein Patient musste bisher operativ revidiert werden. Postoperative Blutungen traten nur in einem Fall (4 %) auf. Patientenzufriedenheit sowie Verbesserung von Mobilität und Lebensqualität wurden zu 95 % bzw. 90 % erzielt.
Abstract
Objective
Gait improvement by restoring dorsiflexion using a neuroprosthesis implant.
Indications
Foot drop with damage to the 1st motor neuron; passive mobility in ankle is possible; adult patients.
Contraindications
Foot drop with peripheral damage and injury to the peroneal nerve; already implanted stimulators (e.g., defibrillator, pacemaker, or pain stimulator); severe anesthesia risks in multimorbid patients.
Surgical technique
Surgery in lateral position. Searching for the peroneal nerve after dorsal incision in the popliteal fossa, using the medial edge of the biceps femoris as anatomic landmark. After identification of the motor branch of the peroneal nerve by positive dorsiflexion after using electrostimulation apply the electrode cuff on the nerve. Epifascial implantation of stimulation body lateral at the middle third of the thigh over the tractus iliotibialis.
Postoperative management
Pain-adapted full weight bearing, no knee flexion more than 90° for 4–6 weeks, activation of neuroprosthesis 3 weeks after surgery, physiotherapy with gait training is required.
Results
Between 2013 and 2015, implantation of the neuroprosthesis was performed in 21 patients (13 men/8 women) with chronic foot drop due to a central lesion. Significant improvement in walking speed measured with the 10 meter walk test (11.8 ± 5.4 s to 7.9 s ± 3.4; p = 0.007), in gait endurance with 6 min walk test (212.2 ± 75.5 m to 306.4 ± 96.4 m; p ≤ 0.001), and in gait performance using the Emory Functional Ambulation Profile (105.9 ± 49.7 s to 63.2 ± 31. 3 s; p ≤ 0.001). No patient required surgical revision. Postoperative bleeding was recorded in one case (4%). Patient satisfaction and improvement in mobility and quality of life could be achieved (95% and 90%, respectively).
This is a preview of subscription content, log in to check access.
We're sorry, something doesn't seem to be working properly.
Please try refreshing the page. If that doesn't work, please contact support so we can address the problem.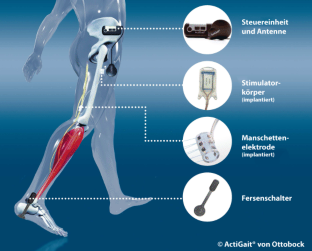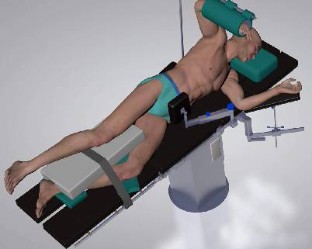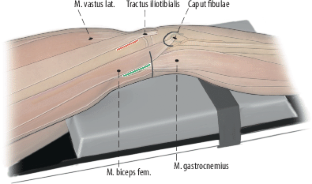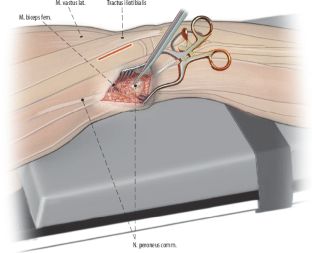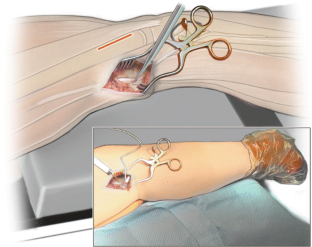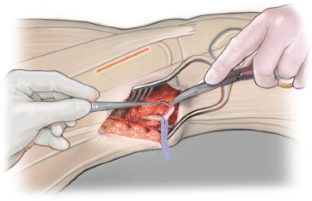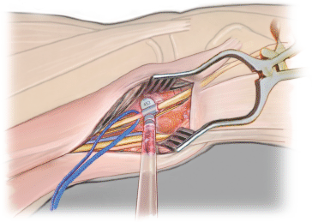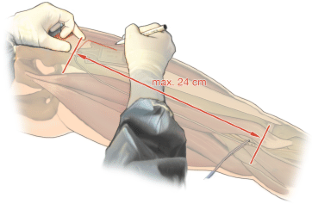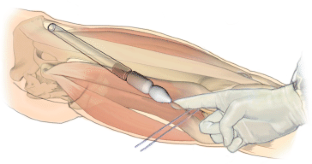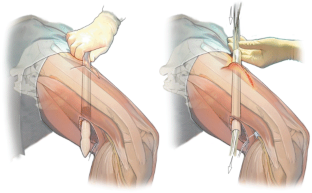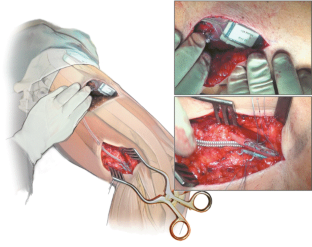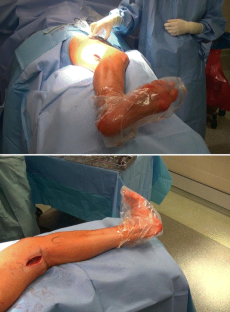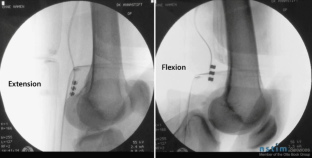 Notes
1.

Der Hindernisparcours wurde auf einer harten ebenen Unterfläche vollzogen. Start- und gleichzeitige Ziellinie wurde mit einem Pylon markiert. Nach 1,5 und 3 m wurden 10 cm hohe Schaumblöcke sowie eine ca. 1 m hohe Stange nach 5 m platziert. Die Patienten wurden gebeten, den Hindernisparcours zu bewältigen, indem sie über die Schaumblöcke steigen, die Stange umrunden und auf dem Rückweg abermals die Schaumblöcke überwinden. Die Zeitnahme erfolgte zwischen Überquerung der Start- und Ziellinie.
Literatur
1.

Bethoux F, Rogers HL, Nolan KJ, Abrams GM, Annaswamy TM, Brandstater M et al (2015) Long-term follow-up to a randomized controlled trial comparing peroneal nerve functional electrical stimulation to an ankle foot orthosis for patients with chronic stroke. Neurorehabil Neural Repair 29(10):911–922

2.

Cheng PT, Chen CL, Wang CM, Hong WH (2004) Leg muscle activation patterns of sit-to-stand movement in stroke patients. Am J Phys Med Rehabil 83:10–16

3.

Deutsche Gesellschaft für Allgemeinmedizin und Familienmedizin (DEGAM) (2012) Schlaganfall. DEGAM-Leitlinie Nr. 8., S 27

4.

Doğan A, Mengüllüoğlu M, Özgirgin N (2011) Evaluation of the effect of ankle-foot orthosis use on balance and mobility in hemiparetic stroke patients. Disabil Rehabil 33:1433–1439

5.

Ernst J, Grundey J, Hewitt M, von Lewinski F, Kaus J, Schmalz T, Rohde V, Liebetanz D (2013) Towards physiological ankle movements with the ActiGait implantable drop foot stimulator in chronic stroke. Restor Neurol Neurosci 31:557–569

6.

Fatone S, Gard SA, Malas BS (2009) Effect of ankle-foot orthosis alignment and foot-plate length on the gait of adults with poststroke hemiplegia. Arch Phys Med Rehabil 90:810–818

7.

Franceschini M, Massucci M, Ferrari L, Agosti M, Paroli C (2003) Effects of an ankle-foot orthosis on spatiotemporal parameters and energy cost of hemiparetic gait. Clin Rehabil 17:368–372

8.

Given JD, Dewald JP, Rymer WZ (1995) Joint dependent passive stiffness in paretic and contralateral limbs of spastic patients with hemiparetic stroke. J Neurol Neurosurg Psychiatr 59:271–279

9.

Hausdorff JM, Ring H (2008) Effects of a new radio frequency-controlled neuroprosthesis on gait symmetry and rhythmicity in patients with chronic hemiparesis. Am J Phys Med Rehabil 87:4–13

10.

Hausmann J, Sweeney-Reed CM, Sobieray U, Matzke M, Heinze HJ, Voges J, Buentjen L (2014) Functional electrical stimulation through direct 4‑channel nerve stimulation to improve gait in multiple sclerosis: a feasibility study. J Neuroeng Rehabil 12:100

11.

http://www.mayoclinic.com/health/foot-drop/DS01031/DSECTION=treatments-and-drugs. Zugegriffen: 15. März 2009

12.

Janssen WG, Bussmann HB, Stam HJ (2002) Determinants of the sit-to-stand movement: a review. Phys Ther 82:866–879

13.

Lambrinudi C (1927) New operation of drop-foot. Br J Surg 15:193–200

14.

Martin KD, Polanski W, Schackert G, Sobottka SB (2015) New therapeutic option for drop foot with the ActiGait peroneal nerve stimulator – a technical note. World Neurosurg 84:2037–2042

15.

Martin KD, Polanski WH, Schulz AK et al (2015) Restoration of ankle movements with the ActiGait implantable drop foot stimulator: a safe and reliable treatment option for permanent central leg palsy. J Neurosurg 24:1–7

16.

Mont MA, Dellon AL, Chen F et al (1996) The operative treatment of peroneal nerve palsy. J Bone Joint Surg Am 78(6):863–869

17.

Mulroy SJ, Eberly VJ, Gronely JK, Weiss W, Newsam CJ (2010) Effect of AFO design on walking after stroke: impact of ankle plantar flexion contracture. Prosthet Orthot Int 34:277–292

18.

Rodriguez RP (1992) The Bridle procedure in the treatment of paralysis of the foot. Foot Ankle 13(2):63–69

19.

Smith RW, Shen W, Dewitt S, Reischl SF (2004) Triple arthrodesis in adults with non-paralytic disease. A minimum ten-year followup study. J Bone Joint Surg Am 86-A(12):2707–2713

20.

Stein RB, Everaert DG, Thompson AK et al (2010) Long-term therapeutic and orthotic effects of a foot drop stimulator on walking performance in progressive and nonprogressive neurological disorders. Neurorehabil Neural Repair 24:152–167

21.

Umphred DA (2007) Neurological Rehabilitation, 5. Aufl. Mosby Elsevier, St Louis, S 32–36

22.

Wolf SL, Catlin PA, Gage K et al (1999) Establishing the reliability and validity of measurements of walking time using the emory functional ambulation profile. Phys Ther 79:1122–1133

23.

Yao D, Jakubowitz E, Ettinger S et al (2017) Functional electrostimulation for drop foot treatment: clinical outcome. Orthopade 46:227–233
Danksagung
Wir möchten uns für die ausgezeichnete technische Hilfe und Beratung während der chirurgischen Verfahren bei Herrn Jürgen Kaus bedanken. Zudem gebührt Frau Janina Kellner und Herrn Oliver Umbach einen besonderen Dank für ihre kompetente Programmierung des ActiGait®-Stimulators in der ambulanten Nachsorge und der engen Patientenbetreuung.
Ethics declarations
Interessenkonflikt
K. Daniilidis, E. Jakubowitz und D. Yao arbeiteten in der Vergangenheit an einer ganganalytischen Studie, welche z. T. von nstim Services GmbH finanziell unterstützt wurde. Zudem war K. Daniilidis in der Vergangenheit als medical advisor für die Firma nstim Services GmbH tätig. S. Ettinger, L. Claassen, C. Plaass und C. Stukenborg-Colsman geben an, dass kein Interessenkonflikt besteht.
Alle beschriebenen Untersuchungen am Menschen wurden mit Zustimmung der zuständigen Ethik-Kommission, im Einklang mit nationalem Recht sowie gemäß der Deklaration von Helsinki von 1975 (in der aktuellen, überarbeiteten Fassung) durchgeführt. Von allen beteiligten Patienten liegt eine Einverständniserklärung vor.
Additional information
Redaktion
S. Rammelt, Dresden
Zeichner
R. Himmelhan, Mannheim
Caption Electronic Supplementary Material
Video: Patientenbeispiel mit postoperativem Outcome nach einem Jahr (Vergleich von aktiviertem und deaktiviertem Implantat): Man erkennt im aktivierten Zustand ein flüssiges und symmetrisches Gangbild ohne vermehrte Knie- oder Hüftflexion und mit einer guten Ganggeschwindigkeit. Die Narbe in der Kniekehle ist deutlich zu erkennen. Nach Deaktivierung des Implantats ist direkt ein schleifendes Gangbild mit einem schlaffen Fallfuß zu erkennen. Dies mündet in einem relativ verlängerten Bein. Um das Bein in der Schwungphase sicher durchzuschwingen, ist eine erhöhte Knie- und Hüftflexion nötig. Insgesamt zeigt sich ein signifikant verlangsamtes Gangbild mit erhöhter Stolpergefahr.
About this article
Cite this article
Yao, D., Jakubowitz, E., Ettinger, S. et al. Behandlung des Fallfußes durch Implantation einer Neuroprothese (ActiGait®). Oper Orthop Traumatol 29, 266–278 (2017). https://doi.org/10.1007/s00064-017-0494-8
Received:

Revised:

Accepted:

Published:

Issue Date:
Schlüsselwörter
Neurologische Gangstörungen

Gehtest

Schlaganfall

Implantierbare Neurostimulatoren

Implantierte Nervenstimulationselektroden
Keywords
Gait disorders, neurologic

Walk test

Stroke

Implantable neurostimulators

Implanted nerve stimulation electrodes