Zusammenfassung
Operationsziel
Wiederherstellung der physiologischen biomechanischen Verhältnisse des Rückfußes durch Korrektur einer zugrundeliegenden inframalleolären Varusdeformität.
Indikationen
Pes-cavovarus-Deformität folgender Ätiologien: neurologisch, posttraumatisch, angeboren, idiopathisch. Als Zusatzeingriff bei endoprothetischem Ersatz des oberen Sprunggelenks (OSG) bei endgradiger Arthrose des OSG mit varischer Fehlstellung des Fersenbeins. Schwere Tendinopathie der Peronealsehnen bei zugrundeliegender Pes-cavovarus-Deformität.
Kontraindikationen
Allgemeine chirurgische oder anästhesiologische Kontraindikationen, Infektionen, kritische Weichteilverhältnisse, nicht zu stabilisierende Rückfußinstabilität, schwere periphere Durchblutungsstörungen, schwere periphere neurologische Erkrankungen mit ausgeprägten Defiziten, neuropathische Erkrankungen (z. B. destruierende Charcot-Arthropathie), fortgeschrittene Arthrose des unteren Sprunggelenks (USG), Limitierung durch ossäre Qualität, hohes Alter, insulinpflichtiger Diabetes mellitus, hoher Nikotinkonsum.
Operationstechnik
Darstellung der lateralen Kalkaneuswand über eine gerade laterale Inzision. Durchführung der Osteotomie mit einer oszillierenden Säge. Anschließend Mobilisierung des posterioren Osteotomiefragments. Laterale Verschiebung des Tuber calcanei, optional Entnahme eines lateralen Knochenkeils, optional Verschieben des posterioren Osteotomiefragments nach kranial. Stabilisierung der Osteotomie mit zwei kanülierten Schrauben. Schichtweiser Wundverschluss.
Nachbehandlung
Postoperativ Anlage eines wattegepolsterten Verbands. Medikamentöse Thromboembolieprophylaxe. Beginn der Mobilisation ab dem 1. postoperativen Tag mit 15-kg-Teilbelastung in einer stabilen Orthese oder in einem Unterschenkelgips für 6 Wochen. Bei regelrechtem postoperativem Verlauf schrittweiser Aufbau zur Vollbelastung 6 Wochen postoperativ nach erfolgter klinischer und radiologischer Verlaufskontrolle.
Ergebnisse
Zwischen Januar 2009 und Juni 2013 wurde bei 31 Patienten mit einem Durchschnittsalter von 45,7 ± 16,3 Jahren (Spanne 21,5–77,4 Jahre) eine Osteotomie nach Dwyer durchgeführt. Bei allen Patienten lag eine substantielle inframalleoläre Pes-cavovarus-Deformität vor. Der präoperative Hebelarm des Kalkaneus lag bei −17,9 ± 3,3 mm (Spanne −22,5–−10,5 mm), welche mit dem Eingriff signifikant korrigiert werden konnte. Der postoperative Hebelarm des Kalkaneus lag bei 1,6 ± 5,9 mm (Spanne −16,9–9,9 mm). Mit dem Eingriff konnte eine deutliche Schmerzlinderung von 6,3 ± 1,9 (Spanne 4–10) auf 1,1 ± 1,1 (Spanne 0–4), gemessen an der visuellen analogen Schmerzskala (VAS), erreicht werden. Der Score der American Orthopaedic Foot and Ankle Society verbesserte sich von prä- zu postoperativ signifikant von 33,1 ± 14,2 Punkten (Spanne 10–60 Punkte) auf 78,0 ± 10,5 Punkte (Spanne 55–95 Punkte).
Abstract
Objective
To correct the underlying inframalleolar varus deformity and to restore physiologic biomechanics of the hindfoot.
Indications
Neurologic, posttraumatic, congenital, and idiopathic cavovarus deformity. In patients with end-stage ankle osteoarthritis with varus heel malposition as additional single-stage procedure complementing total ankle replacement. Severe peroneal tendinopathy with concomitant cavovarus deformity.
Contraindications
General surgical or anesthesiological risks, infections, critical soft tissue conditions, nonmanageable hindfoot instability, neurovascular impairment of the lower extremity, neuroarthropathy (e. g., Charcot arthropathy), end-stage osteoarthritis of the subtalar joint, severely reduced bone quality, high age, insulin-dependent diabetes mellitus, smoking.
Surgical technique
The lateral calcaneus cortex is exposed using a lateral incision. The osteotomy is performed through an oscillating saw. The posterior osteotomy fragment is manually mobilized and shifted laterally. If needed, a laterally based wedge can be removed and/or the osteotomy fragment can be translated cranially. The osteotomy is stabilized with two cannulated screws, followed by wound closure.
Postoperative management
A soft wound dressing is used. Thromboprophylaxis is recommended. Patient mobilization starts on postoperative day 1 with 15 kg partial weight bearing using a stabilizing walking boot or cast for 6 weeks. Following clinical and radiographic follow-up at 6 weeks, full weight bearing is initiated step by step.
Results
Between January 2009 and June 2013, a Dwyer osteotomy was performed in 31 patients with a mean age of 45.7 ± 16.3 years (range 21.5–77.4 years). All patients had a substantial inframalleolar cavovarus deformity with preoperative moment arm of the calcaneus of −17.9 ± 3.3 mm (range −22.5 to −10.5 mm), which has been improved significantly to 1.6 ± 5.9 mm (range −16.9 to 9.9 mm). Significant pain relief from 6.3 ± 1.9 (range 4–10) to 1.1 ± 1.1 (range 0–4) using the visual analogue scale was observed. The American Orthopaedic Foot and Ankle Society score significantly improved from 33.1 ± 14.2 (range 10–60) to 78.0 ± 10.5 (range 55–95).
This is a preview of subscription content, log in to check access.
Access options
Buy single article
Instant unlimited access to the full article PDF.
US$ 39.95
Price includes VAT for USA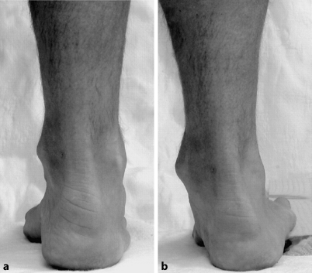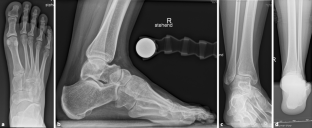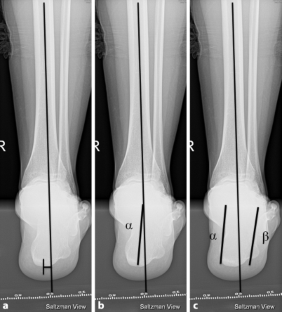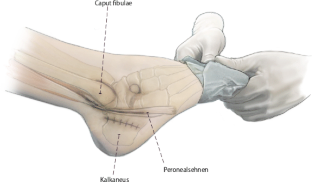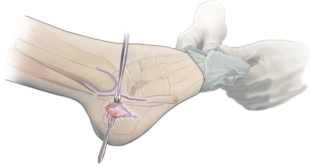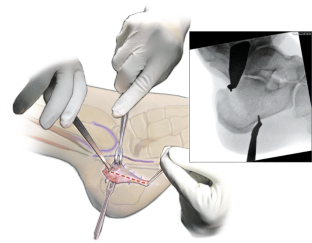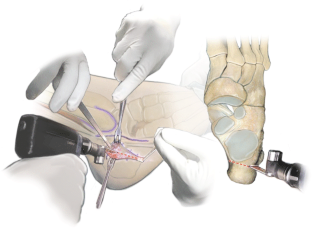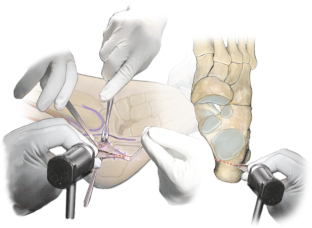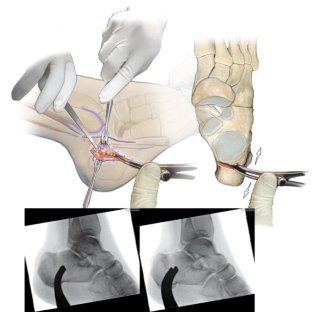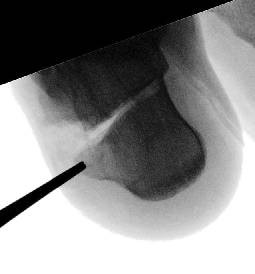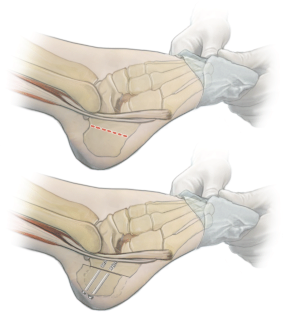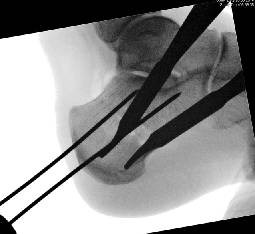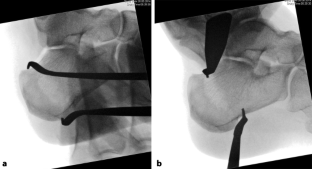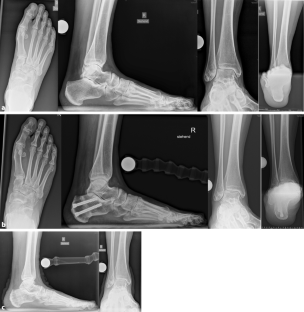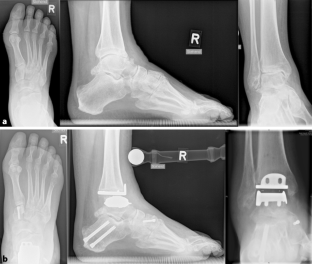 Literatur
1.

Barenfeld PA, Weseley MS, Munters M (1967) Dwyer calcaneal osteotomy. Clin Orthop Relat Res 53:147–153

2.

Barg A, Elsner A, Chuckpaiwong B, Hintermann B (2010) Insert position in three-component total ankle replacement. Foot Ankle Int 31:754–759

3.

Barg A, Harris MD, Henninger HB, Amendola RL, Saltzman CL, Hintermann B et al (2012) Medial distal tibial angle: comparison between weightbearing mortise view and hindfoot alignment view. Foot Ankle Int 33:655–661

4.

Barg A, Knupp M, Henninger HB, Zwicky L, Hintermann B (2012) Total ankle replacement using HINTEGRA, an unconstrained, three-component system: surgical technique and pitfalls. Foot Ankle Clin 17:607–635

5.

Barg A, Pagenstert G, Leumann A, Valderrabano V (2013) Knöchelosteotomie – Die Osteotomie als Zugang. Orthopade 42:309–321

6.

Barg A, Pagenstert GI, Horisberger M, Paul J, Gloyer M, Henninger HB et al (2013) Supramalleolar osteotomies for degenerative joint disease of the ankle joint: indication, technique and results. Int Orthop 37:1683–1695

7.

Barg A, Saltzman CL (2014) Ankle replacement. In: Coughlin MJ, Saltzman CL, Anderson RB (Hrsg) Mann's Surgery of the foot and ankle. Elsevier Saunders, Philadelphia PA

8.

Bariteau JT, Blankenhorn BD, Tofte JN, DiGiovanni CW (2013) What is the role and limit of calcaneal osteotomy in the cavovarus foot? Foot Ankle Clin 18:697–714

9.

Barton T, Winson I (2013) Joint sparing correction of cavovarus feet in Charcot-Marie-Tooth disease: what are the limits? Foot Ankle Clin 18:673–688

10.

Boffeli TJ, Collier RC (2012) Surgical technique for combined Dwyer calcaneal osteotomy and peroneal tendon repair for correction of peroneal tendon pathology associated with cavus foot deformity. J Foot Ankle Surg 51:135–140

11.

Bruce BG, Bariteau JT, Evangelista PE, Arcuri D, Sandusky M, DiGiovanni CW (2014) The effect of medial and lateral calcaneal osteotomies on the tarsal tunnel. Foot Ankle Int 35:383–388

12.

Chhabra A, Soldatos T, Chalian M, Carrino JA, Schon L (2012) Current concepts review: 3T magnetic resonance imaging of the ankle and foot. Foot Ankle Int 33:164–171

13.

Cobey JC (1976) Posterior roentgenogram of the foot. Clin Orthop Relat Res 118:202–207

14.

Coleman SS, Chesnut WJ (1977) A simple test for hindfoot flexibility in the cavovarus foot. Clin Orthop Relat Res 123:60–62

15.

Cox JS, Hewes TF (1979) "Normal" talar tilt angle. Clin Orthop Relat Res 140:37–41

16.

Davitt JS, Beals TC, Bachus KN (2001) The effects of medial and lateral displacement calcaneal osteotomies on ankle and subtalar joint pressure distribution. Foot Ankle Int 22:885–889

17.

Donovan A, Rosenberg ZS (2009) Extraarticular lateral hindfoot impingement with posterior tibial tendon tear: MRI correlation. AJR Am J Roentgenol 193:672–678

18.

Dwyer FC (1959) Osteotomy of the calcaneum for pes cavus. J Bone Joint Surg Br 41–B:80–86

19.

Dwyer FC (1975) The present status of the problem of pes cavus. Clin Orthop Relat Res 106:254–275

20.

Easley ME (2012) Surgical treatment of the arthritic varus ankle. Foot Ankle Clin 17:665–686

21.

Geng X, Xu J, Ma X, Wang X, Huang J, Zhang C et al (2014) Anatomy of the sural nerve with an emphasis on the incision for medial displacement calcaneal osteotomy. J Foot Ankle Surg 54:341–344

22.

Gould N, Seligson D, Gassman J (1980) Early and late repair of lateral ligament of the ankle. Foot Ankle 1:84–89

23.

Grasset W, Mercier N, Chaussard C, Carpentier E, Aldridge S, Saragaglia D (2012) The surgical treatment of peroneal tendinopathy (excluding subluxations): a series of 17 patients. J Foot Ankle Surg 51:13–19

24.

Herrera-Perez M, Andarcia-Banuelos C, Barg A, Wiewiorski M, Valderrabano V, Kapron AL et al (2015) Comparison of cannulated screws versus compression staples for subtalar arthrodesis fixation. Foot Ankle Int 36:203–210

25.

Hintermann B (2003) Medial ankle instability. Foot Ankle Clin 8:723–738

26.

Hintermann B, Barg A, Knupp M (2011) Revisionsarthroplastik des oberen Sprunggelenks. Orthopade 40:1000–1007

27.

Holmes JR, Hansen ST Jr (1993) Foot and ankle manifestations of Charcot-Marie-Tooth disease. Foot Ankle 14:476–486

28.

Kilger R, Knupp M, Hintermann B (2009) Peroneus longus to peroneus brevis tendon transfer. Tech Foot & Ankle 8:146–149

29.

Knupp M, Bolliger L, Barg A, Hinterman B (2011) Sprunggelenkprothese bei Varusarthrose. Orthopade 40:964–970

30.

Knupp M, Ledermann H, Magerkurth O, Hintermann B (2005) The surgical tibiotalar angle: a radiologic study. Foot Ankle Int 26:713–716

31.

Knupp M, Pagenstert G, Valderrabano V, Hintermann B (2008) Osteotomien zur Entlastung der Varusarthrose im oberen Sprunggelenk. Oper Orthop Traumatol 20:262–273

32.

Knupp M, Pagenstert GI, Barg A, Bolliger L, Easley ME, Hintermann B (2009) SPECT-CT compared with conventional imaging modalities for the assessment of the varus and valgus malaligned hindfoot. J Orthop Res 27:1461–1466

33.

Krause FG, Pohl MJ, Penner MJ, Younger AS (2009) Tibial nerve palsy associated with lateralizing calcaneal osteotomy: case reviews and technical tip. Foot Ankle Int 30:258–261

34.

Krause FG, Sutter D, Waehnert D, Windolf M, Schwieger K, Weber M (2010) Ankle joint pressure changes in a pes cavovarus model after lateralizing calcaneal osteotomies. Foot Ankle Int 31:741–746

35.

Kumar PN, Laing PW, Klenerman L (1993) Medial calcaneal osteotomy for relapsed equinovarus deformity. Long-term study of the results of Frederick Dwyer. J Bone Joint Surg Br 75:967–971

36.

Lee MC, Sucato DJ (2008) Pediatric issues with cavovarus foot deformities. Foot Ankle Clin 13:199–219

37.

Lieske S, Schenk S, Neumann HW, John M (2014) Implantation einer Sprunggelenktotalendoprothese vom Typ Salto 2. Oper Orthop Traumatol 26:401–413

38.

Malerba F, De Marchi F (2005) Calcaneal osteotomies. Foot Ankle Clin 10:523–540

39.

Pagenstert GI, Barg A, Leumann AG, Rasch H, Muller-Brand J, Hintermann B et al (2009) SPECT-CT imaging in degenerative joint disease of the foot and ankle. J Bone Joint Surg Br 91:1191–1196

40.

Pagenstert GI, Hintermann B, Knupp M (2006) Operative management of chronic ankle instability: plantaris graft. Foot Ankle Clin 11:567–583

41.

Phisitkul P, Chaichankul C, Sripongsai R, Prasitdamrong I, Tengtrakulcharoen P, Suarchawaratana S (2009) Accuracy of anterolateral drawer test in lateral ankle instability: a cadaveric study. Foot Ankle Int 30:690–695

42.

Phisitkul P, Tennant JN, Amendola A (2013) Is there any value to arthroscopic debridement of ankle osteoarthritis and impingement? Foot Ankle Clin 18:449–458

43.

Saltzman CL, el-Khoury GY (1995) The hindfoot alignment view. Foot Ankle Int 16:572–576

44.

Sammarco GJ, Taylor R (2001) Cavovarus foot treated with combined calcaneus and metatarsal osteotomies. Foot Ankle Int 22:19–30

45.

Sammarco GJ, Taylor R (2001) Combined calcaneal and metatarsal osteotomies for the treatment of cavus foot. Foot Ankle Clin 6:533–543

46.

Steffensmeier SJ, Saltzman CL, Berbaum KS, Brown TD (1996) Effects of medial and lateral displacement calcaneal osteotomies on tibiotalar joint contact stresses. J Orthop Res 14:980–985

47.

Tennant JN, Carmont M, Phisitkul P (2014) Calcaneus osteotomy. Curr Rev Musculoskelet Med 7:271–276

48.

Valderrabano V, Wiewiorski M, Frigg A, Hintermann B, Leumann A (2007) Direkte anatomische Rekonstruktion des lateralen Bandapparates bei chronischer lateraler Instabilität des oberen Sprunggelenks. Unfallchirurg 110:701–704

49.

Wiewiorski M, Barg A, Valderrabano V (2013) Autologous matrix-induced chondrogenesis in osteochondral lesions of the talus. Foot Ankle Clin 18:151–158

50.

Younger AS, Hansen ST Jr. (2005) Adult cavovarus foot. J Am Acad Orthop Surg 13:302–315
Ethics declarations
Interessenkonflikt
A. Barg, H. Hörterer, M. Jacxsens, M. Wiewiorski, J. Paul und V. Valderrabano geben an, dass kein Interessenkonflikt besteht.
Dieser Beitrag beinhaltet keine Studien an Menschen oder Tieren.
Additional information
Redaktion
R.A. Fuhrmann, Bad Neustadt
Zeichner
R. Himmelhan, Mannheim
Electronic Supplementary Material
Video 1: Durchführung der Osteotomie mit einer oszillierenden Säge bis zur medialen Kortikalis
Video 2: Manuelle Mobilisierung des posterioren Osteotomiefragments mit Hilfe eines Arthrodesenspreizers
About this article
Cite this article
Barg, A., Hörterer, H., Jacxsens, M. et al. Dwyer-Osteotomie. Oper Orthop Traumatol 27, 283–297 (2015) doi:10.1007/s00064-015-0409-5
Received:

Revised:

Accepted:

Published:

Issue Date:
Schlüsselwörter
Fußdeformität

Sprunggelenk

Pes-cavovarus-Deformität

Gelenkerhaltende Operation

Korrekturosteotomie
Keywords
Foot deformities

Ankle joint

Cavovarus deformity

Joint-preserving surgery

Corrective osteotomy