Zusammenfassung
Hintergrund
In mehreren Studien wurde die erfolgreiche Anwendung verschiedener extraglottischer Atemwegshilfen durch Laien am Phantom beschrieben.
Ziele
Mit der vorliegenden Studie wurde der Einfluss der Ausbildungsmethode auf den Anwendungserfolg untersucht.
Methoden
Insgesamt 150 Besucher eines Einkaufszentrums wurden gebeten, eine i‑gel®-Larynxmaske (Intersurgical GmbH, Sankt Augustin, Deutschland) am Phantom anzuwenden. Hierbei erfolgte die Kurzeinweisung randomisiert entweder als praktische Demonstration oder durch das Selbststudium einer bebilderten Anleitung.
Ergebnisse
Der Anwendungserfolg im 1. Versuch betrug für die Gruppe der praktischen Demonstration 95,8 % und in der Gruppe der schriftlichen Anleitung 78,5 % (p 0,001). Die Platzierungszeiten unterschieden sich ebenfalls signifikant (Median 11,5 s vs. 22,5 s; p < 0,001),
Schlussfolgerungen
Mit beiden Ausbildungsmethoden kann ein Lernerfolg erreicht werden. Initial sollte eine praktische Ausbildung mit entsprechender Demonstration erfolgen.
Abstract
Background
Several studies have described the successful application of extraglottic airways by lay people to a phantom.
Objectives
This study examined the influence of the training method on the success of the application.
Methods
A total of 150 visitors of a shopping mall were asked to place an i‑gel laryngeal mask (Intersurgical GmbH, Sankt Augustin, Germany) on a manikin. The short instruction was randomized and performed either as a practical demonstration or through the self-study of an illustrated manual.
Results
Application success in the first attempt was 95.8 % for the practical demonstration group and 78.5 % for the written instruction group (p = 0.001). Placement times were also significantly different (median 11.5 s vs. 22.5 s, p < 0.001).
Conclusions
Learning success can be achieved with both training methods. Initially, a hands-on training should be carried out with a practical demonstration.
This is a preview of subscription content, log in to check access.
Access options
Buy single article
Instant access to the full article PDF.
US$ 39.95
Price includes VAT for USA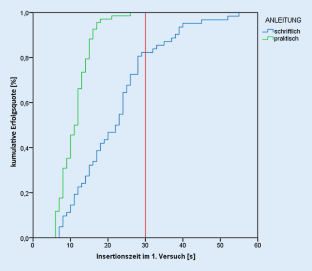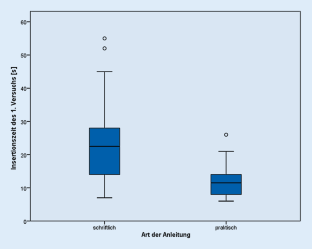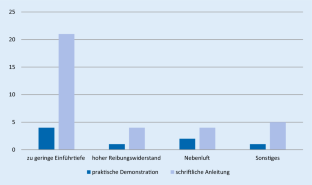 Literatur
Verwendete Literatur
1.

Acott CJ (2008) Extraglottic airway devices for diving medicine—part 3: the i‑gel™. Diving and hyperbaric. Medicine 38:124–127

2.

Benger J, Coates D, Davies S, Greenwood R, Nolan J, Rhys M, Thomas M, Voss S (2016) Randomised comparison of the effectiveness of the laryngeal airway supreme, i-gel and current practice in the initial airway management of out of hospital cardiac arrest. British J Anaesth 116(2):262–268

3.

Bernhard M, Beres W, Timmermann A et al (2014) Prehospital airway management using the laryngeal tube. An emergency department point of view. Anaesthesist 63:589–596

4.

Bernhard M, Behrens NH, Wnent J et al (2018) Out-of-hospital airway management during manual compression or automated chest compression device. Anaesthesist 67:109–117

5.

Bernhard M, Gries A, Ramshorn-Zimmer A, Wenzel V, Hossfeld B (2016) Insertion success of the laryngeal tube in emergency airway management. Biomed Res Int 2016:3619159. https://doi.org/10.1155/2016/3619159

6.

Duckett J, Fell P, Han K et al (2014) Introduction of the i‑gel supraglottic airway device for prehospital airway management in a UK ambulance service. Emerg Med J 31:505–507

7.

Duckett J, Fell P, Han K, Kimber C, Taylor C (2014) Introduction of the i-gel supraglottic airway device for prehospital airway management in a UK ambulance service. Emerg Med J 31:505–507

8.

European Resuscitation Council (2015a) Basismaßnahmen zur Wiederbelebung Erwachsener und Verwendung automatisierter externer Defibrillatoren. Kapitel 2 der Leitlinien zur Reanimation 2015 des European Resuscitation Council. Notfall Rettungsmed 18:748–769

9.

European Resuscitation Council (2015b) Erweiterte Reanimationsmaßnahmen für Erwachsene ("adult advanced life support"). Kapitel 3 der Leitlinien zur Reanimation 2015 des European Resuscitation Council. Notfall Rettungsmed 18:770–832

10.

Fischer H, Hochbrugger E, Fast A et al (2011) Performance of supraglottic airway devices and 12 month skill retention: a randomized controlled study with manikins. Resuscitation 82:326–331

11.

Gatward JJ, Cook TM, Seller C Handel J, Simpson T, Vanek V, Kelly F (2008) Evaluation of the size 4 i-gel airway in one hundred non-paralysed patients. Anaesthesia 63:1124–1130

12.

Gräsner JT, Werner C, Geldner G et al (2014) Bad Boller Reanimationsgespräche. Anasth Intensivmed 55:148–150

13.

Häske D, Schempf B, Gaier G Niederberger C (2013) Performance of the i-gel™ during pre-hospital cardiopulmonary resuscitation. Resuscitation 564:72–77

14.

Liew GHC, Yu ED SS, Kothand H (2016) Comparison of the clinical performance of i-gel, LMA Supreme and LMA ProSeal in elective surgery. Singapore Med J 57(8):432–437

15.

Lindner TW, Soreide E, Nilsen OB et al (2011) Good outcome in every fourth resuscitation attempt is achievable—an Utstein template report from the Stavanger region. Resuscitation 82:1508–1513

16.

Lorem T, Palm A, Wilk L (2008) Impact of a self-instruction CPR-kit on 7th graders and adults' skills and CPR performance. Resuscitation 79:103–108

17.

Lubrano R, Romero S, Scoppi P et al (2005) How to become a under 11 rescuer: a practical method to teach first aid to primary schoolchildren. Resuscitation 64:303–307

18.

Lukas RP, Bohn A, Möllhoff T et al (2013) Laienreanimation – Reanimation als Schulfach: "Was Hänschen nicht lernt …". Anasthesiol Intensivmed Notfallmed Schmerzther 48(09):552–557

19.

Mann V, Limberg F, Mann STW et al (2019) Routineerhalt beim Umgang mit extraglottischen Atemwegen im Rettungsdienst: Effektivität und Nachhaltigkeit einer simulatorbasierten Ausbildung. Med Klin Intensivmed Notfmed 114(6):541–551

20.

Martin-Gill C, Prunty HA, Ritter SC et al (2015) Risk factors for unsuccessful prehospital laryngeal tube placement. Resuscitation 86:25–30

21.

Middleton PM, Simpson PM, Thomas RE, Bendall JC (2014) Higher insertion success s with the i-gel supraglottic airway in out-of-hospital cardiac arrest: a randomised controlled trial. Resuscitation 85:893–897

22.

Mukadder S, Zekine B, Erdogan KG, Ulku U, Muharrem U, Saim Y, Mahmut D (2015) Comparison of the proseal, supreme, and i-gel SAD in gynecological laparoscopic surgeries. Sci World J 2015:634320

23.

Peutrell I, Jennison N (2014) Is an i‑gel® supraglottic airway useful for airway rescue in the community? Br J Midwifery 22–5:338–342

24.

Piepho T, Cavus E, Noppens R et al (2015) S1-Leitlinie Atemwegsmanagement. Anasth Intensivmed 56:505–523

25.

Polat R, Aydin GB, Ergil J, Sayin M, Kokulu T, Öztürk I (2015) Comparison of the i-gel™ and the Laryngeal Mask Airway Classic™ in terms of clinical performance. Rev Bras Anestesiol 65:343–348

26.

Ruetzler K, Roessler B, Potura L et al (2011) Performance and skill retention by paramedics using seven different airway devices—a manikin study. Resuscitation 82:593–597

27.

Russo SG, Bollinger M, Strack M et al (2013) Transfer of airway skills from manikin training to patient: success of ventilation with facemask or LMA-Supreme® by medical students. Anaesthesia 68:1124–1131

28.

Schalk R, Byhahn C, Klüner C et al (2018) Anwendung des Larynxtubus in der Notfallmedizin – Komplikationen und Fallstricke. Notarzt 34:124–131

29.

Schälte G, Stoppe C, Rossaint R et al (2012) Does a 4 diagram manual enable laypersons to operate the laryngeal mask supreme®? A pilot study in the manikin. Scand J Trauma Resusc Emerg Med 20:21

30.

Schälte G, Bomhard LT, Rossaint R et al (2016) Layperson mouth-to mask ventilation using a modified I‑gel laryngeal mask after brief onsite instruction:a manikin-based feasibility trial. BMJ Open 6:e10770. https://doi.org/10.1136/bmjopen-2015-010770

31.

Schmidbauer W, Bercker S, Volk T et al (2009) Oesophageal seal of the novel supralaryngeal airway device I‑gel in comparison with the laryngeal mask airways classic and proseal using a cadaver model. Br J Anaesth 102:135–139

32.

Stone BJ, Chantler PJ, Baskett PJ (1998) The incidence of regurgitation during cardiopulmonary resuscitation: a comparison between the bag valve mask and laryngeal mask airway. Resuscitation 38:3–6

33.

Timmermann A, Byhahn C, Wenzel V et al (2012) Handlungsempfehlung für das präklinische Atemwegsmanagement. Anasthesiol Intensivmed 53:294–308

34.

Uppal V, Gangaiah S, Fletcher G, Kinsella J (2009) Randomized crossover comparison between the i-gel and the LMA-Unique in anaesthetized, paralyzed adults. Br J Anaesth 103:882–885

35.

Weiss M, Schmidt J, Eich C et al (2011) Handlungsempfehlung zur Prävention und Behandlung des unerwartet schwierigen Atemwegs in der Kinderanästhesie. Anasth Intensivmed 52:S54–63

36.

Wharton NM, Gibbison B, Gabbott DA, Haslam GM, Muchatuta N, Cook TM (2008) I-gel insertion by novices in manikins and patients. Anaesthesia 63:991–995

37.

Wnent J, Gräsner JT, Seewald S et al (2018) Jahresbericht Außerklinische Reanimation 2017 des Deutschen Reanimationsregisters. Anasth Intensivmed 59:355–357
Weiterführende Literatur
38.

Bohn A, Seewald S, Wnent J (2016) Basismaßnahmen bei Erwachsenen und Anwendung automatischer externer Defibrillatoren. Anasthesiol Intensivmed Notfallmed Schmerzther 51:178–185

39.

Gräsner JT, Wnent J, Seewald S et al (2013) Mehr Überlebende durch mehr Wissen. Notfallmed Up2date 10:121–130

40.

Piegeler T, Roessler B, Goliasch G et al (2016) Evaluation of six different airway devices regarding regurgitation and pulmonary aspiration during cardio-pulmonary resuscitation (CPR)—a human cadaver pilot study. Resuscitation 102:70–74
Ethics declarations
Interessenkonflikt
C. Jänig, A. Poplawski, S. Sammito, S. Liebler, W. Schmidbauer und T. Piepho geben an, dass kein Interessenkonflikt besteht.
Für diesen Beitrag wurden von den Autoren keine Studien an Menschen oder Tieren durchgeführt. Für die aufgeführten Studien gelten die jeweils dort angegebenen ethischen Richtlinien.
Additional information
Das Manuskript enthält Daten aus der Dissertation von S. Liebler.
Redaktion
M. Buerke, Siegen
About this article
Cite this article
Jänig, C., Poplawski, A., Sammito, S. et al. Auswirkung verschiedener Ausbildungsmethoden auf die Anwendung der i-gel®-Larynxmaske durch Laien am Phantom. Med Klin Intensivmed Notfmed (2020). https://doi.org/10.1007/s00063-020-00665-4
Received:

Revised:

Accepted:

Published:
Schlüsselwörter
Atemwegsicherung

Larynxmaske

Kardiopulmonale Reanimation

Breitenausbildung

Laien
Keywords
Airway management methods

Laryngeal mask

Cardiopulmonary resuscitation

Education

Lay persons