Zusammenfassung
Hintergrund
Die Einführung einer elektronischen Patientenakte (ePA) bzw. eines Notfalldatensatzes (NFD) ist ebenso wie die Reform der Notfallversorgung in Deutschland derzeit immer wieder Teil politischer Diskussionen. Derzeit existieren in Deutschland keine Daten zum Nutzen einer solchen ePA bzw. NFD für die Notaufnahmen. Ziel dieser Studie war es herauszufinden, ob mitgebrachte Vorbefunde Einfluss auf Diagnostik- und Therapieentscheidungen in der Notaufnahme haben.
Methodik
Zur Beantwortung der Frage wurde eine deskriptive Beobachtungsstudie in einer interdisziplinären Notaufnahme durchgeführt mit einer Studienpopulation von n = 96.
Ergebnisse
Hinsichtlich vorhandener Vorbefunde konnten bei 55 Patienten (59 %) weder ein Arztbrief noch eine Medikamentenliste gefunden werden. Jedoch konnten bei 48 % der Patienten, die über die Notaufnahme stationär aufgenommen wurden, Ergänzungen der Anamnese nachgewiesen werden.
Bei 8 (9 %) Patienten zeigte sich, dass Therapie- und/oder Diagnostikentscheidungen hätten diskutiert bzw. geändert werden müssen, falls die ergänzten anamnestischen Informationen in der Notaufnahme vorgelegen hätten. Die Dauer der Anamnese zeigte sich ebenfalls verlängert bei fehlenden Vorbefunden seitens des Patienten (Mittelwert: 10–15 min; Standardabweichung: ±<5 min) im Gegensatz zu den Patienten mit Vorbefunden (Mittelwert: 5–10 min; Standardabweichung: ±<5 min).
Diskussion
Mithilfe von ePA und NFD könnten Therapie- und Diagnostikentscheidungen sicherer gestellt werden. Beim Fehlen von Vorbefunden ist die Anamnesedauer in Notaufnahmen deutlich verlängert, was sich durch die Einführung einer ePA bzw. eines NFD reduzieren ließe.
Abstract
Background
The introduction of an electronic health record (EHR) or an emergency care data set (ECDS), as well as reforms in emergency medical care, is currently part of political debate in Germany. Currently, no data are available of how emergency departments could benefit from an ePA or NFD in Germany. The aim of this study was to determine if a patient's medical history has an influence on diagnostic and therapeutic decisions in the emergency department.
Methodology
To answer this question, a descriptive observational study was conducted in an interdisciplinary emergency department with a study population of n = 96.
Results
For 55 patients (59%) neither a doctor's letter nor a drug list was found. However, in 48% of the patients who were admitted to the hospital via the emergency department, additions to the anamnesis record could be identified. Eight (9%) patients showed that therapy and/or diagnostic decisions should have been discussed or changed if the supplemented anamnestic information had been available in the emergency room. In addition, the study revealed that the duration of the anamnesis was prolonged in case of missing medical history (mean: 10–15 min, standard deviation: ±<5 min). In contrast to the patients with a medical history (mean: 5–10 min, standard deviation: ±<5 min).
Conclusion
Based on the data stored in EHR and ECDS, therapy and diagnostic decisions could be made more reliably. In the absence of a medical history, the time required for medical history taking in emergency departments is significantly longer, which could be reduced by introducing EHR or ECDS.
This is a preview of subscription content, log in to check access.
Access options
Buy single article
Instant access to the full article PDF.
US$ 39.95
Price includes VAT for USA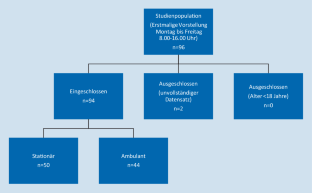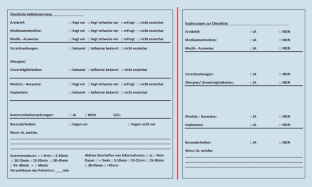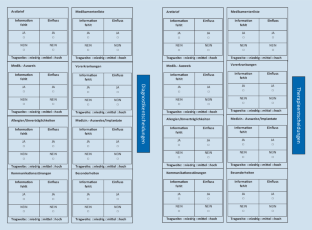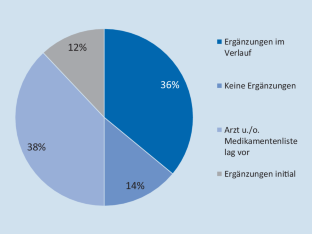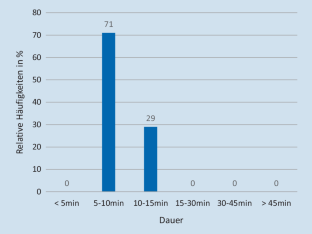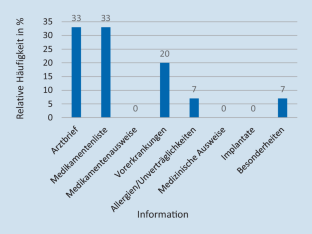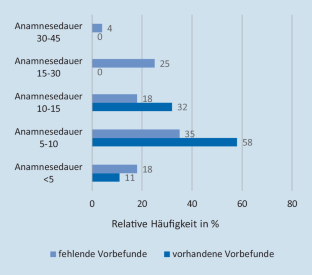 Literatur
1.

Augurzky B, Beivers A, Breidenbach P et al (2018) Notfallversorgung in Deutschland Projektbericht im Auftrag der Kassenärztlichen Bundesvereinigung. RWI – Leibniz-Institut für Wirtschaftsforschung, Essen

2.

Bundesgesundheitsministerium (2019) Notfallversorgung

3.

Connelly DP, Park YT, Du J et al (2012) The impact of electronic health records on care of heart failure patients in the emergency room. J Am Med Inform Assoc 19/3:334–340

4.

Groening M, Grossmann F, Hilmer T et al (2017) Ältere Notfallpatienten: Blickschärfung Notwendig. Dtsch Arztebl 114(11):645–652

5.

Haas C, Larbig M, Schöpke T et al (2015) Gutachten zur ambulanten Notfallversorgung im Krankenhaus 2015

6.

Lindner T, Slagman A, Senkin A et al (2015) Medical history of elderly patients in the emergency setting: not an easy point-of-care diagnostic marker. Emerg Med Int 2015:6

7.

Müller-Mielitz S, Lux T (2017) E‑Health-Ökonomie. Springer, Wiesbaden

8.

Pschyrembel W (1987) Pschyrembel Klinisches Wörterbuch. De Gruyter, Berlin; Boston

9.

Speedie SM, Park YT, Du J et al (2014) The impact of electronic health records on people with diabetes in three different emergency departments. J Am Med Inform Assoc 21(1):71–77

10.

Stiell A, Forster AJ, Stiell IG et al (2003) Prevalence of information gaps in the emergency department and the effect on patient outcomes. CMAJ 169(10):1023–1028
Ethics declarations
Interessenkonflikt
M. Lorsbach, A. Gillessen, K. Revering und C. Juhra geben an, dass kein Interessenkonflikt besteht.
Die ethischen Richtlinien für Studien wurden im Einklang mit nationalem Recht eingehalten. Für die aufgeführten Studien gelten die jeweils dort angegebenen ethischen Richtlinien. Die Datenverarbeitung und -auswertung erfolgte ausschließlich sekundär anonymisiert. Ein Antragsverfahren bei der Ethikkomission war nicht notwendig.
Additional information
Redaktion
M. Buerke, Siegen
About this article
Cite this article
Lorsbach, M., Gillessen, A., Revering, K. et al. Informationen zur medizinischen Vorgeschichte in der Notaufnahme. Med Klin Intensivmed Notfmed (2020). https://doi.org/10.1007/s00063-020-00661-8
Received:

Revised:

Accepted:

Published:
Schlüsselwörter
Elektronische Patientenakte

Notfalldatensatz

Telematik

Anamnese

Notfallmedizin
Keywords
Electronic health record

Emergency care data set

Telematics

Medical history taking

Emergency medicine