Cardiac imaging after ischemic stroke
Echocardiography, CT, or MRI?
Abstract
About 20–25% of all ischemic strokes are of cardioembolic etiology, with atrial fibrillation and heart failure as the most common underlying pathologies. Diagnostic work-up by noninvasive cardiac imaging is essential since it may lead to changes in therapy, e.g., in—but not exclusively—secondary stroke prevention. Echocardiography remains the cornerstone of cardiac imaging after ischemic stroke, with the combination of transthoracic and transesophageal echocardiography as gold standard thanks to their high sensitivity for many common pathologies. Transesophageal echocardiography should be considered as the initial diagnostic tool when a cardioembolic source of stroke is suspected. However, to date, there is no proven benefit of transesophageal echocardiography-related therapy changes on the main outcomes after ischemic stroke. Based on the currently available data, cardiac computed tomography and magnetic resonance imaging should be regarded as complementary methods to echocardiography, providing additional information in specific situations; however, they cannot be recommended as first-line modalities.
Keywords
Brain ischemia 
Computed tomography, X‑ray 
Embolism 
Magnetic resonance imaging 
Echocardiography, transesophageal 
Abbreviations
AF

Atrial fibrillation

ASA

Atrial septal aneurysm

CT

Computed tomography

ECG

Electrocardiogram

IE

Infective endocarditis

LA

Left atrial/left atrium

LAA

Left atrial appendage

LV

Left ventricular

MRI

Magnetic resonance imaging

OAC

Oral anticoagulation

PFO

Patent foramen ovale

TEE

Transesophageal echocardiography

TIA

Transient ischemic attack

TTE

Transthoracic echocardiography
Kardiale Bildgebung nach ischämischem Schlaganfall
Echokardiographie, CT oder MRT?
Zusammenfassung
Etwa 20–25 % der ischämischen Schlaganfälle sind kardioembolischer Genese mit Vorhofflimmern und Herzinsuffizienz als den häufigsten Ursachen. Die diagnostische Aufarbeitung mittels kardialer Bildgebung ist unerlässlich, da sie zu therapeutischen Veränderungen führen kann, beispielsweise, aber nicht ausschließlich, hinsichtlich der sekundären Schlaganfallprävention. Die Echokardiographie bleibt die Basis der kardialen Bildgebung nach einem ischämischen Schlaganfall mit der Kombination aus transthorakaler und transösophagealer Echokardiographie als Goldstandard aufgrund der hohen Sensitivität für die häufigsten pathologischen Veränderungen. Bei einem klinischen Verdacht auf einen kardioembolischen Schlaganfall sollte die transösophageale Echokardiographie als initiale Untersuchung erwogen werden. Allerdings wurde bisher nicht anhand einer Studie nachgewiesen, dass die aufgrund der transösophagealen Echokardiographie geänderten therapeutischen Maßnahmen für die Hauptendpunkte nach Schlaganfall von Vorteil seien. Auf der Grundlage der derzeit verfügbaren Studien sollten die kardiale Computertomographie und die kardiale Magnetresonanztomographie als ergänzende Methoden zur Echokardiographie betrachtet werden, die in bestimmten Situationen zusätzliche Informationen liefern können, aber nicht als Standarddiagnostik dienen sollten.
Schlüsselwörter
Hirnischämie 
Computertomographie 
Embolie 
Magnetresonanztomographie 
Echokardiographie, transösophageale 
In Europe, about 87% of all strokes are considered to be ischemic and 13% are hemorrhagic strokes [
1
]. According to the TOAST (Trial of ORG 10172 in Acute Ischemic Stroke) criteria [
2
], ischemic stroke can be divided into five categories based on the assumed etiology:
Large-artery atherosclerosis,

Cardioembolism,

Small-vessel occlusion,

Stroke of other determined etiology,

Stroke of undetermined (cryptogenic) etiology.
Cardioembolism accounts for about 20–25% of all ischemic strokes [3]. However, the pathogenesis of stroke remains unexplained in up to 30% of all patients (so-called cryptogenic stroke). This may be due to competing causes of stroke (i.e., ipsilateral carotid stenosis and atrial fibrillation [AF]), insufficient diagnostic work-up, or standard diagnostic work-up without relevant pathological findings. Based on long-term electrocardiogram (ECG) monitoring, it is assumed that a significant proportion of suspected cryptogenic strokes might have been of cardioembolic origin [4, 5, 6]. Compared with non-cardioembolic strokes, cardioembolic strokes are more severe and are associated with increased mortality and disability and a high recurrence rate [7, 8]. A thorough work-up after stroke is important since it might lead to changes in secondary stroke prevention [9].
For cardiac sources of embolism, a distinction was made between high-risk and low-risk cardiovascular sources (Table 
1
). The most common causes of cardioembolism are AF, left ventricular (LV) dysfunction and LV thrombus, endocarditis, prosthetic valves, and patent foramen ovale (PFO), with AF accounting for the majority of cases [
10
]. Although screening for AF by ECG, monitoring during stroke unit stay, and, if suspicion for AF is high, additional longer-term ECG monitoring have become routine, sequential cardiac imaging after ischemic stroke is less well established [
11
]. This is usually achieved with transthoracic (TTE) or transesophageal echocardiography (TEE). Transthoracic echocardiography has been increasingly performed as part of stroke work-up in the past few years, whereas TEE is used infrequently [
12
,
13
,
14
,
15
]. In recent years, some studies have assessed the potential benefits of cardiac computed tomography (CT) and magnetic resonance imaging (MRI) regarding the evaluation of sources of cardioembolism.
High risk of embolism

Intracardiac thrombi

Left atrium/left atrial appendage (LAA)

Atrial fibrillation

Atrial flutter

LAA thrombus during sinus rhythm

Left ventricle (LV)

Ischemic cardiomyopathy (ICM)

Acute myocardial infarction (<4 weeks)

Chronic ICM, especially in cases of LV aneurysm

Dilated cardiomyopathy

Other cardiomyopathies

Prosthetic valves and devices

Endocarditis

Native valves

Prosthetic valves

Intracardiac tumors

Myxoma

Papillary fibroelastoma

Other tumors

Aortic atheroma

Low/uncertain risk of embolism

Mitral valve prolapse

Calcification of mitral/aortic valve

Spontaneous echocardiographic contrast

Interatrial septum anomalies

Patent foramen ovale

Atrial septum aneurysm

Atrial septum defect
The objective of this work is to provide an overview of the available clinical data on cardiac imaging after acute ischemic stroke including cardiac CT and MRI. Imaging results may vary significantly depending on the settings, machines, and protocols used for imaging, but details on technical aspects are beyond the scope of this review. The general advantages and disadvantages of all four imaging modalities are summarized in Fig. 
1
.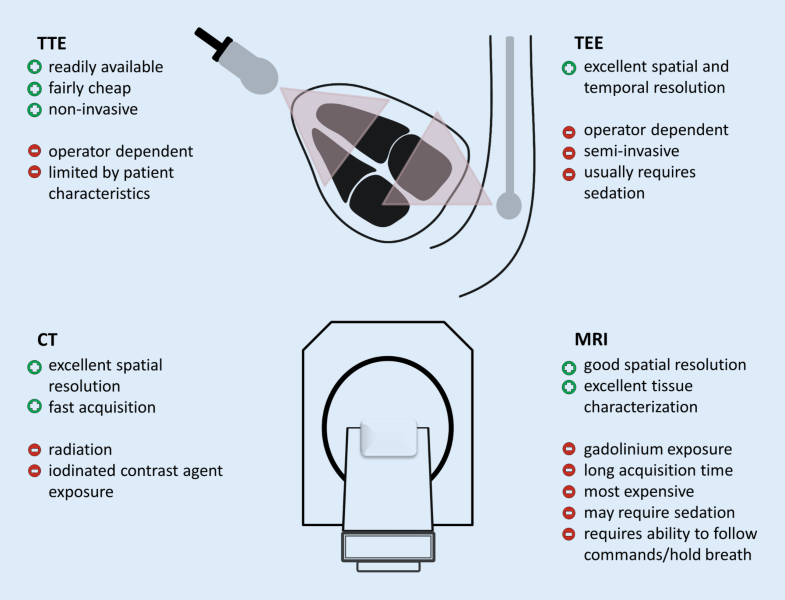 Cardiac imaging after acute ischemic stroke
Transthoracic vs. transesophageal echocardiography
Both TTE and TEE have specific advantages and disadvantages. Transthoracic echocardiography is well suited to imaging of anterior cardiac structures including the ventricles, while posterior structures such as the left atrium (LA) and the left atrial appendage (LAA) are less well captured because of the greater distance to the probe. Image quality may be limited owing to specific patient characteristics (e.g., chest wall abnormalities, lung disease, or obesity). On the other hand, TEE has hardly any acoustic limitations thanks to the proximity of the imaging probe to the LA and thoracic aorta. Therefore, it is intended for diagnosis of abnormalities not detected on TTE (Table 
2
). Despite its semi-invasive nature, TEE is considered to be a safe procedure and serious complications such as gastroesophageal injuries, major bleeding, or sustained dysrhythmias are rare [
16
]. Nevertheless, it is often necessary to use mild sedation and certain conditions constitute a contraindication for TEE (Table 
3
).
Table 2
Comparison of cardiac imaging methods in the evaluation of cardioembolism etiology
|   | TTE | TEE | Cardiac CT | Cardiac MRI |
| --- | --- | --- | --- | --- |
| LV thrombus | + (++b) | +(++b) | ++ | +++a |
| Cardiomyopathy | ++ | + | + | +++a |
| LA/LAA | + | +++a | +++ | ++ |
| Patent foramen ovale | ++c | +++c a | + | + |
| Valvular disease | ++ | +++a | ++(+++d) | + |
| Intracardiac tumors | + | ++ | +++ | +++a |
| Aortic atheroma | − | ++ | +++ (Angiography)a | ++ (Angiography) |
Absolute

Relative

Perforated viscus

Esophageal pathologies

Tumor

Perforation

Large diverticulum

Obstruction, stricture

Upper gastrointestinal bleeding

Recent upper gastrointestinal surgery

Esophageal varices

Coagulation disorders

Severe thrombocytopenia (<50,000/µl)

Elevated international normalized ratio (>4)

Prolonged partial thromboplastin time (>150 s)

History of dysphagia

Recent upper gastrointestinal bleeding

Esophagitis, peptic ulcer disease

Impaired neck mobility, radiation of neck and mediastinum
Current guidelines do not provide clear recommendations regarding the use of echocardiography for stroke patients. Whereas the guideline on acute stroke management issued by the American Heart Association [17] does not mention echocardiography at all, the European Stroke Organization guideline [18] recommends echocardiography in selected patients (Class III, Level B recommendation). However, the European Stroke Organization guideline does not provide any recommendation as to the choice of TTE or TEE. Current echocardiography guidelines recommend routine use of TTE as a screening tool for potential cardiac sources of embolism [19, 20]. Transesophageal echocardiography might also be considered as an initial or supplemental test in specific patients, e.g., in cases of suspected endocarditis if TTE is normal. Transesophageal echocardiography is not recommended if potential results will not change the therapeutic decisions. Owing to the lack of clear recommendations, the diagnostic use of TEE and TTE varies considerably between stroke centers [21].
In a predominantly prospective, two-center study of 824 ischemic stroke patients, 95% of all patients with cardiac pathologies identified by TEE had an abnormal TTE and/or AF [22]. Furthermore, TEE did not result in additional findings that changed the therapeutic regimen to oral anticoagulation (OAC) in patients with normal TTE and sinus rhythm. In another prospective nonrandomized single-center study of 231 patients with ischemic stroke or transient ischemic attack (TIA) and no indication for OAC after routine work-up (not including prolonged rhythm monitoring), de Bruijn et al. [23] found a thrombus in 18% of the patients undergoing TEE compared with 2% of patients undergoing TTE. Almost all of these thrombi were located in the LAA. Harloff et al. [24] evaluated the additional benefit of TEE compared with routine work-up in a prospective, single-center study of 503 ischemic stroke patients. The TEE findings led to OAC administration in 8% of 212 patients with as-yet cryptogenic ischemic stroke. However, there was only a single case with an evidence-based indication for OAC (LA thrombus), while in all other cases the indication for OAC was debatable (e.g., LA spontaneous echo contrast [SEC] or aortic thrombi). In a retrospective analysis of 441 unselected patients with ischemic stroke or TIA, TEE was superior to TTE in identifying potential sources of cardioembolism [25]. The difference was mainly due to detection of LAA thrombi, aortic thrombi, and PFO. The additional diagnostic yield of TEE decreased significantly if individuals with known AF or cardiac disease (e.g., congestive heart failure or coronary artery disease) were excluded [25]. Nevertheless, a retrospective analysis identified a non-AF-related major source of embolism in 3.8% of 185 AF patients with acute ischemic stroke undergoing TEE and/or TTE. In addition, 32% of 75 AF patients undergoing TEE had aortic plaques [26].
Echocardiography vs. magnetic resonance imaging
In a prospective single-center study of 103 ischemic stroke patients, cardiac MRI identified a potential stroke etiology in an additional 6.1% of patients with a cryptogenic stroke according to routine work-up including TEE and in most cases TTE [27]. Four of these five patients had wall motion abnormalities in three or more segments, one was diagnosed with an aortic plaque of ≥4 mm that was missed on echocardiography. However, cardiac MRI failed to reveal a TEE-detected high-risk source of embolism in five cases. In four of these five cases, cardiac MRI was terminated prematurely on behalf of the patient or the urgent need to examine another stroke patient. Of note, late gadolinium enhancement—consistent with previous myocardial infarction—was found in 13 (14.6%) out of 89 stroke patients completing cardiac MRI, of whom only two had known coronary artery disease. The detection of subclinical past myocardial infarction with the help of cardiac MRI in stroke patients is in line with findings from prior studies [28, 29].
Baher et al. [28] evaluated the additional benefit of cardiac MRI in 85 ischemic stroke patients after routine work-up including TTE, but not TEE. Cardiac MRI identified a potential source of embolism in 26% of cases, which were classified as a cryptogenic stroke after routine work-up. Three of these patients had an evident embolic source (LV thrombus [n = 2] or complex aortic thrombus). In the remaining three patients, cardiac MRI detected a low-risk embolic source (atrial septal aneurysm [ASA] [n = 2] or PFO/ASA).
Echocardiography vs. computed tomography
Boussel et al. [30] evaluated the role of cardiac CT in a small cohort of patients with cryptogenic stroke. Compared with TEE as reference, CT had a sensitivity of 72% and a specificity of 95% for correct identification of the embolic source. All cases of aortic atheroma diagnosed with TEE were also detected by using CT. Sipola et al. [29] investigated whether combined examination of the heart, aorta, and brain-supplying arteries with CT could improve the diagnosis of stroke etiology compared with standard diagnostics including TTE and TEE in 140 patients with suspected cardioembolic stroke or TIA mainly based on brain imaging findings. The authors conclude that the combined use of CT and TTE/TEE was more sensitive than TTE/TEE alone for detecting at least one high-risk finding. This was mainly due to the detection of previous myocardial infarctions, which were considered as a high-risk embolic source in this study. Computed tomography further identified one additional LV thrombus, but CT was not suitable for diagnosing small LA thrombi. In an earlier prospective single-center study of 137 stroke patients with a high cardiovascular risk profile, cardiac CT was of similar diagnostic value to TEE regarding the identification of high-risk sources of embolism [31]. However, CT failed to detect many low-risk sources of embolism such as PFO/ASA. Furthermore, CT did not yield any additional findings to TEE.
Cardiac imaging for specific sources of cardioembolism
As indicated earlier, all four imaging modalities differ significantly in terms of their diagnostic performance regarding specific sources of cardioembolism (Table 2).
Conclusion
Echocardiography remains the cornerstone of cardiac imaging after acute ischemic stroke. Based on the currently available literature, TTE and TEE should be considered as complementary methods. Transthoracic echocardiography provides comprehensive information on cardiac structure and function and should the first method of choice in most patients. However, TEE might offer additional information especially in patients with a suspected cardioembolic source of stroke and therefore should be considered as the initial examination in these patients. Cardiac CT or MRI may be taken into account as an alternative if TEE is not possible/not available in a timely manner. Currently, the evidence on the effect of cardiac imaging-based changes in clinical management on prognosis after stroke remains scarce, but will hopefully accumulate in the future.
Notes
Compliance with ethical guidelines
Conflict of interest
S. Camen declares that he has no conflict of interests. R. B. Schnabel has received funding from the European Research Council (ERC) under the European Union's Horizon 2020 research and innovation programme (grant agreement No 648131), German Ministry of Research and Education (BMBF 01ZX1408A), and German Center for Cardiovascular Research (DZHK e.V.) (81Z1710103). R. B. Schnabel further reports lecture/advisory board fees from BMS/Pfizer. K.G. Haeusler reports study grants by Bayer and Sanofi-Aventis, lecture fees/advisory board fees from Sanofi-Aventis, Pfizer, Bristol-Myers-Squibb, Boehringer Ingelheim, Daiichi Sankyo, Edwards Lifesciences, Biotronik, and Medtronic.
This article does not contain any studies with human participants or animals performed by any of the authors.
Copyright information
© The Author(s) 2019
Open Access This article is distributed under the terms of the Creative Commons Attribution 4.0 International License (http://creativecommons.org/licenses/by/4.0/), which permits unrestricted use, distribution, and reproduction in any medium, provided you give appropriate credit to the original author(s) and the source, provide a link to the Creative Commons license, and indicate if changes were made.