Abstract
Background
Angiopoietin-2 (Angpt2) mediates endothelial dysfunction (ED) following coronary artery bypass grafting (CABG). Its triggers are, however, poorly understood.
Methods
We examined the time course of ED beyond the early phase of postoperative recovery in 75 patients following CABG with a special focus on different cardiopulmonary bypass (CPB) modes as potential triggers of Angpt2 release.
Results
Nine patients (12.0%) underwent off-pump coronary artery bypass (OPCAB), 31 patients (41.3%) received minimized extracorporeal circulation (MECC), and 35 patients (46.6%) were operated on with (conventional) CPB. Angpt2 levels steadily increased across the observation period (1.7 [1.4–2.1] to 3.4 [2.5–6.1] ng/ml, p < 0.001). Angpt2 levels did not differ between the MECC and CPB groups (p = 0.564). There was no difference between MECC and CPB patients regarding net fluid balance (p = 0.821) and other surrogate markers of postoperative ED. The magnitude of Angpt-2 increase correlated more strongly with baseline C‑reactive protein (r = 0.459, p < 0.001) than with any other parameter. Hospital length of stay correlated more strongly with baseline Angpt2 levels (r = 0.512, p = 0.005) than with follow-up Angpt2 levels and appeared not to be influenced by CPB mode (p = 0.428).
Conclusion
CABG is associated with prolonged ED, which is determined by the patient's preoperative inflammatory state rather than by CPB modifications.
Zusammenfassung
Hintergrund
Angiopoietin-2 (Angpt2) führt zur endothelialen Dysfunktion (ED) nach Koronararterien-Bypass-Operation (CABG). Über seine Trigger ist jedoch bislang nur wenig bekannt.
Methoden
Die Autoren untersuchten den Zeitverlauf der ED jenseits der Frühphase der postoperativen Genesung bei 75 Patienten nach CABG mit speziellem Fokus auf den verschiedenen Arten des kardiopulmonalen Bypass (CPB) als potenziellem Trigger der Angpt2-Freisetzung.
Ergebnisse
Bei 9 Patienten (12,0 %) erfolgte eine CABG ohne Herz-Lungen-Maschine ("off-pump coronary artery bypass", OPCAB), bei 31 Patienten (41,3 %) unter Einsatz der minimierten extrakorporalen Zirkulation ("minimized extracorporeal circulation", MECC) und bei 35 Patienten (46,6 %) mit (konventionellem) CPB. Die Angpt2-Werte stiegen während der Beobachtungsphase ständig an (von 1,7 [1,4–2,1] bis 3,4 [2,5–6,1] ng/ml, p < 0,001). Dabei unterschieden sich die Angpt2-Werte nicht zwischen der MECC- und der CPB-Gruppe (p = 0,564). Auch gab es keinen Unterschied zwischen den Patienten mit MECC und denen mit CPB hinsichtlich der Nettoflüssigkeitsbilanz (p = 0,821) und anderer Surrogatmarker der postoperativen ED. Die Größenordnung des Angpt-2-Anstiegs war stärker mit dem Ausgangswert für C‑reaktives Protein korreliert (r = 0,459; p < 0,001) als mit einem der anderen Parameter. Die Verweildauer im Krankenhaus war stärker mit dem Ausgangswert für Angpt2 korreliert (r = 0,512; p = 0,005) als mit den Folgewerten für Angpt2 und schien nicht durch die Art des CPB beeinflusst zu werden (p = 0,428).
Schlussfolgerung
Eine CABG ist mit prolongierter ED assoziiert, die eher durch den präoperativen Entzündungsstatus des Patienten bestimmt wird als durch Modifikationen des CPB.
This is a preview of subscription content, log in to check access.
Access options
Buy single article
Instant access to the full article PDF.
US$ 39.95
Price includes VAT for USA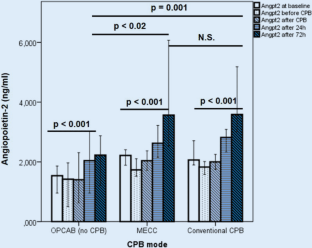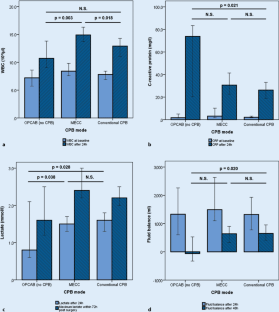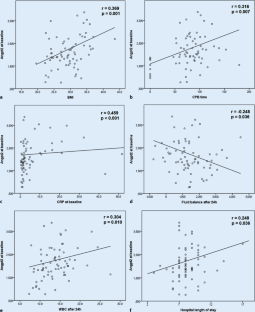 Abbreviations
Angpt2:

angiopoietin-2

BMI:

body mass index

CABG:

coronary artery bypass grafting

CPB:

cardiopulmonary bypass

CRP:

C-reactive protein

ICU:

intensive care unit

LOS:

length of stay

MECC:

minimized extracorporeal circulation

OPCAB:

off-pump coronary artery bypass

SOFA:

sequential organ failure assessment

WBC:

white blood cell count
References
1.

Augustin HG, Koh GY, Thurston G et al (2009) Control of vascular morphogenesis and homeostasis through the angiopoietin-Tie system. Nat Rev Mol Cell Biol 10:165–177

2.

Fiedler U, Reiss Y, Scharpfenecker M et al (2006) Angiopoietin-2 sensitizes endothelial cells to TNF-alpha and has a crucial role in the induction of inflammation. Nat Med 12:235–239

3.

Fiedler U, Scharpfenecker M, Koidl S et al (2004) The Tie-2 ligand angiopoietin-2 is stored in and rapidly released upon stimulation from endothelial cell Weibel-Palade bodies. Blood 103:4150–4156

4.

Fiedler U, Krissl T, Koidl S et al (2003) Angiopoietin-1 and angiopoietin-2 share the same binding domains in the Tie-2 receptor involving the first Ig-like loop and the epidermal growth factor-like repeats. J Biol Chem 278:1721–1727

5.

Parikh SM, Mammoto T, Schultz A et al (2006) Excess circulating angiopoietin-2 may contribute to pulmonary vascular leak in sepsis in humans. Plos Med 3:356–370

6.

Roviezzo F, Tsigkos S, Kotanidou A et al (2005) Angiopoietin-2 causes inflammation in vivo by promoting vascular leakage. J Pharmacol Exp Ther 314:738–744

7.

Kümpers P, Lukasz A, David S et al (2008) Excess circulating angiopoietin-2 is a strong predictor of mortality in critically ill medical patients. Crit Care 12:R147

8.

Kümpers P, Hafer C, David S et al (2010) Angiopoietin-2 in patients requiring renal replacement therapy in the ICU: relation to acute kidney injury, multiple organ dysfunction syndrome and outcome. Intensive Care Med 36:462–470

9.

Hadem J, Bockmeyer CL, Lukasz A et al (2012) Angiopoietin-2 in acute liver failure. Crit Care Med 40:1499–1505

10.

Clajus C, Lukasz A, David S et al (2012) Angiopoietin- is a potential mediator of endothelial barrir dysfunction following cardiopulmonary bypass. Cytokine 60:352–359

11.

Brettner F, Chappell D, Schwartz L et al (2017) Vascular endothelial dysfunction during cardiac surgery: on-pump versus off-pump coronary surgery. Eur Surg Res 58:354–368

12.

Puehler T, Haneya A, Philipp A et al (2009) Minimal extracorporeal circulation: an alternative for on-pump and off-pump coronary revascularization. Ann Thorac Surg 87:766–772

13.

El-Essawi A, Hajek T, Skorpil J et al (2011) Are minimized perfusion circuits the better heart lung machines? Final results of a prospective randomized multicentre trial. Perfusion 26:470–478

14.

Kutschka I, Skorpil J, El Essawi A et al (2009) Beneficial effects of modern perfusion concepts in aortic valve and aortic root surgery. Perfusion 24:37–44

15.

Vincent JL, Moreno R, Takala J et al (1996) The SOFA (Sepsis-related Organ Failure Assessment) score to describe organ dysfunction/failure. On behalf of the Working Group on Sepsis-Related Problems of the European Society of Intensive Care Medicine. Intensive Care Med 22:707–710

16.

WHO (2000) Obesity: preventing and managing the global epidemic. Report of a WHO consultation. WHO technical report series 894. World Health Organization, Geneva

17.

Jongman RM, van Klarenbosch J, Molema G et al (2015) Angiopoietin/Tie2 dysbalance is associated with acute kidney injury after cardiac surgery assisted by cardiopulmonary bypass. PLoS ONE 10:e136205

18.

Charbonney E, Wilcox E, Shan Y et al (2017) Systemic angiopoietin-1/2 dysregulation following cardiopulmonay bypass in adults. Future Sci Oa 3:FSO166

19.

Jongman RM, Zijlstra JG, Ko KWF et al (2014) Off-pump CABG surgery reduces systemic inflammation compared with on-pump surgery but does not change systemic endothelial responses: a prospective randomized study. Shock 42:121–128

20.

Lamy A, Devereaux PJ, Prabhakaran D et al (2016) Five-year outcomes after off-pump or on-pump coronary-artery bypass grafting. N Engl J Med 375:2359–2368

21.

Shroyer AL, Grover FL, Hattler B et al (2009) On-pump versus off-pump coronary-artery bypass surgery. N Engl J Med 361:1827–1837

22.

Selnes OA, Gottesmann RF, Grega MA et al (2012) Cognitive and neurologic outcomes after coronary-artery bypass surgery. N Engl J Med 366:250–257

23.

Selnes OA, Grega MA, Baily MM et al (2009) Do management strategies for coronary artery disease influence 6‑year cognitive outcomes? Ann Thorac Surg 88:445–454
Acknowledgements
We are grateful for the help of Jan Reck, Tom Kreft, and Christian Ulrich, who assisted in the acquisition of serum samples.
Ethics declarations
Conflict of interest
J. Hadem, R. Rossnick, B. Hesse, M. Herr, M. Hansen, A. Bergmann, G. Kensah, C. Maess, H. Baraki, P. Kümpers, A. Lukasz, and I. Kutschka declare that they have no competing interests.
The study adhered to the ethical guidelines of the 1975 Declaration of Helsinki, was approved by the local ethics committee (approval number 51/15), and was registered at the German Clinical Trials Register (DRKS study number 00008855). All patients provided informed consent prior to study entry.
Caption Electronic Supplementary Material
About this article
Cite this article
Hadem, J., Rossnick, R., Hesse, B. et al. Endothelial dysfunction following coronary artery bypass grafting. Herz 45, 86–94 (2020). https://doi.org/10.1007/s00059-018-4708-0
Received:

Revised:

Accepted:

Published:

Issue Date:
Keywords
Aortocoronary bypass

Cardiopulmonary bypass

Angiopoietin-2

Endothelium

Inflammation
Schlüsselwörter
Aortokoronarer Bypass

Kardiopulmonaler Bypass

Angiopoietin-2

Endothel

Inflammation