Abstract
Takayasu arteritis (TA) is a chronic granulomatous panarteritis, predominantly affecting the aorta and its main branches. Infections, genetic factors as suggested by familial clustering, and autoimmunity may play a role in its pathogenesis. In this report, we describe familial TA in a mother and daughter with diverse clinical manifestations. In addition to being a familial form of vasculitis, both of our cases demonstrated amyloidosis, chronic renal disease thought to be due to ischemic nephropathy, and hypertensive nephrosclerosis.
Zusammenfassung
Bei der Takayasu-Arteriitis (TA) handelt es sich um eine chronische granulomatöse Panarteriitis, die in erster Linie die Aorta und ihre Hauptäste betrifft. Infektionen, genetische Faktoren, wie Hinweise durch familiäres Clustering ergaben, und Autoimmunität können eine Rolle in der Pathogenese spielen. Hier wird eine familiäre TA bei Mutter und Tochter mit verschiedenen klinischen Manifestationen beschrieben. Neben einer familiären Form der Vaskulitis wiesen beide Fälle eine Amyloidose, eine chronische Niereninsuffizienz – vermutlich infolge ischämischer Nephropathie – und eine hypertensive Nephrosklerose auf.
This is a preview of subscription content, log in to check access.
Access options
Buy single article
Instant unlimited access to the full article PDF.
US$ 39.95
Price includes VAT for USA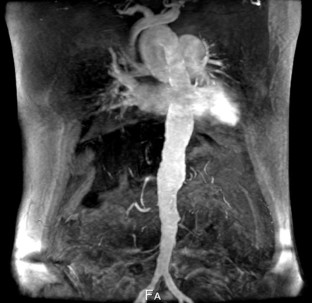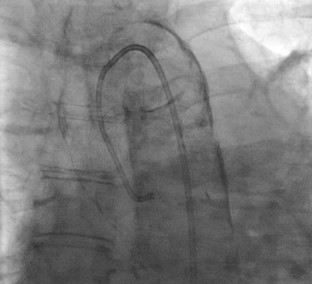 References
1.

Mason JC (2010) Takayasu arteritis: advances in diagnosis and management. Nat Rev Rheumatol 6:406–415

2.

Bicakcigil M, Aksu K, Kamali S et al (2009) Takayasu's arteritis in Turkey: clinical and angiographic features of 248 patients. Clin Exp Rheumatol 27[1 Suppl 52]:59–64

3.

Arnaud L, Kahn JE, Girszyn N et al (2006) Takayasu's arteritis: an update on physiopathology. Eur J Intern Med 17:241–246

4.

Tann O, Tulloh RMR, Hamilton MCK (2008) Takayasu's disease: a review. Cardiol Young 18:250–259

5.

Subramanyan R, Joy J, Balakrishnan KG (1989) Natural history of aortoarteritis (Takayasu's disease). Circulation 80:429–437

6.

Arend WP, Michel BA, Bloch DA et al (1990) The American college of rheumatology 1990 criteria for the classification of Takayasu arteritis. Arthritis Rheum 33(8):1129–1134

7.

Vanoli M, Bacchiani G, Origg L, Scorza R (2001) Takayasu's arteritis: a changing disease. J Nephrol 14:497–505

8.

Numano F, Kobayashi Y (1996) Takayasu arteritis: clinical characteristics and the role of genetic factors in its pathogenesis. Vasc Med 1:227–233

9.

Sato EI, Hatta FS, Levy-Neto M, Fernandes S (1998) Demographic, clinical and angiographic data of patients of Takayasu arteritis in Brazil. Int J Cardiol 66[Suppl 1]:67–70

10.

Tsai MJ, Lin SC, Wang JK et al (1998) A patient with familial Takayasu's arteritis presenting with fever of unknown origin. J Formos Med Assoc 97(5):351–353

11.

Naik N, Kothari SS, Sharma S (1999) Familial Takayasu's aortoarteritis in two sisters. Indian Heart J 51(1):75–76

12.

Heo JH, Kim M (2011) Familial Takayasu's arteritis in female siblings. Rheumatol Int 31:815–818

13.

Kerr GS, Hallahan CW, Giordano J et al (1994) Takayasu's arteritis. Ann Intern Med 120:919–929

14.

Ogawa O, Watanabe R, Shimizu H, Masani F (2011)Hypertensive crisis in young woman with Takayasu arteritis. Intern Med 50:1963–1967

15.

Dash SC, Sharma RK, Malhotra KK, Bhuyan UN (1984) Renal amyloidosis and non-specific aorto-arteritis—a hitherto undescribed association. Postgrad Med J 60(707):626–628

16.

Lai KN, Chan KW, Ho CP (1986) Glomerulonephritis associated with Takayas's arteritis: report of three cases and review of literature. Am J Kidney Dis 7:197–204

17.

Hellmann DB, Hardy K, Lindenfeld S, Ring E (1987) Takayasu's arteritis associated with crescentic glomerulonephritis. Arthritis Rheum 30:451–454

18.

Jain S, Taraphdar A, Joshi K et al (1992) Renal amyloidosis complicating Takayasu's arteritis: a rare association. Nephrol Dial Transplant 7:1133–1135

19.

Espinosa M, Rodriguez M, Martin-Malo A et al (1994) A case of Takayasu's arteritis, nephrotic syndrome and systemic amyloidosis. Nephrol Dial Transplant 9(10):1486–1488

20.

Salazar M, Varela A, Ramirez LA et al (2000) Association of HLA-DRB1*1602 and DRB1*1001 with Takayasu arteritis in Colombian mestizos as markers of Amerindian ancestry. Int J Cardiol 75[Suppl 1]:113–116

21.

Dong RP, Kimura A, Numano F et al (1992) HLA linked susceptibility and resistance to Takayasu arteritis. Heart Vessels Suppl 7:73–80

22.

Sahin Z, Bıcakcıgil M, Aksu K et al (2012) Takayasu's arteritis is associated with HLA-B*52, but not with HLA-B*51, in Turkey. Arthritis Res Ther 14(1):R27

23.

Kitamura H, Kobayashi Y, Kimura A, Numano F (1998) Association of clinical manifestations with HLA-B alleles in Takayasu arteritis. Int J Cardiol 66[Suppl 1]:121–126
Conflict of interest
On behalf of all authors, the corresponding author states that there are no conflicts of interest.
Electronic supplementary material
Video of renal angiography demonstrating severe in-stent restenosis in left renal artery (QickTime.mov 0,5 MB)
About this article
Cite this article
Deniz, A., Yildiz, F., Aktas, H. et al. Familial Takayasu arteritis in a mother and daughter: a report of two cases. Herz 38, 93–96 (2013). https://doi.org/10.1007/s00059-012-3653-6
Received:

Revised:

Accepted:

Published:

Issue Date:
Keywords
Amyloidosis

Chronic renal disease

Familial Takayasu arteritis

Hypertension
Schlüsselwörter
Amyloidose

Chronische Niereninsuffizienz

Familiäre Takayasu-Arteriitis

Hypertonie