Who needs a stapling device for haemorrhoidectomy, if one has the radiofrequency device?
Abstract
Background
Multiple operations exist to treat haemorrhoids. Although comparisons of conventional excision and other techniques have been performed, there are less comparative outcome data available for stapled haemorrhoidopexy (SH) and radiofrequency haemorrhoidectomy (RFH). Use of a radiofrequency energy device for haemorrhoidectomy is an alternative to standard diathermy, scissors or scalpel. It provides vessel sealing between the jaws of the instrument and aims to minimise wider tissue damage.
Objective
To systematically review the literature comparing SH and RFH, assessing complications, outcomes, patient experience and costs.
Methods
A tailored search of medical databases identified literature containing relevant primary and secondary data comparing SH and RFH. Papers were screened for relevance and completeness of published data. Those missing methodological information, outcome data or statistical analysis were subsequently excluded. A narrative review was then performed.
Results
The primary data in this review originate from six randomised control trials (RCTs) and five meta-analyses. Evidence was conflicting, with a trend towards more early postoperative pain in the RFH vs. the SH group (three RCTs reported increased early pain scores in the RFH group). Significantly higher rates of residual and recurrent haemorrhoids and prolapse in the SH group were observed in two RCTs and four meta-analyses. Bleeding, urinary retention, incontinence and anal stenosis did not significantly differ. No detailed contemporary cost analysis was found.
Conclusion
The trials are small, with significant heterogeneity in the techniques used and outcome data recorded. However, despite the limited available evidence, RFH appears superior to SH due to significantly lower rates of residual and recurrent haemorrhoids and prolapse.
Keywords
Haemorrhoids 
Pain 
Cost 
Postoperative complications 
Prolapse 
Wer braucht einen Stapler zur Hämorrhoidektomie, wenn es das Hochfrequenzgerät gibt?
Zusammenfassung
Hintergrund
Es gibt mehrere Operationsverfahren zur Behandlung von Hämorrhoiden. Vergleiche zwischen konventioneller Exzision und anderen Techniken wurden zwar durchgeführt, aber für die Stapler-Hämorrhoidopexie und die Hochfrequenzhämorrhoidektomie (RFH) sind wenig vergleichbare Ergebnisdaten verfügbar. Der Einsatz eines Hochfrequenzenergiegeräts für die Hämorrhoidektomie stellt eine Alternative zu Standarddiathermie, Schere oder Skalpell dar. Es ermöglicht den Gefäßverschluss zwischen den Backen des Instruments und zielt darauf ab, größere Gewebeschädigungen zu minimieren.
Ziel
Ziel war es, einen systematischen Überblick über die Literatur zum Vergleich von SH und RFH zu geben und dabei Komplikationen, Ergebnisse, Erfahrungen der Patienten und Kosten zu beurteilen.
Methoden
Durch eine passgenaue Suche in medizinischen Datenbanken wurden Publikationen mit relevanten Primär- und Sekundärdaten zum Vergleich von SH und RFH ermittelt. Die Arbeiten wurden in Bezug auf Relevanz und Vollständigkeit der veröffentlichten Daten überprüft. Arbeiten, in denen methodologische Informationen, Ergebnisdaten oder statistische Analysen fehlten, wurden anschließend aussortiert. Dann wurde eine narrative Übersicht erstellt.
Ergebnisse
Die primären Daten in der vorliegenden Übersichtsarbeit stammen aus 6 randomisierten kontrollierten Studien (RCT) und Auswertungen. Die Evidenzlage war widersprüchlich, mit einer Tendenz in Richtung größerer früh postoperativer Schmerzen in der RFH- vs. SH-Gruppe (in 3 RCT wurde über steigende früh postoperative Schmerzscores in der RFH-Gruppe berichtet). Signifikant höhere Raten an Residual- und Rezidivhämorrhoiden und -prolapsen in der SH-Gruppe wurden in den beiden RCT und den 4 Metaanalysen festgestellt. Die Daten zu Blutung, Harnretention, Inkontinenz und Analstenose unterschieden sich nicht signifikant. Es fand sich keine detaillierte aktuelle Kostenanalyse.
Schlussfolgerung
Die Studien sind von geringem Umfang, mit signifikanter Heterogenität in den verwendeten Techniken und aufgezeichneten Ergebnisdaten. Jedoch scheint die RFH trotz der begrenzten verfügbaren Evidenz der SH aufgrund signifikant niedrigerer Raten an Residual- und Rezidivhämorrhoiden und -prolapsen überlegen zu sein.
Schlüsselwörter
Hämorrhoiden 
Schmerz 
Kosten 
Postoperative Komplikationen 
Prolaps 
Conventional haemorrhoidectomies are often associated with postoperative pain and bleeding. More recent techniques such as stapled haemorrhoidopexy and radiofrequency haemorrhoidectomy aim to reduce these complications. We systematically compared the evidence on complications, outcomes, patient experiences and costs of these modern methods.
Haemorrhoidectomy is effective and widely used for symptomatic grade 3 and 4 haemorrhoidal disease [16]. Conventional excisional techniques include the Milligan–Morgan [10], Ferguson [6], and Parks procedures [12] performed with diathermy, scissors or scalpels. The most common problems are postoperative pain and bleeding. More recent techniques such as stapled haemorrhoidopexy (SH) and haemorrhoidectomy using a radiofrequency device (RFH) were developed to reduce these complications.
Herein, we aim to look at the evidence comparing SH to RFH with respect to complications, outcomes, patient experiences and costs.
Materials and methods
A literature review was performed using multiple databases: Ovid MEDLINE, CINAHL, SCOPUS, PROSPERO, Cochrane library, EMBASE, World of Knowledge and PubMed. The search strategy was tailored for each database and, where feasible, combined both MeSH terms and keywords. The three components of each search were haemorrhoids, radiofrequency (RF) or named devices and stapled, procedure for prolapse and haemorrhoids (PPH) or Longo procedure.
Following the initial searches, references were examined via the abstract. Studies containing primary outcome data or secondary analyses comparing SH with RFH were included and full texts retrieved. The relevance and completeness of the published data were reviewed. Studies with significant missing methodological information, outcome data or statistical analyses were subsequently excluded. The citations and references of included papers were searched for further relevant studies. Fig. 
1
shows the Preferred Reporting Items for Systematic Reviews and Meta-Analyses (PRISMA) chart for this work.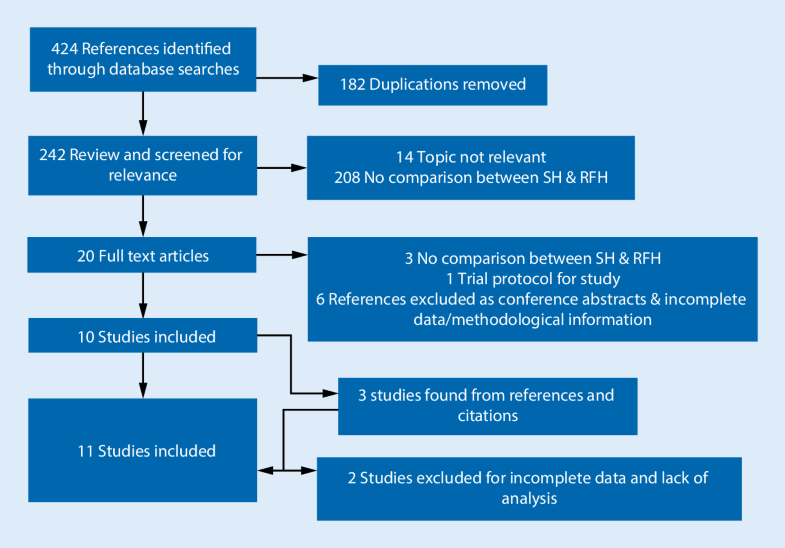 Results
There were 11 relevant papers in this review, including six randomised controlled trials (RCTs) published between 2005 and 2018 with a total of 457 patients. In addition, there were five systematic reviews and meta-analysis on the subject, one of which is a network meta-analysis included in the discussion.
Discussion
In this review, SH was associated with significantly higher rates of residual and recurrent haemorrhoids during follow-up compared to RFH, although RFH appeared to show higher early pain scores compared to the stapled group. The eTHoS trial [17] established the superiority of conventional haemorrhoidectomy over SH, illustrating a similar picture of lower recurrence rates for the conventional technique, albeit with higher pain scores.
There were no significant differences in terms of hospital stay, return to work or normal activities and patient satisfaction, although no detailed quality of life data were recorded by any of the studies. Two studies compared costs; however, both are over 10 years old, and it is therefore unclear which procedure would be considered most cost-effective nowadays.
There are a number of limitations of the six RTCs included, particularly the small size, significant variation in techniques and heterogeneity of the outcomes measured. The only radiofrequency device used was the LigaSure.
Conclusion
Despite the limited evidence currently available, radiofrequency haemorrhoidectomy appears to be superior to stapled haemorrhoidopexy.
Notes
Compliance with ethical guidelines
Conflict of interest
A. Sunny, H. Sellars, G. Ramsay, R. Polson and A.J.M. Watson declare that they have no competing interests.
For this article no studies with human participants or animals were performed by any of the authors. All studies performed were in accordance with the ethical standards indicated in each case.
Copyright information
© The Author(s) 2019
Open Access. This article is distributed under the terms of the Creative Commons Attribution 4.0 International License (http://creativecommons.org/licenses/by/4.0/), which permits unrestricted use, distribution, and reproduction in any medium, provided you give appropriate credit to the original author(s) and the source, provide a link to the Creative Commons license, and indicate if changes were made.