Abstract
Cynanchum otophyllum was traditionally used for treating muscle and skeletal pain, epilepsy, abdominal pain, and tightness. Four known C21 steroidal glycosides, namely caudatin 3-O-β-cymaropyranoside (1), caudatin 3-O-β-D-cymaropyranosyl-(1 → 4)-β-D-cymaropyranoside (2), otophylloside B (3), and otophylloside A (4) were isolated from the roots of this plant and their neurotrophic activities were examined in rat neuronal PC12 cell model, while their cytotoxicities were evaluated in human cancer cells and normal fibroblasts. Differential promoting effects on neurite-bearing cells were found among testing compounds, with 2 the most potent. On the other hand, selective cytotoxicity against human colon cancer cells HCT-116 of 2 was firstly demonstrated here. Besides, 2 induced inhibitory activities on cancer cell proliferation, sphere formation and interfered the cell cycle. The new potential pharmacological activities of 2 on colon cancer cells were revealed in the present study.
This is a preview of subscription content, log in to check access.
Access options
Buy single article
Instant access to the full article PDF.
US$ 39.95
Price includes VAT for USA
Subscribe to journal
Immediate online access to all issues from 2019. Subscription will auto renew annually.
US$ 99
This is the net price. Taxes to be calculated in checkout.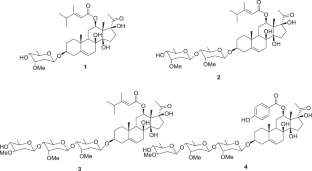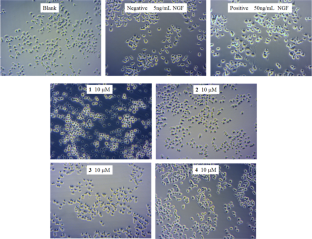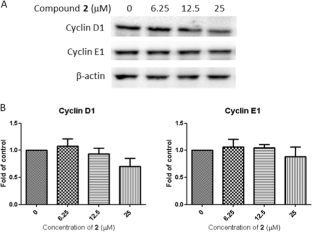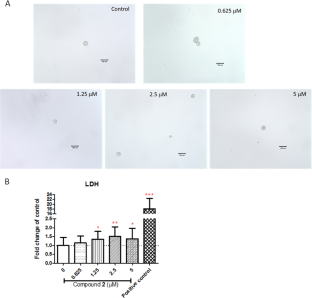 References
Dong J, Peng X, Li L, Lu S, Zhou L, Qiu M (2018) C21 steroidal glycosides with cytotoxic activities from Cynanchum otophyllum. Bioorg Med Chem Lett 28:1520–1524

Greene LA, Tischler AS (1976) Establishment of a noradrenergic clonal line of rat adrenal pheochromocytoma cells which respond to nerve growth factor. Proc Natl Acad Sci USA 73:2424–2428

Leung HW, Ko CH, Yue GGL, Herr I, Lau CBS (2018) The natural agent 4-vinylphenol targets metastasis and stemness features in breast cancer stem-like cells. Cancer Chemother Pharm 82:185–197

Li JL, Zhou J, Chen ZH, Guo SY, Li CQ, Zhao WM (2015) Bioactive C21 steroidal glycosides from the roots of Cynanchum otophyllum that suppress the seizure-like locomotor activity of zebrafish caused by pentylenetetrazole. J Nat Prod 78:1548–1555

Li PT, Michael GG, Stevens WD, Wu ZY, Peter HR (1999) Flora of China. Science Press, Beijing, 63:205–223

Li X, Sun H, Ye Y, Chen F, Tu J, Pan Y (2006) Four new immunomodulating steroidal glycosides from the stems of Stephanotis mucronata. Steroids 71:683–690

Li X, Zhang M, Xiang C, Li BC, Li P (2015) Antiepileptic C21 steroids from the roots of Cynanchum otophyllum. J Asian Nat Prod Res 17:724–732

Li Y, Zhang J, Gu X, Peng Y, Huang W, Qian S (2008) Two new cytotoxic pregnane glycosides from Cynanchum auriculatum. Planta Med 74:551–554

Ma XX, Jiang FT, Yang QX, Liu XH, Zhang YJ, Yang CR (2007) New pregnane glycosides from the roots of Cynanchum otophyllum. Steroids 72:778–786

Mu QZ, Lu JR, Zhou QL (1986) Two new antiepilepsy compounds—otophyllosides A and B. Sci Sin B 29:295–301

Wu XX, Yue GGL, Dong JR, Lam CW, Wong CK, Qiu MH, Lau CBS (2018) Actein inhibits the proliferation and adhesion of human breast cancer cells and suppresses migration. Front Pharm 9:1466

Yue GGL, Xie S, Lee JK, Kwok HF, Gao S, Nian Y, Wu XX, Wong CK, Qiu MH, Lau CBS (2016) New potential beneficial effects of actein, a triterpene glycoside isolated from Cimicifuga species, in breast cancer treatment. Sci Rep 6:35263

Zhang M, Li X, Xiang C, Qin Y, He J, Li BC, Li P (2015) Cytotoxicity of pregnane glycosides of Cynanchum otophyllum. Steroids 104:49–60

Zhao Y, Shen Y, He H, Mu Q, Hao X (2007) Antifungal agent and other constituents from Cynanchum otophyllum. Nat Prod Res 21:203–210

Zhao Z, Sun Z, Chen M, Liao Q, Tan M, Zhang X, Zhu H, Pi R, Yin S (2013) Neuroprotective polyhydroxypregnane glycosides from Cynanchum otophyllum. Steroids 78:1015–1020
Acknowledgements
The authors would like to thank Mr. Hin-Fai Kwok and Ms. Si Gao of Institute of Chinese Medicine, The Chinese University of Hong Kong (CUHK), for their technical support. Also thanks to Prof. Sheng-Ji Pei of Kunming Institute of Botany, Chinese Academy of Sciences for his help in the authentication of the plant material. This study was partly supported by grants of the State Key Laboratory of Research on Bioactivities and Clinical Applications of Medicinal Plants (CUHK) [formerly known as Partner State Key Laboratory of Phytochemistry and Plant Resources in West China] from HKSAR and CUHK. The study was also supported by Foundational Project of Yunnan Key Laboratory of Tobacco Chemistry, R&D Center of China Tobacco Yunnan Industrial Co., Ltd (KCFZ-2017-1096) and Autonomous Deployment Project (KIB2017010) of Kunming Institute of Botany, Chinese Academy of Sciences.
Ethics declarations
Conflict of interest
The authors declare that they have no conflict of interest.
Additional information
Publisher's note Springer Nature remains neutral with regard to jurisdictional claims in published maps and institutional affiliations.
Supplementary Information
About this article
Cite this article
Dong, J., Yue, G.G., Lee, J.K. et al. Potential neurotrophic activity and cytotoxicity of selected C21 steroidal glycosides from Cynanchum otophyllum. Med Chem Res 29, 549–555 (2020). https://doi.org/10.1007/s00044-020-02506-7
Received:

Accepted:

Published:

Issue Date:
Keywords
Cynanchum otophyllum

Neurotrophic activity

Cytotoxicity

Colon cancer cells