Abstract
In the current study, a novel combinatorial library of substituted 1,2,4-oxadiazoles bearing pyridine and thiazole have been synthesized via the condensation reaction of amidoxime and carboxylic acids and its derivatives in two way. The titled compounds were screened for their in vitro antimicrobial activity against three gram positive bacteria and three gram negative bacteria, In vitro antituberculosis activity against Mycobacterium tuberculosis H37RV and in vitro antimalarial activity against Plasmodium falciparum. Majority of the compounds were found to be active against gram positive bacteria. Compounds 6e, 6f, 7e, and 7f elaborate moderate antituberculosis activity against the first-line drug while 6c, 6d, 7c, and 7d intricate excellent antimalarial activity against Plasmodium falciparum strain.
This is a preview of subscription content, log in to check access.
Access options
Buy single article
Instant access to the full article PDF.
US$ 39.95
Price includes VAT for USA
Subscribe to journal
Immediate online access to all issues from 2019. Subscription will auto renew annually.
US$ 99
This is the net price. Taxes to be calculated in checkout.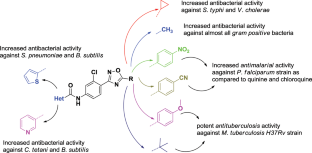 References
A Rattan (2000) In: BI Churchill (ed), Antimicrobials in laboratory medicine. Livingstone, New Delhi, p 85–108

Bakht MA, Yar MS, Abdel-Hamid SG, Al Qasoumi SI, Samad A (2010) Molecular properties prediction, synthesis and antimicrobial activity of some newer oxadiazole derivatives. Eur J Med Chem 45:5862–5869

Desai NC, Bhatt N, Somani H, Trivedi A (2013) Synthesis, antimicrobial and cytotoxic activities of some novel thiazole clubbed 1,3,4-oxadiazoles. Eur J Med Chem 67:54–59

Dramowski A, Morsheimer MM, Jordaan AM, Victor TC, Donald PR, Schaaf HS (2012) Rifampicin-monoresistant Mycobacterium tuberculosis disease among children in Cape Town, South Africa. Int J Tuberc Lung Dis 16:76–81

Hemming K (2001) Recent developments in the synthesis, chemistry and applications of the fully unsaturated 1,2,4-Oxadiazoles. J Chem Res 209–216

Karakaya S, Yilmaz-Oral D, Kilic CS, Gur S (2019) Umbelliferone isolated from Zosima absinthifolia roots partially restored erectile dysfunction in streptozotocin-induced diabetic rats. Med Chem Res 28:1161–1167

Karunamoorthi K (2014) Malaria vaccine: a future hope to curtail the global malaria burden. Int J Prev Med 5:529–538

Kumar B, Kumar A, Beheraand AK, Raj V (2016) Latest update on pharmacological activities of 1,3,4-oxadiazole derivatives. J Cell Sci Ther 7:233–249

London L, Cox H, Coomans F (2016) Multidrug-resistant TB: implementing the right to health through the right to enjoy the benefits of scientific progress. Health Hum Rights 18:25–41

Madhu Sekhar M, Nagarjuna U, Padmavathi V, Padmaja A, Reddy NV, Vijaya T (2018) Synthesis and antimicrobial activity of pyrimidinyl 1,3,4-oxadiazoles, 1,3,4-thiadiazoles and 1,2,4-triazoles. Eur J Med Chem 145:1–10

Malladi S, Isloor AM, Peethambar SK, Fun HK (2014) Synthesis and biological evaluation newer analogues 2,5-disubstituted 1,3,4-oxadiazole containing pyrazole moiety antimicrobial agents. Arab J Chem 7:1185–1191

NCCLS (National Committee for Clinical Laboratory Standards) (2002) Performance Standards for Antimicrobial Susceptibility Testing. Twelfth Informational Supplement, 1-56238-454-6 M100-S12, M7

Ningaiah S, Bhadraiah UK, Doddaramappa SD, Keshavamurthy S, Javarasetty C (2014) Novel pyrazole integrated 1,3,4-oxadiazoles: Synthesis, characterization and antimicrobial evaluation. Bioorg Med Chem Lett 24:245–248

O Bora R, Dar B, Pradhan V, Farooqui M (2014) [1, 2, 4]-oxadiazoles: synthesis and biological applications. Mini-Rev Med Chem 14:355–369

Padmavathi V, Sudhakar Reddy G, Padmaja A, Kondaiah P, Ali S (2009) Synthesis, antimicrobial and cytotoxic activities of 1,3,4-oxadiazoles, 1,3,4-thiadiazoles and 1,2,4-triazoles. Eur J Med Chem 44:2106–2112

Palit R, Saraswat N, Sahoo J (2016) Review on substituted 1,3,4-oxadiazole and its biological activities. Int Res J Pharm 7:1–7.

Palomino JC, Martin A (2014) Drug resistance mechanisms in Mycobacterium tuberculosis. Antibiotics (Basel) 3:317–340

Patel NB, Patel JN, Purohit AC, Patel VM, Rajani DP, Moo-Puc R, Lopez-Cedillo JC, Nogueda-Torres B, Rivera G (2017) In vitro and in vivo assessment of newer quinoxaline–oxadiazole hybrids as antimicrobial and antiprotozoal agents. Int J Antimicrob Agents 50:413–418

Patel RV, Patel PK, Kumari P, Rajani DP, Chikhalia KH (2012) Synthesis of benzimidazolyl-1,3,4-oxadiazol-2ylthio-N-phenyl (benzothiazolyl) acetamides as antibacterial, antifungal and antituberculosis agents. Eur J Med Chem 53:41–51

Rane RA, Bangalore P, Borhade SD, Khandare PK (2013) Synthesis and evaluation of novel 4-nitropyrrole-based 1,3,4-oxadiazole derivatives as antimicrobial and anti-tubercular agents. Eur J Med Chem 70:49–58

Salahuddin, Mazumder A, Yar MS, Mazumder R, Chakraborthy GS, Ahsan MJ, Rahman MU (2017) Updates on synthesis and biological activities of 1,3,4-oxadiazole: a review. Synth Comm 47:1805–1847

Sandhu GK (2011) Tuberculosis: current situation, challenges and overview of its control programs in India. J Glob Infect Dis 3:143–150

Singh R, Chouhan A (2014) Various approaches for synthesis of 1,3,4-Oxadiazole derivatives and their pharmacological activity. World J Pharm Pharm Sci 3, 10:1474–1505

Thakkar SS, Thakor P, Doshi H, Ray A (2017) 1,2,4-Triazole and 1,3,4-oxadiazole analogues: Synthesis, MO studies, in silico molecular docking studies, antimalarial as DHFR inhibitor and antimicrobial activities. Bioorg Med Chem 25:4064–4075

Tresse C, Radigue R, Gomes Von Borowski R, Thepaut M, Hanh Le H, Demay F, Georgeault S, Dhalluin A, Trautwetter A, Ermel G, Blanco C, van de Weghe P, Jean M, Giard J-C, Gillet R (2019) Synthesis and evaluation of 1,3,4-oxadiazole derivatives for development as broad-spectrum antibiotics. Bioorg Med Chem 27:115097

malERA Consultative Group on Drugs (2011) A research agenda for malaria eradication: drugs. PLOS Med 8:e1000402

WHO (2011) The sixteenth global report on tuberculosis. WHO, Geneva, Switzerland

WHO (2018) World malaria report. https://www.who.int/malaria/publications/world-malaria-report-2018/en/

Zhou L, Wang P-Y, Zhou J, Shao W-B, Fang H-S, Wu Z-B, Yang S (2017) Antimicrobial activities of pyridinium-tailored pyrazoles bearing 1,3,4-oxadiazole scaffolds. J Saudi Chem Soc 21:852–860
Acknowledgements
The author gratefully acknowledges the research facilities provided by the P. D. Patel Institute of Applied Sciences, CHARUSAT.
Ethics declarations
Conflict of interest
The authors declare that they have no conflict of interest.
Additional information
Publisher's note Springer Nature remains neutral with regard to jurisdictional claims in published maps and institutional affiliations.
Supplementary information
About this article
Cite this article
Parikh, P.H., Timaniya, J.B., Patel, M.J. et al. Design, synthesis, and characterization of novel substituted 1,2,4-oxadiazole and their biological broadcast. Med Chem Res 29, 538–548 (2020). https://doi.org/10.1007/s00044-020-02505-8
Received:

Accepted:

Published:

Issue Date:
Keywords
Oxadiazole

Pyridine

Thiazole

Plasmodium falciparum
Mycobacterium tuberculosis