Network pharmacology and bioinformatics approach reveals the hypolipidemic mechanism of Dan Tian Jiang Zhi pill
Abstract
Dan Tian Jiang Zhi (DTJZ) pill is a traditional effective treatment for high blood lipid in China. It mainly consists of seven herbal medicines formulated according to traditional Chinese Medicine (TCM) practices. In this study, a network pharmacology-based strategy was used to predict the active ingredients, potential targets, signaling pathways, and investigate the "ingredient-target-pathway" mechanisms of action of DTJZ pill for the treatment of lowering blood lipids. Compounds of herbs in DTJZ pill were collected from TCMSP public database and literature. Furthermore, compounds with the oral bioavailability (OB) ≥30%, drug-likeness (DL) ≥0.18, and Caco-2 ≥0.40 were screened according to ADME features. Then, the potential targets of the active compounds were predicted by pharmacophore mapping approach and mapped with the target genes of the hypolipidemic. The compound–target network, protein–protein interaction (PPI), and compound–target–biological process network were built by Cytoscape software. The core targets were selected according to the degree values. Network analysis indicate that five target genes BMP2, APOA2, ALB, ESR1, and F2 are key nodes and play important roles in this prescription. Sixty-seven chemical compositions are screened from 909 total compounds in DTJZ pill. Among which, compounds arachidonate, Stigmasterol, Liquiritigenin, β-sitosterol, and 2-isopropyl-8-methylphenanthrene-3,4-dione play important roles in the hypolipidemic process. With the application of bioinformatics, signaling pathway enrichment, and GO biological analysis of targets were also performed. The main herb Radix Salviae could regulate blood lipid levels by participating in the adipocytokine signaling pathway, cholesterol homecostasis, and steroid metabolic biological process. Due to the interaction among diseases, genes, targets and medicines, the mechanism of multiple compounds, multitarget, and multipathway mechanisms in the cooperative treatment of hypolipidemic were demonstrated.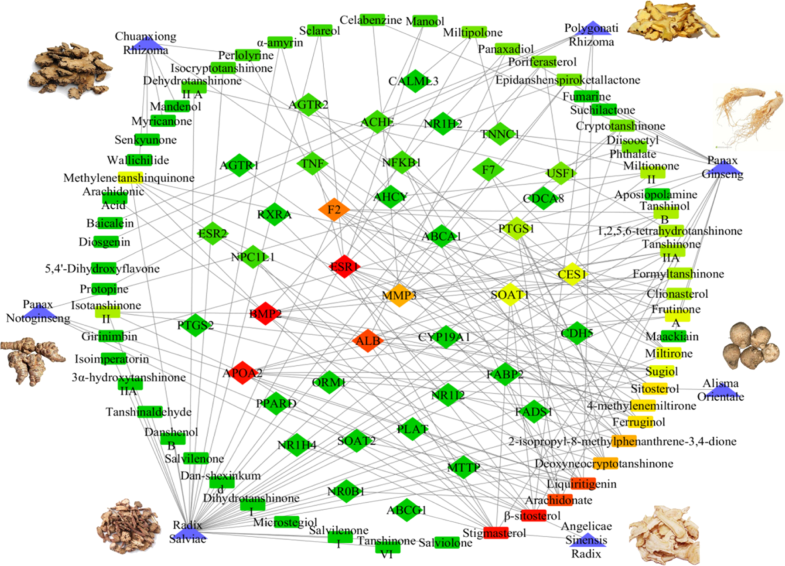 Keywords
Network pharmacology 
Chinese materia medica 
Bioinformatics 
Hyperlipidaemia 
Notes
Acknowledgements
This work was supported by the Fundamental Research Funds for the Central Universities (31920190155), the program for Changjiang Scholars and Innovative Research Team in University of Ministry of Education, China (IRT_17R88) and Research Foundation in Scientific and Technological Activities for the Overseas Chinese Scholars, Guizhou Province (20180013).
Compliance with ethical standards
Conflict of interest
The authors declare that they have no conflict of interest.
Copyright information
© Springer Science+Business Media, LLC, part of Springer Nature 2019