Facile synthesis and docking studies of 7-hydroxyflavanone isoxazoles and acrylates as potential anti-microbial agents
Abstract
The present study is aimed to synthesize the novel 7-hydroxyflavanone derived compounds and to assess their biological activity. Two series of compounds such as 2-phenyl-7-((3-phenylisoxazol-5-yl)methoxy)chroman-4-ones (6a–h) and 4-oxo-2-phenylchroman-7-yl acrylates (8a–k) were synthesized from 7-hydroxyflavanone. All the compounds were subjected to anti-microbial activity and molecular docking studies. The results showed that the compounds 6e, 6g–h, 8h–i and 8k were exhibited most potent anti-microbial activity when compared with the standard drugs. Further, the docking studies revealed that the compounds 6a and 8h have the highest binding affinity score of sterol 14-α demethylase and DNA gyrase B respectively. This is the first report assigning unique synthesis of 7-hydroxyflavanone derivatives and their anti-microbial activity proved with in silico studies. Furthermore, the present study is useful for constructive research to synthesize novel compounds along with their biological activity.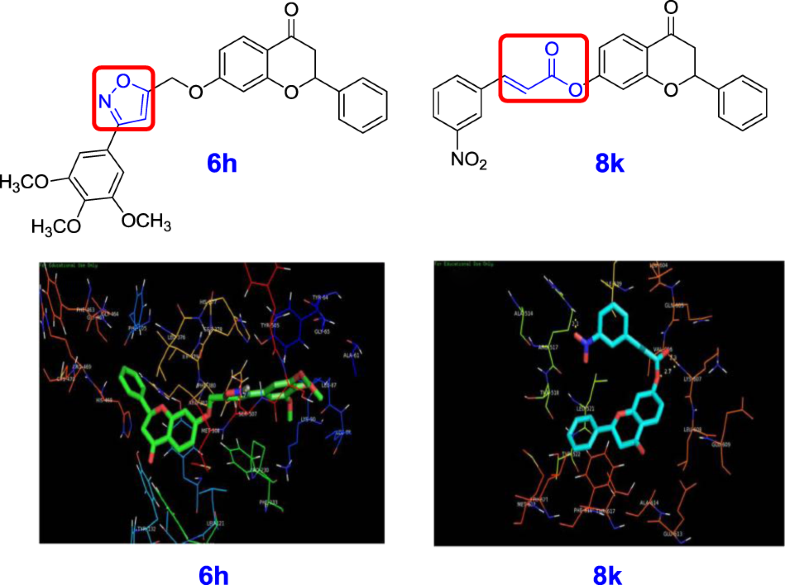 Keyword
7-Hydroxyflavanone 
Isoxazoles 
Acrylates 
Anti-microbial activity 
DNA gyrase 
Notes
Acknowledgements
PAB thanks Acharya Nagarjuna University and UGC-RGNF (F1-17.1/2016-17/RGNF-2015-17-SC-AND-6403) for providing the facilities and financial support. PAB thank the Director, CSIR-IICT, Hyderabad for providing the laboratory facility to carry out the chemical experiments and analytical support. We also thank Prof. D.V.R. Sai Gopal, Head, Department of Virology, S.V. University, Tirupathi for biological studies.
Compliance with ethical standards
Conflict of interest
The authors declare that they have no conflict of interest.
Copyright information
© Springer Science+Business Media, LLC, part of Springer Nature 2019