Synthesis, antimicrobial evaluation, and molecular docking of some new angular allylbenzochromone derivatives
Abstract
Different classes of antimicrobial compounds such as β-lactams, sulfonamides, aminoglycosides, tetracyclines, quinolines and others have been developed during the 20th century to control the growing antimicrobial resistance. Therefore, there is an urgent need to build up new and effective antimicrobial agents with different working mechanisms to suppress this resistance. Accordingly, the judicious design of antimicrobial organic compounds with antiquorum-sensing activities could be a major solution for this global challenge. Herein, the versatile precursor 6-allyl-3-formyl-4H-benzo[h]chromen-4-one (2) was used for the synthesis of various isolated and condensed naphthoyl or (chromenyl) nicotinonitriles, azalactone, thiazolidinone, xanthene, indenopyridine, Schiff bases, diazepine, imidazole and triazolopyrimidine derivatives 5-21via its reactions with several active carbon nucleophiles in addition to amines, benzil and hydrazine. Some of the newly synthesized compounds showed moderately and good antimicrobial activities. The compounds 2 and 14 were the best concerning effects. In addition, the antiquorum-sensing activities of the newly prepared compounds were assessed against Chromobacterium violaceum. Specifically, pharmaceutical evaluation, antimicrobial prediction, and molecular docking using computational tools illustrated that the complexes of the latter compounds may show substantial antimicrobial activity in comparison with the other derivatives.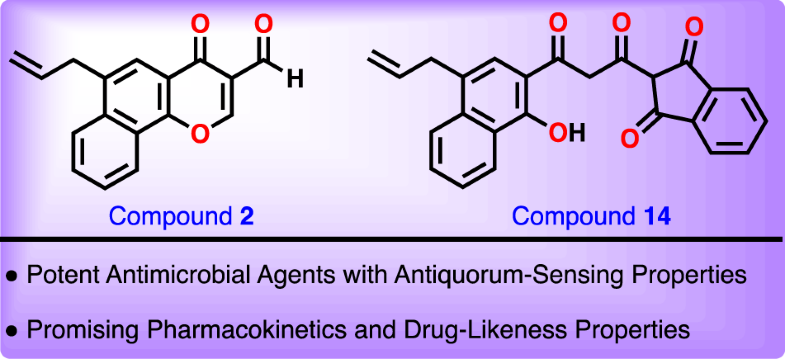 Keywords
Chromone 
Naphthyl 
Antimicrobial activity 
Antiquorum-sensing 
Docking 
Notes
Compliance with ethical standards
Conflict of interest
The authors declare that they have no conflict of interest.
Copyright information
© Springer Science+Business Media, LLC, part of Springer Nature 2019