Synthesis and biological evaluation of phenyl-amino-pyrimidine and indole/oxindole conjugates as potential BCR-ABL inhibitors
Abstract
Indole/isatin conjugated phenyl-amino-pyrimidine derivatives have been synthesized, characterized and evaluated in vitro for their potential as BCR-ABL inhibitors. Among the series, all derivatives (7a–7o) were found to be more cytotoxic than standard Imatinib against K-562 cell line. Compound 7l was the most active in the series with almost two folds more potency than imitanib (IC50 0.65 μM). In vitro enzymatic studies with recombinant ABL kinase enzyme exhibited promising inhibition in the range of 30–71 µM for most of these novel conjugates. In addition, modelling and other computational studies have been carried out to draw insight into the BCR-ABL protein interactions with the target molecules and drug like properties of the conjugates, respectively.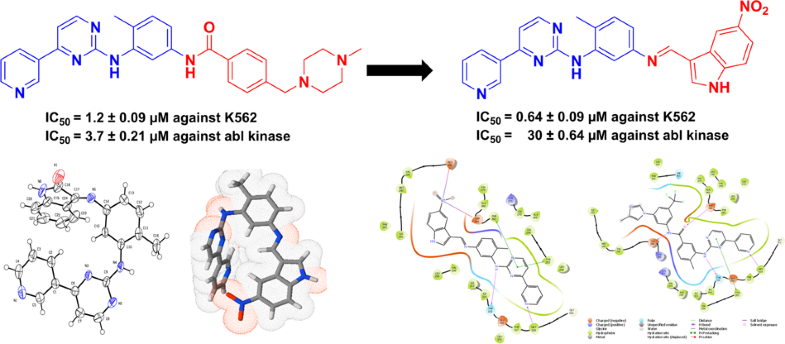 Keywords
Phenyl-amino-pyrimidine 
Indole 
Oxindole 
Bcr-Abl inhibitors 
Chronic myeloid leukemia 
Notes
Acknowledgements
The author AR thanks CSIR and UGC, New Delhi for the award of fellowships. The author RS thanks CSIR-HRDG for the award of CSIR-SRAship (13(8906-A)/2017-pool).
Compliance with ethical standards
Conflict of interest
The authors declare that they have no conflict of interest.
Copyright information
© Springer Science+Business Media, LLC, part of Springer Nature 2019