Abstract
This study reports on the observation of an unusual behavior in leaf-cutting ants: foraging on wild mushrooms. A colony of Acromyrmex lundi in Buenos Aires (Argentina) was observed intensively harvesting basidiomes (mushroom fructifications) of wild Agrocybe fungus developing on a tree bark. Another colony maintained for a month in laboratory conditions also accepted Agrocybe mushroom and incorporated the cut bits into the fungus garden in the same way as they do with leaves. We recorded these events confident that they open a new perspective on the study of the feeding habits of leaf-cutting ants as well as on the relationship between their fungus garden and other organisms.
This is a preview of subscription content, log in to check access.
Access options
Buy single article
Instant unlimited access to the full article PDF.
US$ 39.95
Price includes VAT for USA
Subscribe to journal
Immediate online access to all issues from 2019. Subscription will auto renew annually.
US$ 99
This is the net price. Taxes to be calculated in checkout.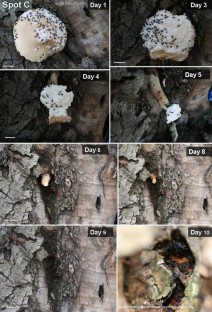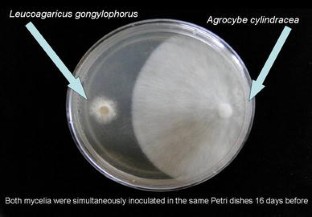 References
Bass M. and Cherrett J.M. 1995. The role of leaf-cutting ant workers (Hymenoptera: Formicidae) in fungus garden maintenance. Ecol. Entomol. 19: 215-220

Chang S.T. 1991. Cultivated mushrooms. In: Handbook of Applied Mycology III (Arora D.K., Mukerji K.G. and Elmer H.M., Eds), Marcel Dekker inc. New York. pp 221-240

Herz H., Hölldobler B. and Roces F. 2008. Delayed rejection in a leaf-cutting ant after foraging on plants unsuitable for the symbiotic fungus. Behav. Ecol. 19: 575-582

Holley J.A. 2005. Notes from Underground: Page 25. http://www.notesfromunderground.org/alwaysneeded/photos/holley/holleypictures.html

Kermarrec A., Febvay G. and Decharme M. 1986. Protection of leaf cutting ants from biohazards: Is there a future for microbiological control? In: Fire Ants and Leaf-cutting Ants: Biology and Management (Lofgren S. and Vander Meer R.K., Eds). Westview Press, Boulder and London. pp 339-355

Martin M.M. and Weber N.A. 1969. The cellulose-utilizing capability of the fungus cultured by the Attine ant Atta colombica tonsipes. Ann. Entomol. Soc. Am. 62: 1386-1387

Mehdiabadi N.J. and Schultz T.R. 2010. Natural history and phylogeny of the fungus-farming ants (Hymenoptera: Formicidae: Myrmicinae: Attini). Myrmecol. News 13: 37-55

Nobles M.K. 1948. Studies in forest pathology VI. Identification of cultures of wood rotting fungi. Can. J. Res. 26: 281-431

Quinlan R.J. and Cherrett J.M. 1979. The role of the fungus in the diet of the leaf-cutting ant Atta cephalotes (L.). Ecol. Entomol. 4: 151-160

Sarker N.C., Shaheen M., Amin S.M.R. and Khan A.S. 2008. Domestication and cultivation of Agrocybe aegerita on straw and sawdust substrate. Bangladesh J. Mushroom 2: 73-79

Saverschek N., Herz H., Wagner M. and Roces F. 2010. Avoiding plants unsuitable for the symbiotic fungus: learning and long-term memory in leaf-cutting ants. Anim. Behav. 79: 689-698

Uhart M. 2007. Diversidad de especies del género Agrocybe (Basidiomycetes, Agaricales) en la República Argentina. Estudios de compatibilidad sexual y cultivo intensivo de Agrocybe cylindrica de Europa, América y Asia. Universidad de Buenos Aires, Buenos Aires. Thesis

Weber N.A. 1972. Gardening Ants, the Attines. American Philosophical Society, Philadelphia

Wild A. 2010. Myrmecos: http://myrmecos.net/2010/08/05/do-attine-ants-forage-for-fungi

Witte V. and Maschwitz U. 2008. Mushroom harvesting ants in the tropical rain forest. Naturwissenschaften 95: 1049-1054

Zhanxi L. and Zhanhua L. 2001. Juncao Technology. China Agricultural Scientech press, Beijing
Acknowledgments
The authors thank Prof. B. Hölldobler for his advice and suggestions. This work was supported by the National Agency for Scientific and Technological Promotion (PICT 01319) and the National Council for Scientific and Technological Research from Argentina.
Electronic supplementary material
Below is the link to the electronic supplementary material.
Video 1 (2′58″) (WMV 22280 kb)
Video 2 (3′27″). (WMV 39459 kb)
About this article
Cite this article
Lechner, B.E., Josens, R. Observation of leaf-cutting ants foraging on wild mushrooms. Insect. Soc. 59, 285–288 (2012). https://doi.org/10.1007/s00040-012-0219-9
Received:

Revised:

Accepted:

Published:

Issue Date:
Keywords
Leaf-cutting ants

Foraging

Fungi

Acromyrmex

Wild mushrooms