Abstract
This paper presents a four-quadrant analog multiplier using a single dual-X second-generation current conveyor (DXCCII). The proposed analog multiplier employs two NMOS transistors operating in triode region, besides a single DXCCII. The performances of the proposed analog multiplier are verified through PSPICE simulation using 0.18 μm TSMC CMOS process parameters. Simulation results reveal that the circuit has a − 3 dB bandwidth of 19.30 GHz and 0.79% total harmonic distortion for the input voltage of 250 mV. The application of proposed analog multiplier as a squarer, for amplitude modulation and as frequency doubler are also included. The detailed comparisons with existing literature justify the novelty of the proposed circuit.
This is a preview of subscription content, log in to check access.
Access options
Buy single article
Instant unlimited access to the full article PDF.
US$ 39.95
Price includes VAT for USA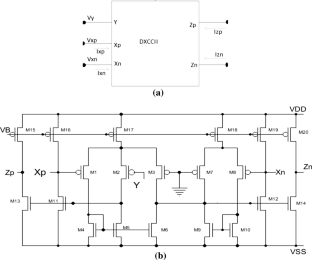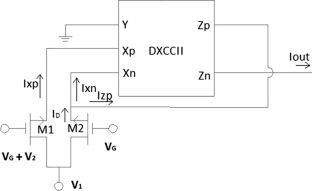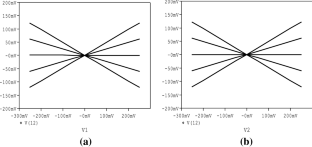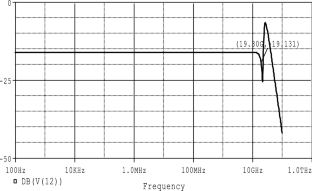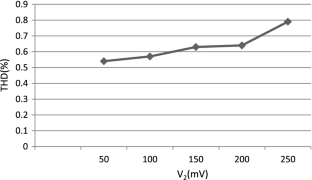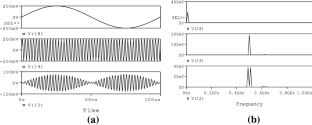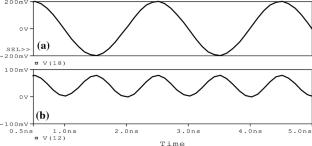 References
1.

M.T. Abuelmaatti, M.A. Al-Qahtani, Current-mode current-controlled current-conveyor-based analogue multiplier/divider. Int. J. Electron. 85(1), 71–77 (1998)

2.

B. Chaturvedi, A. Kumar, Electronically tunable first-order filters and dual-mode multiphase oscillator. Circuits Syst. Signal Process. 38(3), 2–25 (2018). https://doi.org/10.1007/s00034-018-0849-x

3.

W. Chiu, S.I. Liu, H.-W. Tsao, J.J. Chen, CMOS differential difference current conveyors and their applications. IEE Proc. Circuits Devices Syst. 143, 91–96 (1996)

4.

A.U. Keskin, A four quadrant analog multiplier employing single CDBA. Analog Integr. Circuits Signal Process. 40, 99–101 (2004)

5.

M. Kumngern, A DXCCII-based four-quadrant multiplier, in IEEE 7th International Power Engineering and Optimization Conference (PEOCO2013), Langkawi, Malaysia. 3–4 June (2013)

6.

S.I. Liu, D.S. Wu, H.W. Tsao, J. Wu, J.H. Tsay, Nonlinear circuit applications with current conveyors. IEE Proc.-G 140(1), 1–6 (1993)

7.

S. Maheshwari, M.S. Ansari, Catalog of realizations for DXCCII using commercially available ICs and applications. Radioengineering 21, 281–289 (2012)

8.

S. Minaei, E. Yuce, A new full-wave rectifier circuit employing single dual-X current conveyor. Int. J. Electron. 95, 777–784 (2008)

9.

I. Myderrizi, S. Minaei, E. Yuce, CCII+ based fully CMOS four-quadrant multiplier, in IEEE CCECE 759 Niagara falls Canada (2011)

10.

R. Pandey, N. Pandey, B. Sriram, S. K. Paul, Single OTRA based analog multiplier and its applications. Int. Sch. Res. Netw. ISRN Electron. 2012, 7, Article ID 890615. https://doi.org/10.5402/2012/890615 (2012)

11.

J.K. Pathak, A.K. Singh, R. Senani, New multiplier/divider using a single Cdba. Am. J. Electr. Electron. Eng. 2, 98–102 (2014)

12.

W. Petchakit, W. Kiranon, P. Wardkien, S. Petchakit, A current-mode CCCII-based analog multiplier/divider, in Proceedings of International Conference on Electrical Engineering, Electronics, Computer, Telecommunications and Information Technology (ECTI-CON), Chiang Mai, Thailand, pp. 221–224, 19–21 May (2010)

13.

C. Premont, N. Abouchi, R. Grisel, J.P. Chante, A BiCMOS current conveyor based four-quadrant analog multiplier. Analog Integr. Circuits Signal Process. 19, 159–162 (1999)

14.

S. Roy, T.K. Paul, R.R. Pal, A new method of realization of four-quadrant analog multiplier using operational amplifiers and MOSFETs. J. Phys. Sci. 22(20), 163–173 (2017)

15.

A. Sedra, K.C. Smith, A second-generation current conveyor and its applications. IEEE Trans. Circuit Theory CT-17, 132–134 (1970)

16.

W. Tangsrirat, T. Pukkalanun, P. Mongkolwai, W. Surakampontorn, Simple current-mode analog multiplier, divider, square-rooter and squarer based on CDTAs. Int. J. Electron. Commun. (AEÜ) 65, 198–203 (2011)

17.

A. Zeki, A. U. Keskin, A. Toker, DXCCII-based four-quadrant analog multipliers using triode MOSFETs, in Proceedings of 4th International Conference on Electrical and Electronics Engineering (ELECO 05), Bursa, Turkey, 7–11 December, pp. 41–45 (2005)

18.

A. Zeki, A. Toker, The dual-X current conveyer (DXCCII): a new active device for tunable continuous-time filters. Int. J. Electron. 89, 913–923 (2002)
Acknowledgements
The authors thank anonymous reviewers and the EIC, Prof. MNS Swamy, for recommending this paper.
Additional information
Publisher's Note
Springer Nature remains neutral with regard to jurisdictional claims in published maps and institutional affiliations.
About this article
Cite this article
Rajpoot, J., Maheshwari, S. High Performance Four-Quadrant Analog Multiplier Using DXCCII. Circuits Syst Signal Process 39, 54–64 (2020). https://doi.org/10.1007/s00034-019-01179-x
Received:

Revised:

Accepted:

Published:

Issue Date:
Keywords
Four-quadrant analog multiplier

Dual-X second-generation current conveyors (DXCCIIs)

Amplitude modulator (AM)

Squarer circuit

Frequency doubler